Abstract
Coronal cavities are large low-density regions formed by hemispheric-scale magnetic flux ropes suspended in the Sun's outer atmosphere1. They evolve over time, eventually erupting as the dark cores of coronal mass ejections2,3. Although coronal mass ejections are common and can significantly affect planetary magnetospheres, the mechanisms by which cavities evolve to an eruptive state remain poorly understood. Recent optical observations4 of high-latitude 'polar crown' prominences within coronal cavities reveal dark, low-density5 'bubbles' that undergo Rayleigh–Taylor instabilities6,7 to form dark plumes rising into overlying coronal cavities. These observations offered a possible mechanism for coronal cavity evolution, although the nature of the bubbles, particularly their buoyancy, was hitherto unclear. Here we report simultaneous optical and extreme-ultraviolet observations of polar crown prominences that show that these bubbles contain plasma at temperatures in the range (2.5–12) × 105 kelvin, which is 25–120 times hotter than the overlying prominence. This identifies a source of the buoyancy, and suggests that the coronal cavity–prominence system supports a novel form of magneto-thermal convection in the solar atmosphere, challenging current hydromagnetic concepts of prominences and their relation to coronal cavities.
Access options
Subscribe to Journal
Get full journal access for 1 year
$199.00
only $3.83 per issue
All prices are NET prices.
VAT will be added later in the checkout.
Rent or Buy article
Get time limited or full article access on ReadCube.
from$8.99
All prices are NET prices.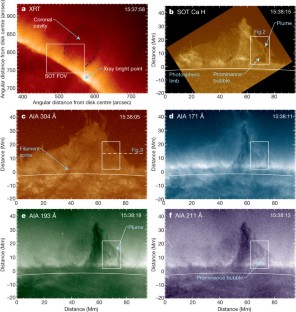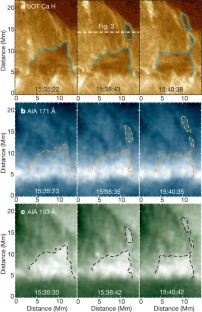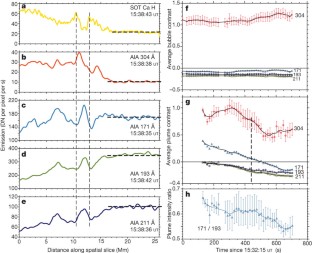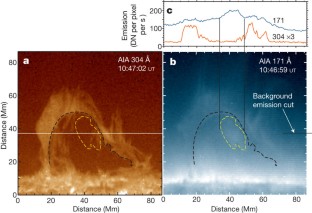 References
1

Pneuman, G. W. Temperature-density structure in coronal helmets: the quiescent prominence and coronal cavity. Astrophys. J. 177, 793–805 (1972)

2

Gosling, J. T., Hildner, E., MacQueen, R. M., Munro, R. H. & Poland, A. I. Mass ejections from the Sun: a view from Skylab. J. Geophys. Res. 79, 4581–4587 (1974)

3

Zhang, M. & Low, B. C. The hydromagnetic nature of coronal mass ejections. Annu. Rev. Astron. Astrophys. 43, 103–137 (2005)

4

Berger, T. E. et al. Hinode SOT observations of solar quiescent prominence dynamics. Astrophys. J. 676, L89–L92 (2008)

5

Heinzel, P. et al. Hinode, TRACE, SOHO, and ground-based observations of a quiescent prominence. Astrophys. J. 686, 1383–1396 (2008)

6

Berger, T. E. et al. Quiescent prominence dynamics observed with the Hinode Solar Optical Telescope. I. Turbulent upflow plumes. Astrophys. J. 716, 1288–1307 (2010)

7

Ryutova, M., Berger, T., Frank, Z., Tarbell, T. & Title, A. Observation of plasma instabilities in quiescent prominences. Sol. Phys. 267, 75–94 (2010)

8

Kosugi, T. et al. The Hinode (Solar-B) mission: an overview. Sol. Phys. 243, 3–17 (2007)

9

Suematsu, Y. et al. The Solar Optical Telescope of Solar-B (Hinode): the optical telescope assembly. Sol. Phys. 249, 197–220 (2008)

10

Golub, L. et al. The X-Ray Telescope (XRT) for the Hinode mission. Sol. Phys. 243, 63–86 (2007)

11

Lemen, J. R. et al. The Atmospheric Imaging Assembly on the Solar Dynamics Observatory. Sol. Phys. (submitted). (2010)

12

Cirigliano, D., Vial, J.-C. & Rovira, M. Prominence corona transition region plasma diagnostics from SOHO observations. Sol. Phys. 223, 95–118 (2004)

13

de Toma, G., Casini, R., Burkepile, J. T. & Low, B. C. Rise of a dark bubble through a quiescent prominence. Astrophys. J. 687, L123–L126 (2008)

14

Stellmacher, G. & Wiehr, E. Observation of an instability in a "quiescent" prominence. Astron. Astrophys. 24, 321–324 (1973)

15

Janse, M., Low, B. C. & Parker, E. N. Topological complexity and tangential discontinuities in magnetic fields. Phys. Plasmas 17 092901 10.1063/1.3474943 (published online 8 September 2010)

16

Matsumoto, T. & Shibata, K. Nonlinear propagation of Alfvén waves driven by observed photospheric motions: application to the coronal heating and spicule formation. Astrophys. J. 710, 1857–1867 (2010)

17

Withbroe, G. L. & Noyes, R. W. Mass and energy flow into the solar chromosphere and corona. Annu. Rev. Astron. Astrophys. 15, 363–387 (1977)

18

Isobe, H., Miyagoshi, T., Shibata, K. & Yokoyama, T. Filamentary structure on the Sun from the magnetic Rayleigh-Taylor instability. Nature 434, 478–481 (2005)

19

Foukal, P. Magnetic loops, downflows, and convection in the solar corona. Astrophys. J. 223, 1046–1057 (1978)

20

Marsch, E., Tian, H., Sun, J., Curdt, W. & Wiegelmann, T. Plasma flows guided by strong magnetic fields in the solar corona. Astrophys. J. 685, 1262–1269 (2008)

21

Okamoto, T. J. et al. Emergence of a helical flux rope under an active region prominence. Astrophys. J. 673, L215–L218 (2008)

22

Lites, B. W. et al. Emergence of helical flux and the formation of an active region filament channel. Astrophys. J. 718, 474–487 (2010)

23

Okamoto, T. J., Tsuneta, S. & Berger, T. E. A rising cool column as a signature of helical flux emergence and formation of prominence and coronal cavity. Astrophys. J. 719, 583–590 (2010)

24

Shibata, K., Tajima, T., Steinolfson, R. S. & Matsumoto, R. Two-dimensional magnetohydrodynamic model of emerging magnetic flux in the solar atmosphere. Astrophys. J. 345, 584–596 (1989)

25

Schmit, D. J. et al. Large-scale flows in prominence cavities. Astrophys. J. 700, L96–L98 (2009)

26

Fan, Y. & Gibson, S. E. Onset of coronal mass ejections due to loss of confinement of coronal flux ropes. Astrophys. J. 668, 1232–1245 (2007)

27

Zhang, M., Flyer, N. & Low, B. C. Magnetic field confinement in the corona: the role of magnetic helicity accumulation. Astrophys. J. 644, 575–586 (2006)
Acknowledgements
Hinode is a Japanese mission developed and launched by ISAS/JAXA, in collaboration with NAOJ as a domestic partner, and with NASA and STFC (UK) as international partners. Scientific operation of the Hinode mission is conducted by the Hinode science team organized at ISAS/JAXA. Support for the post-launch operation is provided by JAXA and NAOJ (Japan), STFC (UK), NASA, ESA and NSC (Norway). The Solar Dynamics Observatory is part of NASA's Living with a Star programme. K.S. and A.H. are supported by the Grant-in-Aid for the Global COE Program 'The Next Generation of Physics, Spun from Universality and Emergence'. We thank J. Martinez-Sykora for discovering the 2 July 2010 prominence bubble event in the AIA database.
Ethics declarations
Competing interests
The authors declare no competing financial interests.
Supplementary information
About this article
Cite this article
Berger, T., Testa, P., Hillier, A. et al. Magneto-thermal convection in solar prominences. Nature 472, 197–200 (2011). https://doi.org/10.1038/nature09925
Received:

Accepted:

Published:

Issue Date:
Comments
By submitting a comment you agree to abide by our Terms and Community Guidelines. If you find something abusive or that does not comply with our terms or guidelines please flag it as inappropriate.