Abstract
Tyrosine kinase inhibitors (TKIs) are widely used to treat patients with leukaemia driven by BCR–ABL1 (ref. 1) and other oncogenic tyrosine kinases2,3. Recent efforts have focused on developing more potent TKIs that also inhibit mutant tyrosine kinases4,5. However, even effective TKIs typically fail to eradicate leukaemia-initiating cells (LICs)6,7,8, which often cause recurrence of leukaemia after initially successful treatment. Here we report the discovery of a novel mechanism of drug resistance, which is based on protective feedback signalling of leukaemia cells in response to treatment with TKI. We identify BCL6 as a central component of this drug-resistance pathway and demonstrate that targeted inhibition of BCL6 leads to eradication of drug-resistant and leukaemia-initiating subclones.
Access options
Subscribe to Journal
Get full journal access for 1 year
$199.00
only $3.90 per issue
All prices are NET prices.
VAT will be added later in the checkout.
Tax calculation will be finalised during checkout.
Rent or Buy article
Get time limited or full article access on ReadCube.
from$8.99
All prices are NET prices.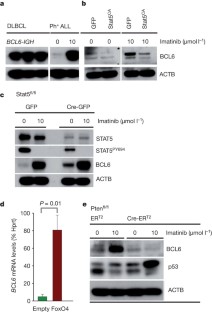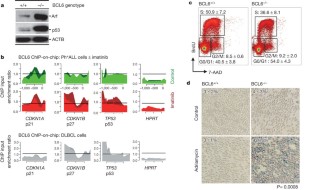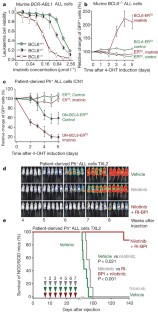 References
1

Druker, B. J. et al. Activity of a specific inhibitor of the BCR-ABL tyrosine kinase in the blast crisis of chronic myeloid leukemia and acute lymphoblastic leukemia with the Philadelphia chromosome. N. Engl. J. Med. 344, 1038–1042 (2001)

2

Armstrong, S. A. et al. Inhibition of FLT3 in MLL. Validation of a therapeutic target identified by gene expression based classification. Cancer Cell 3, 173–183 (2003)

3

Meydan, N. et al. Inhibition of acute lymphoblastic leukaemia by a Jak-2 inhibitor. Nature 379, 645–648 (1996)

4

Shah, N. P. et al. Overriding imatinib resistance with a novel ABL kinase inhibitor. Science 305, 399–401 (2004)

5

O'Hare, T. et al. AP24534, a pan-BCR-ABL inhibitor for chronic myeloid leukemia, potently inhibits the T315I mutant and overcomes mutation-based resistance. Cancer Cell 16, 401–412 (2009)

6

Graham, S. M. et al. Primitive, quiescent, Philadelphia-positive stem cells from patients with chronic myeloid leukemia are insensitive to STI571 in vitro . Blood 99, 319–325 (2002)

7

Naka, K. et al. TGF-β-FOXO signalling maintains leukaemia-initiating cells in chronic myeloid leukaemia. Nature 463, 676–680 (2010)

8

Oravecz-Wilson, K. I. et al. Persistence of leukemia-initiating cells in a conditional knockin model of an imatinib-responsive myeloproliferative disorder. Cancer Cell 16, 137–148 (2009)

9

Saito, M. et al. A signaling pathway mediating downregulation of BCL6 in germinal center B cells is blocked by BCL6 gene alterations in B cell lymphoma. Cancer Cell 12, 280–292 (2007)

10

Pratilas, C. A. et al. (V600E)BRAF is associated with disabled feedback inhibition of RAF-MEK signaling and elevated transcriptional output of the pathway. Proc. Natl Acad. Sci. USA 106, 4519–4524 (2009)

11

Choudhary, C. et al. Mislocalized activation of oncogenic RTKs switches downstream signaling outcomes. Mol. Cell 36, 326–339 (2009)

12

Janes, M. R. et al. Effective and selective targeting of leukemia cells using a TORC1/2 kinase inhibitor. Nature Med. 16, 205–213 (2010)

13

Walker, S. R., Nelson, E. A. & Frank, D. A. STAT5 represses BCL6 expression by binding to a regulatory region frequently mutated in lymphomas. Oncogene 26, 224–233 (2007)

14

Duy, C. et al. BCL6 is critical for the development of a diverse primary B cell repertoire. J. Exp. Med. 207, 1209–1221 (2010)

15

Fernandez de Mattos, S. et al. FoxO3a and BCR-ABL regulate cyclin D2 transcription through a STAT5/BCL6-dependent mechanism. Mol. Cell. Biol. 24, 10058–10071 (2004)

16

Phan, R. T. & Dalla-Favera, R. The BCL6 proto-oncogene suppresses p53 expression in germinal-centre B cells. Nature 432, 635–639 (2004)

17

Wendel, H. G. et al. Loss of p53 impedes the antileukemic response to BCR-ABL inhibition. Proc. Natl Acad. Sci. USA 103, 7444–7449 (2006)

18

Goldberg, Z., Levav, Y., Krichevsky, S., Fibach, E. & Haupt, Y. Treatment of chronic myeloid leukemia cells with imatinib (STI571) impairs p53 accumulation in response to DNA damage. Cell Cycle 3, 1188–1195 (2004)

19

Skorta, I. et al. Imatinib mesylate induces cisplatin hypersensitivity in Bcr-Abl+ cells by differential modulation of p53 transcriptional and proapoptotic activity. Cancer Res. 69, 9337–9345 (2009)

20

Kamijo, T. et al. Tumor suppression at the mouse INK4a locus mediated by the alternative reading frame product p19ARF. Cell 91, 649–659 (1997)

21

Braig, M. et al. Oncogene-induced senescence as an initial barrier in lymphoma development. Nature 436, 660–665 (2005)

22

Mullighan, C. G. et al. Genomic analysis of the clonal origins of relapsed acute lymphoblastic leukemia. Science 322, 1377–1380 (2008)

23

Williams, R. T., Roussel, M. F. & Sherr, C. J. Arf gene loss enhances oncogenicity and limits imatinib response in mouse models of Bcr-Abl-induced acute lymphoblastic leukemia. Proc. Natl Acad. Sci. USA 103, 6688–6693 (2006)

24

Krause, D. S., Lazarides, K., von Andrian, U. H. & Van Etten, R. A. Requirement for CD44 in homing and engraftment of BCR-ABL-expressing leukemic stem cells. Nature Med. 12, 1175–1180 (2006)

25

Cerchietti, L. C. et al. A peptomimetic inhibitor of BCL6 with potent antilymphoma effects in vitro and in vivo . Blood 113, 3397–3405 (2009)

26

Shaffer, A. L. et al. BCL-6 represses genes that function in lymphocyte differentiation, inflammation, and cell cycle control. Immunity 13, 199–212 (2000)

27

Williams, R. T. den, B. W. & Sherr, C. J. Cytokine-dependent imatinib resistance in mouse BCR-ABL+, Arf-null lymphoblastic leukemia. Genes Dev. 21, 2283–2287 (2007)

28

Gruber, T. A., Chang, M. S., Sposto, R. & Muschen, M. Activation-induced cytidine deaminase accelerates clonal evolution in BCR-ABL1-driven B-cell lineage acute lymphoblastic leukemia. Cancer Res. 70, 7411–7420 (2010)

29

Cerchietti, L. C. et al. A small-molecule inhibitor of BCL6 kills DLBCL cells in vitro and in vivo . Cancer Cell 17, 400–411 (2010)

30

Pear, W. S. et al. Efficient and rapid induction of a chronic myelogenous leukemia-like myeloproliferative disease in mice receiving P210 bcr/abl-transduced bone marrow. Blood 92, 3780–3792 (1998)

31

Onishi, M. et al. Identification and characterization of a constitutively active STAT5 mutant that promotes cell proliferation. Mol. Cell. Biol. 18, 3871–3879 (1998)

32

Godar, S. et al. Growth-inhibitory and tumor- suppressive functions of p53 depend on its repression of CD44 expression. Cell 134, 62–73 (2008)

33

Kumar, M. S. et al. Dicer1 functions as a haploinsufficient tumor suppressor. Genes Dev. 23, 2700–2704 (2009)

34

Soneoka, Y. et al. A transient three-plasmid expression system for the production of high titer retroviral vectors. Nucleic Acids Res. 23, 628–633 (1995)

35

Dent, A. L., Shaffer, A. L., Yu, X., Allman, D. & Staudt, L. M. Control of inflammation, cytokine expression, and germinal center formation by BCL-6. Science 276, 589–592 (1997)

36

Ye, B. H. et al. The BCL-6 proto-oncogene controls germinal-centre formation and Th2-type inflammation. Nature Genet. 16, 161–170 (1997)

37

Cui, Y. et al. Inactivation of Stat5 in mouse mammary epithelium during pregnancy reveals distinct functions in cell proliferation, survival, and differentiation. Mol. Cell. Biol. 24, 8037–8047 (2004)

38

Groszer, M. et al. Negative regulation of neural stem/progenitor cell proliferation by the Pten tumor suppressor gene in vivo. Science 294, 2186–2189 (2001)

39

Ahmad, K. F. et al. Mechanism of SMRT corepressor recruitment by the BCL6 BTB domain. Mol. Cell 12, 1551–1564 (2003)

40

Ghetu, A. F. et al. Structure of a BCOR corepressor peptide in complex with the BCL6 BTB domain dimer. Mol. Cell 29, 384–391 (2008)

41

Polo, J. M. et al. Specific peptide interference reveals BCL6 transcriptional and oncogenic mechanisms in B-cell lymphoma cells. Nature Med. 10, 1329–1335 (2004)

42

Chakravarti, L. &. Roy, (1967). Handbook of Methods of Applied Statistics, Volume I, John Wiley and Sons, pp. 392-394. (1967)

43

Ci, W. et al. The BCL6 transcriptional program features repression of multiple oncogenes in primary B cells and is deregulated in DLBCL. Blood 113, 5536–5548 (2009)

44

Polo, J. M. et al. Transcriptional signature with differential expression of BCL6 target genes accurately identifies BCL6-dependent diffuse large B cell lymphomas. Proc. Natl Acad. Sci. USA 104, 3207–3212 (2007)

45

Trageser, D. et al. Pre-B cell receptor-mediated cell cycle arrest in Philadelphia chromosome-positive acute lymphoblastic leukemia requires IKAROS function. J. Exp. Med. 206, 1739–1753 (2009)
Acknowledgements
We thank R. Dalla-Favera and L. Hennighausen for sharing BCL6−/− and STAT5fl/fl mice and wild-type controls with us. We thank A. L. Shaffer and L. M. Staudt for sharing their inducible BCL6 constructs. This work was supported by grants from the National Institutes of Health/National Cancer Institute through R01CA104348 (to A.M.), R01CA085573 (to B.H.Y.), R01CA026038 (to H.P.K.), R01CA090321 (to N.H.), R01CA137060 (to M.M.), R01CA139032 (to M.M.), R01CA157664 (to M.M.) and R21CA152497 (to M.M.), grants from the Leukemia and Lymphoma Society (to M.M.) Leukemia and Lymphoma Society SCOR 7005-11 (PI B. J. Druker), a grant from the Alex's Lemonade Stand Foundation for Pediatric Cancer Research (to M.M.), the California Institute for Regenerative Medicine through TR02-1816 (to M.M.), the William Laurence and Blanche Hughes Foundation and a Stand Up To Cancer-American Association for Cancer Research Innovative Research Grant IRG00909 (to M.M.). A.M. and M.M. are Scholars of the Leukemia and Lymphoma Society.
Ethics declarations
Competing interests
The authors declare no competing financial interests.
Supplementary information
The file contains Supplementary Figures 1-26 with legends and Supplementary Tables 1-5. (PDF 5139 kb)
About this article
Cite this article
Duy, C., Hurtz, C., Shojaee, S. et al. BCL6 enables Ph+ acute lymphoblastic leukaemia cells to survive BCR–ABL1 kinase inhibition. Nature 473, 384–388 (2011). https://doi.org/10.1038/nature09883
Received:

Accepted:

Published:

Issue Date:
Comments
By submitting a comment you agree to abide by our Terms and Community Guidelines. If you find something abusive or that does not comply with our terms or guidelines please flag it as inappropriate.