Abstract
When an extrasolar planet passes in front of (transits) its star, its radius can be measured from the decrease in starlight and its orbital period from the time between transits. Multiple planets transiting the same star reveal much more: period ratios determine stability and dynamics, mutual gravitational interactions reflect planet masses and orbital shapes, and the fraction of transiting planets observed as multiples has implications for the planarity of planetary systems. But few stars have more than one known transiting planet, and none has more than three. Here we report Kepler spacecraft observations of a single Sun-like star, which we call Kepler-11, that reveal six transiting planets, five with orbital periods between 10 and 47 days and a sixth planet with a longer period. The five inner planets are among the smallest for which mass and size have both been measured, and these measurements imply substantial envelopes of light gases. The degree of coplanarity and proximity of the planetary orbits imply energy dissipation near the end of planet formation.
Relevant articles
Open Access articles citing this article.
Luca Borsato

,

Valerio Nascimbeni

…

Gyula Szabó

Experimental Astronomy Open Access 21 April 2021

J. E. Owen

,

I. F. Shaikhislamov

…

M. L. Khodachenko

Space Science Reviews Open Access 04 November 2020

Billy Edwards

,

Malena Rice

…

Subhajit Sarkar

Experimental Astronomy Open Access 08 December 2018
Access options
Subscribe to Journal
Get full journal access for 1 year
$199.00
only $3.90 per issue
All prices are NET prices.
VAT will be added later in the checkout.
Tax calculation will be finalised during checkout.
Buy article
Get time limited or full article access on ReadCube.
$32.00
All prices are NET prices.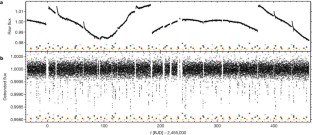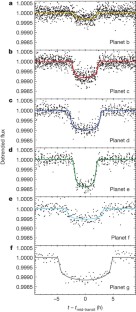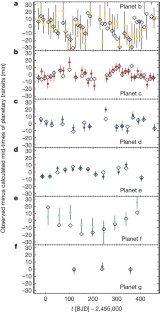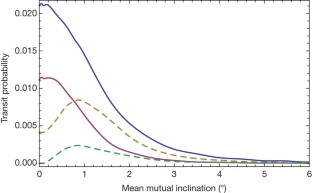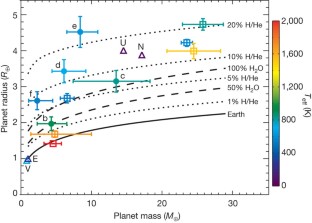 References
Borucki, W. J. et al. Kepler planet-detection mission: introduction and first results. Science 327, 977–980 (2010)

Koch, D. G. et al. Kepler mission design, realized photometric performance, and early science. Astrophys. J. 713, L79–L86 (2010)

Jenkins, J. et al. Overview of the Kepler science processing pipeline. Astrophys. J. 713, L87–L91 (2010)

Caldwell, D. et al. Instrument performance in Kepler's first months. Astrophys. J. 713, L92–L96 (2010)

Holman, M. J. et al. Kepler-9: a system of multiple planets transiting a sun-like, confirmed by timing variations. Science 330, 51–54 (2010)

Torres, G. et al. Modeling Kepler transit light curves as false positives: rejection of blend scenarios for Kepler-9, and validation of Kepler-9d, a super-Earth-size planet in a multiple system. Astrophys. J. 727, 24 (2011)

Batalha, N. et al. Kepler's first rocky planet: Kepler-10b. Astrophys. J. 728 (in the press)

Steffen, J. H. et al. Five Kepler target stars that show multiple transiting exoplanet candidates. Astrophys. J. 725, 1226–1241 (2010)

Mandel, K. & Agol, E. Analytic light curves for planetary transit searches. Astrophys. J. 580, L171–L175 (2002)

Brown, T. Expected detection and false alarm rates for transiting Jovian planets. Astrophys. J. 593, L125–L128 (2003)

Valenti, J. A. & Piskunov, N. Spectroscopy made easy: a new tool for fitting observations with synthetic spectra. Astron. Astrophys. 118 (Suppl.). 595–603 (1996)

Valenti, J. A. & Fischer, D. A. Spectroscopic properties of cool stars (SPOCS). I. 1040 F, G, and K dwarfs from Keck, Lick, and AAT planet search programs. Astrophys. J. 159 (Suppl.). 141–166 (2005)

Girardi, L., Bressan, A., Bertelli, G. & Chiosi, C. Evolutionary tracks and isochrones for low- and intermediate-mass stars: from 0.15 to 7 Msun, and from Z = 0.0004 to 0.03. Astron. Astrophys. 141 (Suppl.). 371–383 (2000)

Yi, S. et al. Toward better age estimates for stellar populations: The Y2 isochrones for solar mixture. Astrophys. J. 136 (Suppl.). 417–437 (2001)

Holman, M. J. & Murray, N. W. The use of transit timing to detect terrestrial-mass extrasolar planets. Science 307, 1288–1291 (2005)

Agol, E., Steffen, J., Sari, R. & Clarkson, W. On detecting terrestrial planets with timing of giant planet transits. Mon. Not. R. Astron. Soc. 359, 567–579 (2005)

Fabrycky, D. in Exoplanets (ed. Seager, S. ) 217–238 (University of Arizona Press, 2010)

Cumming, A. et al. The Keck planet search: detectability and the minimum mass and orbital period distribution of extrasolar planets. Publ. Astron. Soc. Pacif. 120, 531–554 (2008)

Howard, A. et al. The occurrence and mass distribution of close-in super-Earths, Neptunes, and Jupiters. Science 330, 653–655 (2010)

Smith, A. W. & Lissauer, J. J. Orbital stability of systems of closely-spaced planets. Icarus 201, 381–394 (2009)

Gladman, B. Dynamics of systems of two close planets. Icarus 106, 247–263 (1993)

Koch, D. & Borucki, W. A search for earth-sized planets in habitable zones using photometry. First Int. Conf. Circumstellar Habitable Zones 229 (Travis House Publishing, 1996)

Ragozzine, D. & Holman, M. J. The value of systems with multiple transiting planets. Astrophys. J. (submitted); preprint at 〈http://arxiv.org/abs/1006.3727〉 (2010)

Miralda-Escude, J. Orbital perturbations of transiting planets: a possible method to measure stellar quadrupoles and to detect earth-mass planets. Astrophys. J. 564, 1019–1023 (2002)

Elkins-Tanton, L. T. & Seager, S. Ranges of atmospheric mass and composition of super-Earth exoplanets. Astrophys. J. 685, 1237–1246 (2008)

Miller-Ricci, E., Seager, S. & Sasselov, D. The atmospheric signatures of super-Earths: how to distinguish between hydrogen-rich and hydrogen-poor atmospheres. Astrophys. J. 690, 1056–1067 (2009)

Lecavelier des Etangs, A. A diagram to determine the evaporation status of extrasolar planets. Astron. Astrophys. 461, 1185–1193 (2007)

Vidal-Madjar, A. et al. An extended upper atmosphere around the extrasolar planet HD209458b. Nature 422, 143–146 (2003)

Lecavelier des Etangs, A. et al. Evaporation of the planet HD 189733 observed in H I Lyman-α. Astron. Astrophys. 514, A72 (2010)

Papaloizou, J. C. B. & Terquem, C. On the dynamics of multiple systems of hot super-Earths and Neptunes: tidal circularization, resonance and the HD 40307 system. Mon. Not. R. Astron. Soc. 405, 573–592 (2010)

Rowe, J. F. et al. Kepler observations of transiting hot compact objects. Astrophys. J. 713, L150–L154 (2010)

Miller, N., Fortney, J. J. & Jackson, B. Inflating and deflating hot Jupiters: coupled tidal and thermal evolution of known transiting planets. Astrophys. J. 702, 1413–1427 (2009)

Nettelmann, N., Fortney, J. J., Kramm, U. & Redmer, R. Thermal evolution and structure models of the transiting super-Earth GJ 1214b. Astrophys. J. (in the press); preprint at 〈http://arxiv.org/abs/1010.0277〉 (2010)

Rogers, L. A. & Seager, S. A framework for quantifying the degeneracies of exoplanet interior compositions. Astrophys. J. 712, 974–991 (2010)

Borucki, W. J. et al. Characterization of planetary candidates observed by Kepler. Astrophys. J. (submitted)
Acknowledgements
Kepler was competitively selected as the tenth Discovery mission. Funding for this mission is provided by NASA's Science Mission Directorate. We thank the many people who gave so generously of their time to make the Kepler mission a success. A. Dobrovolskis, T. J. Lee and D. Queloz provided constructive comments on the manuscript. D.C.F. and J.A.C. acknowledge NASA support through Hubble Fellowship grants HF-51272.01-A and HF-51267.01-A, respectively, awarded by STScI, operated by AURA under contract NAS 5-26555.
Ethics declarations
Competing interests
The authors declare no competing financial interests.
Supplementary information
The file contains Supplementary Text, Supplementary References, Supplementary Tables 1-6 and Supplementary Figures 1-12 with legends. (PDF 1254 kb)
About this article
Cite this article
Lissauer, J., Fabrycky, D., Ford, E. et al. A closely packed system of low-mass, low-density planets transiting Kepler-11. Nature 470, 53–58 (2011). https://doi.org/10.1038/nature09760
Received:

Accepted:

Published:

Issue Date:

DOI: https://doi.org/10.1038/nature09760
Comments
By submitting a comment you agree to abide by our Terms and Community Guidelines. If you find something abusive or that does not comply with our terms or guidelines please flag it as inappropriate.