Abstract
Observations of the 21-centimetre line of atomic hydrogen in the early Universe directly probe the history of the reionization of the gas between galaxies1. The observations are challenging, though, because of the low expected signal strength (∼10 mK), and contamination by strong (>100 K) foreground synchrotron emission in the Milky Way and extragalactic continuum sources2. If reionization happened rapidly, there should be a characteristic signature2,3,4 visible against the smooth foreground in an all-sky spectrum. Here we report an all-sky spectrum between 100 and 200 MHz, corresponding to the redshift range 6 < z < 13 for the 21-centimetre line. The data exclude a rapid reionization timescale of Δz < 0.06 at the 95% confidence level.
This is a preview of subscription content
Access options
Subscribe to Journal
Get full journal access for 1 year
$199.00
only $3.90 per issue
All prices are NET prices.
VAT will be added later in the checkout.
Tax calculation will be finalised during checkout.
Rent or Buy article
Get time limited or full article access on ReadCube.
from$8.99
All prices are NET prices.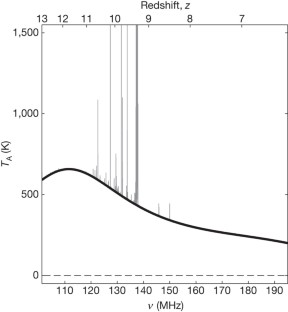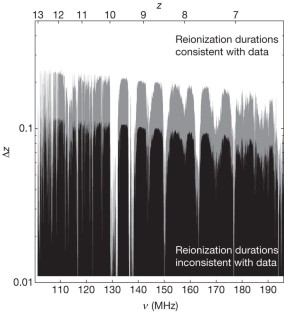 References
1

Furlanetto, S. R., Oh, S. P. & Briggs, F. H. Cosmology at low frequencies: the 21 cm transition and the high-redshift Universe. Phys. Rep. 433, 181–301 (2006)

2

Shaver, P. A., Windhorst, R. A., Madau, P. & de Bruyn, A. G. Can the reionization epoch be detected as a global signature in the cosmic background? Astron. Astrophys. 345, 380–390 (1999)

3

Gnedin, N. Y. & Shaver, P. A. Redshifted 21 centimeter emission from the pre-reionization era. I. Mean signal and linear fluctuations. Astrophys. J. 608, 611–621 (2004)

4

Furlanetto, S. R. The global 21-centimeter background from high redshifts. Mon. Not. R. Astron. Soc. 371, 867–878 (2006)

5

Zaldarriaga, M., Furlanetto, S. R. & Hernquist, L. 21 centimeter fluctuations from cosmic gas at high redshifts. Astrophys. J. 608, 622–635 (2004)

6

Madau, P., Meiksin, A. & Rees, M. J. 21 centimeter tomography of the intergalactic medium at high redshift. Astrophys. J. 475, 429–444 (1997)

7

Larson, D. et al. Seven-year Wilkinson Microwave Anisotropy Probe (WMAP) observations: power spectra and WMAP-derived parameters. Preprint at 〈http://arxiv.org/abs/1001.4635〉 (2010)

8

Komatsu, E. et al. Seven-year Wilkinson Microwave Anisotropy Probe (WMAP) observations: cosmological interpretation. Preprint at 〈http://arxiv.org/abs/1001.4538〉 (2010)

9

Bowman, J. D., Rogers, A. E. E. & Hewitt, J. N. Toward empirical constraints on the global redshifted 21 cm brightness temperature during the epoch of reionization. Astrophys. J. 676, 1–9 (2008)

10

Rogers, A. E. E. & Bowman, J. D. Spectral index of the diffuse radio background measured from 100 to 200 MHz. Astron. J. 136, 641–648 (2008)

11

Pritchard, J. R. & Loeb, A. Constraining the unexplored period between the dark ages and reionization with observations of the global 21 cm signal. Phys. Rev. D 82, 023006 (2010)

12

Pritchard, J. R., Loeb, A. & Wyithe, J. S. B. Constraining reionization using 21-cm observations in combination with CMB and Ly-α forest data. Mon. Not. R. Astron. Soc. 408 . 57–70 (2010)

13

Pritchard, J. R. & Loeb, A. Evolution of the 21 cm signal throughout cosmic history. Phys. Rev. D 78, 103511 (2008)
Acknowledgements
This work was supported by the NSF. J.D.B was supported during part of this work at the California Institute of Technology by NASA through a Hubble Fellowship awarded by the Space Telescope Science Institute, which is operated by the Association of Universities for Research in Astronomy for NASA. This scientific work uses data obtained from the Murchison Radio-astronomy Observatory. We acknowledge the Wajarri Yamatji people as the traditional owners of the Observatory site. We thank CSIRO and Curtin University for logistical support and D. DeBoer, D. Herne, D. Emrich, M. Halleen and C. Halleen for on-site support.
Ethics declarations
Competing interests
The authors declare no competing financial interests.
Supplementary information
This file contains Supplementary Information comprising Description of the EDGES radio spectrometer, Analog-to-Digital Conversion, Compact, Planar, Dual-Octave Antenna and Ground Screen, Calibration and Data Interpretation, Selection of Observing Site, Supplementary Figures 1-2 with legends and additional references. (PDF 1108 kb)
About this article
Cite this article
Bowman, J., Rogers, A. A lower limit of Δz > 0.06 for the duration of the reionization epoch. Nature 468, 796–798 (2010). https://doi.org/10.1038/nature09601
Received:

Accepted:

Published:

Issue Date:
Comments
By submitting a comment you agree to abide by our Terms and Community Guidelines. If you find something abusive or that does not comply with our terms or guidelines please flag it as inappropriate.