Abstract
Most inner main-belt asteroids are primitive rock and metal bodies in orbit about the Sun between Mars and Jupiter. Disruption, through high-velocity collisions or rotational spin-up, is believed to be the primary mechanism for the production and destruction of small asteroids1,2 and a contributor to dust in the Sun's zodiacal cloud3, while analogous collisions around other stars feed dust to their debris disks4. Unfortunately, direct evidence about the mechanism or rate of disruption is lacking, owing to the rarity of the events. Here we report observations of P/2010 A2, a previously unknown inner-belt asteroid with a peculiar, comet-like morphology. The data reveal a nucleus of diameter approximately 120 metres with an associated tail of millimetre-sized dust particles. We conclude that it is most probably the remnant of a recent asteroidal disruption in February/March 2009, evolving slowly under the action of solar radiation pressure, in agreement with independent work5.
This is a preview of subscription content
Access options
Subscribe to Journal
Get full journal access for 1 year
$199.00
only $3.90 per issue
All prices are NET prices.
VAT will be added later in the checkout.
Tax calculation will be finalised during checkout.
Buy article
Get time limited or full article access on ReadCube.
$32.00
All prices are NET prices.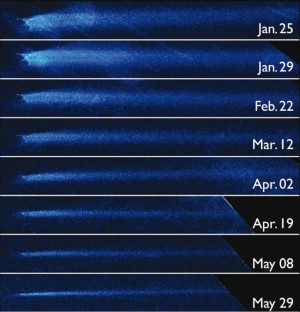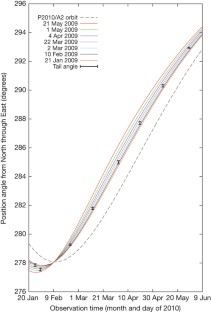 References
Bottke, W. F., Nolan, M. C., Greenberg, R. & Kolvoord, R. A. Velocity distributions among colliding asteroids. Icarus 107, 255–268 (1994)

Holsapple, K. A. Spin limits of solar system bodies: from the small fast-rotators to 2003 EL61. Icarus 187, 500–509 (2007)

Nesvorný, D. et al. Origin of the near-ecliptic circumsolar dust band. Astrophys. J. 679, L143–L146 (2008)

Wyatt, M. C. Evolution of debris disks. Annu. Rev. Astron. Astrophys. 46, 339–383 (2008)

Snodgrass, C. et al. A collision in 2009 as the origin of the debris trail of asteroid P/2010 A2. Nature doi: 10.1038/nature09453 (this issue).

Birtwhistle, P., Ryan, W. H., Sato, H., Beshore, E. C. & Kadota, K. Comet P/2010 A2 (LINEAR). Cent. Bur. Electron. Telegr. 2114, (2010)

Hsieh, H. H. & Jewitt, D. A population of comets in the main asteroid belt. Science 312, 561–563 (2006)

Jewitt, D., Annis, J. & Soares-Santos, M. Comet P/2010 A2 (LINEAR). IAU Circ. 9109, (2010)

Licandro, J., Tozzi, G. P., Liimets, T., Cabrera-Lavers, A. & Gomez, G. Comet P/2010 A2 (LINEAR). Cent. Bur. Electron. Telegr. 2134, (2010)

Gradie, J. & Tedesco, E. Compositional structure of the asteroid belt. Science 216, 1405–1407 (1982)

Agarwal, J. et al. The dust trail of Comet 67P/Churyumov-Gerasimenko between 2004 and 2006. Icarus 207, 992–1012 (2010)

Rubincam, D. P. Radiative spin-up and spin-down of small asteroids. Icarus 148, 2–11 (2000)

Taylor, P. A. et al. Spin rate of asteroid (54509) 2000 PH5 increasing due to the YORP effect. Science 316, 274–277 (2007)

Benz, W. & Asphaug, E. Catastrophic disruptions revisited. Icarus 142, 5–20 (1999)

Michikami, T., Moriguchi, K., Hasegawa, S. & Fujiwara, A. Ejecta velocity distribution for impact cratering experiments on porous and low strength targets. Planet. Space Sci. 55, 70–88 (2007)

Jutzi, M., Michel, P., Benz, W. & Richardson, D. C. Fragment properties at the catastrophic disruption threshold: the effect of the parent body's internal structure. Icarus 207, 54–65 (2010)

Bottke, W. F. et al. Linking the collisional history of the main asteroid belt to its dynamical excitation and depletion. Icarus 179, 63–94 (2005)

Leinert, C., Roser, S. & Buitrago, J. How to maintain the spatial distribution of interplanetary dust. Astron. Astrophys. 118, 345–357 (1983)

Nesvorný, D. et al. Cometary origin of the zodiacal cloud and carbonaceous micrometeorites: implications for hot debris disks. Astrophys. J. 713, 816–836 (2010)
Acknowledgements
D.J. thanks J. Annis and M. Soares-Santos for taking initial observations at the WIYN telescope from which the unusual appearance of P/2010 A2 was discovered. We thank the Director of Space Telescope Science Institute for the allocations of Discretionary Time used to obtain the results presented here.
Ethics declarations
Competing interests
The authors declare no competing financial interests.
Supplementary information
The file contains Supplementary Text, an additional reference, Supplementary Tables 1-3 and Supplementary Figure 1 with a legend. (PDF 124 kb)
About this article
Cite this article
Jewitt, D., Weaver, H., Agarwal, J. et al. A recent disruption of the main-belt asteroid P/2010 A2. Nature 467, 817–819 (2010). https://doi.org/10.1038/nature09456
Received:

Accepted:

Published:

Issue Date:

DOI: https://doi.org/10.1038/nature09456
Comments
By submitting a comment you agree to abide by our Terms and Community Guidelines. If you find something abusive or that does not comply with our terms or guidelines please flag it as inappropriate.