Abstract
Mononucleated and binucleated polyploid hepatocytes (4n, 8n, 16n and higher) are found in all mammalian species, but the functional significance of this conserved phenomenon remains unknown1,2,3,4. Polyploidization occurs through failed cytokinesis, begins at weaning in rodents and increases with age2,5,6,7. Previously, we demonstrated that the opposite event, ploidy reversal, also occurs in polyploid hepatocytes generated by artificial cell fusion8,9,10. This raised the possibility that somatic 'reductive mitoses' can also happen in normal hepatocytes. Here we show that multipolar mitotic spindles form frequently in mouse polyploid hepatocytes and can result in one-step ploidy reversal to generate offspring with halved chromosome content. Proliferating hepatocytes produce a highly diverse population of daughter cells with multiple numerical chromosome imbalances as well as uniparental origins. Our findings support a dynamic model of hepatocyte polyploidization, ploidy reversal and aneuploidy, a phenomenon that we term the 'ploidy conveyor'. We propose that this mechanism evolved to generate genetic diversity and permits adaptation of hepatocytes to xenobiotic or nutritional injury.
Relevant articles
Open Access articles citing this article.
Juliane Friemel

,

Irianna Torres

…

Kerstin Heselmeyer-Haddad

Scientific Reports Open Access 31 December 2022

Ren Guo

,

Mengmeng Jiang

…

Xin Xie

Nature Communications Open Access 29 November 2022

Miryam Müller

,

Stephanie May

&

Thomas G. Bird

Nature Communications Open Access 25 March 2021
Access options
Subscribe to Journal
Get full journal access for 1 year
$199.00
only $3.90 per issue
All prices are NET prices.
VAT will be added later in the checkout.
Tax calculation will be finalised during checkout.
Buy article
Get time limited or full article access on ReadCube.
$32.00
All prices are NET prices.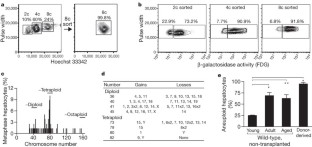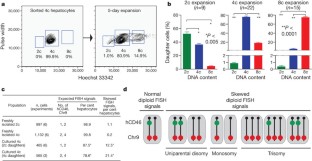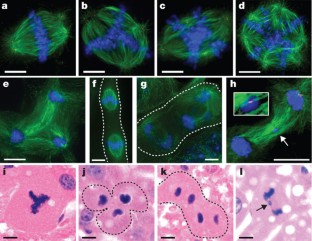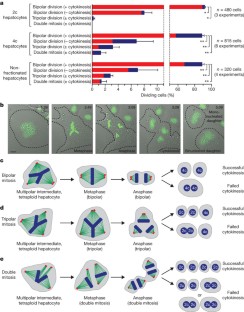 References
Faktor, V. M. & Uryvaeva, I. V. Progressive polyploidy in mouse liver following repeated hepatectomy. Tsitologiia 17, 909–916 (1975)

Guidotti, J. E. et al. Liver cell polyploidization: a pivotal role for binuclear hepatocytes. J. Biol. Chem. 278, 19095–19101 (2003)

Kudryavtsev, B. N., Kudryavtseva, M. V., Sakuta, G. A. & Stein, G. I. Human hepatocyte polyploidization kinetics in the course of life cycle. Virchows Arch. B Cell Pathol. Incl. Mol. Pathol. 64, 387–393 (1993)

Yim, A. P. Some flow-cytofluorimetric studies of the nuclear ploidy of mouse hepatocytes: iii. further observations on early changes in nuclear ploidy of mouse hepatocytes following various experimental procedures. Br. J. Exp. Pathol. 63, 458–461 (1982)

Barbason, H., Van Cantfort, J. & Houbrechts, N. Correlation between tissular and division functions in the liver of young rats. Cell Tissue Kinet. 7, 319–326 (1974)

Celton-Morizur, S., Merlen, G., Couton, D., Margall-Ducos, G. & Desdouets, C. The insulin/Akt pathway controls a specific cell division program that leads to generation of binucleated tetraploid liver cells in rodents. J. Clin. Invest. 119, 1880–1887 (2009)

Margall-Ducos, G., Celton-Morizur, S., Couton, D., Bregerie, O. & Desdouets, C. Liver tetraploidization is controlled by a new process of incomplete cytokinesis. J. Cell Sci. 120, 3633–3639 (2007)

Duncan, A. W. et al. Ploidy reductions in murine fusion-derived hepatocytes. PLoS Genet. 5, e1000385 (2009)

Wang, X. et al. Cell fusion is the principal source of bone-marrow-derived hepatocytes. Nature 422, 897–901 (2003)

Willenbring, H. et al. Myelomonocytic cells are sufficient for therapeutic cell fusion in liver. Nature Med. 10, 744–748 (2004)

Overturf, K. et al. Hepatocytes corrected by gene therapy are selected in vivo in a murine model of hereditary tyrosinaemia type I. Nature Genet. 12, 266–273 (1996)

Jorquera, R. & Tanguay, R. M. The mutagenicity of the tyrosine metabolite, fumarylacetoacetate, is enhanced by glutathione depletion. Biochem. Biophys. Res. Commun. 232, 42–48 (1997)

Yannoutsos, N. et al. A membrane cofactor protein transgenic mouse model for the study of discordant xenograft rejection. Genes Cells 1, 409–419 (1996)

Ganem, N. J., Godinho, S. A. & Pellman, D. A mechanism linking extra centrosomes to chromosomal instability. Nature 460, 278–282 (2009)

Gimelbrant, A., Hutchinson, J. N., Thompson, B. R. & Chess, A. Widespread monoallelic expression on human autosomes. Science 318, 1136–1140 (2007)

Rancati, G. et al. Aneuploidy underlies rapid adaptive evolution of yeast cells deprived of a conserved cytokinesis motor. Cell 135, 879–893 (2008)

Manning, K., Al-Dhalimy, M., Finegold, M. & Grompe, M. In vivo suppressor mutations correct a murine model of hereditary tyrosinemia type I. Proc. Natl Acad. Sci. USA 96, 11928–11933 (1999)

Mitchell, C. & Willenbring, H. A reproducible and well-tolerated method for 2/3 partial hepatectomy in mice. Nature Protocols 3, 1167–1170 (2008)

Ko, M. A. et al. Plk4 haploinsufficiency causes mitotic infidelity and carcinogenesis. Nature Genet. 37, 883–888 (2005)

Darlington, G. J., Kelley, J. H. & Buffone, G. J. Growth and hepatospecific gene expression of human hepatoma cells in a defined medium. In Vitro Cell. Dev. Biol. 23, 349–354 (1987)

Bayani, J. & Squire, J. A. Fluorescence in situ hybridization (FISH). Curr. Protoc. Cell Biol. 10.1002/0471143030.cb2204s23 22 (2004)

Overturf, K. et al. Adenovirus-mediated gene therapy in a mouse model of hereditary tyrosinemia type I. Hum. Gene Ther. 8, 513–521 (1997)

Pagano, M., Pepperkok, R., Verde, F., Ansorge, W. & Draetta, G. Cyclin A is required at two points in the human cell cycle. EMBO J. 11, 961–971 (1992)

Friedrich, G. & Soriano, P. Promoter traps in embryonic stem cells: a genetic screen to identify and mutate developmental genes in mice. Genes Dev. 5, 1513–1523 (1991)

Grompe, M. et al. Loss of fumarylacetoacetate hydrolase is responsible for the neonatal hepatic dysfunction phenotype of lethal albino mice. Genes Dev. 7, 2298–2307 (1993)

Lagasse, E. et al. Purified hematopoietic stem cells can differentiate into hepatocytes in vivo . Nature Med. 6, 1229–1234 (2000)
Acknowledgements
We thank P. Canaday (Flow Cytometry Resource at OHSU) for cell sorting; A. Snyder and S. Kaech Petrie (Advanced Light Microscopy Core at OHSU, Core grant S10-RR023432) for microscopy assistance; and the Morphology Core of the Texas Medical Center (DK56338) for histology support. We also thank L. Smith and M. Thayer for discussions. This work was supported by grants from the National Institute of Health to M.G. (R01DK067636) and A.W.D. (F32DK076232).
Ethics declarations
Competing interests
The authors declare no competing financial interests.
Supplementary information
About this article
Cite this article
Duncan, A., Taylor, M., Hickey, R. et al. The ploidy conveyor of mature hepatocytes as a source of genetic variation. Nature 467, 707–710 (2010). https://doi.org/10.1038/nature09414
Received:

Accepted:

Published:

Issue Date:

DOI: https://doi.org/10.1038/nature09414
Comments
By submitting a comment you agree to abide by our Terms and Community Guidelines. If you find something abusive or that does not comply with our terms or guidelines please flag it as inappropriate.