Abstract
Mutation of the breast cancer susceptibility gene, BRCA2, leads to breast and ovarian cancers. Mechanistic insight into the functions of human BRCA2 has been limited by the difficulty of isolating this large protein (3,418 amino acids). Here we report the purification of full-length BRCA2 and show that it both binds RAD51 and potentiates recombinational DNA repair by promoting assembly of RAD51 onto single-stranded DNA (ssDNA). BRCA2 acts by targeting RAD51 to ssDNA over double-stranded DNA, enabling RAD51 to displace replication protein-A (RPA) from ssDNA and stabilizing RAD51–ssDNA filaments by blocking ATP hydrolysis. BRCA2 does not anneal ssDNA complexed with RPA, implying it does not directly function in repair processes that involve ssDNA annealing. Our findings show that BRCA2 is a key mediator of homologous recombination, and they provide a molecular basis for understanding how this DNA repair process is disrupted by BRCA2 mutations, which lead to chromosomal instability and cancer.
Relevant articles
Open Access articles citing this article.
Guangxue Liu

,

Jimin Li

…

Xuefeng Chen

Nature Communications Open Access 25 May 2023

Jinal A. Patel

&

Hyungjin Kim

Cellular and Molecular Life Sciences Open Access 09 March 2023

Domagoj Vugic

,

Isaac Dumoulin

…

Aura Carreira

Nature Communications Open Access 27 January 2023
Access options
Subscribe to this journal
Receive 51 print issues and online access
$199.00 per year
only $3.90 per issue
Rent or buy this article
Prices vary by article type
from$1.95
to$39.95
Prices may be subject to local taxes which are calculated during checkout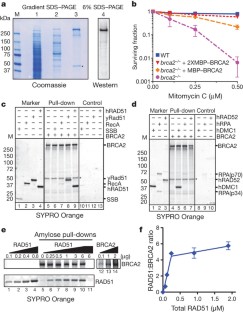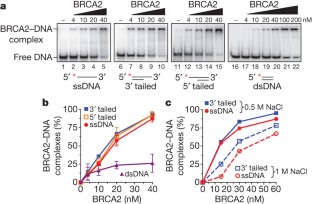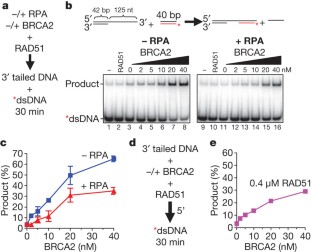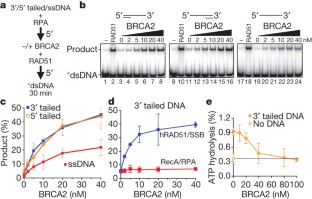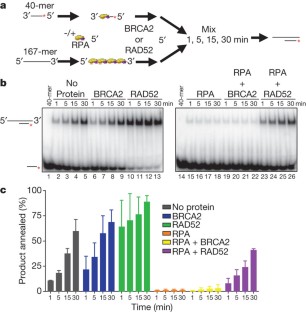 References
Lengauer, C., Kinzler, K. W. & Vogelstein, B. Genetic instabilities in human cancers. Nature 396, 643–649 (1998)

Yu, V. P. et al. Gross chromosomal rearrangements and genetic exchange between nonhomologous chromosomes following BRCA2 inactivation. Genes Dev. 14, 1400–1406 (2000)

Wooster, R. et al. Identification of the breast cancer susceptibility gene BRCA2 . Nature 378, 789–792 (1995)

Phelan, C. M. et al. Mutation analysis of the BRCA2 gene in 49 site-specific breast cancer families. Nature Genet. 13, 120–122 (1996)

Wong, A. K. C., Pero, R., Ormonde, P. A., Tavtigian, S. V. & Bartel, P. L. RAD51 interacts with the evolutionarily conserved BRC motifs in the human breast cancer susceptibility gene brca2 . J. Biol. Chem. 272, 31941–31944 (1997)

Bignell, G., Micklem, G., Stratton, M. R., Ashworth, A. & Wooster, R. The BRC repeats are conserved in mammalian BRCA2 proteins. Hum. Mol. Genet. 6, 53–58 (1997)

Esashi, F. et al. CDK-dependent phosphorylation of BRCA2 as a regulatory mechanism for recombinational repair. Nature 434, 598–604 (2005)

Bianco, P. R., Tracy, R. B. & Kowalczykowski, S. C. DNA strand exchange proteins: a biochemical and physical comparison. Front. Biosci. 3, D570–D603 (1998)

Baumann, P., Benson, F. E. & West, S. C. Human Rad51 protein promotes ATP-dependent homologous pairing and strand transfer reactions in vitro . Cell 87, 757–766 (1996)

Moynahan, M. E., Pierce, A. J. & Jasin, M. BRCA2 is required for homology-directed repair of chromosomal breaks. Mol. Cell 7, 263–272 (2001)

Chen, C. F., Chen, P. L., Zhong, Q., Sharp, Z. D. & Lee, W. H. Expression of BRC repeats in breast cancer cells disrupts the BRCA2-Rad51 complex and leads to radiation hypersensitivity and loss of G2/M checkpoint control. J. Biol. Chem. 274, 32931–32935 (1999)

Lomonosov, M., Anand, S., Sangrithi, M., Davies, R. & Venkitaraman, A. R. Stabilization of stalled DNA replication forks by the BRCA2 breast cancer susceptibility protein. Genes Dev. 17, 3017–3022 (2003)

Yuan, S. S. et al. BRCA2 is required for ionizing radiation-induced assembly of Rad51 complex in vivo . Cancer Res. 59, 3547–3551 (1999)

Godthelp, B. C., Artwert, F., Joenje, H. & Zdzienicka, M. Z. Impaired DNA damage-induced nuclear Rad51 foci formation uniquely characterizes Fanconi anemia group D1. Oncogene 21, 5002–5005 (2002)

San Filippo, J. et al. Recombination mediator and Rad51 targeting activities of a human BRCA2 polypeptide. J. Biol. Chem. 281, 11649–11657 (2006)

Yang, H. et al. BRCA2 function in DNA binding and recombination from a BRCA2-DSS1-ssDNA structure. Science 297, 1837–1848 (2002)

Yang, H., Li, Q., Fan, J., Holloman, W. K. & Pavletich, N. P. The BRCA2 homologue Brh2 nucleates RAD51 filament formation at a dsDNA-ssDNA junction. Nature 433, 653–657 (2005)

Davies, A. A. et al. Role of BRCA2 in control of the RAD51 recombination and DNA repair protein. Mol. Cell 7, 273–282 (2001)

Esashi, F., Galkin, V. E., Yu, X., Egelman, E. H. & West, S. C. Stabilization of RAD51 nucleoprotein filaments by the C-terminal region of BRCA2. Nature Struct. Mol. Biol. 14, 468–474 (2007)

Saeki, H. et al. Suppression of the DNA repair defects of BRCA2-deficient cells with heterologous protein fusions. Proc. Natl Acad. Sci. USA 103, 8768–8773 (2006)

Carreira, A. et al. The BRC repeats of BRCA2 modulate the DNA-binding selectivity of RAD51. Cell 136, 1032–1043 (2009)

Carreira, A. & Kowalczykowski, S. C. BRCA2: shining light on the regulation of DNA-binding selectivity by RAD51. Cell Cycle 8, 3445–3447 (2009)

Petalcorin, M. I., Sandall, J., Wigley, D. B. & Boulton, S. J. CeBRC-2 stimulates D-loop formation by RAD-51 and promotes DNA single-strand annealing. J. Mol. Biol. 361, 231–242 (2006)

Marmorstein, L. Y., Ouchi, T. & Aaronson, S. A. The BRCA2 gene product functionally interacts with p53 and RAD51. Proc. Natl Acad. Sci. USA 95, 13869–13874 (1998)

Sharan, S. K. et al. Embryonic lethality and radiation hypersensitivity mediated by Rad51 in mice lacking Brca2 . Nature 386, 804–810 (1997)

Chen, P. L. et al. The BRC repeats in BRCA2 are critical for RAD51 binding and resistance to methyl methanesulfonate treatment. Proc. Natl Acad. Sci. USA 95, 5287–5292 (1998)

Thorslund, T., Esashi, F. & West, S. C. Interactions between human BRCA2 protein and the meiosis-specific recombinase DMC1. EMBO J. 26, 2915–2922 (2007)

Shinohara, A. et al. Cloning of human, mouse and fission yeast recombination genes homologous to RAD51 and recA . Nature Genet. 4, 239–243 (1993)

Yoshimura, Y., Morita, T., Yamamoto, A. & Matsushiro, A. Cloning and sequence of the human RecA-like gene cDNA. Nucleic Acids Res. 21, 1665 (1993)

Wong, J. M., Ionescu, D. & Ingles, C. J. Interaction between BRCA2 and replication protein A is compromised by a cancer-predisposing mutation in BRCA2. Oncogene 22, 28–33 (2003)

Hartley, C. L. & McCulloch, R. Trypanosoma brucei BRCA2 acts in antigenic variation and has undergone a recent expansion in BRC repeat number that is important during homologous recombination. Mol. Microbiol. 68, 1237–1251 (2008)

Benson, F. E., Stasiak, A. & West, S. C. Purification and characterization of the human Rad51 protein, an analogue of E. coli RecA. EMBO J. 13, 5764–5771 (1994)

Sugiyama, T., Zaitseva, E. M. & Kowalczykowski, S. C. A single-stranded DNA-binding protein is needed for efficient presynaptic complex formation by the Saccharomyces cerevisiae Rad51 protein. J. Biol. Chem. 272, 7940–7945 (1997)

Sigurdsson, S., Trujillo, K., Song, B., Stratton, S. & Sung, P. Basis for avid homologous DNA strand exchange by human Rad51 and RPA. J. Biol. Chem. 276, 8798–8806 (2001)

Lio, Y. C., Mazin, A. V., Kowalczykowski, S. C. & Chen, D. J. Complex formation by the human Rad51B and Rad51C DNA repair proteins and their activities in vitro . J. Biol. Chem. 278, 2469–2478 (2003)

Morimatsu, K. & Kowalczykowski, S. C. RecFOR proteins load RecA protein onto gapped DNA to accelerate DNA strand exchange: a universal step of recombinational repair. Mol. Cell 11, 1337–1347 (2003)

New, J. H., Sugiyama, T., Zaitseva, E. & Kowalczykowski, S. C. Rad52 protein stimulates DNA strand exchange by Rad51 and replication protein A. Nature 391, 407–410 (1998)

Shinohara, A. & Ogawa, T. Stimulation by Rad52 of yeast Rad51-mediated recombination. Nature 391, 404–407 (1998)

Sung, P. Function of yeast Rad52 protein as a mediator between replication protein A and the Rad51 recombinase. J. Biol. Chem. 272, 28194–28197 (1997)

McIlwraith, M. J. et al. Reconstitution of the strand invasion step of double-strand break repair using human Rad51 Rad52 and RPA proteins. J. Mol. Biol. 304, 151–164 (2000)

Sugiyama, T., New, J. H. & Kowalczykowski, S. C. DNA annealing by Rad52 protein is stimulated by specific interaction with the complex of replication protein A and single-stranded DNA. Proc. Natl Acad. Sci. USA 95, 6049–6054 (1998)

Kantake, N., Madiraju, M. V., Sugiyama, T. & Kowalczykowski, S. C. Escherichia coli RecO protein anneals ssDNA complexed with its cognate ssDNA-binding protein: a common step in genetic recombination. Proc. Natl Acad. Sci. USA 99, 15327–15332 (2002)

Mazloum, N., Zhou, Q. & Holloman, W. K. DNA binding, annealing, and strand exchange activities of Brh2 protein from Ustilago maydis . Biochemistry 46, 7163–7173 (2007)

Stark, J. M., Pierce, A. J., Oh, J., Pastink, A. & Jasin, M. Genetic steps of mammalian homologous repair with distinct mutagenic consequences. Mol. Cell. Biol. 24, 9305–9316 (2004)

Liu, J., Doty, T., Gibson, B. & Heyer, W.-D. Human BRCA2 protein promotes RAD51 filament formation on RPA-covered ssDNA. Nature Struct. Mol. Biol. (in the press)

Hilario, J., Amitani, I., Baskin, R. J. & Kowalczykowski, S. C. Direct imaging of human Rad51 nucleoprotein dynamics on individual DNA molecules. Proc. Natl Acad. Sci. USA 106, 361–368 (2009)

van der Heijden, T. et al. Real-time assembly and disassembly of human RAD51 filaments on individual DNA molecules. Nucleic Acids Res. 35, 5646–5657 (2007)

Miné, J. et al. Real-time measurements of the nucleation, growth and dissociation of single Rad51-DNA nucleoprotein filaments. Nucleic Acids Res. 35, 7171–7187 (2007)

Baumann, P. & West, S. C. Heteroduplex formation by human Rad51 protein: effects of DNA end-structure, hRP-A and hRad52. J. Mol. Biol. 291, 363–374 (1999)

Tutt, A. et al. Mutation in Brca2 stimulates error-prone homology-directed repair of DNA double-strand breaks occurring between repeated sequences. EMBO J. 20, 4704–4716 (2001)

LeBowitz, J. H. Biochemical Mechanism of Strand Initiation in Bacteriophage Lambda DNA Replication. Ph.D. thesis, Johns Hopkins Univ. (1985)

Mirshad, J. K. & Kowalczykowski, S. C. Biochemical characterization of a mutant RecA protein altered in DNA-binding loop 1. Biochemistry 42, 5945–5954 (2003)

Zaitseva, E. M., Zaitsev, E. N. & Kowalczykowski, S. C. The DNA binding properties of Saccharomyces cerevisiae Rad51 protein. J. Biol. Chem. 274, 2907–2915 (1999)
Acknowledgements
We thank D. Shin for BRCA2 cDNA clones; M. Zdzienicka for VC8 cells; A. Mazin for RAD52; A. Nimonkar for DMC1; W. Heyer and Kowalczykowski laboratory for comments. Supported by grants from NIH (NIH GM 62653) and DOD-Breast Cancer Research Program (BC085223) to S.C.K., American Cancer Society Postdoctoral Fellowship to R.B.J. (PF-05-225-01-GMC), and Postdoctoral Fellowship from Ministerio de Educación y Ciencia (Spain) to A.C.; R.B.J. acknowledges financial support from C. Hornung, who funded this work through the American Cancer Society and who passed away last year.
Ethics declarations
Competing interests
The authors declare no competing financial interests.
Supplementary information
About this article
Cite this article
Jensen, R., Carreira, A. & Kowalczykowski, S. Purified human BRCA2 stimulates RAD51-mediated recombination. Nature 467, 678–683 (2010). https://doi.org/10.1038/nature09399
Received:

Accepted:

Published:

Issue Date:

DOI: https://doi.org/10.1038/nature09399
Comments
By submitting a comment you agree to abide by our Terms and Community Guidelines. If you find something abusive or that does not comply with our terms or guidelines please flag it as inappropriate.