Abstract
For extrasolar planets discovered using the radial velocity method1, the spectral characterization of the host star leads to a mass estimate of the star and subsequently of the orbiting planet. If the orbital velocity of the planet could be determined, the masses of both star and planet could be calculated using Newton's law of gravity, just as in the case of stellar double-line eclipsing binaries. Here we report high-dispersion ground-based spectroscopy of a transit of the extrasolar planet HD 209458b. We see a significant wavelength shift in absorption lines from carbon monoxide in the planet's atmosphere, which we conclude arises from a change in the radial component of the planet's orbital velocity. The masses of the star and planet are 1.00 ± 0.22MSun and 0.64 ± 0.09MJup respectively. A blueshift of the carbon monoxide signal of approximately 2 km s−1 with respect to the systemic velocity of the host star suggests the presence of a strong wind flowing from the irradiated dayside to the non-irradiated nightside of the planet within the 0.01–0.1 mbar atmospheric pressure range probed by these observations. The strength of the carbon monoxide signal suggests a carbon monoxide mixing ratio of (1–3) × 10−3 in this planet's upper atmosphere.
This is a preview of subscription content
Access options
Subscribe to Journal
Get full journal access for 1 year
$199.00
only $3.90 per issue
All prices are NET prices.
VAT will be added later in the checkout.
Tax calculation will be finalised during checkout.
Rent or Buy article
Get time limited or full article access on ReadCube.
from$8.99
All prices are NET prices.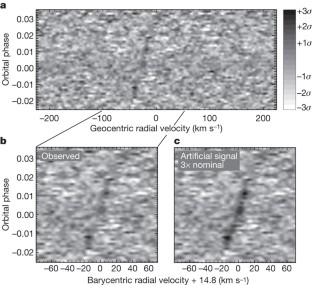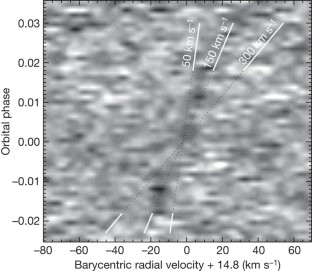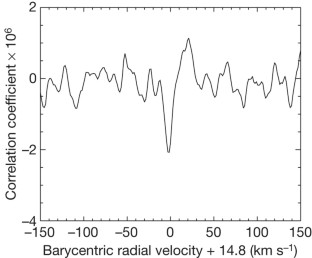 References
1

Schneider, J. The Extrasolar Planets Encyclopaedia. 〈http://www.exoplanet.eu〉

2

Käufl, H. U. et al. CRIRES: a high resolution infrared spectrograph for ESO's VLT. Proc. SPIE 5492, 1218–1227 (2004)

3

Arsenault, R. et al. MACAO-VLTI: an adaptive optics system for the ESO VLT interferometer. Proc. SPIE 4839, 174–185 (2003)

4

Burrows, A., Ibgui, L. & Hubeny, I. Optical albedo theory of strongly irradiated giant planets: the case of HD 209458b. Astrophys. J. 682, 1277–1282 (2008)

5

Swain, M. R., Vasisht, G. & Tinetti, G. The presence of methane in the atmosphere of an extrasolar planet. Nature 452, 329–331 (2008)

6

Madhusudhan, N. & Seager, S. A temperature and abundance retrieval method for exoplanet atmospheres. Astrophys. J. 707, 24–39 (2009)

7

Rothman, L. S. et al. The HITRAN 2008 molecular spectroscopic database. J. Quant. Spectrosc. Radiat. Transf. 110, 533–572 (2009)

8

Laughlin, G., Marcy, G. W., Vogt, S. S., Fischer, D. A. & Butler, R. P. On the eccentricity of HD 209458b. Astrophys. J. 629, L121–L124 (2005)

9

Butler, R. P. et al. Catalog of nearby exoplanets. Astrophys. J. 646, 505–522 (2006)

10

Deming, D., Seager, S., Richardson, L. J. & Harrington, J. Infrared radiation from an extrasolar planet. Nature 434, 740–743 (2005)

11

Knutson, H. A. et al. Using stellar limb-darkening to refine the properties of HD 209458b. Astrophys. J. 655, 564–575 (2007)

12

Fischer, D. A. & Valenti, J. The planet-metallicity correlation. Astrophys. J. 622, 1102–1117 (2005)

13

Cody, A. M. & Sasselov, D. D. HD 209458: physical parameters of the parent star and the transiting planet. Astrophys. J. 569, 451–458 (2002)

14

Tinetti, G. et al. Water vapour in the atmosphere of a transiting extrasolar planet. Nature 448, 169–171 (2007)

15

Grillmair, C. J. et al. Strong water absorption in the dayside emission spectrum of the planet HD189733b. Nature 456, 767–769 (2008)

16

Swain, M. R. et al. Molecular signatures in the near-infrared dayside spectrum of HD 189733b. Astrophys. J. 690, L114–L117 (2009)

17

Beaulieu, J.-P. et al. Water in HD 209458b's atmosphere from 3.6–8 microns IRAC photometric observations in primary transit. Mon. Not. R. Astron. Soc. (in the press); preprint at 〈http://arxiv.org/abs/0909.0185〉 (2009)

18

Swain, M. R. et al. Water, methane, and carbon dioxide present in the dayside spectrum of the exoplanet HD 209458b. Astrophys. J. 704, 1616–1621 (2009)

19

Goodman, J. Thermodynamics of atmospheric circulation on hot Jupiters. Astrophys. J. 693, 1645–1649 (2008)

20

Showman, A. P., Cooper, C. S., Fortney, J. J. & Marley, M. S. Atmospheric circulation of hot Jupiters: three-dimensional circulation models of HD 209458b and HD 189733b with simplified forcing. Astrophys. J. 682, 559–576 (2008)

21

Mazeh, T. et al. The spectroscopic orbit of the planetary companion transiting HD 209458. Astrophys. J. 532, L55–L58 (2000)
Acknowledgements
We thank the ESO support staff of the Paranal Observatory for their help during the observations. This work is based on observations collected at the European Southern Observatory (383.C-0045A). S.A. acknowledges support by a Rubicon fellowship from the Netherlands Organisation for Scientific Research (NWO).
Ethics declarations
Competing interests
The authors declare no competing financial interests.
Supplementary information
This file contains Supplementary Information comprising: Observational set-up; Data reduction and analysis; The model transmission spectra; The cross-correlation analysis; Supplementary Figures S1-S2 with legends and References. (PDF 782 kb)
About this article
Cite this article
Snellen, I., de Kok, R., de Mooij, E. et al. The orbital motion, absolute mass and high-altitude winds of exoplanet HD 209458b. Nature 465, 1049–1051 (2010). https://doi.org/10.1038/nature09111
Received:

Accepted:

Issue Date:
Comments
By submitting a comment you agree to abide by our Terms and Community Guidelines. If you find something abusive or that does not comply with our terms or guidelines please flag it as inappropriate.