Abstract
Autophagy is an evolutionarily conserved process by which cytoplasmic proteins and organelles are catabolized1,2. During starvation, the protein TOR (target of rapamycin), a nutrient-responsive kinase, is inhibited, and this induces autophagy. In autophagy, double-membrane autophagosomes envelop and sequester intracellular components and then fuse with lysosomes to form autolysosomes, which degrade their contents to regenerate nutrients. Current models of autophagy terminate with the degradation of the autophagosome cargo in autolysosomes3,4,5, but the regulation of autophagy in response to nutrients and the subsequent fate of the autolysosome are poorly understood. Here we show that mTOR signalling in rat kidney cells is inhibited during initiation of autophagy, but reactivated by prolonged starvation. Reactivation of mTOR is autophagy-dependent and requires the degradation of autolysosomal products. Increased mTOR activity attenuates autophagy and generates proto-lysosomal tubules and vesicles that extrude from autolysosomes and ultimately mature into functional lysosomes, thereby restoring the full complement of lysosomes in the cell—a process we identify in multiple animal species. Thus, an evolutionarily conserved cycle in autophagy governs nutrient sensing and lysosome homeostasis during starvation.
Relevant articles
Open Access articles citing this article.
Xueyan Huang

,

Fei Chen

…

Wenbin Zeng

Biomaterials Research Open Access 13 March 2023

Mingxu Zhao

,

Shasha Zhu

…

Jiqian Zhang

Journal of Nanobiotechnology Open Access 10 February 2023

Yan Shi

,

Shang Wang

…

Ronghua Yang

Stem Cell Research & Therapy Open Access 15 July 2022
Access options
Subscribe to this journal
Receive 51 print issues and online access
$199.00 per year
only $3.90 per issue
Rent or buy this article
Get just this article for as long as you need it
$39.95
Prices may be subject to local taxes which are calculated during checkout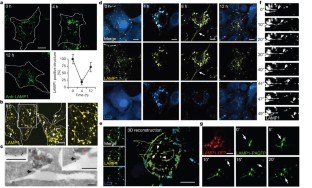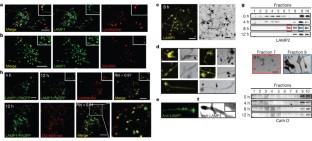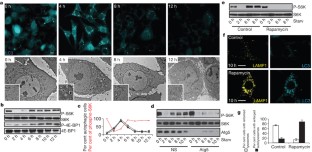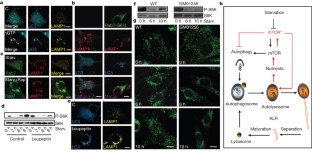 References
Mizushima, N. Autophagy: process and function. Genes Dev. 21, 2861–2873 (2007)

Xie, Z. & Klionsky, D. J. Autophagosome formation: core machinery and adaptations. Nature Cell Biol. 9, 1102–1109 (2007)

Jager, S. et al. Role for Rab7 in maturation of late autophagic vacuoles. J. Cell Sci. 117, 4837–4848 (2004)

Jahreiss, L., Menzies, F. M. & Rubinsztein, D. C. The itinerary of autophagosomes: from peripheral formation to kiss-and-run fusion with lysosomes. Traffic 9, 574–587 (2008)

Kimura, S., Noda, T. & Yoshimori, T. Dissection of the autophagosome maturation process by a novel reporter protein, tandem fluorescent-tagged LC3. Autophagy 3, 452–460 (2007)

Scott, R. C., Schuldiner, O. & Neufeld, T. P. Role and regulation of starvation-induced autophagy in the Drosophila fat body. Dev. Cell 7, 167–178 (2004)

Wullschleger, S., Loewith, R. & Hall, M. N. TOR signaling in growth and metabolism. Cell 124, 471–484 (2006)

Massey, A. C., Follenzi, A., Kiffin, R., Zhang, C. & Cuervo, A. M. Early cellular changes after blockage of chaperone-mediated autophagy. Autophagy 4, 442–456 (2008)

Mizushima, N. & Kuma, A. Autophagosomes in GFP-LC3 transgenic mice. Methods Mol. Biol. 445, 119–124 (2008)

Dennis, P. B. et al. Mammalian TOR: a homeostatic ATP sensor. Science 294, 1102–1105 (2001)

Ravikumar, B. et al. Inhibition of mTOR induces autophagy and reduces toxicity of polyglutamine expansions in fly and mouse models of Huntington disease. Nature Genet. 36, 585–595 (2004)

Sancak, Y. et al. The Rag GTPases bind raptor and mediate amino acid signaling to mTORC1. Science 320, 1496–1501 (2008)

Yu, L., Lenardo, M. J. & Baehrecke, E. H. Autophagy and caspases: a new cell death program. Cell Cycle 3, 1124–1126 (2004)

Yu, L., Strandberg, L. & Lenardo, M. J. The selectivity of autophagy and its role in cell death and survival. Autophagy 4, 567–573 (2008)

Yu, L. et al. Regulation of an ATG7-beclin 1 program of autophagic cell death by caspase-8. Science 304, 1500–1502 (2004)

Slot, J. W. & Geuze, H. J. Cryosectioning and immunolabeling. Nature Protocols 2, 2480–2491 (2007)

Bidère, N. et al. Casein kinase 1α governs antigen-receptor-induced NF-κB activation and human lymphoma cell survival. Nature 458, 92–96 (2009)
Acknowledgements
We thank the National Institute of Allergy and Infectious Diseases (NIAID) imaging core facility and Olympus China for technical support; O. Schwartz, J. Kabat, L. Koo, M. Czapiga (Bio-imaging facility (BIF), NIAID, NIH) and Q. Dong (Olympus China) for assistance with confocal microscopy and imaging processing; K. Nagashima and M. J. de la Cruz (NCI) for TEM analyses: J. Lippincott-Schwartz, H Bernstein, and J. Bonifacino for helpful discussions; D. Yamamoto, G. Davis and H. Kramer for constructs and fly strains; and M. v. Peski and R. Scriwanek for assistance with the preparation of the EM figures. This research was supported by the Division of Intramural Research of the NIAID, NIH, Department of Health and Human Services and NIH Grant GM079431 to E.B., 973 program 2010CB833704, NSF grant 20091300700, and Tsinghua University grant 20091081391 to Y.L. J.K. is the recipient of VICI grant 918.56.611 of the Netherlands Organisation for Scientific Research (NWO).
Ethics declarations
Competing interests
The authors declare no competing financial interests.
Supplementary information
About this article
Cite this article
Yu, L., McPhee, C., Zheng, L. et al. Termination of autophagy and reformation of lysosomes regulated by mTOR. Nature 465, 942–946 (2010). https://doi.org/10.1038/nature09076
Received:

Accepted:

Published:

Issue Date:

DOI: https://doi.org/10.1038/nature09076
Comments
By submitting a comment you agree to abide by our Terms and Community Guidelines. If you find something abusive or that does not comply with our terms or guidelines please flag it as inappropriate.