Abstract
Efforts to identify and develop new superconducting materials continue apace, motivated by both fundamental science and the prospects for application. For example, several new superconducting material systems have been developed in the recent past, including calcium-intercalated graphite compounds1, boron-doped diamond2 and—most prominently—iron arsenides such as LaO1–xF x FeAs (ref. 3). In the case of organic superconductors, however, no new material system with a high superconducting transition temperature (Tc) has been discovered in the past decade. Here we report that intercalating an alkali metal into picene, a wide-bandgap semiconducting solid hydrocarbon, produces metallic behaviour and superconductivity. Solid potassium-intercalated picene (K x picene) shows Tc values of 7 K and 18 K, depending on the metal content. The drop of magnetization in K x picene solids at the transition temperature is sharp (<2 K), similar to the behaviour of Ca-intercalated graphite1. The Tc of 18 K is comparable to that of K-intercalated C60 (ref. 4). This discovery of superconductivity in K x picene shows that organic hydrocarbons are promising candidates for improved Tc values.
Relevant articles
Open Access articles citing this article.
Zhongxin Chen

,

Wenqiang Li

…

Fei Huang

Nature Communications Open Access 07 October 2021

Sooran Kim

,

Kyoo Kim

…

Duck Young Kim

Scientific Reports Open Access 27 December 2019

Hideki Okamoto

,

Shino Hamao

…

Yoshihiro Kubozono

Scientific Reports Open Access 08 March 2019
Access options
Subscribe to this journal
Receive 51 print issues and online access
$199.00 per year
only $3.90 per issue
Rent or buy this article
Get just this article for as long as you need it
$39.95
Prices may be subject to local taxes which are calculated during checkout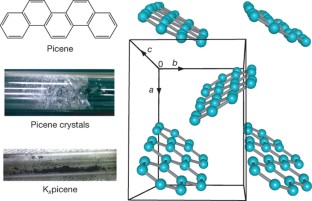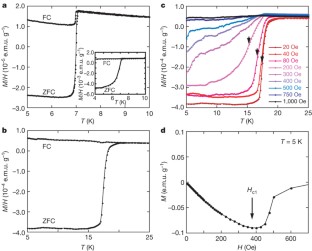 References
Emery, N. et al. Superconductivity of bulk CaC6 . Phys. Rev. Lett. 95, 087003 (2005)

Ekimov, E. A. et al. Superconductivity in diamond. Nature 428, 542–545 (2004)

Kamihara, Y., Watanabe, T., Hirano, M. & Hosono, H. Iron-based layered superconductor La[O1-xFx]FeAs (x = 0.05 – 0.12) with T c = 26 K. J. Am. Chem. Soc. 130, 3296–3297 (2008)

Hebard, A. F. et al. Superconductivity at 18 K in potassium-doped C60 . Nature 350, 600–601 (1991)

Tanigaki, K. et al. Superconductivity at 33 K in CsxRbyC60 . Nature 352, 222–223 (1991)

Fleming, R. M. et al. Relation of structure and superconducting transition temperatures in A3C60 . Nature 352, 787–788 (1991)

Palstra, T. T. M. et al. Superconductivity at 40 K in cesium doped C60 . Solid State Commun. 93, 327–330 (1995)

Ganin, A. Y. et al. Bulk superconductivity at 38 K in a molecular system. Nature Mater. 7, 367–371 (2008)

Takabayashi, Y. et al. The disorder-free non-BCS superconductor Cs3C60 emerges from an antiferromagnetic insulator parent state. Science 323, 1585–1590 (2009)

Weller, T. E. et al. Superconductivity in the intercalated graphite compounds, C6Yb and C6Ca. Nature Phys. 1, 39–41 (2005)

Hannay, N. B. et al. Superconductivity in graphitic compounds. Phys. Rev. Lett. 14, 225–226 (1965)

Minakata, T. et al. Conducting thin films of pentacene doped with alkaline metals. J. Appl. Phys. 74, 1079–1082 (1993)

Matsuo, Y., Sasaki, S. & Ikehata, S. Stage structure and electrical properties of rubidium-doped pentacene. Phys. Lett. A 321, 62–66 (2004)

Kaneko, Y., Suzuki, T., Matsuo, Y. & Ikehata, S. Metallic electrical conduction in alkaline metal-doped pentacene. Synth. Met. 154, 177–180 (2005)

Okamoto, H. et al. Air-assisted high-performance field-effect transistor with thin films of picene. J. Am. Chem. Soc. 130, 10470–10471 (2008)

Kawasaki, N. et al. Trap states and transport characteristics in picene thin film field-effect transistor. Appl. Phys. Lett. 94, 043310 (2009)

Kaji, Y. et al. High-performance C60 and picene thin film field-effect transistors with conducting polymer electrodes in bottom contact structure. Org. Electron. 10, 432–436 (2009)

De, A., Ghosh, R., Roychowdhury, S. & Roychowdhury, P. Structural analysis of picene, C22H14 . Acta Crystallogr. C 41, 907–909 (1985)

Schirber, J. E. et al. Pressure-temperature phase diagram, inverse isotope effect, and superconductivity in excess of 13 K in κ-(BEDT-TTF)2Cu[N(CN)2]Cl, where BEDT-TTF is bis(ethylenedithio)tetrathiafulvalene. Phys. Rev. B 44, 4666–4669 (1991)

Hansson, A., Bohlin, J. & Stafstrom, S. Structural and electronic transitions in potassium-doped pentacene. Phys. Rev. B 73, 184114 (2006)
Acknowledgements
The X-ray diffraction patterns were measured with synchrotron radiation at KEK-PF (proposal no. 2007G612), Tsukuba, Japan. This work was supported in part by Grants-in-Aid 20045012 and 18340104 from MEXT, Japan.
Author Contributions R.M., Y.S., Y.Y. and H.M. contributed equally to the preparation of superconducting picene materials and to the performance of magnetic susceptibility measurements with the assistance of T.K. and Y.K.; H.O. and M.Y. synthesized high-quality picene; N.K. and Y.M. provided assistance with X-ray diffraction measurements; N.I. and A.F. provided discussions and suggestions for the overall project, and discussed the experimental data with T.K. and Y.K.; Y.K. was responsible for the overall project direction, planning and integration among different research units.
Ethics declarations
Competing interests
The authors declare no competing financial interests.
Supplementary information
This file contains Supplementary Information, Supplementary Figures S1-S7 with Legends and Supplementary References. (PDF 994 kb)
About this article
Cite this article
Mitsuhashi, R., Suzuki, Y., Yamanari, Y. et al. Superconductivity in alkali-metal-doped picene. Nature 464, 76–79 (2010). https://doi.org/10.1038/nature08859
Received:

Accepted:

Issue Date:

DOI: https://doi.org/10.1038/nature08859
Comments
By submitting a comment you agree to abide by our Terms and Community Guidelines. If you find something abusive or that does not comply with our terms or guidelines please flag it as inappropriate.