Abstract
Humans have engaged in endurance running for millions of years1, but the modern running shoe was not invented until the 1970s. For most of human evolutionary history, runners were either barefoot or wore minimal footwear such as sandals or moccasins with smaller heels and little cushioning relative to modern running shoes. We wondered how runners coped with the impact caused by the foot colliding with the ground before the invention of the modern shoe. Here we show that habitually barefoot endurance runners often land on the fore-foot (fore-foot strike) before bringing down the heel, but they sometimes land with a flat foot (mid-foot strike) or, less often, on the heel (rear-foot strike). In contrast, habitually shod runners mostly rear-foot strike, facilitated by the elevated and cushioned heel of the modern running shoe. Kinematic and kinetic analyses show that even on hard surfaces, barefoot runners who fore-foot strike generate smaller collision forces than shod rear-foot strikers. This difference results primarily from a more plantarflexed foot at landing and more ankle compliance during impact, decreasing the effective mass of the body that collides with the ground. Fore-foot- and mid-foot-strike gaits were probably more common when humans ran barefoot or in minimal shoes, and may protect the feet and lower limbs from some of the impact-related injuries now experienced by a high percentage of runners.
Access options
Subscribe to Journal
Get full journal access for 1 year
$199.00
only $3.90 per issue
All prices are NET prices.
VAT will be added later in the checkout.
Tax calculation will be finalised during checkout.
Rent or Buy article
Get time limited or full article access on ReadCube.
from$8.99
All prices are NET prices.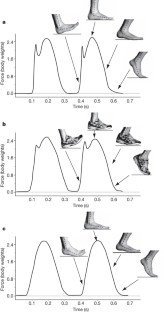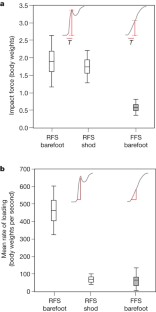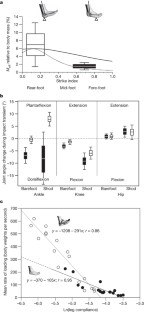 References
1

Bramble, D. M. & Lieberman, D. E. Endurance running and the evolution of Homo . Nature 432, 345–352 (2004)

2

Kerr, B. A., Beauchamp, L., Fisher, V. & Neil, R. in Proc. Int. Symp. Biomech. Aspects Sports Shoes Playing Surf. (eds Nigg, B. M. & Kerr, B. A.) 135–142 (Calgary Univ. Press, 1983)

3

Hasegawa, H., Yamauchi, T. & Kraemer, W. J. Foot strike patterns of runners at 15-km point during an elite-level half marathon. J. Strength Cond. Res. 21, 888–893 (2007)

4

Bobbert, M. F., Schamhardt, H. C. & Nigg, B. M. Calculation of vertical ground reaction force estimates during running from positional data. J. Biomech. 24, 1095–1105 (1991)

5

Chi, K. J. & Schmitt, D. Mechanical energy and effective foot mass during impact loading of walking and running. J. Biomech. 38, 1387–1395 (2005)

6

Milner, C. E., Ferber, R., Pollard, C. D., Hamill, J. & Davis, I. S. Biomechanical factors associated with tibial stress fractures in female runners. Med. Sci. Sports Exerc. 38, 323–328 (2006)

7

Pohl, M. B., Hamill, J. & Davis, I. S. Biomechanical and anatomical factors associated with a history of plantar fasciitis in female runners. Clin. J. Sport Med. 19, 372–376 (2009)

8

van Gent, R. N. et al. Incidence and determinants of lower extremity running injuries in long distance runners: a systematic review. Br. J. Sports Med. 41, 469–480 (2007)

9

Nigg, B. R. The Biomechanics of Running Shoes (Human Kinetics, 1986)

10

Ker, R. F., Bennett, M. B., Alexander, R. M. & Kester, R. C. Foot strike and the properties of the human heel pad. Proc. Inst. Mech. Eng. H 203, 191–196 (1989)

11

De Clercq, D., Aerts, P. & Kunnen, M. The mechanical characteristics of the human heel pad during foot strike in running: an in vivo cineradiographic study. J. Biomech. 27, 1213–1222 (1994)

12

De Wit, B., De Clercq, D. & Aerts, P. Biomechanical analysis of the stance phase during barefoot and shod running. J. Biomech. 33, 269–278 (2000)

13

Divert, C., Mornieux, G., Baur, H., Mayer, F. & Belli, A. Mechanical comparison of barefoot and shod running. Int. J. Sports Med. 26, 593–598 (2005)

14

Eslami, M., Begon, M., Farahpour, N. & Allard, P. Forefoot-rearfoot coupling patterns and tibial internal rotation during stance phase of barefoot versus shod running. Clin. Biomech. (Bristol, Avon) 22, 74–80 (2007)

15

Squadrone, R. & Gallozi, C. Biomechanical and physiological comparison of barefoot and two shod conditions in experienced barefoot runners. J. Sports Med. Phys. Fitness 49, 6–13 (2009)

16

Onywera, V. O., Scott, R. A., Boit, M. K. & Pitsiladis, Y. P. Demographic characteristics of elite Kenyan runners. J. Sports Sci. 24, 415–422 (2006)

17

Dickinson, J. A., Cook, S. D. & Leinhardt, T. M. The measurement of shock waves following heel strike while running. J. Biomech. 18, 415–422 (1985)

18

Williams, D. S., McClay, I. S. & Manal, K. T. Lower extremity mechanics in runners with a converted forefoot strike pattern. J. Appl. Biomech. 16, 210–218 (2000)

19

Laughton, C. A., Davis, I. & Hamill, J. Effect of strike pattern and orthotic intervention on tibial shock during running. J. Appl. Biomech. 19, 153–168 (2003)

20

Chatterjee, A. & Garcia, M. Small slope implies low speed for McGeers' passive walking machines. Dyn. Syst. 15, 139–157 (2000)

21

Dempster, W. T. Space Requirements of the Seated Operator: Geometrical, Kinematic, and Mechanical Aspects of the Body, with Special Reference to the Limbs. WADC Technical Report 55-159 (United States Air Force, 1955)

22

Dixon, S. J., Collop, A. C. & Batt, M. E. Surface effects on ground reaction forces and lower extremity kinematics in running. Med. Sci. Sports Exerc. 32, 1919–1926 (2000)

23

Latimer, B. & Lovejoy, C. O. The calcaneus of Australopithecus afarensis and its implications for the evolution of bipedality. Am. J. Phys. Anthropol. 78, 369–386 (1989)

24

Jungers, W. L. et al. The foot of Homo floresiensis . Nature 459, 81–84 (2009)

25

Ker, R. F., Bennett, M. B., Bibby, S. R., Kester, R. C. & Alexander, R. M. The spring in the arch of the human foot. Nature 325, 147–149 (1987)

26

Divert, C. et al. Barefoot-shod running differences: shoe or mass effect. Int. J. Sports Med. 29, 512–518 (2008)

27

Marti, B. in The Shoe in Sport (ed. Segesser, B.) 256–265 (Yearbook Medical, 1989)

28

Richards, C. E., Magin, P. J. & Calister, R. Is your prescription of distance running shoes evidence-based? Br. J. Sports Med. 43, 159–162 (2009)

29

van Mechelen, W. Running injuries: a review of the epidemiological literature. Sports Med. 14, 320–335 (1992)

30

Robbins, S. E. & Hanna, A. M. Running-related injury prevention through barefoot adaptations. Med. Sci. Sports Exerc. 19, 148–156 (1987)
Acknowledgements
We are grateful to the many volunteer runners who donated their time and patience. For help in Kenya, we thank M. Sang; E. Anjilla; Moi University Medical School; E. Maritim; and the students and teachers of Pemja, Union and AIC Chebisaas schools, in Kenya. For laboratory assistance in Cambridge, we thank A. Biewener, S. Chester, C. M. Eng, K. Duncan, C. Moreno, P. Mulvaney, N. T. Roach, C. P. Rolian, I. Ros, K. Whitcome and S. Wright. We are grateful to A. Biewener, D. Bramble, J. Hamill, H. Herr, L. Mahadevan and D. Raichlen for discussions and comments. Funding was provided by the US National Science Foundation, the American School of Prehistoric Research, The Goelet Fund, Harvard University and Vibram USA.
Author Contributions D.E.L. wrote the paper with substantial contributions from M.V., A.I.D., W.A.W., I.S.D., R.O.M. and Y.P. Collision modelling was done by M.V. and D.E.L.; US experimental data were collected by A.I.D., W.A.W. and D.E.L., with help from S.D'A. Kenyan data were collected by D.E.L., A.I.D., W.A.W., Y.P. and R.O.M. Analyses were done by A.I.D., D.E.L., M.V. and W.A.W.
Ethics declarations
Competing interests
This work has been partially funded by a gift from Vibram USA.
Supplementary information
About this article
Cite this article
Lieberman, D., Venkadesan, M., Werbel, W. et al. Foot strike patterns and collision forces in habitually barefoot versus shod runners. Nature 463, 531–535 (2010). https://doi.org/10.1038/nature08723
Received:

Accepted:

Published:

Issue Date:
Comments
By submitting a comment you agree to abide by our Terms and Community Guidelines. If you find something abusive or that does not comply with our terms or guidelines please flag it as inappropriate.