Abstract
The human Y chromosome began to evolve from an autosome hundreds of millions of years ago, acquiring a sex-determining function and undergoing a series of inversions that suppressed crossing over with the X chromosome1,2. Little is known about the recent evolution of the Y chromosome because only the human Y chromosome has been fully sequenced. Prevailing theories hold that Y chromosomes evolve by gene loss, the pace of which slows over time, eventually leading to a paucity of genes, and stasis3,4. These theories have been buttressed by partial sequence data from newly emergent plant and animal Y chromosomes5,6,7,8, but they have not been tested in older, highly evolved Y chromosomes such as that of humans. Here we finished sequencing of the male-specific region of the Y chromosome (MSY) in our closest living relative, the chimpanzee, achieving levels of accuracy and completion previously reached for the human MSY. By comparing the MSYs of the two species we show that they differ radically in sequence structure and gene content, indicating rapid evolution during the past 6 million years. The chimpanzee MSY contains twice as many massive palindromes as the human MSY, yet it has lost large fractions of the MSY protein-coding genes and gene families present in the last common ancestor. We suggest that the extraordinary divergence of the chimpanzee and human MSYs was driven by four synergistic factors: the prominent role of the MSY in sperm production, 'genetic hitchhiking' effects in the absence of meiotic crossing over, frequent ectopic recombination within the MSY, and species differences in mating behaviour. Although genetic decay may be the principal dynamic in the evolution of newly emergent Y chromosomes, wholesale renovation is the paramount theme in the continuing evolution of chimpanzee, human and perhaps other older MSYs.
Relevant articles
Open Access articles citing this article.
Paula Esteller-Cucala

,

Marc Palmada-Flores

…

Tomàs Marquès-Bonet

Communications Biology Open Access 09 June 2023

Liam Whitmore

,

Mark McCauley

…

David J. Duffy

Nature Ecology & Evolution Open Access 15 May 2023

Jennifer F. Hughes

,

Helen Skaletsky

…

David C. Page

BMC Biology Open Access 09 June 2022
Access options
Subscribe to this journal
Receive 51 print issues and online access
$199.00 per year
only $3.90 per issue
Rent or buy this article
Prices vary by article type
from$1.95
to$39.95
Prices may be subject to local taxes which are calculated during checkout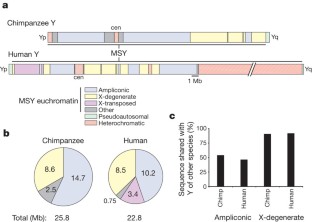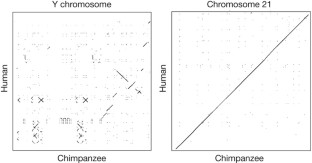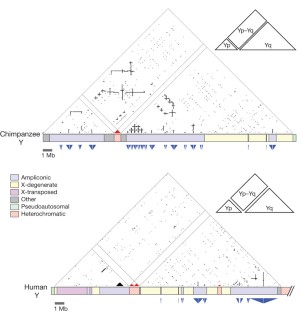 References
Rice, W. R. Evolution of the Y sex chromosome in animals. Bioscience 46, 331–343 (1996)

Lahn, B. T. & Page, D. C. Four evolutionary strata on the human X chromosome. Science 286, 964–967 (1999)

Charlesworth, B. & Charlesworth, D. The degeneration of Y chromosomes. Phil. Trans. R. Soc. Lond. B 355, 1563–1572 (2000)

Bachtrog, D. The temporal dynamics of processes underlying Y chromosome degeneration. Genetics 179, 1513–1525 (2008)

Filatov, D. A., Moneger, F., Negrutiu, I. & Charlesworth, D. Low variability in a Y-linked plant gene and its implications for Y-chromosome evolution. Nature 404, 388–390 (2000)

Bachtrog, D. & Charlesworth, B. Reduced adaptation of a non-recombining neo-Y chromosome. Nature 416, 323–326 (2002)

Liu, Z. et al. A primitive Y chromosome in papaya marks incipient sex chromosome evolution. Nature 427, 348–352 (2004)

Peichel, C. L. et al. The master sex-determination locus in threespine sticklebacks is on a nascent Y chromosome. Curr. Biol. 14, 1416–1424 (2004)

Hughes, J. F. et al. Conservation of Y-linked genes during human evolution revealed by comparative sequencing in chimpanzee. Nature 437, 100–103 (2005)

Kuroki, Y. et al. Comparative analysis of chimpanzee and human Y chromosomes unveils complex evolutionary pathway. Nature Genet. 38, 158–167 (2006)

Hughes, J. F. et al. Has the chimpanzee Y chromosome been sequenced? Nature Genet. 38, 853–854 (2006)

Kuroda-Kawaguchi, T. et al. The AZFc region of the Y chromosome features massive palindromes and uniform recurrent deletions in infertile men. Nature Genet. 29, 279–286 (2001)

Skaletsky, H. et al. The male-specific region of the human Y chromosome is a mosaic of discrete sequence classes. Nature 423, 825–837 (2003)

Page, D. C., Harper, M. E., Love, J. & Botstein, D. Occurrence of a transposition from the X-chromosome long arm to the Y-chromosome short arm during human evolution. Nature 311, 119–123 (1984)

The Chimpanzee Sequencing and Analysis Consortium. Initial sequence of the chimpanzee genome and comparison with the human genome. Nature 437, 69–87 (2005)

Watanabe, H. et al. DNA sequence and comparative analysis of chimpanzee chromosome 22. Nature 429, 382–388 (2004)

Charlesworth, B. The evolution of sex chromosomes. Science 251, 1030–1033 (1991)

Repping, S. et al. High mutation rates have driven extensive structural polymorphism among human Y chromosomes. Nature Genet. 38, 463–467 (2006)

Repping, S. et al. Recombination between palindromes P5 and P1 on the human Y chromosome causes massive deletions and spermatogenic failure. Am. J. Hum. Genet. 71, 906–922 (2002)

Repping, S. et al. Polymorphism for a 1.6-Mb deletion of the human Y chromosome persists through balance between recurrent mutation and haploid selection. Nature Genet. 35, 247–251 (2003)

Lange, J. et al. Isodicentric Y chromosomes and sex disorders as byproducts of homologous recombination that maintains palindromes. Cell 138, 855–869 (2009)

Rozen, S. et al. Abundant gene conversion between arms of palindromes in human and ape Y chromosomes. Nature 423, 873–876 (2003)

Yohn, C. T. et al. Lineage-specific expansions of retroviral insertions within the genomes of African great apes but not humans and orangutans. PLoS Biol. 3, e110 (2005)

Steinemann, S. & Steinemann, M. Retroelements: tools for sex chromosome evolution. Cytogenet. Genome Res. 110, 134–143 (2005)

Murphy, W. J. et al. Novel gene acquisition on carnivore Y chromosomes. PLoS Genet. 2, e43 (2006)

Hillier, L. W. et al. Sequence and comparative analysis of the chicken genome provide unique perspectives on vertebrate evolution. Nature 432, 695–716 (2004)

Dixson, A. F. Primate Sexuality: Comparative Studies of the Prosimians, Monkeys, Apes and Human Beings 37–44 (Univ. Chicago Press, 1998)

Mefford, H. C. et al. Comparative sequencing of a multicopy subtelomeric region containing olfactory receptor genes reveals multiple interactions between non-homologous chromosomes. Hum. Mol. Genet. 10, 2363–2372 (2001)

Saxena, R. et al. Four DAZ genes in two clusters found in the AZFc region of the human Y chromosome. Genomics 67, 256–267 (2000)

Yeh, R. F., Lim, L. P. & Burge, C. B. Computational inference of homologous gene structures in the human genome. Genome Res. 11, 803–816 (2001)
Acknowledgements
We thank L. Brown, V. Frazzoni, G. Rogers and A. Berger for technical assistance, and L. Brown, M. Carmell, G. Dokshin, M. Gill, J. Mueller, K. Romer and Y. Soh for comments on the manuscript. This work was supported by the National Institutes of Health and the Howard Hughes Medical Institute.
Author Contributions J.F.H., H.S., W.C.W., S. Rozen, R.K.W. and D.C.P. planned the project. J.F.H., H.S. and T.P. performed BAC mapping and RT–PCR analysis. T.A.G., P.J.M., R.S.F. and S.D.M. were responsible for finished BAC sequencing. J.F.H. and H.S. performed comparative sequence analyses. S.K.M.v.D. and S. Repping performed FISH analyses. C.F. and B.J.T. flow-sorted chromosomes. D.P.L. and E.R.M. carried out 454 sequencing. J.F.H. and D.C.P. wrote the paper.
Ethics declarations
Competing interests
We used an Influx sorter for this study. B.J.T.'s spouse receives royalties for his development of this instrument and is employed by a company, Becton-Dickinson, which now markets this instrument.
Supplementary information
This file contains Supplementary Notes, Supplementary Figures 1-14 with Legends and Supplementary Tables 1-5. Please note that Supplementary Files 1-3 are available at http://jura.wi.mit.edu/page/papers/Hughes_et_al_2009:- File 1 - Sequence family variants – PCR primers and amplification products; File 2 - Fasta file of chimpanzee MSY sequence assembly; File 3 - Chimpanzee – human MSY sequence alignments. (PDF 1784 kb)
About this article
Cite this article
Hughes, J., Skaletsky, H., Pyntikova, T. et al. Chimpanzee and human Y chromosomes are remarkably divergent in structure and gene content. Nature 463, 536–539 (2010). https://doi.org/10.1038/nature08700
Received:

Accepted:

Published:

Issue Date:

DOI: https://doi.org/10.1038/nature08700
Comments
By submitting a comment you agree to abide by our Terms and Community Guidelines. If you find something abusive or that does not comply with our terms or guidelines please flag it as inappropriate.