Abstract
The Kuiper belt is a remnant of the primordial Solar System. Measurements of its size distribution constrain its accretion and collisional history, and the importance of material strength of Kuiper belt objects1,2,3,4. Small, sub-kilometre-sized, Kuiper belt objects elude direct detection, but the signature of their occultations of background stars should be detectable5,6,7,8,9. Observations at both optical10 and X-ray11 wavelengths claim to have detected such occultations, but their implied abundances are inconsistent with each other and far exceed theoretical expectations. Here we report an analysis of archival data that reveals an occultation by a body with an approximately 500-metre radius at a distance of 45 astronomical units. The probability of this event arising from random statistical fluctuations within our data set is about two per cent. Our survey yields a surface density of Kuiper belt objects with radii exceeding 250 metres of

, ruling out inferred surface densities from previous claimed detections by more than 5σ. The detection of only one event reveals a deficit of sub-kilometre-sized Kuiper belt objects compared to a population extrapolated from objects with radii exceeding 50 kilometres. This implies that sub-kilometre-sized objects are undergoing collisional erosion, just like debris disks observed around other stars.
Access options
Subscribe to Journal
Get full journal access for 1 year
$199.00
only $3.90 per issue
All prices are NET prices.
VAT will be added later in the checkout.
Rent or Buy article
Get time limited or full article access on ReadCube.
from$8.99
All prices are NET prices.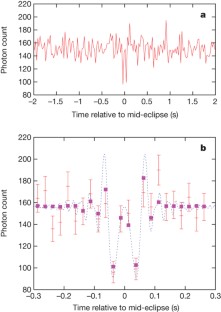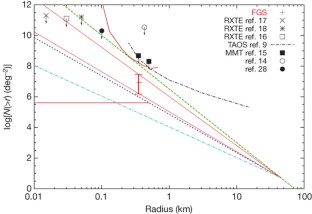 References
1

Davis, D. R. & Farinella, P. Collisional evolution of Edgeworth-Kuiper belt objects. Icarus 125, 50–60 (1997)

2

Stern, S. A. & Colwell, J. E. Collisional erosion in the primordial Edgeworth-Kuiper belt and the generation of the 30–50 AU Kuiper gap. Astrophys. J. 490, 879–882 (1997)

3

Kenyon, S. J. & Luu, J. X. Accretion in the early Kuiper belt. II. Fragmentation. Astron. J. 118, 1101–1119 (1999)

4

Pan, M. & Sari, R. Shaping the Kuiper belt size distribution by shattering large but strengthless bodies. Icarus 173, 342–348 (2005)

5

Bailey, M. E. Can 'invisible' bodies be observed in the Solar System? Nature 259, 290–291 (1976)

6

Dyson, F. J. Hunting for comets and planets. Q. J. R. Astron. Soc. 33, 45–57 (1992)

7

Axelrod, T. S., Alcock, C., Cook, K. H. & Park, H.-S. in Robotic Telescopes in the 1990s (ed. Filippenko, A. V.) 171–181 (1992)

8

Roques, F., Moncuquet, M. & Sicardy, B. Stellar occultations by small bodies—diffraction effects. Astron. J. 93, 1549–1558 (1987)

9

Zhang, Z.-W. et al. First results from the Taiwanese-American Occultation Survey (TAOS). Astrophys. J. 685, L157–L160 (2008)

10

Roques, F. et al. Exploration of the Kuiper belt by high-precision photometric stellar occultations: first results. Astron. J. 132, 819–822 (2006)

11

Chang, H.-K. et al. Occultation of X-rays from Scorpius X-1 by small trans-neptunian objects. Nature 442, 660–663 (2006)

12

Roques, F. & Moncuquet, M. A detection method for small Kuiper belt objects: the search for stellar occultations. Icarus 147, 530–544 (2000)

13

Nihei, T. C. et al. Detectability of occultations of stars by objects in the Kuiper belt and Oort cloud. Astron. J. 134, 1596–1612 (2007)

14

Bickerton, S. J., Kavelaars, J. J. & Welch, D. L. A Search for sub-km Kuiper belt objects with the method of serendipitous stellar occultations. Astron. J. 135, 1039–1049 (2008)

15

Bianco, F. B. et al. A Search for occultations of bright stars by small Kuiper belt objects using Megacam on the MMT. Astron. J. 138, 568–578 (2009)

16

Chang, H.-K., Liang, J.-S., Liu, C.-Y. & King, S.-K. Millisecond dips in the RXTE/PCA light curve of Sco X-1 and trans-Neptunian object occultation. Mon. Not. R. Astron. Soc. 378, 1287–1297 (2007)

17

Jones, T. A., Levine, A. M., Morgan, E. H. & Rappaport, S. Production of millisecond dips in Sco X-1 count rates by dead time effects. Astrophys. J. 677, 1241–1247 (2008)

18

Liu, C.-Y., Chang, H.-K., Liang, J.-S. & King, S.-K. Millisecond dip events in the 2007 RXTE/PCA data of Sco X-1 and the trans-Neptunian object size distribution. Mon. Not. R. Astron. Soc. 388, L44–L48 (2008)

19

Blocker, A. W., Protopapas, P. & Alcock, C. R. A Bayesian approach to the analysis of time symmetry in light curves: reconsidering Scorpius X-1 occultations. Astrophys. J. 701, 1742–1752 (2009)

20

Bernstein, G. M. et al. The size distribution of trans-neptunian bodies. Astron. J. 128, 1364–1390 (2004)

21

Fuentes, C. I. & Holman, M. J. A SUBARU archival search for faint trans-neptunian objects. Astron. J. 136, 83–97 (2008)

22

Fraser, W. C. et al. The Kuiper belt luminosity function from m(R) = 21 to 26. Icarus 195, 827–843 (2008)

23

Dohnanyi, J. W. Collisional models of asteroids and their debris. J. Geophys. Res. 74, 2531–2554 (1969)

24

Elliot, J. L. et al. The Deep Ecliptic Survey: a search for Kuiper belt objects and centaurs. II. Dynamical classification, the Kuiper belt plane, and the core population. Astron. J. 129, 1117–1162 (2005)

25

Fuentes, C. I., George, M. R. & Holman, M. J. A Subaru pencil-beam search for m(R) ∼ 27 trans-neptunian bodies. Astrophys. J. 696, 91–95 (2009)

26

Skrutskie, M. F. et al. The Two Micron All Sky Survey (2MASS). Astron. J. 131, 1163–1183 (2006)

27

Monet, D. G. et al. The USNO-B catalog. Astron. J. 125, 984–993 (2003)

28

Roques, F., Georgevits, G. & Doressoundiram, A. The Kuiper Belt Explored by Serendipitous Stellar Occultations 545–556 (University of Arizona Press, 2008)
Acknowledgements
We thank H. K. Chang for comments that helped to improve this manuscript. Some of the numerical calculations presented here were performed on Caltech's Division of Geological and Planetary Sciences Dell cluster. Partial support for this research was provided by NASA through a grant from the Space Telescope Science Institute. R.S. acknowledges support from the ERC and the Packard Foundation. A.G.-Y. is supported by the Israeli Science Foundation, an EU Seventh Framework Programme Marie Curie IRG fellowship and the Benoziyo Center for Astrophysics, a research grant from the Peter and Patricia Gruber Awards, and the William Z. and Eda Bess Novick New Scientists Fund at the Weizmann Institute. S.Z. acknowledges support from the Israel Science Foundation–Adler Foundation for Space Research. E.O.O. is an Einstein Fellow.
Author Contributions H.E.S. wrote the detection algorithm, analysed the FGS data for occultation events, calculated the detection efficiency of the survey, preformed the bootstrap analysis and wrote the paper. E.O.O. calculated the stellar angular radii, the velocity information of the observations, the correlated noise and other statistical properties of the data. R.S. guided this work and helped with the scientific interpretation of the results. A.G.-Y. proposed using HST FGS data for occultation studies and helped to make the data available for analysis. M.W. extracted the FGS photometry streams and provided coordinates and magnitudes of the guide stars. M.L. helped in gaining access to the FGS data and provided insights into the operation and noise properties of the FGS. E.N. provided expert interpretation of the FGS photometric characteristics in the HST operational environment. S.Z. took part in the statistical analysis of the data. All authors discussed the results and commented on the manuscript.
Supplementary information
This file contains Supplementary Notes, Supplementary Data, Supplementary Figures 1-5 with Legends and Supplementary References. (PDF 203 kb)
About this article
Cite this article
Schlichting, H., Ofek, E., Wenz, M. et al. A single sub-kilometre Kuiper belt object from a stellar occultation in archival data. Nature 462, 895–897 (2009) doi:10.1038/nature08608
Received

Accepted

Issue Date
Comments
By submitting a comment you agree to abide by our Terms and Community Guidelines. If you find something abusive or that does not comply with our terms or guidelines please flag it as inappropriate.