Abstract
Replying to: M. R. Dawson et al. Nature 461, 10.1038/nature08254 (2009)
Commenting on ref. 1, Dawson et al.2 claim that metastasis formation is independent of VEGFR1 activity, contradicting work by us and many others, including the original description of flt1TK-/- (VEGFR1-TK-/-) mice in the metastatic setting3. Contrasting the findings by Dawson et al.2, here we show that VEGFR1 knockdown in myelomonocytic cells eradicates micro- and macrometastases in a non-amputation/resection tumour model.
Access options
Access options
Subscribe to Journal
Get full journal access for 1 year
$199.00
only $3.90 per issue
All prices are NET prices.
VAT will be added later in the checkout.
Rent or Buy article
Get time limited or full article access on ReadCube.
from$8.99
All prices are NET prices.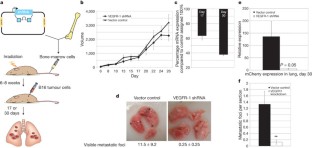 References
1

Kaplan, R. N. et al. VEGFR1-positive haematopoietic bone marrow progenitors initiate the pre-metastatic niche. Nature 438, 820–827 (2005)

2

Dawson, M. R., Duda, D. G., Fukumura, D. & Jain, R. K. VEGFR1-activity-independent metastasis formation. Nature 461 10.1038/nature08254 (2009)

3

Hiratsuka, S. et al. MMP9 induction by vascular endothelial growth factor receptor-1 is involved in lung-specific metastasis. Cancer Cell 2, 289–300 (2002)

4

Marcellini, M. et al. Increased melanoma growth and metastasis spreading in mice overexpressing placenta growth factor. Am. J. Pathol. 169, 643–654 (2006)

5

Taylor, A. P. & Goldenberg, D. M. Role of placenta growth factor in malignancy and evidence that an antagonistic PlGF/Flt-1 peptide inhibits the growth and metastasis of human breast cancer xenografts. Mol. Cancer Ther. 6, 524–531 (2007)

6

Hiratsuka, S. et al. The S100A8-serum amyloid A3-TLR4 paracrine cascade establishes a premetastatic phase. Nature Cell Biol. 10, 1349–1355 (2008)

7

Hiratsuka, S., Watanabe, A., Aburatani, H. & Maru, Y. Tumour-mediated upregulation of chemoattractants and recruitment of myeloid cells predetermines lung metastasis. Nature Cell Biol. 8, 1369–1375 (2006)

8

Erler, J. T. et al. Hypoxia-induced lysyl oxidase is a critical mediator of bone marrow cell recruitment to form the premetastatic niche. Cancer Cell 15, 35–44 (2009)

9

Kim, S. et al. Carcinoma-produced factors activate myeloid cells through TLR2 to stimulate metastasis. Nature 457, 102–106 (2009)

10

Fischer, C. et al. Anti-PlGF inhibits growth of VEGF(R)-inhibitor-resistant tumors without affecting healthy vessels. Cell 131, 463–475 (2007)

11

Shojaei, F. et al. Bv8 regulates myeloid-cell-dependent tumour angiogenesis. Nature 450, 825–831 (2007)

12

Du, R. et al. HIF1alpha induces the recruitment of bone marrow-derived vascular modulatory cells to regulate tumor angiogenesis and invasion. Cancer Cell 13, 206–220 (2008)

13

Lin, E. Y. et al. VEGF restores delayed tumor progression in tumors depleted of macrophages. Mol. Oncol. 1, 288–302 (2007)

14

Luttun, A. et al. Revascularization of ischemic tissues by PlGF treatment, and inhibition of tumor angiogenesis, arthritis and atherosclerosis by anti-Flt1. Nature Med. 8, 831–840 (2002)

15

Hiratsuka, S., Minowa, O., Kuno, J., Noda, T. & Shibuya, M. Flt-1 lacking the tyrosine kinase domain is sufficient for normal development and angiogenesis in mice. Proc. Natl Acad. Sci. USA 95, 9349–9354 (1998)
Further reading
Mieke Dewerchin

&

Peter Carmeliet

Expert Opinion on Therapeutic Targets (2014)

Carlos Bais

,

Xiumin Wu

,

Jenny Yao

,

Suya Yang

,

Yongping Crawford

,

Krista McCutcheon

,

Christine Tan

,

Ganesh Kolumam

,

Jean-Michel Vernes

,

Jeffrey Eastham-Anderson

,

Peter Haughney

,

Marcin Kowanetz

,

Thijs Hagenbeek

,

Ian Kasman

,

Hani Bou Reslan

,

Jed Ross

,

Nick Van Bruggen

,

Richard A.D. Carano

,

Yu-Ju Gloria Meng

,

Jo-Anne Hongo

,

Jean- Philippe Stephan

,

Masabumi Shibuya

&

Napoleone Ferrara

Cell (2010)
Comments
By submitting a comment you agree to abide by our Terms and Community Guidelines. If you find something abusive or that does not comply with our terms or guidelines please flag it as inappropriate.