Abstract
Lunar rocks1,2 and impact melts3, lunar4 and asteroidal meteorites5, and an ancient martian meteorite6 record thermal metamorphic events with ages that group around and/or do not exceed 3.9 Gyr. That such a diverse suite of solar system materials share this feature is interpreted to be the result of a post-primary-accretion cataclysmic spike in the number of impacts commonly referred to as the late heavy bombardment (LHB)1,2,3,4,5,6,7. Despite its obvious significance to the preservation of crust and the survivability of an emergent biosphere, the thermal effects of this bombardment on the young Earth remain poorly constrained. Here we report numerical models constructed to probe the degree of thermal metamorphism in the crust in the effort to recreate the effect of the LHB on the Earth as a whole; outputs were used to assess habitable volumes of crust for a possible near-surface and subsurface primordial microbial biosphere. Our analysis shows that there is no plausible situation in which the habitable zone was fully sterilized on Earth, at least since the termination of primary accretion of the planets and the postulated impact origin of the Moon. Our results explain the root location of hyperthermophilic bacteria in the phylogenetic tree for 16S small-subunit ribosomal RNA8, and bode well for the persistence of microbial biospheres even on planetary bodies strongly reworked by impacts.
Access options
Subscribe to Journal
Get full journal access for 1 year
$199.00
only $3.90 per issue
All prices are NET prices.
VAT will be added later in the checkout.
Rent or Buy article
Get time limited or full article access on ReadCube.
from$8.99
All prices are NET prices.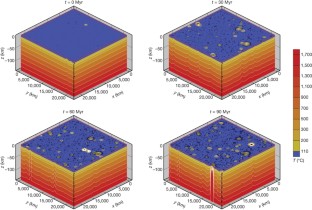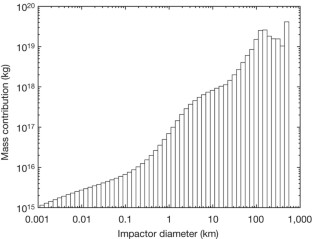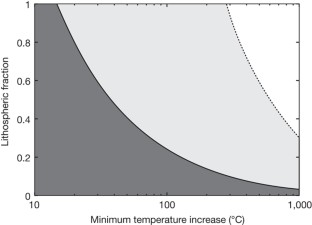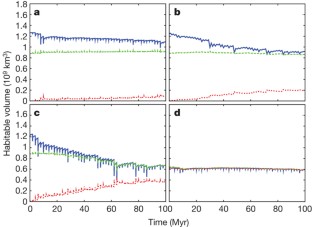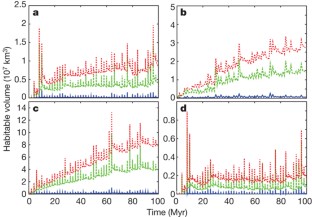 References
1

Turner, G., Cadogan, P. H. & Yonge, C. J. Argon selenochronology. Proc. Lunar Sci. Conf. 4, 1889–1914 (1973)

2

Tera, F., Papanastassiou, D. A. & Wasserburg, G. J. Isotopic evidence for a terminal lunar cataclysm. Earth Planet. Sci. Lett. 22, 1–21 (1974)

3

Dalrymple, G. B. & Ryder, G. 40Ar/39Ar age spectra of Apollo 15 impact melt rocks by laser step-heating and their bearing on the history of lunar basin formation. J. Geophys. Res. 98, 13085–13095 (1993)

4

Cohen, B. A., Swindle, T. D. & Kring, D. A. Support for the lunar cataclysm hypothesis from lunar meteorite impact melt ages. Science 290, 1754–1756 (2000)

5

Kring, D. A. & Cohen, B. A. Cataclysmic bombardment throughout the inner solar system 3.9–4.0 Ga. J. Geophys. Res. 107 10.1029/2001JE001529 (2002)

6

Ash, R. D., Knott, S. F. & Turner, G. A 4-Gyr shock age for a Martian meteorite and implications for the cratering history of Mars. Nature 380, 57–59 (1996)

7

Ryder, G. Lunar samples, lunar accretion, and the early bombardment history of the Moon. Eos 71, 313–323 (1990)

8

Pace, N. R. A molecular view of microbial diversity and the biosphere. Science 276, 734–740 (1997)

9

Trail, D., Mojzsis, S. J. & Harrison, T. M. Thermal events documented in Hadean zircons by ion microprobe depth profiles. Geochim. Cosmochim. Acta 71, 4044–4065 (2007)

10

Zahnle, K. J. & Sleep, N. H. in Comets and the Origin and Evolution of Life (eds Thomas, P., Chyba, C. & McKay, C.) 175–208 (Springer, 1997)

11

Baross, J. A. & Hoffman, S. E. Submarine hydrothermal vents and associated gradient environments as sites for the origin and evolution of life. Orig. Life Evol. Biosph. 15, 327–345 (1985)

12

Manning, C. E., Mojzsis, S. J. & Harrison, T. M. Geology, age and origin of supracrustal rocks at Akilia, West Greenland. Am. J. Sci. 306, 303–366 (2006)

13

Dauphas, N. et al. Clues from Fe isotope variations on the origin of early Archean BIFs from Greenland. Science 206, 2077–2080 (2004)

14

Mojzsis, S. J. et al. Evidence for life on Earth by 3,800 million years ago. Nature 384, 55–59 (1996)

15

McKeegan, K. D., Kudryavtsev, A. B. & Schopf, J. W. Raman and ion microscopic imagery of graphitic inclusions in apatite from older than 3830 Ma Akilia supracrustal rocks, west Greenland. Geology 35, 591–594 (2007)

16

Gogarten-Boekels, M., Hilario, E. & Gogarten, J. P. The effects of heavy meteorite bombardment on the early evolution - the emergence of the three domains of life. Orig. Life Evol. Biosph. 25, 251–264 (1995)

17

Maher, K. A. & Stevenson, D. J. Impact frustration of the origin of life. Nature 331, 612–614 (1988)

18

Hamilton, W. B. in Precambrian – Conterminous United States (eds Reed, J. C. Jr et al.) 597–614, 630–636 (Geol. N. Am. Vol. C-2, Geological Society of America, 1993)

19

Bowring, S. A. & Williams, I. S. Priscoan (4.00–4.03 Ga) orthogneisses from northwestern Canada. Contrib. Mineral. Petrol. 134, 3–16 (1999)

20

Mojzsis, S. J., Harrison, T. M. & Pidgeon, R. T. Oxygen isotope evidence from ancient zircons for liquid water at Earth's surface 4,300 Myr ago. Nature 409, 178–181 (2001)

21

Hopkins, M., Harrison, T. M. & Manning, C. E. Low heat flow inferred from >4 Gyr zircons suggests Hadean plate boundary interactions. Nature 456, 493–496 (2008)

22

Strom, R. G., Malhotra, R., Ito, T., Yoshida, F. & Kring, D. A. The origin of planetary impactors in the inner solar system. Science 309, 1847–1850 (2005)

23

Gomes, R., Levison, H. F., Tsiganis, K. & Morbidelli, A. Origin of the cataclysmic Late Heavy Bombardment period of the terrestrial planets. Nature 435, 466–469 (2005)

24

Bottke, W. F. et al. The fossilized size distribution of the main asteroid belt. Icarus 175, 111–140 (2005)

25

Hartmann, W. K., Ryder, G., Dones, L. & Grinspoon, D. in Origin of the Earth and Moon (eds Canup, R. & Righter, K.) 493–512 (Univ. Arizona Press, 2000)

26

Ryder, G., Koeberl, C. & Mojzsis, S. J. in Origin of the Earth and Moon (eds Canup, R. & Righter, K.) 475–492 (Univ. Arizona Press, 2000)

27

Abramov, O. & Kring, D. A. Impact-induced hydrothermal activity on early Mars. J. Geophys. Res. 110 10.1029/2005JE002453 (2005)

28

Sleep, N. H. & Zahnle, K. Refugia from asteroid impacts on early Mars and the early Earth. J. Geophys. Res. 103, 28529–28544 (1998)

29

Abramov, O. & Kring, D. A. Numerical modeling of an impact-induced hydrothermal system at the Sudbury crater. J. Geophys. Res. 109 10.1029/2003JE002213 (2004)

30

Ryder, G. Mass flux in the ancient Earth-Moon system and benign implications for the origin of life on Earth. J. Geophys. Res. 107 10.1029/2001JE001583 (2002)
Acknowledgements
This work is funded by the NASA Astrobiology Institute (through the NASA Postdoctoral Program) and the NASA Exobiology program. Office space and computer resources provided by the Department of Space Studies of the Southwest Research Institute in the early stages of this project are greatly appreciated. Reviews by E. Asphaug, as well as comments by D. Trail and T. M. Harrison, are gratefully acknowledged.
Supplementary information
About this article
Cite this article
Abramov, O., Mojzsis, S. Microbial habitability of the Hadean Earth during the late heavy bombardment. Nature 459, 419–422 (2009). https://doi.org/10.1038/nature08015
Received:

Accepted:

Issue Date:
Comments
By submitting a comment you agree to abide by our Terms and Community Guidelines. If you find something abusive or that does not comply with our terms or guidelines please flag it as inappropriate.