Abstract
Endocytosis has a crucial role during Notch signalling after the asymmetric division of fly sensory organ precursors (SOPs): directional signalling is mediated by differential endocytosis of the ligand Delta and the Notch effector Sanpodo in one of the SOP daughters, pIIb1,2,3. Here we show a new mechanism of directional signalling on the basis of the trafficking of Delta and Notch molecules already internalized in the SOP and subsequently targeted to the other daughter cell, pIIa. Internalized Delta and Notch traffic to an endosome marked by the protein Sara4,5. During SOP mitosis, Sara endosomes containing Notch and Delta move to the central spindle and then to pIIa. Subsequently, in pIIa (but not in pIIb) Notch appears cleaved in Sara endosomes in a γ-secretase- and Delta internalization-dependent manner, indicating that the release of the intracellular Notch tail to activate Notch target genes has occurred. We thus uncover a new mechanism to bias signalling even before asymmetric endocytosis of Sanpodo and Delta takes place in the daughter cells: already during SOP mitosis, asymmetric targeting of Delta and Notch-containing Sara endosomes will increase Notch signalling in pIIa and decrease it in pIIb.
Relevant articles
Open Access articles citing this article.
Sylvain Loubéry

,

Alicia Daeden

…

Marcos Gonzalez-Gaitan

Nature Communications Open Access 06 June 2017
Access options
Subscribe to this journal
Receive 51 print issues and online access
$199.00 per year
only $3.90 per issue
Rent or buy this article
Get just this article for as long as you need it
$39.95
Prices may be subject to local taxes which are calculated during checkout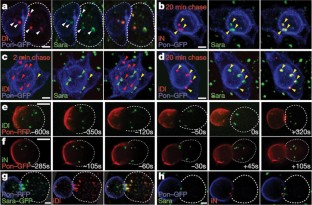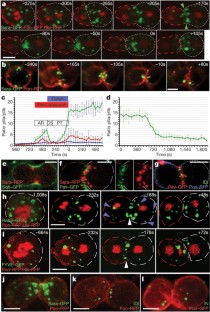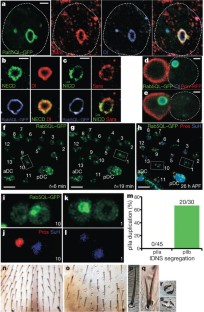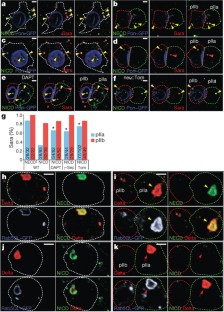 References
Le Borgne, R. & Schweisguth, F. Unequal segregation of Neuralized biases Notch activation during asymmetric cell division. Dev. Cell 5, 139–148 (2003)

Emery, G. & Knoblich, J. A. Endosome dynamics during development. Curr. Opin. Cell Biol. 18, 407–415 (2006)

Hutterer, A. & Knoblich, J. A. Numb and α-Adaptin regulate Sanpodo endocytosis to specify cell fate in Drosophila external sensory organs. EMBO Rep. 6, 836–842 (2005)

Tsukazaki, T., Chiang, T. A., Davison, A. F., Attisano, L. & Wrana, J. L. SARA, a FYVE domain protein that recruits Smad2 to the TGFβ receptor. Cell 95, 779–791 (1998)

Bokel, C., Schwabedissen, A., Entchev, E., Renaud, O. & Gonzalez-Gaitan, M. Sara endosomes and the maintenance of Dpp signaling levels across mitosis. Science 314, 1135–1139 (2006)

Emery, G. et al. Asymmetric Rab11 endosomes regulate delta recycling and specify cell fate in the Drosophila nervous system. Cell 122, 763–773 (2005)

Royou, A., Sullivan, W. & Karess, R. Cortical recruitment of nonmuscle myosin II in early syncytial Drosophila embryos: its role in nuclear axial expansion and its regulation by Cdc2 activity. J. Cell Biol. 158, 127–137 (2002)

Minestrini, G., Harley, A. S. & Glover, D. M. Localization of Pavarotti-KLP in living Drosophila embryos suggests roles in reorganizing the cortical cytoskeleton during the mitotic cycle. Mol. Biol. Cell 14, 4028–4038 (2003)

Itoh, F. et al. The FYVE domain in Smad anchor for receptor activation (SARA) is sufficient for localization of SARA in early endosomes and regulates TGF-β/Smad signalling. Genes Cells 7, 321–331 (2002)

Panopoulou, E. et al. Early endosomal regulation of Smad-dependent signaling in endothelial cells. J. Biol. Chem. 277, 18046–18052 (2002)

Wucherpfennig, T., Wilsch-Brauninger, M. & Gonzalez-Gaitan, M. Role of Drosophila Rab5 during endosomal trafficking at the synapse and evoked neurotransmitter release. J. Cell Biol. 161, 609–624 (2003)

Betschinger, J., Mechtler, K. & Knoblich, J. A. The Par complex directs asymmetric cell division by phosphorylating the cytoskeletal protein Lgl. Nature 422, 326–330 (2003)

Langevin, J. et al. Lethal giant larvae controls the localization of notch-signaling regulators Numb, Neuralized, and Sanpodo in Drosophila sensory-organ precursor cells. Curr. Biol. 15, 955–962 (2005)

Gallagher, C. M. & Knoblich, J. A. The conserved c2 domain protein Lethal (2) giant discs regulates protein trafficking in Drosophila . Dev. Cell 11, 641–653 (2006)

Vaccari, T. & Bilder, D. The Drosophila tumor suppressor vps25 prevents nonautonomous overproliferation by regulating notch trafficking. Dev. Cell 9, 687–698 (2005)

Stenmark, H. et al. Inhibition of rab5 GTPase activity stimulates membrane fusion in endocytosis. EMBO J. 13, 1287–1296 (1994)

Gho, M., Bellaiche, Y. & Schweisguth, F. Revisiting the Drosophila microchaete lineage: a novel intrinsically asymmetric cell division generates a glial cell. Development 126, 3573–3584 (1999)

Bardin, A. J. & Schweisguth, F. Bearded family members inhibit Neuralized-mediated endocytosis and signaling activity of Delta in Drosophila . Dev. Cell 10, 245–255 (2006)

Trajkovic, K. et al. Ceramide triggers budding of exosome vesicles into multivesicular endosomes. Science 319, 1244–1247 (2008)

Furriols, M. & Bray, S. A model Notch response element detects Suppressor of Hairless-dependent molecular switch. Curr. Biol. 11, 60–64 (2001)

Struhl, G. & Greenwald, I. Presenilin is required for activity and nuclear access of Notch in Drosophila . Nature 398, 522–525 (1999)

Ye, Y., Lukinova, N. & Fortini, M. E. Neurogenic phenotypes and altered Notch processing in Drosophila Presenilin mutants. Nature 398, 525–529 (1999)

Dovey, H. F. et al. Functional gamma-secretase inhibitors reduce beta-amyloid peptide levels in brain. J. Neurochem. 76, 173–181 (2001)

Vaccari, T., Lu, H., Kanwar, R., Fortini, M. E. & Bilder, D. Endosomal entry regulates Notch receptor activation in Drosophila melanogaster . J. Cell Biol. 180, 755–762 (2008)

Gupta-Rossi, N. et al. Monoubiquitination and endocytosis direct γ-secretase cleavage of activated Notch receptor. J. Cell Biol. 166, 73–83 (2004)

Andrews, R. & Ahringer, J. Asymmetry of early endosome distribution in C. elegans embryos. PLoS One 2, e493 (2007)

Beckmann, J., Scheitza, S., Wernet, P., Fischer, J. C. & Giebel, B. Asymmetric cell division within the human hematopoietic stem and progenitor cell compartment: identification of asymmetrically segregating proteins. Blood 109, 5494–5501 (2007)

Coumailleau, F. & Gonzalez-Gaitan, M. From endocytosis to tumors through asymmetric cell division. Curr. Opin. Cell Biol. 20, 462–469 (2008)
Acknowledgements
We thank S. Bray, P. Bryant, D. Glover, C. González, E. Lai, C. Micchelli, M. Muskavitch, M. O'Connor, J. Posakony, F. Schweisguth, J. Skeath and A. Wodarz for providing reagents, and the M.G.-G. laboratory members, A. Martinez-Arias and F. Schweisguth for critically reading the manuscript. We thank S. Sigrist and W. Fouquet for providing us the opportunity to perform stimulated emission depletion (STED) microscopy. We thank A. Schwabedissen, D. Backash, C. Alliod and A. Beguin for technical assistance. M.F. thanks M. P. Euzenot for support. M.F. has benefited from EMBO and Human Frontier Science Program (HFSP) long-term postdoctoral fellowships and F.C. from a Fondation pour la recherche médicale (FRM) postdoctoral fellowship. This work was supported by the Max Planck Society, Volkswagen, an FP6 Strep (ONCASYM), the Swiss National Science Foundation (SNF), SystemsX (LipidX) and HFSP.
Author Contributions F.C. conducted the experiments depicted in Figs 1e, f, 2a–i, Supplementary Figs 1c, d, 6, 7, 12, 13a, b and 21, and Supplementary Movies 1, 2, 4–7 and 11. M.F. developed the live antibody uptake assay, conducted the experiments depicted in Figs 1a–d, g, h, 2j–l, 3 and 4, Supplementary Figs 1a, b, e–h, 2–5, 8–11, 13c, d and 14–20, and Supplementary Movies 3 and 8–10, and contributed to the writing of the manuscript. J.A.K. provided reagents for the study before their publication. M.G.-G. planned the project, analysed the experiments together with F.C. and M.F. and wrote the manuscript.
Supplementary information
About this article
Cite this article
Coumailleau, F., Fürthauer, M., Knoblich, J. et al. Directional Delta and Notch trafficking in Sara endosomes during asymmetric cell division. Nature 458, 1051–1055 (2009). https://doi.org/10.1038/nature07854
Received:

Accepted:

Published:

Issue Date:

DOI: https://doi.org/10.1038/nature07854
Comments
By submitting a comment you agree to abide by our Terms and Community Guidelines. If you find something abusive or that does not comply with our terms or guidelines please flag it as inappropriate.