Abstract
Owing to the present global biodiversity crisis, the biodiversity–stability relationship and the effect of biodiversity on ecosystem functioning have become major topics in ecology1,2,3. Biodiversity is a complex term that includes taxonomic, functional, spatial and temporal aspects of organismic diversity, with species richness (the number of species) and evenness (the relative abundance of species) considered among the most important measures4,5. With few exceptions (see, for example, ref. 6), the majority of studies of biodiversity-functioning and biodiversity–stability theory have predominantly examined richness7,8,9,10,11. Here we show, using microbial microcosms, that initial community evenness is a key factor in preserving the functional stability of an ecosystem. Using experimental manipulations of both richness and initial evenness in microcosms with denitrifying bacterial communities, we found that the stability of the net ecosystem denitrification in the face of salinity stress was strongly influenced by the initial evenness of the community. Therefore, when communities are highly uneven, or there is extreme dominance by one or a few species, their functioning is less resistant to environmental stress. Further unravelling how evenness influences ecosystem processes in natural and humanized environments constitutes a major future conceptual challenge.
Your institute does not have access to this article
Relevant articles
Open Access articles citing this article.
Sudarshan A. Shetty

,

Ioannis Kostopoulos

…

Clara Belzer

The ISME Journal Open Access 18 June 2022

Cong Jiang

,

Xiao-Rui Sun

…

Wei Shui

BMC Microbiology Open Access 26 April 2022

Edoardo Morandi

,

Martijn J. van Hemert

&

Danny Incarnato

Nature Communications Open Access 31 March 2022
Access options
Subscribe to Journal
Get full journal access for 1 year
$199.00
only $3.90 per issue
All prices are NET prices.
VAT will be added later in the checkout.
Tax calculation will be finalised during checkout.
Buy article
Get time limited or full article access on ReadCube.
$32.00
All prices are NET prices.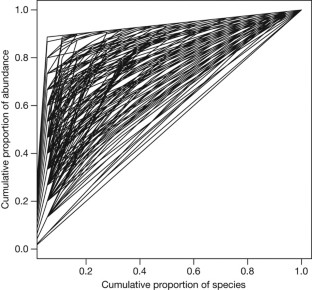 References
Hooper, D. U. et al. Effects of biodiversity on ecosystem functioning: A consensus of current knowledge. Ecol. Monogr. 75, 3–35 (2005)

Loreau, M. et al. Biodiversity and ecosystem functioning: Current knowledge and future challenges. Science 294, 804–808 (2001)

McCann, K. S. The diversity-stability debate. Nature 405, 228–233 (2000)

Purvis, A. & Hector, A. Getting the measure of biodiversity. Nature 405, 212–219 (2000)

Wilsey, B. J. & Potvin, C. Biodiversity and ecosystem functioning: Importance of species evenness in an old field. Ecology 81, 887–892 (2000)

Balvanera, P., Kremen, C. & Martinez-Ramos, M. Applying community structure analysis to ecosystem function: examples from pollination and carbon storage. Ecol. Appl. 15, 360–375 (2005)

Bell, T., Newman, J. A., Silverman, B. W., Turner, S. L. & Lilley, A. K. The contribution of species richness and composition to bacterial services. Nature 436, 1157–1160 (2005)

Cardinale, B. J., Palmer, M. A. & Collins, S. L. Species diversity enhances ecosystem functioning through interspecific facilitation. Nature 415, 426–429 (2002)

Loreau, M. & Hector, A. Partitioning selection and complementarity in biodiversity experiments. Nature 412, 72–76 (2001)

Naeem, S. & Li, S. Biodiversity enhances ecosystem reliability. Nature 390, 507–509 (1997)

Sankaran, M. & McNaughton, S. J. Determinants of biodiversity regulate compositional stability of communities. Nature 401, 691–693 (1999)

Griffiths, B. S., Bonkowski, M., Roy, J. & Ritz, K. Functional stability, substrate utilisation and biological indicators of soils following environmental impacts. Appl. Soil Ecol. 16, 49–61 (2001)

Huber, J. A. et al. Microbial population structures in the deep marine biosphere. Science 318, 97–100 (2007)

Wilsey, B. J. & P. o. l. l. e. y. H. W. Reductions in grassland species evenness increase dicot seedling invasion and spittle bug infestation. Ecol. Lett. 5, 676–684 (2002)

Wu, T., Chellemi, D. O., Graham, J. H., Martin, K. J. & Rosskopf, E. N. Comparison of soil bacterial communities under diverse agricultural land management and crop production practices. Microb. Ecol. 55, 293–310 (2008)

Yang, D. R., Peng, Y. Q., Yang, P. & Guan, J. M. The community structure of insects associated with figs at Xishuangbanna, China. Symbiosis 45, 153–157 (2008)

Jessup, C. M. et al. Big questions, small worlds: microbial model systems in ecology. Trends Ecol. Evol. 19, 189–197 (2004)

Kassen, R., Buckling, A., Bell, G. & Rainey, P. B. Diversity peaks at intermediate productivity in a laboratory microcosm. Nature 406, 508–512 (2000)

Prosser, J. I. et al. The role of ecological theory in microbial ecology. Nature Rev. Microbiol. 5, 384–392 (2007)

Philippot, L. & Hallin, S. Finding the missing link between diversity and activity using denitrifying bacteria as a model functional community. Curr. Opin. Microbiol. 8, 234–239 (2005)

Chapin, F. S. et al. Consequences of changing biodiversity. Nature 405, 234–242 (2000)

Decho, A. W. Microbial biofilms in intertidal systems: an overview. Cont. Shelf Res. 20, 1257–1273 (2000)

Horner-Devine, M. C., Carney, K. M. & Bohannan, B. J. M. An ecological perspective on bacterial biodiversity. Proc. R. Soc. Lond. B 271, 113–122 (2004)

Symonds, M. R. E. & Johnson, C. N. Species richness and evenness in Australian birds. Am. Nat. 171, 480–490 (2008)

Caron, J. B. & Jackson, D. A. Paleoecology of the Greater Phyllopod Bed community, Burgess Shale. Palaeogeogr. Palaeoclimatol. Palaeoecol. 258, 222–256 (2008)

Yachi, S. & Loreau, M. Biodiversity and ecosystem productivity in a fluctuating environment: The insurance hypothesis. Proc. Natl Acad. Sci. USA 96, 1463–1468 (1999)

Gitay, H., Wilson, J. B. & Lee, W. G. Species redundancy: A redundant concept? J. Ecol. 84, 121–124 (1996)

Walker, B. H. Biodiversity and ecological redundancy. Conserv. Biol. 6, 18–23 (1992)

Montgomery, H. A. C. & Dymock, J. F. The determination of nitrite in water. Analyst 86, 414–416 (1961)

Kutner, M. H., Nachtsheim, C. J. & Neter, J. Applied Linear Regression Models 4th edn (McGraw-Hill Irwin, 2004)
Acknowledgements
We are grateful to R. Amann for comments on the original manuscript and to P. Van Damme for practical assistance. This work was supported by the Institute for the Promotion of Innovation through Science and Technology in Flanders (IWT-Vlaanderen) (to L.W.), by an Interuniversity Attraction Pole research network grant of the Belgian government, Belgian Science Policy (to L.C.), by 'Program Master and Back' from Regione Sardegna (Italy; to A.B.), by 'Programma dell'Università per la Ricerca, PUR 2008' (ex FIRST) of the University of Milan (to D.D.), and by the Geconcerteerde Onderzoeksactie of Ghent University contract grant of the Ministerie van de Vlaamse Gemeenschap, Bestuur Wetenschappelijk Onderzoek (Belgium; to K.H., P.D.V., W.V. and N.B.).
Author Contributions L.W., M.M. and N.B. had the original idea for the experiment. The laboratory work was conducted by L.W., M.M., A.B. and K.H. The experimental design and statistical analyses were organized and performed by L.C. The manuscript was written principally by L.W., M.M. and L.C., with extensive input from D.D., K.H., P.D.V., W.V. and N.B.
Supplementary information
This file contains Supplementary Methods, Supplementary Figures S1-S5 with Legends and Supplementary Tables S1-S3 (PDF 241 kb)
About this article
Cite this article
Wittebolle, L., Marzorati, M., Clement, L. et al. Initial community evenness favours functionality under selective stress. Nature 458, 623–626 (2009). https://doi.org/10.1038/nature07840
Received:

Accepted:

Published:

Issue Date:

DOI: https://doi.org/10.1038/nature07840
Comments
By submitting a comment you agree to abide by our Terms and Community Guidelines. If you find something abusive or that does not comply with our terms or guidelines please flag it as inappropriate.