Abstract
Arising from: S. K. Singh, M. N. Kagalwala, J. Parker-Thornburg, H. Adams & S. Majumder Nature 453, 223–227 (2008)10.1038/nature06863; Singh et al. reply
The DNA-binding protein REST (also called NRSF) is a transcriptional repressor that targets many neuronal genes1,2 and is abundant in human and mouse pluripotent embryonic stem cells (ESCs)3,4,5. In a recent Letter to Nature, Singh et al.6 suggested that REST controls the self-renewal and pluripotency of ESCs, because they found that ESCs in which a single REST allele was disrupted (Fig. 1a, β-geo-stop insertion) had reduced alkaline phosphatase activity and expressed lower levels of several pluripotency-associated genes6. Here we show that partial or complete loss of functional REST protein does not abrogate ESC potential as reflected by marker gene expression. These data are consistent with earlier reports7,8, and argue that REST is not required for maintaining ESC pluripotency.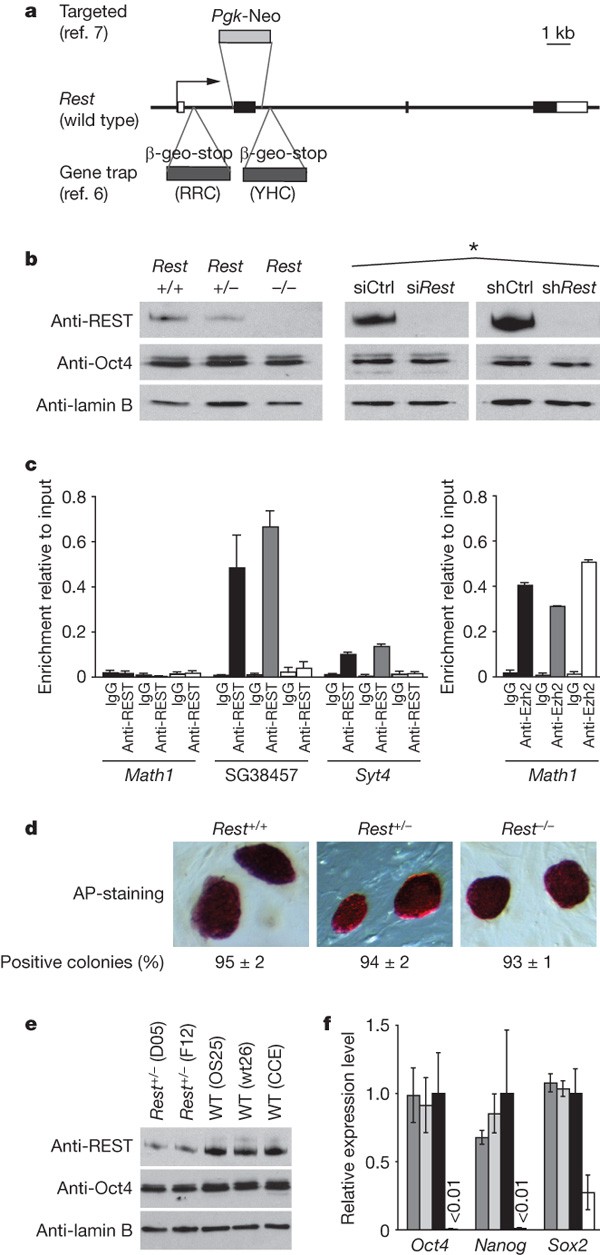 Access options
Subscribe to Journal
Get full journal access for 1 year
$199.00
only $3.90 per issue
All prices are NET prices.
VAT will be added later in the checkout.
Tax calculation will be finalised during checkout.
Rent or Buy article
Get time limited or full article access on ReadCube.
from$8.99
All prices are NET prices.
References
1

Chong, J. A. et al. REST: a mammalian silencer protein that restricts sodium channel gene expression to neurons. Cell 80, 949–957 (1995)

2

Schoenherr, C. J. & Anderson, D. J. The neuron-restrictive silencer factor (NRSF): a coordinate repressor of multiple neuron-specific genes. Science 267, 1360–1363 (1995)

3

Boyer, L. A. et al. Core transcriptional regulatory circuitry in human embryonic stem cells. Cell 122, 947–956 (2005)

4

Westbrook, T. F. et al. SCFβ-TRCP controls oncogenic transformation and neural differentiation through REST degradation. Nature 452, 370–374 (2008)

5

Kim, J., Chu, J., Shen, X., Wang, J. & Orkin, S. H. An extended transcriptional network for pluripotency of embryonic stem cells. Cell 132, 1049–1061 (2008)

6

Singh, S. K., Kagalwala, M. N., Parker-Thornburg, J., Adams, H. & Majumder, S. REST maintains self-renewal and pluripotency of embryonic stem cells. Nature 453, 223–227 (2008)

7

Chen, Z. F., Paquette, A. J. & Anderson, D. J. NRSF/REST is required in vivo for repression of multiple neuronal target genes during embryogenesis. Nature Genet. 20, 136–142 (1998)

8

Loh, Y. H. et al. The Oct4 and Nanog transcription network regulates pluripotency in mouse embryonic stem cells. Nature Genet. 38, 431–440 (2006)

9

Chen, Z. F. & Behringer, R. R. twist is required in head mesenchyme for cranial neural tube morphogenesis. Genes Dev. 9, 686–699 (1995)

10

Azuara, V. et al. Chromatin signatures of pluripotent cell lines. Nature Cell Biol. 8, 532–538 (2006)

11

Jorgensen, H. F. et al. The impact of chromatin modifiers on the timing of locus replication in mouse embryonic stem cells. Genome Biol. 8, R169 (2007)

12

Conti, L. et al. Niche-independent symmetrical self-renewal of a mammalian tissue stem cell. PLoS Biol. 3, e283 (2005)

13

Billon, N., Jolicoeur, C., Ying, Q. L., Smith, A. & Raff, M. Normal timing of oligodendrocyte development from genetically engineered, lineage-selectable mouse ES cells. J. Cell Sci. 115, 3657–3665 (2002)
About this article
Cite this article
Jørgensen, H., Chen, ZF., Merkenschlager, M. et al. Is REST required for ESC pluripotency?. Nature 457, E4–E5 (2009). https://doi.org/10.1038/nature07783
Received:

Accepted:

Issue Date:
Comments
By submitting a comment you agree to abide by our Terms and Community Guidelines. If you find something abusive or that does not comply with our terms or guidelines please flag it as inappropriate.