Abstract
Evidence of reproductive biology is extremely rare in the fossil record. Recently the first known embryos were discovered within the Placodermi1, an extinct class of armoured fish, indicating a viviparous mode of reproduction in a vertebrate group outside the crown-group Gnathostomata (Chondrichthyes and Osteichthyes). These embryos were found in ptyctodontids, a small group of placoderms phylogenetically basal to the largest group, the Arthrodira2,3. Here we report the discovery of embryos in the Arthrodira inside specimens of Incisoscutum ritchiei from the Upper Devonian Gogo Formation of Western Australia4 (approximately 380 million years ago), providing the first evidence, to our knowledge, for reproduction using internal fertilization in this diverse group. We show that Incisoscutum and some phyllolepid arthrodires possessed pelvic girdles with long basipterygia that articulated distally with an additional cartilaginous element or series, as in chondrichthyans, indicating that the pelvic fin was used in copulation. As homology between similar pelvic girdle skeletal structures in ptyctodontids, arthrodires and chondrichthyans is difficult to reconcile in the light of current phylogenies of lower gnathostomes2,3,5, we explain these similarities as being most likely due to convergence (homoplasy). These new finds confirm that reproduction by internal fertilization and viviparity was much more widespread in the earliest gnathostomes than had been previously appreciated.
This is a preview of subscription content
Access options
Subscribe to Journal
Get full journal access for 1 year
$199.00
only $3.90 per issue
All prices are NET prices.
VAT will be added later in the checkout.
Tax calculation will be finalised during checkout.
Buy article
Get time limited or full article access on ReadCube.
$32.00
All prices are NET prices.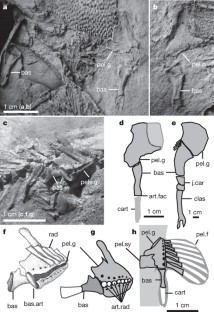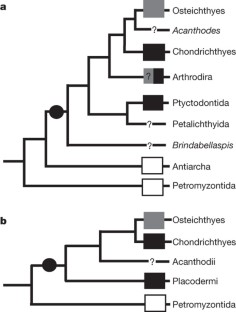 References
Long, J. A., Trinajstic, K., Young, G. C. & Senden, T. Live birth in the Devonian period. Nature 453, 650–652 (2008)

Goujet, D. & Young, G. C. in Recent Advances in the Origin and Early Radiation of Vertebrates (eds Arratia, G., Wilson, M. V. H. & Cloutier, R.) 109–126 (Dr Freiderich Pfeil, 2004)

Brazeau, M. D. The braincase and jaws of a Devonian 'acanthodian' and modern gnathostome origins. Nature 457, 305–308 (2009)

Dennis, K. & Miles, R. S. A pachyosteomorph arthrodire from Gogo, Western Australia. Zool. J. Linn. Soc. 73, 213–258 (1981)

Janvier, P. in Major Events in Early Vertebrate Evolution (ed. Ahlberg, P. E.) 172–186 (Taylor & Francis, 2001)

Wourms, J. Viviparity: The maternal-fetal relationship in fishes. Am. Zool. 21, 473–515 (1981)

Blackburn, D. in Viviparous Fishes (eds Grier, H. & Uribe, M.) 287–301 (New Life Publications, 2005)

López, J. A., Ryburn, J. A., Fedrigo, O. & Naylor, G. J. P. Phylogeny of sharks of the family Triakidae (Carcharhiniformes) and its implications for the evolution of carcharhiniform placental viviparity. Mol. Phyl. Evol. 40, 50–60 (2006)

Mank, J. E. & Avise, J. C. Supertree analyses of the roles of viviparity and habitat in the atherinomorph fishes. Eur. Soc. Evol. Biol 19, 734–740 (2006)

Webb, S. et al. Molecular phylogeny of the livebearing Goodeidae (Cyprinidontiformes). Mol. Phyl. Evol. 30, 527–544 (2004)

Lee, M. Y. S. & Shine, R. Reanalysis of the evolution of viviparity and egg-guarding in squamate reptiles. Herpetologica 55, 538–549 (1998)

Davidson, R. & Trewin, N. Unusual preservation of the internal organs of acanthodian and actinopterygian fish in the Middle Devonian of Scotland. Scot. J. Geol. 41, 129–134 (2005)

Long, J. A. Swimming in Stone—The Amazing Gogo Fossils of the Kimberley 320 (Fremantle Arts Centre Press, 2006)

Trewin, N. H. Palaeoecology and sedimentology of the Achanarras fish bed of the Middle Old Red Sandstone, Scotland. Trans. R. Soc. Edinb. Earth Sci. 77, 21–46 (1986)

Maxwell, E. E. & Caldwell, M. W. First record of live birth in Cretaceous ichthyosaurs: closing an 80 million year gap. Proc. R. Soc. Lond. B 270 (suppl.). S104–S107 (2003)

Chiappe, L. M., Cordorniu, L., Greller-Tinner, G. & Rivarola, D. Argentinian unhatched pterosaur fossil. Nature 432, 571–572 (2004)

Young, G. C. Antiarchs (placoderm fishes) from the Devonian Aztec Siltstone, southern Victoria Land, Antarctica. Palaeontographica A202, 1–125 (1988)

Upeniece, I. The unique fossil assemblage from the Lode Quarry (Upper Devonian, Latvia). Mitt. Mus. Natkd. Berl. Geowiss 4, 101–119 (2001)

Long, J. A. New phyllolepid placoderms from the Late Devonian of Victoria, Australia and the relationships of the group. Proc. Linn. Soc. NSW 107, 263–308 (1984)

Ritchie, A. Cowralepis, a new genus of phyllolepid fish (Pisces, Placodermi) from the Late Middle Devonian of New South Wales, Australia. Proc. Linn. Soc. NSW 126, 215–259 (2005)

Sewertzoff, A. N. Development of the pelvic fins of Acipenser ruthenus. New data for the theory of the paired fins of fishes. J. Morph. Physiol. 41, 547–579 (1926)

Bürgin, T. Reproduction in the Middle Triassic actinopterygians; complex fin structures and evidence of viviparity in fossil fishes. Zool. J. Linn. Soc. 100, 379–391 (1990)

Schultze, H.-P. Early growth stages in coelacanth fishes. Nat. New Biol. 236, 90–91 (1972)

Lund, R. Viviparity and interuterine feeding in a new holocephalan fish from the Lower Carboniferous of Montana. Science 209, 697–699 (1980)

Miles, R. S. Observations on the ptyctodont fish, Rhamphodopsis Watson. Zool. J. Linn. Soc. 47, 99–120 (1967)

Young, G. C. The relationships of placoderm fishes. Zool. J. Linn. Soc. 88, 1–57 (1986)

Stensiö, E. A. Anatomical Studies on the Arthrodiran Head. Kungl. Svenska Vetensk. Akad. Handl. 4 (9) 2, 1–419 (1963)
Acknowledgements
We thank M. Brazeau for access to his manuscript before publication, A. Ritchie for discussions, and G. Young and G. Edgecombe for reviewing the manuscript. We also thank K. Bifield for the photograph of WAM 04.10.02, and the Centre for Microscopy, Characterisation and Analysis, UWA, for microscopy assistance. J.A.L. and K.T. are supported by Australian Research Council Discovery grants.
Author Contributions All three authors contributed equally to the description of the new embryos and arthrodire pelvic structures, and to the general discussion; J.A.L. provided new data on Victorian phyllolepids.
Supplementary information
This file contains Supplementary Notes, Supplementary References and Supplementary Figures 1-3 with Legends (PDF 3355 kb)
About this article
Cite this article
Long, J., Trinajstic, K. & Johanson, Z. Devonian arthrodire embryos and the origin of internal fertilization in vertebrates. Nature 457, 1124–1127 (2009). https://doi.org/10.1038/nature07732
Received:

Accepted:

Issue Date:

DOI: https://doi.org/10.1038/nature07732
Comments
By submitting a comment you agree to abide by our Terms and Community Guidelines. If you find something abusive or that does not comply with our terms or guidelines please flag it as inappropriate.