Abstract
Hepatitis C virus (HCV) is a leading cause of liver disease worldwide. The development of much needed specific antiviral therapies and an effective vaccine has been hampered by the lack of a convenient small animal model. The determinants restricting HCV tropism to human and chimpanzee hosts are unknown. Replication of the viral RNA has been demonstrated in mouse cells1,2, but these cells are not infectable with either lentiviral particles bearing HCV glycoproteins (HCVpp)3 or HCV produced in cell culture (HCVcc) (A.P., M.E. and C.M.R., unpublished observations), suggesting that there is a block at the level of entry. Here we show, using an iterative complementary DNA library screening approach, that human occludin (OCLN) is an essential HCV cell entry factor that is able to render murine cells infectable with HCVpp. Similarly, OCLN is required for the HCV-susceptibility of human cells, because its overexpression in uninfectable cells specifically enhanced HCVpp uptake, whereas its silencing in permissive cells impaired both HCVpp and HCVcc infection. In addition to OCLN, HCVpp infection of murine cells required expression of the previously identified HCV entry factors CD81 (ref. 4), scavenger receptor class B type I (SR-BI, also known as SCARB1)5 and claudin-1 (CLDN1)6. Although the mouse versions of SR-BI and CLDN1 function at least as well as the human proteins in promoting HCV entry, both OCLN and CD81 must be of human origin to allow efficient infection. The species-specific determinants of OCLN were mapped to its second extracellular loop. The identification of OCLN as a new HCV entry factor further highlights the importance of the tight junction complex in the viral entry process, and provides an important advance towards efforts to develop small animal models for HCV.
Relevant articles
Open Access articles citing this article.
Ashish Kumar

,

Tiana C. Rohe

…

Joseph Marcotrigiano

Nature Communications Open Access 26 January 2023

Fatima Butt

,

Muhammad Shahid

…

Muhammad Idrees

Egyptian Liver Journal Open Access 27 December 2022

Yoshitaka Shirasago

,

Hidesuke Fukazawa

…

Masayoshi Fukasawa

Scientific Reports Open Access 24 November 2022
Access options
Subscribe to this journal
Receive 51 print issues and online access
$199.00 per year
only $3.90 per issue
Rent or buy this article
Get just this article for as long as you need it
$39.95
Prices may be subject to local taxes which are calculated during checkout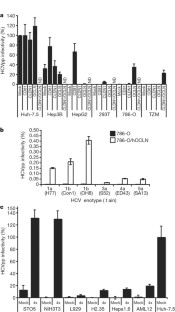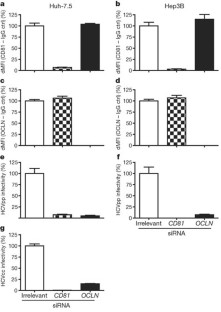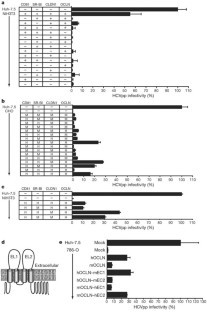 References
Uprichard, S. L., Chung, J., Chisari, F. V. & Wakita, T. Replication of a hepatitis C virus replicon clone in mouse cells. Virol. J. 3, 89–97 (2006)

Zhu, Q., Guo, J. T. & Seeger, C. Replication of hepatitis C virus subgenomes in nonhepatic epithelial and mouse hepatoma cells. J. Virol. 77, 9204–9210 (2003)

Bartosch, B., Dubuisson, J. & Cosset, F. L. Infectious hepatitis C virus pseudo-particles containing functional E1–E2 envelope protein complexes. J. Exp. Med. 197, 633–642 (2003)

Pileri, P. et al. Binding of hepatitis C virus to CD81. Science 282, 938–941 (1998)

Scarselli, E. et al. The human scavenger receptor class B type I is a novel candidate receptor for the hepatitis C virus. EMBO J. 21, 5017–5025 (2002)

Evans, M. J. et al. Claudin-1 is a hepatitis C virus co-receptor required for a late step in entry. Nature 446, 801–805 (2007)

von Hahn, T. & Rice, C. M. Hepatitis C virus entry. J. Biol. Chem. 283, 3689–3693 (2008)

Blight, K. J., McKeating, J. A. & Rice, C. M. Highly permissive cell lines for hepatitis C virus genomic and subgenomic RNA replication. J. Virol. 76, 13001–13014 (2002)

Bartosch, B. et al. In vitro assay for neutralizing antibody to hepatitis C virus: evidence for broadly conserved neutralization epitopes. Proc. Natl Acad. Sci. USA 100, 14199–14204 (2003)

Drummer, H. E., Maerz, A. & Poumbourios, P. Cell surface expression of functional hepatitis C virus E1 and E2 glycoproteins. FEBS Lett. 546, 385–390 (2003)

Hsu, M. et al. Hepatitis C virus glycoproteins mediate pH-dependent cell entry of pseudotyped retroviral particles. Proc. Natl Acad. Sci. USA 100, 7271–7276 (2003)

Paris, L., Tonutti, L., Vannini, C. & Bazzoni, G. Structural organization of the tight junctions. Biochim. Biophys. Acta 1778, 646–659 (2008)

Chiba, H. et al. Transmembrane proteins of tight junctions. Biochim. Biophys. Acta 1778, 588–600 (2008)

Flint, M. et al. Diverse CD81 proteins support hepatitis C virus infection. J. Virol. 80, 11331–11342 (2006)

Coyne, C. B. & Bergelson, J. M. Virus-induced Abl and Fyn kinase signals permit coxsackievirus entry through epithelial tight junctions. Cell 124, 119–131 (2006)

Coyne, C. B., Shen, L., Turner, J. R. & Bergelson, J. M. Coxsackievirus entry across epithelial tight junctions requires occludin and the small GTPases Rab34 and Rab5. Cell Host Microbe 2, 181–192 (2007)

Brazzoli, M. et al. CD81 is a central regulator of cellular events required for hepatitis C virus infection of human hepatocytes. J. Virol. 82, 8316–8329 (2008)

Marukian, S. et al. Cell culture-produced hepatitis C virus does not infect peripheral blood mononuclear cells. Hepatology 48, 1843–1850 (2008)

Lindenbach, B. D. et al. Complete replication of hepatitis C virus in cell culture. Science 309, 623–626 (2005)
Acknowledgements
We thank D. Bowman, K. Mu, M. Hunter, J. Tassello and M. Holz for excellent technical assistance, J. L. Law and N. Shohdy for advice on siRNA experiments, T. von Hahn and A. J. Syder for helpful discussions and C. Murray for editing the manuscript. S. Mazel, C. Bare and X. Fan provided outstanding technical support. This work was supported by the Greenberg Medical Research Institute, the Ellison Medical Foundation, the Starr Foundation, the Ronald A. Shellow Memorial Fund, the Richard Salomon Family Foundation and funded in part by a Grant from the Foundation for the National Institutes of Health through the Grand Challenges in Global Health initiative (to C.M.R.), and the National Institutes of Health (to M.J.E. and C.M.R.). C.M.R. is an Ellison Medical Foundation Senior Scholar in Global Infectious Diseases. A.P. and M.J.E. were supported by Kimberly Lawrence-Netter Cancer Research Discovery Fund Award Postdoctoral Fellowships. M.J.E. was also supported by the Charles H. Revson Postdoctoral Fellowship. We would like to thank P. D. Bieniasz and T. Hatziioannou for providing reagents, including the LMN8 retroviral plasmid, and expertise necessary for the cDNA library construction and screening. R. Tsien provided the mCherry fluorescent protein encoding plasmid, A. Miyawaki the Venus/YFP plasmid and D. W. Piston the Cerulean/CFP plasmid. Constructs expressing HCV glycoproteins of diverse genotypes and the JFH-1 subgenomic replicon cDNA were provided by J. Bukh and T. Wakita, respectively.
Author Contributions A.P., M.J.E. and C.M.R. designed the project, analysed results and wrote the manuscript. A.P., M.J.E., H.Y., M.P., V.A.G. and Y.P.d.J. performed the experimental work.
Ethics declarations
Competing interests
C.M.R. has equity in Apath, LLC, which holds commercial licenses for the Huh-7.5 cell line and the HCVcc cell culture system.
Supplementary information
This file contains Supplementary Data and Methods, Supplementary References and Supplementary Figures S1-S4 (PDF 454 kb)
About this article
Cite this article
Ploss, A., Evans, M., Gaysinskaya, V. et al. Human occludin is a hepatitis C virus entry factor required for infection of mouse cells. Nature 457, 882–886 (2009). https://doi.org/10.1038/nature07684
Received:

Accepted:

Published:

Issue Date:

DOI: https://doi.org/10.1038/nature07684
Comments
By submitting a comment you agree to abide by our Terms and Community Guidelines. If you find something abusive or that does not comply with our terms or guidelines please flag it as inappropriate.