Abstract
Relative motion between two contacting surfaces can produce visible light, called triboluminescence1. This concentration of diffuse mechanical energy into electromagnetic radiation has previously been observed to extend even to X-ray energies2. Here we report that peeling common adhesive tape in a moderate vacuum produces radio and visible emission3,4, along with nanosecond, 100-mW X-ray pulses that are correlated with stick–slip peeling events. For the observed 15-keV peak in X-ray energy, various models5,6 give a competing picture of the discharge process, with the length of the gap between the separating faces of the tape being 30 or 300 μm at the moment of emission. The intensity of X-ray triboluminescence allowed us to use it as a source for X-ray imaging. The limits on energies and flash widths that can be achieved are beyond current theories of tribology.
Relevant articles
Open Access articles citing this article.
Mohamadmahdi Samandari

,

Laleh Rafiee

…

Shaghayegh Haghjooy Javanmard

Scientific Reports Open Access 13 May 2021

O. O. Ivashchuk

,

A. V. Shchagin

…

V. I. Volkov

Scientific Reports Open Access 07 November 2018

Shuaihang Pan

&

Zhinan Zhang

Friction Open Access 10 August 2018
Access options
Subscribe to Journal
Get full journal access for 1 year
$199.00
only $3.90 per issue
All prices are NET prices.
VAT will be added later in the checkout.
Tax calculation will be finalised during checkout.
Buy article
Get time limited or full article access on ReadCube.
$32.00
All prices are NET prices.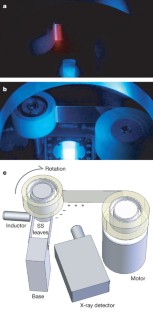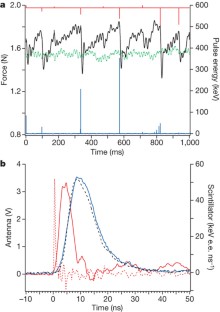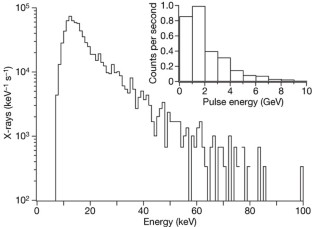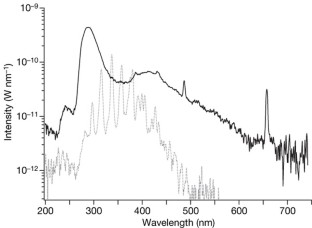 References
Walton, A. J. Triboluminescence. Adv. Phys. 26, 887–948 (1977)

Karasev, V. V., Krotova, N. A. & Deryagin, B. W. Study of electronic emission during the stripping of a layer of high polymer from glass in a vacuum. [in Russian] Dokl . Akad. Nauk. SSR 88, 777–780 (1953)

Harvey, N. E. The luminescence of adhesive tape. Science 89, 460–461 (1939)

Zhenyi, M., Fan, J. & Dickinson, J. T. Properties of the photon emission accompanying the peeling of a pressure-sensitive adhesive. J. Adhesion 25, 63–77 (1988)

Mesyats, G. A. Ectons and their role in plasma processes. Plasma Phys. Contr. Fusion 47, A109–A151 (2005)

Raizer, Y. Gas Discharge Physics (Springer, 1991)

Putterman, S. J. & Weninger, K. R. Sonoluminescence: how bubbles turn sound into light. Annu. Rev. Fluid Mech. 32, 445–476 (2000)

Harper, W. R. Contact and Frictional Electrification (Laplacian Press, 1998)

Deryagin, B. V., Krotova, N. A. & Smilga, V. P. Adhesion of Solids (Consultants Bureau, 1978)

Black, R. A. Hallett, J. The mystery of cloud electrification. Am. Sci. 86, 526–534 (1998)

Dwyer, J. R. et al. Energetic radiation produced during rocket-triggered lightning. Science 299, 694–697 (2003)

McCarty, L. & Whitesides, G. M. Electrostatic charging due to separation of ions at interfaces: contact electrification of ionic electrets. Angew. Chem. Int. Ed. 47, 2188–2207 (2008)

Gay, C. & Leibler, L. Theory of tackiness. Phys. Rev. Lett. 82, 936–939 (1999)

Obreimoff, J. W. The splitting strength of mica. Proc. R. Soc. A 127, 290–297 (1930)

Zosel, A. Adhesive failure and deformation behavior of polymers. J. Adhesion 30, 135–149 (1989)

Budakian, R., Weninger, K., Hiller, R. A. & Putterman, S. J. Picosecond discharges and stick–slip friction at a moving meniscus of mercury on glass. Nature 391, 266–268 (1997)

Klyuev, V. A., Toporov, Aliev, A. D., Chalykh, A. E. & Lipson, A. G. The effect of air pressure on the parameters of x-ray emission accompanying adhesive and cohesive breaking of solids. Sov. Phys. Tech. Phys. 34, 361–364 (1989)

Baksht, R. B., Vavilov, S. P. & Urbayaev, M. N. Duration of the x-ray emission arising in a vacuum discharge. Izv. Ucheb. Zaved. Fiz. 2, 140–141 (1973)

Chervenak, J. G. & Liuzzi, A. Experimental thick target Bremsstrahlung spectra from electrons in the range 10–30keV. Phys. Rev. A. 12, 26–33 (1975)

Graf von Harrach, H. & Chapman, B. N. Charge effects in thin film adhesion. Thin Solid Films 12, 157–161 (1972)

Kendall, K. Thin-film peeling—the elastic term. J. Phys. D 8, 1449–1453 (1975)

Chikina, I. & Gay, C. Cavitation in adhesives. Phys. Rev. Lett. 85, 4546–4549 (2000)

Urahama, Y. Effect of peel load on stringiness phenomena and peel speed of pressure-sensitive adhesive tape. J. Adhesion 31, 47–58 (1989)

De, R. & Ananthakrishna, G. Dynamics of the peel front and the nature of acoustic emission during peeling of an adhesive tape. Phys. Rev. Lett. 97, 165503–165506 (2006)

Miura, T., Chini, M. & Bennewitz, R. Forces, charges, and light emission during the rupture of adhesive contacts. J. Appl. Phys. 102, 103509 (2007)

Freund, F. & Sornette, D. Electro-magnetic earthquake bursts and critical rupture of peroxy bond networks in rocks. Tectonophysics 431, 33–47 (2007)

Eddingsaas, N. C. & Suslick, K. S. Light from sonication of crystal slurries. Nature 444, 163 (2006)

Dickinson, J. T. et al. Dynamical tribological probes: particle emission and transient electrical measurements. Tribology Lett. 3, 53–67 (1997)

Autumn, K. et al. Adhesive force of a single gecko foot-hair. Nature 405, 681–685 (2000)

Naranjo, B., Gimzewski, J. K. & Putterman, S. Observation of nuclear fusion driven by a pyroelectric crystal. Nature 434, 1115–1117 (2005)

Cortet, P. P., Ciccotti, M. & Vanel, L. Imaging the stick–slip peeling of an adhesive tape under a constant load. J. Statist. Mech. 3, P03005 (2007)

Mesyats, G. A. Nanosecond x-ray pulses. Sov. Phys. Tech. Phys. 19, 948–951 (1975)

Orville, R. E. & Henderson, R. W. Absolute spectral measurements of lightning from 375 to 880 nm. J. Atmos. Sci. 41, 3180–3187 (1984)
Acknowledgements
We thank R. Lofstedt for bringing to our attention the importance of ref. 14; C. Regan for advice; B. Naranjo for many insights and for use of his uniquely designed liquid scintillator detection system; B. Kappus and S. Khalid for experimental assistance; J. Cambier for valuable discussions, E. Adams for archival assistance; and A. Bass for an independent translation of ref. 2. We thank Hamamatsu Corporation for lending us X-ray cameras. Various stages of this research were supported by the Office of Naval Research and the Defense Advanced Research Projects Agency (Microsystems Technologies Office and Defense Sciences Office) . J.E. thanks the Fulbright–Garcia Robles Scholarship Program and UC-MEXUS-CONACYT for support.
Author Contributions J.H. was instrumental in motivating this research. J.E. pinned down the correlation between the force and X-ray emission. C.C. obtained the GeV pulses, and S.P. is the principal investigator.
Supplementary information
About this article
Cite this article
Camara, C., Escobar, J., Hird, J. et al. Correlation between nanosecond X-ray flashes and stick–slip friction in peeling tape. Nature 455, 1089–1092 (2008). https://doi.org/10.1038/nature07378
Received:

Accepted:

Issue Date:

DOI: https://doi.org/10.1038/nature07378
Comments
By submitting a comment you agree to abide by our Terms and Community Guidelines. If you find something abusive or that does not comply with our terms or guidelines please flag it as inappropriate.