Abstract
Terminal oxo complexes of transition metals have critical roles in various biological and chemical processes1,2. For example, the catalytic oxidation of organic molecules3,4, some oxidative enzymatic transformations5,6,7, and the activation of dioxygen on metal surfaces8 are all thought to involve oxo complexes. Moreover, they are believed to be key intermediates in the photocatalytic oxidation of water to give molecular oxygen, a topic of intensive global research aimed at artificial photosynthesis and water splitting9,10,11,12,13. The terminal oxo ligand is a strong π-electron donor, so it readily forms stable complexes with high-valent early transition metals. As the d orbitals are filled up with valence electrons, the terminal oxo ligand becomes destabilized2. Here we present evidence for a dn (n > 5) terminal oxo complex that is not stabilized by an electron withdrawing ligand framework. This d6 Pt(iv) complex exhibits reactivity as an inter- and intramolecular oxygen donor and as an electrophile. In addition, it undergoes a water activation process leading to a terminal dihydroxo complex, which may be relevant to the mechanism of catalytic reactions such as water oxidation.
Your institute does not have access to this article
Relevant articles
Open Access articles citing this article.
Lin Li

,

Tony Stüker

…

Sebastian Riedel

Nature Communications Open Access 28 March 2018

Bin Wang

,

Yong-Min Lee

…

Wonwoo Nam

Nature Communications Open Access 24 March 2017
Access options
Subscribe to Journal
Get full journal access for 1 year
$199.00
only $3.90 per issue
All prices are NET prices.
VAT will be added later in the checkout.
Tax calculation will be finalised during checkout.
Buy article
Get time limited or full article access on ReadCube.
$32.00
All prices are NET prices.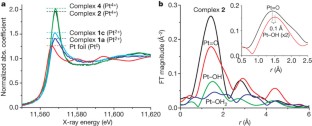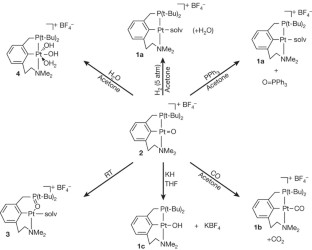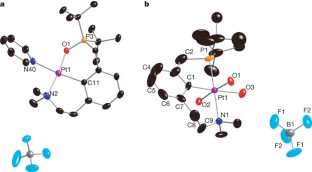 References
Nugent, W. A. & Mayer, J. M. Metal-Ligand Multiple Bonds (Wiley, 1988)

Holm, R. H. Metal-centered oxygen atom transfer reactions. Chem. Rev. 87, 1401–1449 (1987)

Sheldon, R. A. & Kochi, J. K. Metal-Catalyzed Oxidations of Organic Compounds (Academic, 1981)

Meunier, B. (ed.) Biomimetic Oxidations Catalyzed by Transition Metal Complexes (Imperial College Press, 2000)

Yoshizawa, K. Nonradical mechanism for methane hydroxylation by iron-oxo complexes. Acc. Chem. Res. 39, 375–382 (2006)

Rohde, J.-U. et al. Crystallographic and spectroscopic characterization of a nonheme Fe(IV)-O complex. Science 299, 1037–1039 (2003)

Green, M. T., Dawson, J. H. & Gray, H. B. Oxoiron(IV) in chloroperoxidase compound II is basic: Implications for P450 chemistry. Science 304, 1653–1656 (2004)

Somorjai, G. A. Introduction to Surface Chemistry and Catalysis (Wiley, 1994)

Ruettinger, W. & Dismukes, G. C. Synthetic water-oxidation catalysts for artificial photosynthetic water oxidation. Chem. Rev. 97, 1–24 (1997)

Yagi, M. & Kaneko, M. Molecular catalysts for water oxidation. Chem. Rev. 101, 21–35 (2001)

Alstrum-Acevedo, J. H., Brennaman, M. K. & Meyer, T. J. Chemical approaches to artificial photosynthesis. 2. Inorg. Chem. 44, 6802–6827 (2005)

Dempsey, J. L. et al. Molecular chemistry of consequence to renewable energy. Inorg. Chem. 44, 6879–6892 (2005)

Lewis, N. S. & Nocera, D. G. Powering the planet: Chemical challenges in solar energy utilization. Proc. Natl Acad. Sci. USA 103, 15729–15735 (2006)

Spaltenstein, E., Conry, R. R., Critchlow, S. C. & Mayer, J. M. Low-valent rhenium-oxo complexes. 9. Synthesis, characterization, and reactivity of a formally rhenium(I) terminal oxo complex, NaRe(O)(RC≡CR)2 . J. Am. Chem. Soc. 111, 8741–8742 (1989)

Anderson, T. M. et al. Late-transition metal oxo complex: K7Na9[O:PtIV(H2O)L2], L = [PW9O34]9- . Science 306, 2074–2077 (2004)

Anderson, T. M. et al. Palladium-oxo complex. Stabilization of this proposed catalytic intermediate by an encapsulating polytungstate ligand. J. Am. Chem. Soc. 127, 11948–11949 (2005)

Cao, R., Musaev, D. J., Morokuma, K., Takahashi, M. & Hill, C. L. Terminal gold-oxo complexes. J. Am. Chem. Soc. 129, 11118–11133 (2007)

MacBeth, C. E. et al. O2 activation by nonheme iron complexes: A monomeric Fe(III)-oxo complex derived from O2 . Science 289, 938–941 (2000)

Van der Boom, M. E. & Milstein, D. Cyclometalated phosphine-based pincer complexes: Mechanistic insight in catalysis, coordination, and bond activation. Chem. Rev. 103, 1759–1792 (2003)

Poverenov, E. et al. Pincer "hemilabile" effect. PCN platinum(II) complexes with different amine "arm length". Organometallics 24, 1082–1090 (2005)

Murray, R. W. & Singh, M. Chemistry of dioxiranes. Reaction of dimethyldioxirane with alkynes. J. Org. Chem. 58, 5076–5080 (1993)

Sassenberg, U. & Scullman, R. The emission spectrum of PtO between 3800 A and 8900 A. Phys. Scripta 28, 139–159 (1983)

Schott, D., Pregosin, P. S., Albinati, A. & Rizatto, S. PGSE diffusion NMR studies on mononuclear and dinuclear cationic salts of (S)-MeO-Biphep and (R)-p-tolyl-BINAP. Inorg. Chim. Acta 360, 3203–3212 (2007)

Collman, J. P., Slaughter, L. M., Eberspacher, T. A., Strassner, T. & Brauman, J. I. Mechanism of dihydrogen cleavage by high-valent metal oxo compounds: Experimental and computational studies. Inorg. Chem. 40, 6272–6280 (2001)

Yang, X. & Baik, M.-H. cis,cis-[(bpy)2RuVO]2O4+ catalyzes water oxidation formally via in situ generation of radicaloid RuIV-O*. J. Am. Chem. Soc. 128, 7476–7485 (2006)

Hurst, J. K. Water oxidation catalyzed by dimeric μ-oxo bridged ruthenium diimine complexes. Coord. Chem. Rev. 249, 313–328 (2005)

Elizarova, G. L., Zhidomirov, G. M. & Parmon, V. N. Hydroxides of transition metals as artificial catalysts for oxidation of water to dioxygen. Catal. Today 58, 71–88 (2000)

Binstead, R. A., Chronister, C. W., Ni, J., Hartshorn, C. M. & Meyer, T. J. Mechanism of water oxidation by the μ-oxo dimer [(bpy)2(H2O)RuIIIORuIII(OH2)(bpy)2]4+ . J. Am. Chem. Soc. 122, 8464–8473 (2000)

Labinger, J. A. & Bercaw, J. E. Understanding and exploiting C–H bond activation. Nature 417, 507–513 (2002)

Rostovtsev, V. V., Labinger, J. A., Bercaw, J. E., Lasseter, T. L. & Goldberg, K. I. Oxidation of dimethylplatinum(II) complexes with dioxygen. Organometallics 17, 4530–4531 (1998)
Acknowledgements
This research was supported in part by the Israeli Science Foundation, by the German Federal Ministry of Education and Research (BMBF) under the framework of the German-Israeli Cooperation, by the Minerva Foundation, Munich, Germany, and by the Helen and Martin Kimmel Center for Molecular Design. A.I.F. acknowledges support from the US Department of Energy (DE-FG02-03ER15476). Beamline X18B is supported by the NSLS through the Divisions of Materials and Chemical Sciences of the US DOE, and the Synchrotron Catalysis Consortium through the US DOE (DE-FG02-05ER15688). We thank Q. Wang for help with the synchrotron measurements. D.M. holds the Israel Matz Professorial Chair.
Author Contributions E.P.: synthesis, characterization, reactivity studies of complexes and manuscript writing. I.E. and J.M.L.M.: DFT calculations and manuscript writing. A.I.F.: X-ray absorption spectroscopy studies. Y.B.-D.: synthesis of the PCN ligand and dioxirane. L.J.W.S. and G.L.: single-crystal X-ray diffraction analysis. L.K.: NMR studies. D.M.: design and direction of the project and manuscript writing.
Supplementary information
This file contains Supplementary Notes incorporating Supplementary Tables 1S-3S, Supplementary Figures 1S-8S with Legends and Supplementary References (PDF 578 kb)
About this article
Cite this article
Poverenov, E., Efremenko, I., Frenkel, A. et al. Evidence for a terminal Pt(iv)-oxo complex exhibiting diverse reactivity. Nature 455, 1093–1096 (2008). https://doi.org/10.1038/nature07356
Received:

Accepted:

Issue Date:

DOI: https://doi.org/10.1038/nature07356
Comments
By submitting a comment you agree to abide by our Terms and Community Guidelines. If you find something abusive or that does not comply with our terms or guidelines please flag it as inappropriate.