Abstract
Magnetars1 are young neutron stars with very strong magnetic fields of the order of 1014–1015 G. They are detected in our Galaxy either as soft γ-ray repeaters or anomalous X-ray pulsars. Soft γ-ray repeaters are a rare type of γ-ray transient sources that are occasionally detected as bursters in the high-energy sky2,3,4. No optical counterpart to the γ-ray flares or the quiescent source has yet been identified. Here we report multi-wavelength observations of a puzzling source, SWIFT J195509+261406. We detected more than 40 flaring episodes in the optical band over a time span of three days, and a faint infrared flare 11 days later, after which the source returned to quiescence. Our radio observations confirm a Galactic nature and establish a lower distance limit of ∼3.7 kpc. We suggest that SWIFT J195509+261406 could be an isolated magnetar whose bursting activity has been detected at optical wavelengths, and for which the long-term X-ray emission is short-lived. In this case, a new manifestation of magnetar activity has been recorded and we can consider SWIFT J195509+261406 to be a link between the 'persistent' soft γ-ray repeaters/anomalous X-ray pulsars and dim isolated neutron stars.
Access options
Subscribe to Journal
Get full journal access for 1 year
$199.00
only $3.90 per issue
All prices are NET prices.
VAT will be added later in the checkout.
Rent or Buy article
Get time limited or full article access on ReadCube.
from$8.99
All prices are NET prices.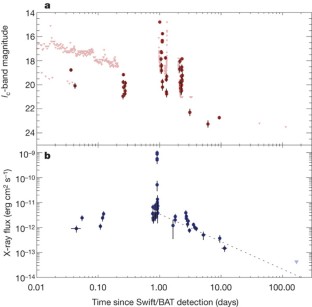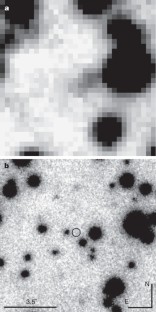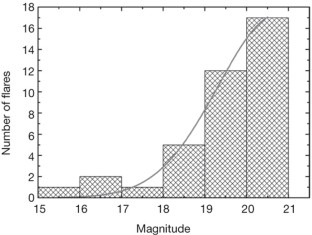 References
1

Thompson, C. & Duncan, R. C. The soft gamma repeaters as very strongly magnetized neutron stars. II. Quiescent neutrino, X-ray, and Alfvén wave emission. Astrophys. J. 473, 322–342 (1996)

2

Mazets, E. P., Golenetskii, S. V., Gurian, Iu. A. & Ilinskii, V. N. The 5 March 1979 event and the distinct class of short gamma bursts: Are they of the same origin? Astrophys. Space Sci. 84, 173–189 (1982)

3

Kouveliotou, C. et al. The rarity of soft gamma-ray repeaters deduced from reactivation of SGR 1806–20. Nature 368, 125–127 (1994)

4

Hurley, K. in Gamma-Ray Bursts, 5th Huntsville Symposium, Huntsville (eds Kippen, R. M., Mallozzi, R. S. & Fishman, G. J.) AIP Conf. Proc. 526, 763–770 (2000)

5

Tueller, J. et al. GRB 070610, Swift-BAT refined analysis. GCN Circ. 6491 (2007)

6

Pagani, C. & Kennea, J. A. GRB 070610; Swift-XRT position. GCN Circ. 6490 (2007)

7

Kasliwal, M. M. et al. GRB 070610: A curious galactic transient. Astrophys. J. 678, 1127–1135 (2008)

8

Stefanescu, A. et al. Very fast optical flaring from a possible new Galactic magnetar. Nature 10.1038/nature07308 (this issue)

9

de Ugarte Postigo, A., Castro-Tirado, A. J. & Aceituno, F. GRB 070610: Optical observations from OSN. GCN Circ. 6501 (2007)

10

Kann, D. A. et al. GRB 070610: TLS RRM sees flaring behaviour: Galactic transient? GCN Circ. 6505 (2007)

11

Kouveliotou, C. et al. A new type of transient high-energy source in the direction of the Galactic Centre. Nature 379, 799–801 (1996)

12

Sazonov, S., Sunyaev, R. & Lund, N. Super-Eddington X-ray luminosity of the bursting pulsar GRO J1744–28: WATCH/GRANAT observations. Astron. Lett. 23, 326–334 (2005)

13

Markwardt, C. et al. SWIFT J195509.6+261406 / GRB 070610: A potential Galactic transient. Astron. Tel. 1102 (2007)

14

Revnivtsev, M., Gilfanov, M., Churazov, E. & Sunyaev, R. Super-Eddington outburst of V4641 Sgr. Astron. Astrophys. 391, 1013–1022 (2002)

15

Uemura, M. et al. The 1999 optical outburst of the fast X-ray nova, V4641 Sagittarii. Publ. Astron. Soc. Jpn 54, 95–101 (2002)

16

Hjellming, R. M. et al. Light curves and radio structure of the 1999 September transient event in V4641 Sagittarii ( = XTE J1819–254 = SAX J1819.3–2525). Astrophys. J. 544, 977–992 (2000)

17

Dahn, C. C. et al. Astrometry and photometry for cool dwarfs and brown dwarfs. Astron. J. 124, 1170–1189 (2002)

18

in't Zand, J. J. M., Jonker, P. G. & Markwardt, C. B. Six new candidate ultracompact X-ray binaries. Astron. Astrophys. 465, 953–963 (2007)

19

Merloni, A., Di Matteo, T. & Fabian, A. C. Magnetic flares and the optical variability of the X-ray transient XTE J1118+480. Mon. Not. R. Astron. Soc. 318, L15–L19 (2000)

20

Thompson, C. & Beloborodov, A. M. High-energy emission from magnetars. Astrophys. J. 634, 565–569 (2005)

21

Woods, P. M. et al. Discovery of a new soft gamma-ray repeater, SGR1627–41. Astrophys. J. 519, L139–L142 (1999)

22

Ibrahim, A. I. et al. Discovery of a transient magnetar: XTE J1810–197. Astrophys. J. 609, L21–L24 (2004)

23

Mereghetti, S., Esposito, P. & Tiengo, A. XMM-Newton observations of soft gamma-ray repeaters. Astrophys. Space Sci. 308, 13–23 (2007)

24

Treves, A., Turolla, R., Zana, S. & Colpi, M. Isolated neutron stars: Accretors and coolers. Publ. Astron. Soc. Pacif. 112, 297–314 (2000)

25

Muno, M. P. et al. A search for new Galactic magnetars in archival Chandra and XMM-Newton observations. Astrophys. J. 680, 639–653 (2008)

26

McGill Pulsar Group. SGR/AXP online catalogue. Available at http://www.physics.mcgill.ca/∼pulsar/magnetar/main.html.

27

Israel, G. et al. Discovery and monitoring of the likely IR counterpart of SGR 1806–20 during the 2004 γ-ray burst-active state. Astron. Astrophys. 438, L1–L4 (2005)

28

Hurley, K., McBreen, B., Delaney, M. & Britton, A. Lognormal properties of SGR 1806–20 and implications for other SGR sources. Astrophys. Space Sci. 231, 81–84 (1995)

29

Göğüş, E. et al. Statistical properties of SGR 1900+14 bursts. Astrophys. J. 526, L93–L96 (1999)

30

Woods, P. M. et al. Hard burst emission from the soft gamma repeater SGR 1900+14. Astrophys. J. 527, L47–L50 (1999)
Acknowledgements
This work is based on observations carried out with the 0.3-m robotic telescope at the Spanish BOOTES-2 astronomical station of the Estación Experimental de La Mayora (CSIC), the 0.4-m WATCHER telescope operated by UCD at Boyden Observatory (South Africa), the 0.8-m IAC telescope at the Spanish Observatorio de Izaña of the Instituto de Astrofísica de Canarias (IAC), the 1.2-m Mercator telescope operated by the Flemish Community at the Spanish Observatorio del Roque de los Muchachos of the IAC, the 1.34-m telescope at the Tautenburg Observatory (Germany), the 1.5-m OSN telescope at the Spanish Observatorio de Sierra Nevada of the Instituto de Astrofísica de Andalucía (CSIC), the 6.0-m BTA telescope at the Special Astrophysical Observatory of the Russian Academy of Sciences, the 8.2-m VLT telescope of the European Southern Observatory at Paranal (Chile), the IRAM 30-m and Plateau de Bure Telescopes and the 100-m telescope of the Max-Planck-Institut für Radioastronomie at Effelsberg (Germany). IRAM is supported by INSU/CNRS (France), MPG (Germany) and IGN (Spain). We thank both the SAO-RAS Director and the ESO Director's Discretionary Time Committee for accepting the observation a few days after the onset of the event. We also thank N. Schartel for allotting XMM-Newton DDT time for a late-time X-ray observation. We acknowledge the use of public data from the Swift data archives and the service provided by the γ-ray burst Coordinates Network (GRB) and BACODINE system, maintained by S. Barthelmy. A.J.C.T. acknowledges discussions with E. Alfaro, Y. Beletski, A. M. Belobodorov, W. Cui, S. Digel, R. Fernández-Muñoz, P. Gandhi, S. Gottlieb, M. Lyutikov, A. Merloni, M. A. Pérez-Torres, V. Reglero, E. Ros and G. Sala. P.F., D.A.K. and S.K. acknowledge financial support by DFG and D.P.R. from Junta de Andalucía. L.H. acknowledges support from IRCSET and SFI. R.H. acknowledges support from PECs and GACR. This work was partially supported by the Spanish Ministry of Science and Innovation.
Author Contributions A.J.C.T. wrote the paper. A.U.P., D.A.K., S. S. and A.C.W. prepared the figures and together with M. B., P. F., A. K., S. K., S. L. and D.P.R. participated in the data analysis. S. M. and K. L. helped in the modelling. The remaining coauthors provided observational data, discussed the results and commented on the manuscript.
Supplementary information
This file contains: (1) Supplementary Optical Observations, (2) Supplementary Millimetre Observations, (3) Supplementary Centimetre Observations, (4) Supplementary X-Ray Observations, (5) The distance to Swift J195509+261406, (6) Optical and Near IR Data and (7) Supplementary References (PDF 1751 kb)
Comments
By submitting a comment you agree to abide by our Terms and Community Guidelines. If you find something abusive or that does not comply with our terms or guidelines please flag it as inappropriate.