Abstract
Arising from: R. G. Graversen, T. Mauritsen, M. Tjernström, E. Källén & G. Svensson Nature 451, 53–56 (2008)10.1038/nature06502; Graversen et al. reply
Arctic sea ice and snow on land have retreated polewards at an alarming pace in the past few decades1. Such retreat locally amplifies surface warming through a positive feedback, which causes the Arctic surface to warm faster than the rest of the globe. In contrast, ice and snow retreat causes little warming in the atmosphere above when the stable winter atmosphere inhibits vertical heat exchange. We therefore find surprising the recent report by Graversen et al.2 in which they claim that recent Arctic atmospheric warming extends far deeper into the atmosphere than expected, and can even exceed the surface warming during the polar night. Using a different data set, we show that there is much less warming aloft in winter, consistent with the recent retreat of ice and snow, as well as recent changes in atmospheric heat transport.
Relevant articles
Open Access articles citing this article.
Climate Dynamics Open Access 03 April 2021

Scott N. Williamson

,

Faron S. Anslow

…

David S. Hik

Scientific Reports Open Access 13 June 2018
Access options
Subscribe to Journal
Get full journal access for 1 year
$199.00
only $3.90 per issue
All prices are NET prices.
VAT will be added later in the checkout.
Tax calculation will be finalised during checkout.
Buy article
Get time limited or full article access on ReadCube.
$32.00
All prices are NET prices.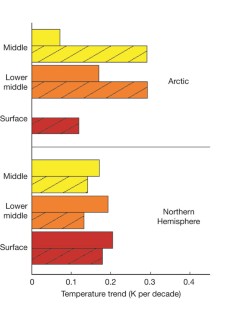 References
Lemke, P. et al. in Climate Change 2007: The Physical Science Basis (eds Solomon, S. et al.) 337–383 (Contribution of Working Group I to the Fourth Assessment Report of the IPCC, Cambridge Univ. Press, 2007)

Graversen, R. G., Mauritsen, T., Tjernström, M., Källén, E. & Svensson, G. Vertical structure of recent Arctic warming. Nature 451, 53–56 (2008)

Johanson, C. M. & Fu, Q. Antarctic atmospheric temperature trend patterns from satellite observations. Geophys. Res. Lett. 34 10.1029/2006GL029108 (2007)

Karl, T. R., Hassol, S. J., Miller, C. D. & Murray, W. L. (eds) Temperature Trends in the Lower Atmosphere: Steps for Understanding and Reconciling Differences (Synthesis and Assessment Product 1.1, US Climate Change Science Program, 2006)

Overland, J. E. & Turret, P. in The Polar Oceans and Their Role in Shaping the Global Environment (eds Johannessen, O. M., Muench, R. & Overland, J. E.) 313–325 (American Geophysical Union, 1994)

Alexseev, V. A., Langen, P. L. & Bates, J. R. Polar amplification of surface warming on an aquaplanet in "ghost forcing" experiments without sea ice feedbacks. Clim. Dyn. 24, 655–666 (2005)

Cai, M. & Lu, J. Dynamical greenhouse-plus feedback and polar warming amplification. Part II: meridional and vertical asymmetries of the global warming. Clim. Dyn. 29, 375–391 (2007)

Brohan, P., Kennedy, J. J., Haris, I., Tett, S. F. B. & Jones, P. D. Uncertainty estimates in regional and global observed temperature changes: A new data set from 1850. J. Geophys. Res. 111 10.1029/2005JD006548 (2006)

Mears, C. A., Schabel, M. C. & Wentz, F. J. A reanalysis of the MSU channel 2 tropospheric temperature record. J. Clim. 16, 3650–3664 (2003)

Mears, C. A. & Wentz, F. J. The effect of diurnal correction on satellite-derived lower tropospheric temperature. Science 309, 1548–1551 (2005)

Fu, Q., Johanson, C. M., Warren, S. G. & Seidel, D. J. Contribution of stratospheric cooling to satellite-inferred tropospheric temperature trends. Nature 429, 55–58 (2004)

Johanson, C. M. & Fu, Q. Robustness of tropospheric temperature trends from MSU channels 2 and 4. J. Clim. 19, 4234–4242 (2006)
About this article
Cite this article
Bitz, C., Fu, Q. Arctic warming aloft is data set dependent. Nature 455, E3–E4 (2008). https://doi.org/10.1038/nature07258
Received:

Accepted:

Issue Date:

DOI: https://doi.org/10.1038/nature07258
Comments
By submitting a comment you agree to abide by our Terms and Community Guidelines. If you find something abusive or that does not comply with our terms or guidelines please flag it as inappropriate.