Abstract
Recent discoveries in the science of ageing indicate that lifespan in model organisms such as yeast, nematodes, flies and mice is plastic and can be manipulated by genetic, nutritional or pharmacological intervention. A better understanding of the targets of such interventions, as well as the proximate causes of ageing-related degeneration and disease, is essential before we can evaluate if abrogation of human senescence is a realistic prospect.
Access options
Subscribe to Journal
Get full journal access for 1 year
$199.00
only $3.90 per issue
All prices are NET prices.
VAT will be added later in the checkout.
Rent or Buy article
Get time limited or full article access on ReadCube.
from$8.99
All prices are NET prices.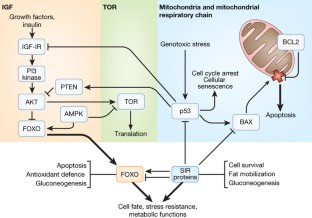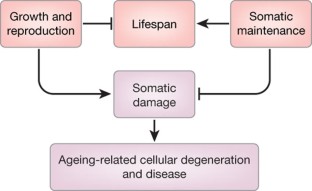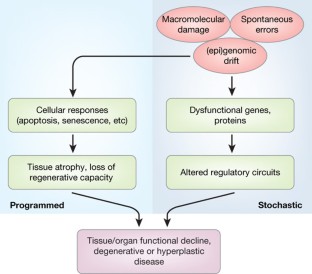 References
1

Kinsella, K. G. Future longevity-demographic concerns and consequences. J. Am. Geriatr. Soc. 53, S299–S303 (2005)

2

Olshansky, S. J., Carnes, B. A. & Cassel, C. In search of Methuselah: estimating the upper limits to human longevity. Science 250, 634–640 (1990)

3

Klass, M. R. A method for the isolation of longevity mutants in the nematode Caenorhabditis elegans and initial results. Mech. Ageing Dev. 22, 279–286 (1983)

4

Friedman, D. B. & Johnson, T. E. A mutation in the age-1 gene in Caenorhabditis elegans lengthens life and reduces hermaphrodite fertility. Genetics 118, 75–86 (1988)

5

Kenyon, C. The plasticity of aging: insights from long-lived mutants. Cell 120, 449–460 (2005)

6

Masoro, E. J. Overview of caloric restriction and ageing. Mech. Ageing Dev. 126, 913–922 (2005)

7

Gems, D., Pletcher, S. & Partridge, L. Interpreting interactions between treatments that slow aging. Aging Cell 1, 1–9 (2002)

8

Ingram, D. K. et al. Calorie restriction mimetics: an emerging research field. Aging Cell 5, 97–108 (2006)

9

Chen, D. & Guarente, L. SIR2: a potential target for calorie restriction mimetics. Trends Mol. Med. 13, 64–71 (2007)

10

Miller, R. A. et al. An aging interventions testing program: study design and interim report. Aging Cell 6, 565–575 (2007)

11

Botstein, D., Chervitz, S. A. & Cherry, J. M. Yeast as a model organism. Science 277, 1259–1260 (1997)

12

Santini, M. P. et al. Enhancing repair of the mammalian heart. Circ. Res. 100, 1732–1740 (2007)

13

Pelosi, L. et al. Local expression of IGF-1 accelerates muscle regeneration by rapidly modulating inflammatory cytokines and chemokines. FASEB J. 21, 1393–1402 (2007)

14

Bluher, M., Kahn, B. B. & Kahn, C. R. Extended longevity in mice lacking the insulin receptor in adipose tissue. Science 299, 572–574 (2003)

15

Selman, C. et al. Evidence for lifespan extension and delayed age-related biomarkers in insulin receptor substrate 1 null mice. FASEB J. 22, 807–818 (2008)

16

Tran, H. et al. DNA repair pathway stimulated by the forkhead transcription factor FOXO3a through the Gadd45 protein. Science 296, 530–534 (2002)

17

Giannakou, M. E. & Partridge, L. The interaction between FOXO and SIRT1: tipping the balance towards survival. Trends Cell Biol. 14, 408–412 (2004)

18

Smith, J. Human Sir2 and the 'silencing' of p53 activity. Trends Cell Biol. 12, 404–406 (2002)

19

Campisi, J. & d'Adda di Fagagna, F. Cellular senescence: when bad things happen to good cells. Nature Rev. Mol. Cell Biol. 8, 729–740 (2007)

20

Ayyadevara, S., Alla, R., Thaden, J. J. & Shmookler Reis, R. J. Remarkable longevity and stress resistance of nematode PI3K-null mutants. Aging Cell 7, 13–22 (2007)

21

Broughton, S. J. et al. Longer lifespan, altered metabolism, and stress resistance in Drosophila from ablation of cells making insulin-like ligands. Proc. Natl Acad. Sci. USA 102, 3105–3110 (2005)

22

Bartke, A. Minireview: role of the growth hormone/insulin-like growth factor system in mammalian aging. Endocrinology 146, 3718–3723 (2005)

23

Clancy, D. J., Gems, D., Hafen, E., Leevers, S. J. & Partridge, L. Dietary restriction in long-lived dwarf flies. Science 296, 319 (2002)

24

Spencer, C. C., Howell, C. E., Wright, A. R. & Promislow, D. E. Testing an 'aging gene' in long-lived Drosophila strains: increased longevity depends on sex and genetic background. Aging Cell 2, 123–130 (2003)

25

Lee, S. S. et al. A systematic RNAi screen identifies a critical role for mitochondria in C. elegans longevity. Nature Genet. 33, 40–48 (2003)

26

Perls, T. et al. Survival of parents and siblings of supercentenarians. J. Gerontol. A Biol. Sci. Med. Sci. 62, 1028–1034 (2007)

27

Beekman, M. et al. Chromosome 4q25, microsomal transfer protein gene, and human longevity: novel data and a meta-analysis of association studies. J. Gerontol. A Biol. Sci. Med. Sci. 61, 355–362 (2006)

28

Barzilai, N. et al. Unique lipoprotein phenotype and genotype associated with exceptional longevity. J. Am. Med. Assoc. 290, 2030–2040 (2003)

29

Kuningas, M. et al. Haplotypes in the human Foxo1a and Foxo3a genes; impact on disease and mortality at old age. Eur. J. Hum. Genet. 15, 294–301 (2007)

30

Capri, M. et al. The genetics of human longevity. Ann. NY Acad. Sci. 1067, 252–263 (2006)

31

Suh, Y. et al. Functionally significant insulin-like growth factor I receptor mutations in centenarians. Proc. Natl Acad. Sci. USA 105, 3438–3442 (2008)

32

Harper, J. M., Leathers, C. W. & Austad, S. N. Does caloric restriction extend life in wild mice? Aging Cell 5, 441–449 (2006)

33

Mattison, J. A., Lane, M. A., Roth, G. S. & Ingram, D. K. Calorie restriction in rhesus monkeys. Exp. Gerontol. 38, 35–46 (2003)

34

Weindruch, R. Will dietary restriction work in primates? Biogerontology 7, 169–171 (2006)

35

Dirks, A. J. & Leeuwenburgh, C. Caloric restriction in humans: potential pitfalls and health concerns. Mech. Ageing Dev. 127, 1–7 (2006)

36

Yang, J., Anzo, M. & Cohen, P. Control of aging and longevity by IGF-I signaling. Exp. Gerontol. 40, 867–872 (2005)

37

Kapahi, P., Boulton, M. E. & Kirkwood, T. B. Positive correlation between mammalian lifespan and cellular resistance to stress. Free Radic. Biol. Med. 26, 495–500 (1999)

38

Accuracy of Molecular Processes. (eds Kirkwood, T. B., Rosenberger, R. F., Galas, D. J.) (Chapman & Hall, 1986)

39

Suckling, K. The continuing complexities of high-density lipoprotein metabolism in drug discovery and development. Expert Opin. Ther. Targets 11, 1133–1136 (2007)

40

Dobzhansky, T. Nothing in biology makes sense except in the light of evolution. Am. Biol. Teach. 35, 125–129 (1973)

41

Medawar, P. B. An Unsolved Problem in Biology (H. K. Lewis, 1952)

42

Kirkwood, T. B. A systematic look at an old problem. Nature 451, 644–647 (2008)

43

Finch, C. E. & Crimmins, E. M. Inflammatory exposure and historical changes in human life-spans. Science 305, 1736–1739 (2004)

44

Kirkwood, T. B. Understanding the odd science of aging. Cell 120, 437–447 (2005)

45

Jenkins, N. L., McColl, G. & Lithgow, G. J. Fitness cost of extended lifespan in Caenorhabditis elegans . Proc. Biol. Sci. 271, 2523–2526 (2004)

46

Krtolica, A., Parrinello, S., Lockett, S., Desprez, P. Y. & Campisi, J. Senescent fibroblasts promote epithelial cell growth and tumorigenesis: a link between cancer and aging. Proc. Natl Acad. Sci. USA 98, 12072–12077 (2001)

47

Harding, C., Pompei, F., Lee, E. E. & Wilson, R. Cancer suppression at old age. Cancer Res. 68, 4465–4478 (2008)

48

Herndon, L. A. et al. Stochastic and genetic factors influence tissue-specific decline in ageing C. elegans . Nature 419, 808–814 (2002)

49

Wang, C. et al. Drosophila overexpressing parkin R275W mutant exhibits dopaminergic neuron degeneration and mitochondrial abnormalities. J. Neurosci. 27, 8563–8570 (2007)

50

Grotewiel, M. S., Martin, I., Bhandari, P. & Cook-Wiens, E. Functional senescence in Drosophila melanogaster . Ageing Res. Rev. 4, 372–397 (2005)

51

Bruder, C. E. et al. Phenotypically concordant and discordant monozygotic twins display different DNA copy-number-variation profiles. Am. J. Hum. Genet. 82, 763–771 (2008)

52

Fraga, M. F. et al. Epigenetic differences arise during the lifetime of monozygotic twins. Proc. Natl Acad. Sci. USA 102, 10604–10609 (2005)

53

Vaupel, J. W. et al. Biodemographic trajectories of longevity. Science 280, 855–860 (1998)

54

Muller, F. L., Lustgarten, M. S., Jang, Y., Richardson, A. & Van Remmen, H. Trends in oxidative aging theories. Free Radic. Biol. Med. 43, 477–503 (2007)

55

Ulrich, P. & Cerami, A. Protein glycation, diabetes, and aging. Recent Prog. Horm. Res. 56, 1–21 (2001)

56

de Grey, A. D. et al. Time to talk SENS: critiquing the immutability of human aging. Ann. NY Acad. Sci. 959, 452–62 (2002)

57

Finkel, T. Oxidant signals and oxidative stress. Curr. Opin. Cell Biol. 15, 247–254 (2003)

58

Sharpless, N. E. & DePinho, R. A. How stem cells age and why this makes us grow old. Nature Rev. Mol. Cell Biol. 8, 703–713 (2007)

59

Bahar, R. et al. Increased cell-to-cell variation in gene expression in aging mouse heart. Nature 441, 1011–1014 (2006)

60

Vijg, J. Aging of the Genome (Oxford Univ. Press, 2007)

61

Birney, E. et al. Identification and analysis of functional elements in 1% of the human genome by the ENCODE pilot project. Nature 447, 799–816 (2007)

62

DiMauro, S. & Schon, E. A. Mitochondrial respiratory-chain diseases. N. Engl. J. Med. 348, 2656–2668 (2003)

63

Kirkwood, T. B. Evolution of ageing. Nature 270, 301–304 (1977)

64

Baur, J. A. et al. Resveratrol improves health and survival of mice on a high-calorie diet. Nature 444, 337–342 (2006)

65

McCarty, M. F. Chronic activation of AMP-activated kinase as a strategy for slowing aging. Med. Hypotheses 63, 334–339 (2004)

66

Meydani, M. et al. The effect of long-term dietary supplementation with antioxidants. Ann. NY Acad. Sci. 854, 352–360 (1998)

67

Frei, B. Efficacy of dietary antioxidants to prevent oxidative damage and inhibit chronic disease. J. Nutr. 134, 3196S–3198S (2004)

68

Melov, S. et al. Extension of life-span with superoxide dismutase/catalase mimetics. Science 289, 1567–1569 (2000)

69

Keaney, M. & Gems, D. No increase in lifespan in Caenorhabditis elegans upon treatment with the superoxide dismutase mimetic EUK-8. Free Radic. Biol. Med. 34, 277–282 (2003)

70

Morten, K. J., Ackrell, B. A. & Melov, S. Mitochondrial reactive oxygen species in mice lacking superoxide dismutase 2: attenuation via antioxidant treatment. J. Biol. Chem. 281, 3354–3359 (2006)

71

Floyd, R. A. Nitrones as therapeutics in age-related diseases. Aging Cell 5, 51–57 (2006)

72

Furber, J. D. Extracellular glycation crosslinks: prospects for removal. Rejuvenation Res. 9, 274–278 (2006)

73

Vaitkevicius, P. V. et al. A cross-link breaker has sustained effects on arterial and ventricular properties in older rhesus monkeys. Proc. Natl Acad. Sci. USA 98, 1171–1175 (2001)

74

Rando, T. A. Stem cells, ageing and the quest for immortality. Nature 441, 1080–1086 (2006)

75

Calder, R. B. et al. MPHASYS: a mouse phenotype analysis system. BMC Bioinformatics 8, 183 (2007)
Acknowledgements
We thank N. Barzilai, A. de Grey, G. Lithgow and M. Gough for comments on the manuscript and P. Kapahi, R. Shmookler Reis, L. Balducci and Y. Suh for discussions. The authors' work is supported by the US National Institutes of Health and Ellison Medical Foundation.
About this article
Cite this article
Vijg, J., Campisi, J. Puzzles, promises and a cure for ageing. Nature 454, 1065–1071 (2008) doi:10.1038/nature07216
Comments
By submitting a comment you agree to abide by our Terms and Community Guidelines. If you find something abusive or that does not comply with our terms or guidelines please flag it as inappropriate.