Abstract
Human social interaction is strongly shaped by other-regarding preferences, that is, a concern for the welfare of others. These preferences are important for a unique aspect of human sociality—large scale cooperation with genetic strangers—but little is known about their developmental roots. Here we show that young children's other-regarding preferences assume a particular form, inequality aversion that develops strongly between the ages of 3 and 8. At age 3–4, the overwhelming majority of children behave selfishly, whereas most children at age 7–8 prefer resource allocations that remove advantageous or disadvantageous inequality. Moreover, inequality aversion is strongly shaped by parochialism, a preference for favouring the members of one's own social group. These results indicate that human egalitarianism and parochialism have deep developmental roots, and the simultaneous emergence of altruistic sharing and parochialism during childhood is intriguing in view of recent evolutionary theories which predict that the same evolutionary process jointly drives both human altruism and parochialism.
Relevant articles
Open Access articles citing this article.
M. Butovskaya

,

V. Rostovtseva

…

Y. Adam

Scientific Reports Open Access 08 September 2022

Marek Meristo

&

Henriette Zeidler

Scientific Reports Open Access 08 July 2022

Marion I. van den Heuvel

,

Terri G. Seuntjes

…

Marcel Zeelenberg

Current Psychology Open Access 05 July 2022
Access options
Subscribe to Journal
Get full journal access for 1 year
$199.00
only $3.90 per issue
All prices are NET prices.
VAT will be added later in the checkout.
Tax calculation will be finalised during checkout.
Buy article
Get time limited or full article access on ReadCube.
$32.00
All prices are NET prices.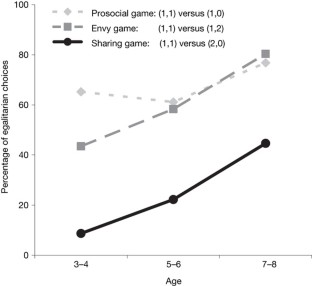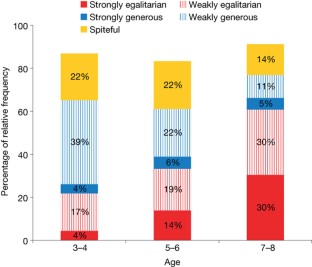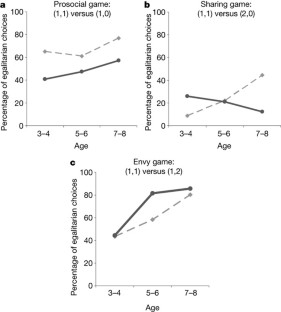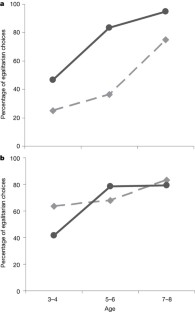 References
Bowles, S. Microeconomics: Behavior, Institutions and Evolution 93–126 (Princeton Univ. Press, 2004)

Boyd, R. T. & Richerson, P. The Origin and Evolution of Cultures (Oxford Univ. Press, 2005)

Fehr, E. & Schmidt, K. M. A theory of fairness, competition, and cooperation. Q. J. Econ. 114, 817–868 (1999)

Fowler, J. H., Johnson, T. & Smirnov, O. Human behaviour: Egalitarian motive and altruistic punishment. Nature 433, E1 (2007)

Dawes, C. T. et al. Egalitarian motives in humans. Nature 446, 794–796 (2007)

Falk, A. & Fischbacher, U. A theory of reciprocity. Games Econ. Behav. 54, 293–315 (2006)

Fehr, E. & Gächter, S. Altruistic punishment in humans. Nature 415, 137–140 (2002)

Gürerk, O., Irlenbusch, B. & Rockenbach, B. The competitive advantage of sanctioning institutions. Science 312, 108–111 (2006)

Hauert, C. et al. Via freedom to coercion: The emergence of costly punishment. Science 316, 1905–1907 (2007)

Fong, C., Bowles, S. & Gintis, H. in Handbook on the Economics of Giving, Reciprocity, and Altruism (eds Kolm, S.-C. & Ythier, J. M.) (Elsevier, 2006)

Milinski, M., Semmann, D. & Krambeck, H. J. Reputation helps solve the 'tragedy of the commons'. Nature 415, 424–426 (2002)

Brown, M., Falk, A. & Fehr, E. Relational contracts and the nature of market interactions. Econometrica 72, 747–780 (2004)

Nowak, M. A. & Sigmund, K. Evolution of indirect reciprocity. Nature 437, 1291–1298 (2005)

Rockenbach, B. & Milinski, M. The efficient interaction of indirect reciprocity and costly punishment. Nature 444, 718–723 (2006)

Harbaugh, W. T. & Krause, K. Children's altruism in public good and dictator experiments. Econ. Inq. 38, 95–109 (2000)

de Quervain, D. J.-F. et al. The neural basis of altruistic punishment. Science 305, 1254–1258 (2004)

Sutter, M. Outcomes versus intentions: On the nature of fair behavior and its development with age. J. Econ. Psychol. 28, 69–78 (2007)

Sutter, M. & Kocher, M. G. Trust and trustworthiness across different age groups. Games Econ. Behav. 59, 364–382 (2007)

Benenson, J. F., Pascoe, J. & Radmore, N. Children's altruistic behavior in the dictator game. Evol. Hum. Behav. 28, 168–175 (2007)

Fliessbach, K. et al. Social comparison affects reward-related brain activity in the human ventral striatum. Science 318, 1305–1308 (2007)

Cesarini, D. et al. Heritability of cooperative behavior in the trust game. Proc. Natl Acad. Sci. USA 105, 3721–3726 (2008)

Ellingsen, T. & Johannesson, M. Anticipated verbal feedback induces altruistic behavior. Evol. Hum. Behav. 29, 100–105 (2008)

Silk, J. B. et al. Chimpanzees are indifferent to the welfare of unrelated group members. Nature 437, 1357–1359 (2005)

Jensen, K., Hare, B., Call, J. & Tomasello, M. What's in it for me? Self-regard precludes altruism and spite in chimpanzees. Proc. Biol. Sci. 273, 1013–1021 (2006)

Jensen, K., Call, J. & Tomasello, M. Chimpanzees are rational maximizers in an ultimatum game. Science 318, 107–109 (2007)

Burkart, J. M., Fehr, E., Efferson, C. & van Schaik, C. P. Other-regarding preferences in a non-human primate: Common marmosets provision food altruistically. Proc. Natl Acad. Sci. USA 104, 19762–19766 (2007)

Vonk, J. et al. Chimpanzees do not take advantage of very low cost opportunities to deliver food to unrelated group members. Anim. Behav. 75, 1757–1770 (2008)

Turiel, E. in Handbook of Child Psychology Vol. 3 (eds Damon, W. & Eisenberg, N.) 863–932 (Wiley and Sons, 1998)

Knight, G. P. & Kagan, S. Development of prosocial and competitive behaviors in anglo-american and mexican-american children. Child Dev. 48, 1385–1394 (1977)

Eisenberg, N. & Mussen, P. H. The Roots of Prosocial Behavior in Children (Cambridge Univ. Press, 1989)

Thompson, C., Barresi, J. & Moore, C. The development of future-oriented prudence and altruism in preschoolers. Cogn. Dev. 12, 199–212 (1997)

Eisenberg, N. & Fabes, R. A. in Handbook of Child Psychology Vol. 3 (eds Damon, W. & Eisenberg, N.) 701–778 (Wiley and Sons, 1998)

Murnigham, J. K. Ultimatum bargaining by children and adults. J. Econ. Psychol. 19, 415–445 (1998)

Warneken, F. & Tomasello, M. Altruistic helping in human infants and young chimpanzees. Science 311, 1301–1303 (2006)

Warneken, F. et al. Spontaneous altruism by chimpanzees and young children. PLoS Biol. 5, e184 (2007)

Charness, G. & Rabin, M. Understanding social preferences with simple tests. Q. J. Econ. 117, 817–869 (2002)

Goette, L., Huffman, D. & Meier, S. The impact of group membership on cooperation and norm enforcement: Evidence using random assignment to real social groups. Am. Econ. Rev. 96, 212–216 (2006)

Bernhard, H., Fischbacher, U. & Fehr, E. Parochial altruism in humans. Nature 442, 912–915 (2006)

Shinada, M., Yamagishi, T. & Ohmura, Y. False friends are worse than bitter enemies: "Altruistic" punishment of in-group members. Evol. Hum. Behav. 25, 379–393 (2004)

Choi, J. K. & Bowles, S. The coevolution of parochial altruism and war. Science 318, 636–640 (2007)

Van Lange, P. A. M. The pursuit of joint outcomes and equality in outcomes: An integrative model of social value orientation. J. Pers. Soc. Psychol. 77, 337–349 (1999)

Falk, A., Fehr, E. & Fischbacher, U. Driving forces behind informal sanctions. Econometrica 73, 2017–2030 (2005)

Boehm, C. Egalitarian behavior and reverse dominance hierachy. Curr. Anthropol. 34, 227–254 (1993)

Boehm, C. Impact of the human egalitarian syndrome on darwinian selection mechanics. Am. Nat. 150, S100–S121 (1997)

Wallace, B., Cesarini, D., Lichtenstein, P. & Johannesson, M. Heritability of ultimatum game responder behavior. Proc. Natl Acad. Sci. USA 104, 15631–15634 (2007)

Chagnon, N. A. Life histories, blood revenge, and warfare in a tribal population. Science 239, 985–992 (1988)

Henrich, J. et al. "Economic man" in cross-cultural perspective: behavioral experiments in 15 small-scale societies. Behav. Brain Sci. 28, 795–855 (2005)

Dana, J., Cain, D. M. & Dawes, R. M. What you don't know won't hurt me: Costly (but quiet) exit in dictator games. Organ. Behav. Hum. Decis. Process. 100, 193–201 (2006)

Ellingsen, T. & Johannesson, M. Paying respect. J. Econ. Perspect. 21, 135–149 (2007)

Wellman, H. M., Cross, D. & Watson, J. Meta-analysis of theory-of-mind development: The truth about false belief. Child Dev. 72, 655–684 (2001)
Acknowledgements
This paper is part of the Research Priority Program 'Foundations of Human Social Behaviour—Altruism versus Egoism' at the University of Zurich and of the Swiss National Competence Center in research on affective sciences, which is financed by the Swiss National Science Foundation. We also thank N. Kessler for her research assistance during the conduct of the experiments.
Supplementary information
The file contains Supplementary Methods, Supplementary Table S1, Supplementary Figures S1-S3 and Supplementary Results. (PDF 373 kb)
About this article
Cite this article
Fehr, E., Bernhard, H. & Rockenbach, B. Egalitarianism in young children. Nature 454, 1079–1083 (2008). https://doi.org/10.1038/nature07155
Received:

Accepted:

Issue Date:

DOI: https://doi.org/10.1038/nature07155
Comments
By submitting a comment you agree to abide by our Terms and Community Guidelines. If you find something abusive or that does not comply with our terms or guidelines please flag it as inappropriate.