Abstract
The iron- and nickel-based layered compounds LaOFeP (refs 1, 2) and LaONiP (ref. 3) have recently been reported to exhibit low-temperature superconducting phases with transition temperatures Tc of 3 and 5 K, respectively. Furthermore, a large increase in the midpoint Tc of up to ∼26 K has been realized4 in the isocrystalline compound LaOFeAs on doping of fluoride ions at the O2- sites (LaO1-xFxFeAs). Experimental observations5,6 and theoretical studies7,8,9 suggest that these transitions are related to a magnetic instability, as is the case for most superconductors based on transition metals. In the copper-based high-temperature superconductors, as well as in LaOFeAs, an increase in Tc is often observed as a result of carrier doping in the two-dimensional electronic structure through ion substitution in the surrounding insulating layers, suggesting that the application of external pressure should further increase Tc by enhancing charge transfer between the insulating and conducting layers. The effects of pressure on these iron oxypnictide superconductors may be more prominent than those in the copper-based systems, because the As ion has a greater electronic polarizability, owing to the covalency of the Fe–As chemical bond, and, thus, is more compressible than the divalent O2- ion. Here we report that increasing the pressure causes a steep increase in the onset Tc of F-doped LaOFeAs, to a maximum of ∼43 K at ∼4 GPa. With the exception of the copper-based high-Tc superconductors, this is the highest Tc reported to date. The present result, together with the great freedom available in selecting the constituents of isocrystalline materials with the general formula LnOTMPn (Ln, Y or rare-earth metal; TM, transition metal; Pn, group-V, 'pnicogen', element), indicates that the layered iron oxypnictides are promising as a new material platform for further exploration of high-temperature superconductivity.
Relevant articles
Open Access articles citing this article.
N. N. Wang

,

M. W. Yang

…

J.-G. Cheng

Nature Communications Open Access 28 July 2022

Yazhou Zhou

,

Jing Guo

…

Liling Sun

Nature Physics Open Access 17 February 2022
Access options
Subscribe to Journal
Get full journal access for 1 year
$199.00
only $3.90 per issue
All prices are NET prices.
VAT will be added later in the checkout.
Tax calculation will be finalised during checkout.
Buy article
Get time limited or full article access on ReadCube.
$32.00
All prices are NET prices.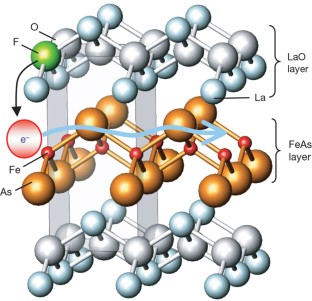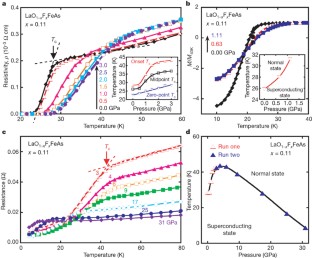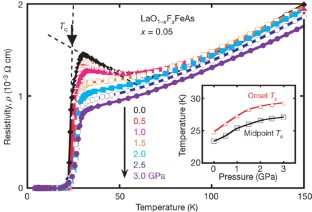 References
Kamihara, Y. et al. Iron-based layered superconductor: LaOFeP. J. Am. Chem. Soc. 128, 10012–10013 (2006)

Liang, C. Y. et al. Synthesis and structural characterization of LaOFeP superconductors. Supercond. Sci. Technol. 20, 687–690 (2007)

Watanabe, T. et al. Nickel-based oxyphosphide superconductor with a layered crystal structure, LaNiOP. Inorg. Chem. 46, 7719–7721 (2007)

Kamihara, Y., Watanabe, T., Hirano, M. & Hosono, H. Iron-based layered superconductor La[O1-xFx]FeAs (x = 0.05–0.12) with Tc = 26 K. J. Am. Chem. Soc. 130, 3296–3297 (2008)

Kohama, Y. et al. Ferromagnetic spin fluctuation in LaFeAsO1-xFx . Phys. Rev. Lett. (submitted)

Nakai, Y., Ishida, K., Kamihara, Y., Hirano, M. & Hosono, H. Spin dynamics in iron-based layered superconductor La0. 87Ca0. 13OFeP revealed by 31P and 139La NMR studies. Phys. Rev. Lett. (submitted)

Ishibashi, S., Terakura, K. & Hosono, H. A possible ground state and its electronic structure of a mother material (LaOFeAs) of new superconductors. J. Phys. Soc. Jpn (in the press)

Kuroki, K. et al. Unconventional superconductivity originating from disconnected Fermi surfaces in LaO1-xFxFeAs. Preprint at 〈http://arxiv.org/abs/0803.3325〉 (2008)

Singh, D. J. & Du, M.-H. LaFeAsO1-xFx: A low carrier density superconductor near itinerant magnetism. Preprint at 〈http://arxiv.org/abs/0803.0429〉 (2008)

Takahashi, H. & Mori, N. in Studies of High Temperature Superconductors Vol. 16 (ed. Narlikar, A.) 1–63 (Nova Science, New York, 1996)

Uehara, M. et al. Superconductivity in the spin ladder system Sr0. 4Ca13. 6Cu24O41. 84 . J. Phys. Soc. Jpn. 65, 2764–2767 (1996)

Yanagi, H. et al. Itinerant ferromagnetism in layered crystals LaCoOPn(Pn = P, As). Phys. Rev. B (submitted)

Maeno, Y. et al. Superconductivity in a layered perovskite without copper. Nature 372, 532–534 (1994)

Ishida, K. et al. Spin-triplet superconductivity in Sr2RuO4 identified by 17O Knight shift. Nature 396, 658–660 (1998)

Shimizu, K. et al. Superconductivity in the non-magnetic state of iron under pressure. Nature 412, 316–318 (2001)

Saxena, S. S. et al. Superconductivity on the border of itinerant-electron ferromagnetism in UGe2 . Nature 406, 587–592 (2000)

Matsumoto, T. Materials for high-pressure apparatus. Rev. High Pressure Sci. Technol. 12, 280–287 (2002)
About this article
Cite this article
Takahashi, H., Igawa, K., Arii, K. et al. Superconductivity at 43 K in an iron-based layered compound LaO1-xFxFeAs. Nature 453, 376–378 (2008). https://doi.org/10.1038/nature06972
Received:

Accepted:

Published:

Issue Date:

DOI: https://doi.org/10.1038/nature06972
Comments
By submitting a comment you agree to abide by our Terms and Community Guidelines. If you find something abusive or that does not comply with our terms or guidelines please flag it as inappropriate.