Abstract
All metazoan cells carry transmembrane receptors of the integrin family, which couple the contractile force of the actomyosin cytoskeleton to the extracellular environment. In agreement with this principle, rapidly migrating leukocytes use integrin-mediated adhesion when moving over two-dimensional surfaces. As migration on two-dimensional substrates naturally overemphasizes the role of adhesion, the contribution of integrins during three-dimensional movement of leukocytes within tissues has remained controversial. We studied the interplay between adhesive, contractile and protrusive forces during interstitial leukocyte chemotaxis in vivo and in vitro. We ablated all integrin heterodimers from murine leukocytes, and show here that functional integrins do not contribute to migration in three-dimensional environments. Instead, these cells migrate by the sole force of actin-network expansion, which promotes protrusive flowing of the leading edge. Myosin II-dependent contraction is only required on passage through narrow gaps, where a squeezing contraction of the trailing edge propels the rigid nucleus.
Relevant articles
Open Access articles citing this article.
Nicole Koller

,

Philipp Höllthaler

…

Robert Tampé

Cellular and Molecular Life Sciences Open Access 10 August 2022

Laure Laforgue

,

Arnold Fertin

…

Valérie M. Laurent

Scientific Reports Open Access 12 May 2022

Galina Khachaturyan

,

Andrew W. Holle

…

Ralf Kemkemer

Scientific Reports Open Access 29 April 2022
Access options
Subscribe to Journal
Get full journal access for 1 year
$199.00
only $3.90 per issue
All prices are NET prices.
VAT will be added later in the checkout.
Tax calculation will be finalised during checkout.
Buy article
Get time limited or full article access on ReadCube.
$32.00
All prices are NET prices.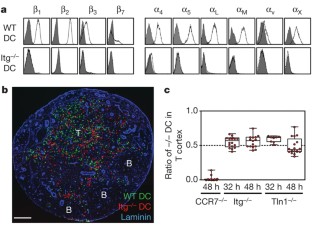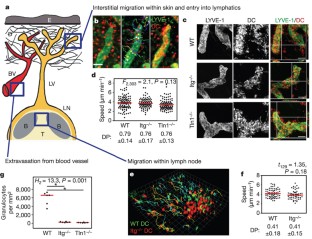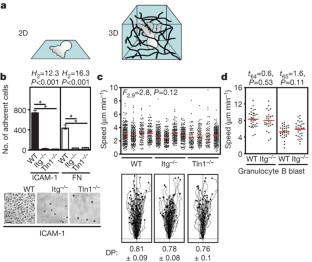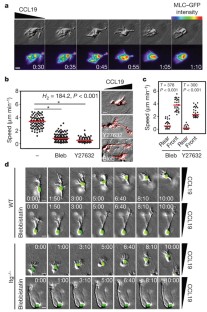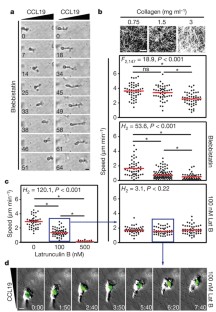 References
Giannone, G. et al. Lamellipodial actin mechanically links myosin activity with adhesion-site formation. Cell 128, 561–575 (2007)

Lauffenburger, D. A. & Horwitz, A. F. Cell migration: A physically integrated molecular process. Cell 84, 359–369 (1996)

Mitchison, T. J. & Cramer, L. P. Actin-based cell motility and cell locomotion. Cell 84, 371–379 (1996)

Hynes, R. O. Integrins: Bidirectional, allosteric signaling machines. Cell 110, 673–687 (2002)

Hynes, R. O. & Zhao, Q. The evolution of cell adhesion. J. Cell Biol. 150, 89–96 (2000)

Friedl, P. Prespecification and plasticity: Shifting mechanisms of cell migration. Curr. Opin. Cell Biol. 16, 14–23 (2004)

Pittet, M. J. & Mempel, T. R. Regulation of T-cell migration and effector functions: Insights from in vivo imaging studies. Immunol. Rev. 221, 107–129 (2008)

de Bruyn, P. P. H. The amoeboid movement of the mammalian leukocyte in tissue culture. Anat. Rec. 95, 117–192 (1946)

Reis e Sousa, C. Dendritic cells in a mature age. Nature Rev. Immunol. 6, 476–483 (2006)

Förster, R. et al. CCR7 coordinates the primary immune response by establishing functional microenvironments in secondary lymphoid organs. Cell 99, 23–33 (1999)

Calderwood, D. A. & Ginsberg, M. H. Talin forges the links between integrins and actin. Nature Cell Biol. 5, 694–697 (2003)

Stoitzner, P., Pfaller, K., Stössel, H. & Romani, N. A close-up view of migrating Langerhans cells in the skin. J. Invest. Dermatol. 118, 117–125 (2002)

Gretz, J. E., Anderson, A. O. & Shaw, S. Cords, channels, corridors and conduits: Critical architectural elements facilitating cell interactions in the lymph node cortex. Immunol. Rev. 156, 11–24 (1997)

Lämmermann, T. & Sixt, M. The microanatomy of T-cell responses. Immunol. Rev. 221, 26–43 (2008)

Mempel, T. R., Henrickson, S. E. & Von Andrian, U. H. T-cell priming by dendritic cells in lymph nodes occurs in three distinct phases. Nature 427, 154–159 (2004)

Alon, R. & Dustin, M. L. Force as a facilitator of integrin conformational changes during leukocyte arrest on blood vessels and antigen-presenting cells. Immunity 26, 17–27 (2007)

Lindquist, R. L. et al. Visualizing dendritic cell networks in vivo . Nature Immunol. 5, 1243–1250 (2004)

Meshel, A. S., Wei, Q., Adelstein, R. S. & Sheetz, M. P. Basic mechanism of three-dimensional collagen fibre transport by fibroblasts. Nature Cell Biol. 7, 157–164 (2005)

Vanni, S., Lagerholm, B. C., Otey, C., Taylor, D. L. & Lanni, F. Internet-based image analysis quantifies contractile behavior of individual fibroblasts inside model tissue. Biophys. J. 84, 2715–2727 (2003)

Medeiros, N. A., Burnette, D. T. & Forscher, P. Myosin II functions in actin-bundle turnover in neuronal growth cones. Nature Cell Biol. 8, 215–226 (2006)

Hogg, N., Laschinger, M., Giles, K. & McDowall, A. T-cell integrins: More than just sticking points. J. Cell Sci. 116, 4695–4705 (2003)

Morin, N. A. et al. Nonmuscle myosin heavy chain IIA mediates integrin LFA-1 de-adhesion during T lymphocyte migration. J. Exp. Med. 205, 195–205 (2008)

Hu, S., Chen, J., Butler, J. P. & Wang, N. Prestress mediates force propagation into the nucleus. Biochem. Biophys. Res. Commun. 329, 423–428 (2005)

Paluch, E., Sykes, C., Prost, J. & Bornens, M. Dynamic modes of the cortical actomyosin gel during cell locomotion and division. Trends Cell Biol. 16, 5–10 (2006)

Morton, W. M., Ayscough, K. R. & McLaughlin, P. J. Latrunculin alters the actin-monomer subunit interface to prevent polymerization. Nature Cell Biol. 2, 376–378 (2000)

Bottino, D., Mogilner, A., Roberts, T., Stewart, M. & Oster, G. How nematode sperm crawl. J. Cell Sci. 115, 367–384 (2002)

Schaar, B. T. & McConnell, S. K. Cytoskeletal coordination during neuronal migration. Proc. Natl Acad. Sci. USA 102, 13652–13657 (2005)

Wolf, K., Müller, R., Borgmann, S., Bröcker, E. B. & Friedl, P. Amoeboid shape change and contact guidance: T-lymphocyte crawling through fibrillar collagen is independent of matrix remodeling by MMPs and other proteases. Blood 102, 3262–3269 (2003)

Auffray, C. et al. Monitoring of blood vessels and tissues by a population of monocytes with patrolling behavior. Science 317, 666–670 (2007)

Phillipson, M. et al. Intraluminal crawling of neutrophils to emigration sites: A molecularly distinct process from adhesion in the recruitment cascade. J. Exp. Med. 203, 2569–2575 (2006)

Sixt, M., Bauer, M., Lämmermann, T. & Fässler, R. Beta1 integrins: Zip codes and signaling relay for blood cells. Curr. Opin. Cell Biol. 18, 482–490 (2006)

Potocnik, A. J., Brakebusch, C. & Fässler, R. Fetal and adult hematopoietic stem cells require beta1 integrin function for colonizing fetal liver, spleen, and bone marrow. Immunity 12, 653–663 (2000)

Wilson, R. W. et al. Gene targeting yields a CD18-mutant mouse for study of inflammation. J. Immunol. 151, 1571–1578 (1993)

Wagner, N. et al. Critical role for beta7 integrins in formation of the gut-associated lymphoid tissue. Nature 382, 366–370 (1996)

Kühn, R., Schwenk, F., Aguet, M. & Rajewsky, K. Inducible gene targeting in mice. Science 269, 1427–1429 (1995)

Petrich, B. G. et al. Talin is required for integrin-mediated platelet function in hemostasis and thrombosis. J. Exp. Med. 204, 3103–3111 (2007)

Bader, B. L., Rayburn, H., Crowley, D. & Hynes, R. O. Extensive vasculogenesis, angiogenesis, and organogenesis precede lethality in mice lacking all alpha v integrins. Cell 95, 507–519 (1998)

Nagy, A., Rossant, J., Nagy, R., Abramow-Newerly, W. & Roder, J. C. Derivation of completely cell culture-derived mice from early-passage Embryonic stem cells. Proc. Natl Acad. Sci. USA 90, 8424–8428 (1993)

Schaft, J., Ashery-Padan, R., van der Hoeven, F., Gruss, P. & Stewart, A. F. Efficient FLP recombination in mouse ES cells and oocytes. Genesis 31, 6–10 (2001)

Bungartz, G. et al. Adult murine hematopoiesis can proceed without beta1 and beta7 integrins. Blood 108, 1857–1864 (2006)

Lutz, M. B. et al. An advanced culture method for generating large quantities of highly pure dendritic cells from mouse bone marrow. J. Immunol. Methods 223, 77–92 (1999)

Fässler, R. & Meyer, M. Consequences of lack of beta 1 integrin gene expression in mice. Genes Dev. 9, 1896–1908 (1995)

Worbs, T., Mempel, T. R., Bolter, J., von Andrian, U. H. & Förster, R. CCR7 ligands stimulate the intranodal motility of T lymphocytes in vivo. . J. Exp. Med. 204, 489–495 (2007)

Berg, D. J. et al. Interleukin 10 but not interleukin 4 is a natural suppressant of cutaneous inflammatory responses. J. Exp. Med. 182, 99–108 (1995)

Croft, D. R. et al. Actin-myosin-based contraction is responsible for apoptotic nuclear disintegration. J. Cell Biol. 168, 245–255 (2005)
Acknowledgements
We thank S. Cremer for help with statistical analysis, Z. Werb and P. Friedl for critical reading of the manuscript, and M. Bauer for technical support. This work was financed by the German Research Foundation (DFG), the Austrian Science Foundation (FWF) and the Max Planck Society. Work in D.R.C.'s laboratory was supported by the Wellcome Trust.
Author Contributions T.L. and M.S. designed and performed the experiments and analysed the data. M.S. wrote the paper. T.W. and R.Fö. performed intravital microscopy in lymph nodes. B.L.B. and M.K. generated the integrin αv mouse. S.J.M. and D.R.C. generated the talin1 mouse. R.Fä. generated the integrin β1 and the quadruple integrin knockout mouse and provided general support. K.H. assisted with experiments. R.W.S. contributed to data analysis and experimental design.
Supplementary information
About this article
Cite this article
Lämmermann, T., Bader, B., Monkley, S. et al. Rapid leukocyte migration by integrin-independent flowing and squeezing. Nature 453, 51–55 (2008). https://doi.org/10.1038/nature06887
Received:

Accepted:

Issue Date:

DOI: https://doi.org/10.1038/nature06887
Comments
By submitting a comment you agree to abide by our Terms and Community Guidelines. If you find something abusive or that does not comply with our terms or guidelines please flag it as inappropriate.