Abstract
The aryl hydrocarbon receptor (AHR) is a ligand-dependent transcription factor best known for mediating the toxicity of dioxin1. Environmental factors are believed to contribute to the increased prevalence of autoimmune diseases, many of which are due to the activity of TH17 T cells, a new helper T-cell subset characterized by the production of the cytokine IL-17. Here we show that in the CD4+ T-cell lineage of mice AHR expression is restricted to the TH17 cell subset and its ligation results in the production of the TH17 cytokine interleukin (IL)-22. AHR is also expressed in human TH17 cells. Activation of AHR by a high-affinity ligand during TH17 cell development markedly increases the proportion of TH17 T cells and their production of cytokines. CD4+ T cells from AHR-deficient mice can develop TH17 cell responses, but when confronted with AHR ligand fail to produce IL-22 and do not show enhanced TH17 cell development. AHR activation during induction of experimental autoimmune encephalomyelitis causes accelerated onset and increased pathology in wild-type mice, but not AHR-deficient mice. AHR ligands may therefore represent co-factors in the development of autoimmune diseases.
Relevant articles
Open Access articles citing this article.
Theresa L. Montgomery

,

Korin Eckstrom

…

Dimitry N. Krementsov

Microbiome Open Access 23 November 2022

Yahya Jand

,

Mohammad Hossein Ghahremani

…

Mahmoud Ghazi-Khansari

Scientific Reports Open Access 24 September 2022

Marta Vuerich

,

Na Wang

…

Maria Serena Longhi

Communications Biology Open Access 21 September 2022
Access options
Subscribe to Journal
Get full journal access for 1 year
$199.00
only $3.90 per issue
All prices are NET prices.
VAT will be added later in the checkout.
Tax calculation will be finalised during checkout.
Buy article
Get time limited or full article access on ReadCube.
$32.00
All prices are NET prices.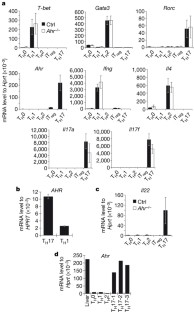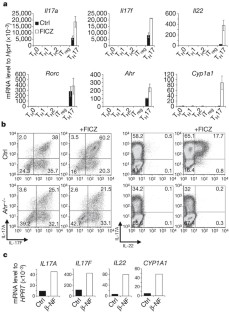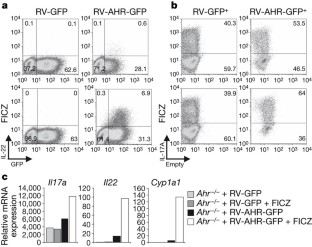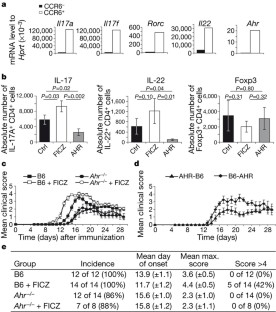 References
Schmidt, J. V. & Bradfield, C. A. Ah receptor signaling pathways. Annu. Rev. Cell Dev. Biol. 12, 55–89 (1996)

Harper, P. A., Riddick, D. S. & Okey, A. B. Regulating the regulator: factors that control levels and activity of the aryl hydrocarbon receptor. Biochem. Pharmacol. 72, 267–279 (2006)

Schmidt, J. V., Su, G. H., Reddy, J. K., Simon, M. C. & Bradfield, C. A. Characterization of a murine Ahr null allele: involvement of the Ah receptor in hepatic growth and development. Proc. Natl Acad. Sci. USA 93, 6731–6736 (1996)

Fernandez-Salguero, P. et al. Immune system impairment and hepatic fibrosis in mice lacking the dioxin-binding Ah receptor. Science 268, 722–726 (1995)

Mimura, J. et al. Loss of teratogenic response to 2,3,7,8-tetrachlorodibenzo-p-dioxin (TCDD) in mice lacking the Ah (dioxin) receptor. Genes Cells 2, 645–654 (1997)

Ivanov, I. I. et al. The orphan nuclear receptor RORγt directs the differentiation program of proinflammatory IL-17+ T helper cells. Cell 126, 1121–1133 (2006)

Dumoutier, L., Van Roost, E., Colau, D. & Renauld, J. C. Human interleukin-10-related T cell-derived inducible factor: molecular cloning and functional characterization as an hepatocyte-stimulating factor. Proc. Natl Acad. Sci. USA 97, 10144–10149 (2000)

Zheng, Y. et al. Interleukin-22, a TH17 cytokine, mediates IL-23-induced dermal inflammation and acanthosis. Nature 445, 648–651 (2007)

Liang, S. C. et al. Interleukin (IL)-22 and IL-17 are coexpressed by Th17 cells and cooperatively enhance expression of antimicrobial peptides. J. Exp. Med. 203, 2271–2279 (2006)

Boniface, K. et al. IL-22 inhibits epidermal differentiation and induces proinflammatory gene expression and migration of human keratinocytes. J. Immunol. 174, 3695–3702 (2005)

Radaeva, S., Sun, R., Pan, H. N., Hong, F. & Gao, B. Interleukin 22 (IL-22) plays a protective role in T cell-mediated murine hepatitis: IL-22 is a survival factor for hepatocytes via STAT3 activation. Hepatology 39, 1332–1342 (2004)

Zenewicz, L. A. et al. Interleukin-22 but not interleukin-17 provides protection to hepatocytes during acute liver inflammation. Immunity 27, 647–659 (2007)

Rannug, A. & Fritsche, E. The aryl hydrocarbon receptor and light. Biol. Chem. 387, 1149–1157 (2006)

Hirota, K. et al. Preferential recruitment of CCR6-expressing Th17 cells to inflamed joints via CCL20 in rheumatoid arthritis and its animal model. J. Exp. Med. 204, 2803–2812 (2007)

Acosta-Rodriguez, E. V. et al. Surface phenotype and antigenic specificity of human interleukin 17-producing T helper memory cells. Nature Immunol. 8, 639–646 (2007)

Kerkvliet, N. I. Recent advances in understanding the mechanisms of TCDD immunotoxicity. Int. Immunopharmacol. 2, 277–291 (2002)

Funatake, C. J., Marshall, N. B., Steppan, L. B., Mourich, D. V. & Kerkvliet, N. I. Cutting edge: activation of the aryl hydrocarbon receptor by 2,3,7,8-tetrachlorodibenzo-p-dioxin generates a population of CD4+CD25+cells with characteristics of regulatory T cells. J. Immunol. 175, 4184–4188 (2005)

Minamimura, K., Gao, W. & Maki, T. CD4+ regulatory T cells are spared from deletion by antilymphocyte serum, a polyclonal anti-T cell antibody. J. Immunol. 176, 4125–4132 (2006)

Cox, A. L. et al. Lymphocyte homeostasis following therapeutic lymphocyte depletion in multiple sclerosis. Eur. J. Immunol. 35, 3332–3342 (2005)

Nguyen, L. P. & Bradfield, C. A. The search for endogenous activators of the aryl hydrocarbon receptor. Chem. Res. Toxicol. 21, 102–116 (2007)

Katiyar, S. K., Matsui, M. S. & Mukhtar, H. Ultraviolet-B exposure of human skin induces cytochromes P450 1A1 and 1B1. J. Invest. Dermatol. 114, 328–333 (2000)

Uyttenhove, C. & Van Snick, J. Development of an anti-IL-17A auto-vaccine that prevents experimental auto-immune encephalomyelitis. Eur. J. Immunol. 36, 2868–2874 (2006)

Langrish, C. L. et al. IL-23 drives a pathogenic T cell population that induces autoimmune inflammation. J. Exp. Med. 201, 233–240 (2005)

Kebir, H. et al. Human TH17 lymphocytes promote blood-brain barrier disruption and central nervous system inflammation. Nature Med. 13, 1173–1175 (2007)

Kreymborg, K. et al. IL-22 is expressed by Th17 cells in an IL-23-dependent fashion, but not required for the development of autoimmune encephalomyelitis. J. Immunol. 179, 8098–8104 (2007)

Okey, A. B. An aryl hydrocarbon receptor odyssey to the shores of toxicology: the Deichmann lecture, International Congress of Toxicology-XI. Toxicol. Sci. 98, 5–38 (2007)

Tian, Y., Rabson, A. B. & Gallo, M. A. Ah receptor and NF-κB interactions: mechanisms and physiological implications. Chem. Biol. Interact. 141, 97–115 (2002)

Hilliard, B., Samoilova, E. B., Liu, T. S., Rostami, A. & Chen, Y. Experimental autoimmune encephalomyelitis in NF-κB-deficient mice: roles of NF-κB in the activation and differentiation of autoreactive T cells. J. Immunol. 163, 2937–2943 (1999)

Denison, M. S., Fisher, J. M. & Whitlock, J. P. Inducible, receptor-dependent protein-DNA interactions at a dioxin-responsive transcriptional enhancer. Proc. Natl Acad. Sci. USA 85, 2528–2532 (1988)

Veldhoen, M., Hocking, R. J., Flavell, R. A. & Stockinger, B. Signals mediated by transforming growth factor-β initiate autoimmune encephalomyelitis, but chronic inflammation is needed to sustain disease. Nature Immunol. 7, 1151–1156 (2006)
Acknowledgements
We thank A. Smith for providing us with the AHR-deficient mouse strain; A. Rae and G. Preece for cell sorting; and Biological Services at NIMR, especially T. Norton and H. Boyes, for animal care and EAE scoring. This work was funded by the Medical Research Council UK.
Author Contributions M.V. and K.H. performed the experiments; A.M.W. and J.B. did the microarrays and analysis; L.D. and J.-C.R. generated and provided the anti-IL-22 antibody; and B.S. directed the research and wrote the manuscript.
Supplementary information
The file contains Supplementary Methods and Supplementary Figures 1-4 with Legends. (PDF 871 kb)
About this article
Cite this article
Veldhoen, M., Hirota, K., Westendorf, A. et al. The aryl hydrocarbon receptor links TH17-cell-mediated autoimmunity to environmental toxins. Nature 453, 106–109 (2008). https://doi.org/10.1038/nature06881
Received:

Accepted:

Published:

Issue Date:

DOI: https://doi.org/10.1038/nature06881
Comments
By submitting a comment you agree to abide by our Terms and Community Guidelines. If you find something abusive or that does not comply with our terms or guidelines please flag it as inappropriate.