Abstract
Searches for extrasolar planets using the periodic Doppler shift of stellar spectral lines have recently achieved a precision of 60 cm s-1 (ref. 1), which is sufficient to find a 5-Earth-mass planet in a Mercury-like orbit around a Sun-like star. To find a 1-Earth-mass planet in an Earth-like orbit, a precision of ∼5 cm s-1 is necessary. The combination of a laser frequency comb with a Fabry–Pérot filtering cavity has been suggested as a promising approach to achieve such Doppler shift resolution via improved spectrograph wavelength calibration2,3,4, with recent encouraging results5. Here we report the fabrication of such a filtered laser comb with up to 40-GHz (∼1-Å) line spacing, generated from a 1-GHz repetition-rate source, without compromising long-term stability, reproducibility or spectral resolution. This wide-line-spacing comb, or 'astro-comb', is well matched to the resolving power of high-resolution astrophysical spectrographs. The astro-comb should allow a precision as high as 1 cm s-1 in astronomical radial velocity measurements.
Relevant articles
Open Access articles citing this article.
Ashutosh Rao

,

Gregory Moille

…

Kartik Srinivasan

Light: Science & Applications Open Access 26 May 2021

Abhinav Kumar Vinod

,

Shu-Wei Huang

…

Chee Wei Wong

Communications Physics Open Access 22 April 2021

Guoqing Pu

,

Lilin Yi

…

Weisheng Hu

Light: Science & Applications Open Access 28 January 2020
Access options
Subscribe to this journal
Receive 51 print issues and online access
$199.00 per year
only $3.90 per issue
Rent or buy this article
Prices vary by article type
from$1.95
to$39.95
Prices may be subject to local taxes which are calculated during checkout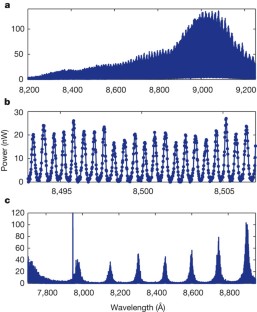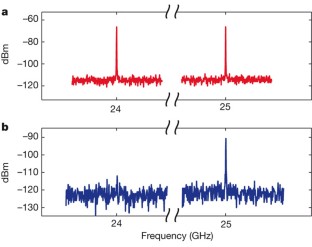 References
Lovis, C. et al. An extrasolar planetary system with three Neptune-mass planets. Nature 441, 305–309 (2006)

Murphy, M. T. et al. High-precision wavelength calibration with laser frequency combs. Mon. Not. R. Astron. Soc. 380, 839–847 (2007)

Schmidt, P. O., Kimeswenger, S., Kaeufl, H. U. A new generation of spectrometer calibration techniques based on optical frequency combs. In Proc. 2007 ESO Instrument Calibration Workshop (ESO Astrophysics Symposia series, Springer, in the press); preprint at 〈http://arxiv.org/abs/0705.0763v1〉

Araujo-Hauck, C. et al. Future wavelength calibration standards at ESO: the laser frequency comb. ESO Messenger 129, 24–26 (2007)

Osterman, S. et al. A proposed laser frequency comb based wavelength reference for high resolution spectroscopy. Proc. SPIE 6693, 66931G-1–9 (2007)

Lovis, C. et al. The exoplanet hunter HARPS: unequalled accuracy and perspectives toward 1 cm s-1 precision. Proc. SPIE 6269, 62690P-1–23 (2006)

Udry, S. et al. The HARPS search for southern extra-solar planets. XI. Super-Earths (5 and 8 M⊕) in a 3-planet system. Astron. Astrophys. 469, L43–L47 (2007)

Butler, R. P. et al. Attaining Doppler precision of 3 m s-1 . Publ. Astron. Soc. Pacif. 108, 500–509 (1996)

Tarter, J. et al. A reappraisal of the habitability of planets around M dwarf stars. Astrobiology 7, 30–65 (2007)

Storm, J., Carney, B. W. & Latham, D. W. Distances and luminosities for RR Lyrae stars in M5 and M92 from a Baade-Wesselink analysis. Astron. Astrophys. 290, 443–457 (1994)

Udem, Holzwarth, R. & Hänsch, T. W. Optical frequency metrology. Nature 416, 233–237 (2002)

Bartels, A., Gebs, R., Kirchner, M. S. & Diddams, S. A. Spectrally resolved optical frequency comb from a self-referenced 5 GHz femtosecond laser. Opt. Lett. 32, 2553–2555 (2007)

Benedick, A., Birge, J., Mücke, O. D., Sander, M. & Kärtner, F. X. Octave spanning 1 GHz Ti:sapphire oscillator for HeNe CH4-based frequency combs and clocks. In CLEO/Europe 2007 (Munich, 17–22 June, 2007) (IEEE, 2007); 10.1109/CLEOE-IQEC.2007.4386249

Corwin, K. L., Lu, Z.-T., Hand, C. F., Epstein, R. J. & Wieman, C. E. Frequency-stabilized diode laser with the Zeeman shift in an atomic vapor. Appl. Opt. 37, 3295–3298 (1998)

Szentgyorgyi, A. et al. Hectochelle: a multi-object echelle spectrograph for the converted MMT. Proc. SPIE 3355, 242–252 (1998)

Reeves, J. M., Garcia, O. & Sackett, C. A. Temperature stability of a dichroic atomic vapor laser lock. Appl. Opt. 45, 372–376 (2006)

Sandage, A. The change of redshift and apparent luminosity of galaxies due to the deceleration of selected expanding universes. Astrophys. J. 136, 319–333 (1962)

Loeb, A. Direct measurement of cosmological parameters from the cosmic deceleration of extragalactic objects. Astrophys. J. 499, L111–L114 (1998)
Acknowledgements
This project is supported by the Harvard University Origins of Life Initiative, the Smithsonian Institution, and DARPA.
Author contributions D.S., A.S. and R.L.W. initiated the project. C.-H.L., D.F.P. and R.L.W. designed the comb filtering strategy. C.-H.L. and D.F.P. designed the Fabry–Pérot stabilization strategy. R.L.W. supervised the project. C.-H.L. constructed the comb filtering system and acquired the filtered-comb data. A.J.B., P.F. and F.X.K. provided the 1-GHz laser comb and assisted C.-H.L. in its integration with the comb filtering system. C.-H.L. performed the initial data analysis. C.-H.L., A.G.G., F.X.K., D.F.P., D.S., A.S. and R.L.W. interpreted the data and assessed systematic effects. D.S. and A.S. advised on the astrophysical relevance of the data.
About this article
Cite this article
Li, CH., Benedick, A., Fendel, P. et al. A laser frequency comb that enables radial velocity measurements with a precision of 1 cm s-1. Nature 452, 610–612 (2008). https://doi.org/10.1038/nature06854
Received:

Accepted:

Issue Date:

DOI: https://doi.org/10.1038/nature06854
Comments
By submitting a comment you agree to abide by our Terms and Community Guidelines. If you find something abusive or that does not comply with our terms or guidelines please flag it as inappropriate.