Abstract
Clathrin-coated vesicles are vehicles for intracellular trafficking in all nucleated cells, from yeasts to humans. Many studies have demonstrated their essential roles in endocytosis and cellular signalling processes at the plasma membrane. By contrast, very few of their non-endocytic trafficking roles are known, the best characterized being the transport of hydrolases from the Golgi complex to the lysosome. Here we show that clathrin is required for polarity of the basolateral plasma membrane proteins in the epithelial cell line MDCK. Clathrin knockdown depolarized most basolateral proteins, by interfering with their biosynthetic delivery and recycling, but did not affect the polarity of apical proteins. Quantitative live imaging showed that chronic and acute clathrin knockdown selectively slowed down the exit of basolateral proteins from the Golgi complex, and promoted their mis-sorting into apical carrier vesicles. Our results demonstrate a broad requirement for clathrin in basolateral protein trafficking in epithelial cells.
Relevant articles
Open Access articles citing this article.
Amod Godbole

,

Sandra Lyga

…

Davide Calebiro

Nature Communications Open Access 05 September 2017

Jae Won Kyung

,

In Ha Cho

…

Sung Hyun Kim

Scientific Reports Open Access 31 January 2017

Andres E. Perez Bay

,

Ryan Schreiner

…

Enrique J. Rodriguez-Boulan

Nature Communications Open Access 16 May 2016
Access options
Subscribe to this journal
Receive 51 print issues and online access
$199.00 per year
only $3.90 per issue
Rent or buy this article
Prices vary by article type
from$1.95
to$39.95
Prices may be subject to local taxes which are calculated during checkout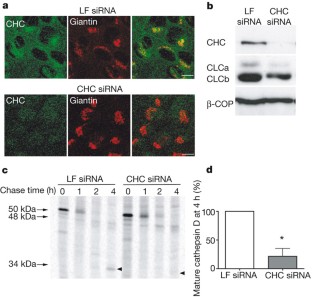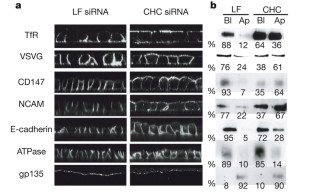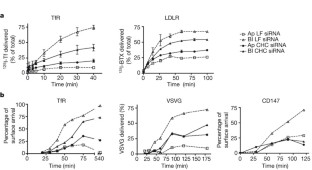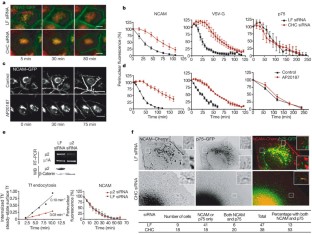 References
Mostov, K., Su, T. & ter Beest, M. Polarized epithelial membrane traffic: conservation and plasticity. Nature Cell Biol. 5, 287–293 (2003)

Rodriguez-Boulan, E., Kreitzer, G. & Musch, A. Organization of vesicular trafficking in epithelia. Nature Rev. Mol. Cell Biol. 6, 233–247 (2005)

Yeaman, C., Grindstaff, K. K. & Nelson, W. J. New perspectives on mechanisms involved in generating epithelial cell polarity. Physiol. Rev. 79, 73–98 (1999)

Brewer, C. B. & Roth, M. G. A single amino acid change in the cytoplasmic domain alters the polarized delivery of influenza viral hemagglutin. J. Cell Biol. 114, 413–421 (1991)

Matter, K., Hunziker, W. & Mellman, I. Basolateral sorting of LDL receptor in MDCK cells: the cytoplasmic domain contains two tyrosine-dependent targeting determinants. Cell 71, 741–753 (1992)

Le Bivic, A. et al. An internal deletion in the cytoplasmic tail reverses the apical localization of human NGF receptor in transfected MDCK cells. J. Cell Biol. 115, 607–618 (1991)

Hunziker, W. & Fumey, C. A di-leucine motif mediates endocytosis and basolateral sorting of macrophage IgG Fc receptors in MDCK cells. EMBO J. 13, 2963–2967 (1994)

Ohno, H. et al. Mu1B, a novel adaptor medium chain expressed in polarized epithelial cells. FEBS Lett. 449, 215–220 (1999)

Folsch, H., Ohno, H., Bonifacino, J. S. & Mellman, I. A novel clathrin adaptor complex mediates basolateral targeting in polarized epithelial cells. Cell 99, 189–198 (1999)

Gan, Y., McGraw, T. E. & Rodriguez-Boulan, E. The epithelial-specific adaptor AP1B mediates post-endocytic recycling to the basolateral membrane. Nature Cell Biol. 4, 605–609 (2002)

Gravotta, D. et al. AP1B sorts basolateral proteins in recycling and biosynthetic routes of MDCK cells. Proc. Natl Acad. Sci. USA 104, 1564–1569 (2007)

Cancino, J. et al. Antibody to AP1B adaptor blocks biosynthetic and recycling routes of basolateral proteins at recycling endosomes. Mol. Biol. Cell 18, 4872–4884 (2007)

Folsch, H., Pypaert, M., Schu, P. & Mellman, I. Distribution and function of AP-1 clathrin adaptor complexes in polarized epithelial cells. J. Cell Biol. 152, 595–606 (2001)

Rothman, J. E. & Fine, R. E. Coated vesicles transport newly synthesized membrane glycoproteins from endoplasmic reticulum to plasma membrane in two successive stages. Proc. Natl Acad. Sci. USA 77, 780–784 (1980)

Moskowitz, H. S., Heuser, J., McGraw, T. E. & Ryan, T. A. Targeted chemical disruption of clathrin function in living cells. Mol. Biol. Cell 14, 4437–4447 (2003)

Pagano, A., Crottet, P., Prescianotto-Baschong, C. & Spiess, M. In vitro formation of recycling vesicles from endosomes requires adaptor protein-1/clathrin and is regulated by rab4 and the connector rabaptin-5. Mol. Biol. Cell 15, 4990–5000 (2004)

Li, J. et al. An ACAP1-containing clathrin coat complex for endocytic recycling. J. Cell Biol. 178, 453–464 (2007)

Hinrichsen, L., Harborth, J., Andrees, L., Weber, K. & Ungewickell, E. J. Effect of clathrin heavy chain- and α-adaptin-specific small inhibitory RNAs on endocytic accessory proteins and receptor trafficking in HeLa cells. J. Biol. Chem. 278, 45160–45170 (2003)

Motley, A., Bright, N. A., Seaman, M. N. & Robinson, M. S. Clathrin-mediated endocytosis in AP-2-depleted cells. J. Cell Biol. 162, 909–918 (2003)

Royle, S. J., Bright, N. A. & Lagnado, L. Clathrin is required for the function of the mitotic spindle. Nature 434, 1152–1157 (2005)

Iversen, T. G., Skretting, G., van Deurs, B. & Sandvig, K. Clathrin-coated pits with long, dynamin-wrapped necks upon expression of a clathrin antisense RNA. Proc. Natl Acad. Sci. USA 100, 5175–5180 (2003)

Cereijido, M., Robbins, E. S., Dolan, W. J., Rotunno, C. A. & Sabatini, D. D. Polarized monolayers formed by epithelial cells on a permeable and translucent support. J. Cell Biol. 77, 853–880 (1978)

Nelson, W. Adaptation of core mechanisms to generate cell polarity. Nature 422, 766–774 (2003)

Odorizzi, G. & Trowbridge, I. S. Structural requirements for basolateral sorting of the human transferrin receptor in the biosynthetic and endocytic pathways of Madin–Darby canine kidney cells. J. Cell Biol. 137, 1255–1264 (1997)

Thomas, D. C., Brewer, C. B. & Roth, M. G. Vesicular stomatitis virus glycoprotein contains a dominant cytoplasmic basolateral sorting signal critically dependent upon a tyrosine. J. Biol. Chem. 268, 3313–3320 (1993)

Miranda, K. C. et al. A dileucine motif targets E-cadherin to the basolateral cell surface in Madin–Darby canine kidney and LLC-PK1 epithelial cells. J. Biol. Chem. 276, 22565–22572 (2001)

Le Gall, A. H., Powell, S. K., Yeaman, C. A. & Rodriguez-Boulan, E. The neural cell adhesion molecule expresses a tyrosine-independent basolateral sorting signal. J. Biol. Chem. 272, 4559–4567 (1997)

Deora, A. A. et al. The basolateral targeting signal of CD147 (EMMPRIN) consists of a single leucine and is not recognized by retinal pigment epithelium. Mol. Biol. Cell 15, 4148–4165 (2004)

Nelson, W. J. & Veshnock, P. J. Ankyrin binding to (Na+, K+)ATPase and implications for the organization of membrane domains in polarized cells. Nature 328, 533–536 (1987)

Herzlinger, D. A. & Ojakian, G. K. Studies on the development and maintenance of epithelial cell surface polarity with monoclonal antibodies. J. Cell Biol. 98, 1777–1787 (1984)

Kreitzer, G., Marmorstein, A., Okamoto, P., Vallee, R. & Rodriguez-Boulan, E. Kinesin and dynamin are required for post-Golgi transport of a plasma-membrane protein. Nature Cell Biol. 2, 125–127 (2000)

Raiborg, C., Wesche, J., Malerod, L. & Stenmark, H. Flat clathrin coats on endosomes mediate degradative protein sorting by scaffolding Hrs in dynamic microdomains. J. Cell Sci. 119, 2414–2424 (2006)

Kreitzer, G. et al. Three-dimensional analysis of post-Golgi carrier exocytosis in epithelial cells. Nature Cell Biol. 5, 126–136 (2003)

Lemmon, S. K. & Jones, E. W. Clathrin requirement for normal growth of yeast. Science 238, 504–509 (1987)

Bonifacino, J. S. & Traub, L. M. Signals for sorting of transmembrane proteins to endosomes and lysosomes. Annu. Rev. Biochem. 72, 395–447 (2003)

Owen, D. J., Collins, B. M. & Evans, P. R. Adaptors for clathrin coats: structure and function. Annu. Rev. Cell Dev. Biol. 20, 153–191 (2004)

Kirchhausen, T. Clathrin. Annu. Rev. Biochem. 69, 699–727 (2000)

Conner, S. D. & Schmid, S. L. Regulated portals of entry into the cell. Nature 422, 37–44 (2003)

Pearse, B. M., Smith, C. J. & Owen, D. J. Clathrin coat construction in endocytosis. Curr. Opin. Struct. Biol. 10, 220–228 (2000)

Simmen, T., Honing, S., Icking, A., Tikkanen, R. & Hunziker, W. AP-4 binds basolateral signals and participates in basolateral sorting in epithelial MDCK cells. Nature Cell Biol. 4, 154–159 (2002)

Deora, A. A., Diaz, F., Schreiner, R. & Rodriguez-Boulan, E. Efficient electroporation of DNA and protein into confluent and differentiated epithelial cells in culture. Traffic 8, 1304–1312 (2007)

Musch, A., Cohen, D., Kreitzer, G. & Rodriguez-Boulan, E. cdc42 regulates the exit of apical and basolateral proteins from the trans-Golgi network. EMBO J. 20, 2171–2179 (2001)
Acknowledgements
We thank A. Müsch, T. McGraw and T. Ryan for comments on the manuscript. This work received support from NIH grants to E.R.-B., from the Dyson Foundation and from the Research to Prevent Blindness Foundation. E.P. was supported by a fellowship from Association pour la Recherche sur le Cancer during the initial stages of this work. R.S. was supported by a training predoctoral grant from the NIH.
Author Contributions S.D. designed research; S.D., E.P., D.G., R.S., S.B.S. and A.D. performed research; S.D. and E.R.-B. analysed data and wrote the paper.
Supplementary information
About this article
Cite this article
Deborde, S., Perret, E., Gravotta, D. et al. Clathrin is a key regulator of basolateral polarity. Nature 452, 719–723 (2008). https://doi.org/10.1038/nature06828
Received:

Accepted:

Issue Date:

DOI: https://doi.org/10.1038/nature06828
Comments
By submitting a comment you agree to abide by our Terms and Community Guidelines. If you find something abusive or that does not comply with our terms or guidelines please flag it as inappropriate.