Abstract
The CD36 family of transmembrane receptors is present across metazoans and has been implicated biochemically in lipid binding and transport1. Several CD36 proteins function in the immune system as scavenger receptors for bacterial pathogens and seem to act as cofactors for Toll-like receptors by facilitating recognition of bacterially derived lipids2,3,4. Here we show that a Drosophila melanogaster CD36 homologue, Sensory neuron membrane protein (SNMP), is expressed in a population of olfactory sensory neurons (OSNs) implicated in pheromone detection. SNMP is essential for the electrophysiological responses of OSNs expressing the receptor OR67d to (Z)-11-octadecenyl acetate (cis-vaccenyl acetate, cVA), a volatile male-specific fatty-acid-derived pheromone that regulates sexual and social aggregation behaviours5,6,7,8. SNMP is also required for the activation of the moth pheromone receptor HR13 by its lipid-derived pheromone ligand (Z)-11-hexadecenal9, but is dispensable for the responses of the conventional odorant receptor OR22a to its short hydrocarbon fruit ester ligands. Finally, we show that SNMP is required for responses of OR67d to cVA when ectopically expressed in OSNs not normally activated by pheromones. Because mammalian CD36 binds fatty acids10, we suggest that SNMP acts in concert with odorant receptors to capture pheromone molecules on the surface of olfactory dendrites. Our work identifies an unanticipated cofactor for odorant receptors that is likely to have a widespread role in insect pheromone detection. Moreover, these results define a unifying model for CD36 function, coupling recognition of lipid-based extracellular ligands to signalling receptors in both pheromonal communication and pathogen recognition through the innate immune system.
Relevant articles
Open Access articles citing this article.
Marta Scalzotto

,

Renny Ng

…

Richard Benton

BMC Biology Open Access 11 October 2022

He Yuan

,

Bojia Gao

…

Kongming Wu

BMC Biology Open Access 06 July 2022

David A. Ernst

&

Erica L. Westerman

BMC Genomics Open Access 02 August 2021
Access options
Subscribe to this journal
Receive 51 print issues and online access
$199.00 per year
only $3.90 per issue
Rent or buy this article
Get just this article for as long as you need it
$39.95
Prices may be subject to local taxes which are calculated during checkout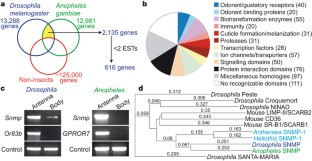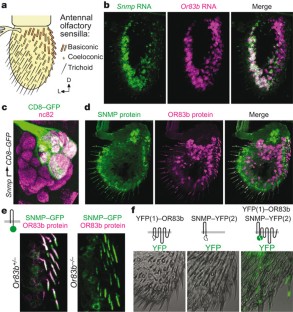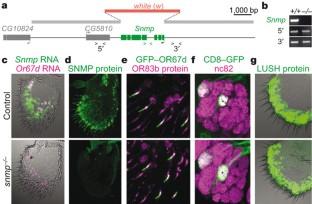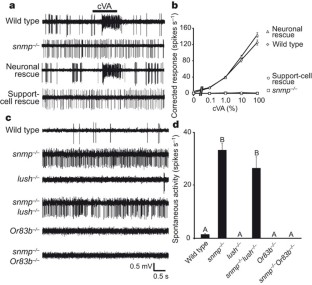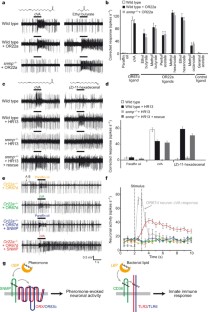 References
Ge, Y. & Elghetany, M. T. CD36: a multiligand molecule. Lab. Hematol. 11, 31–37 (2005)

Hoebe, K. et al. CD36 is a sensor of diacylglycerides. Nature 433, 523–527 (2005)

Philips, J. A., Rubin, E. J. & Perrimon, N. Drosophila RNAi screen reveals CD36 family member required for mycobacterial infection. Science 309, 1251–1253 (2005)

Stuart, L. M. et al. Response to Staphylococcus aureus requires CD36-mediated phagocytosis triggered by the COOH-terminal cytoplasmic domain. J. Cell Biol. 170, 477–485 (2005)

Bartelt, R. J., Schaner, A. M. & Jackson, L. L. cis-Vaccenyl acetate as an aggregation pheromone in Drosophila melanogaster . J. Chem. Ecol. 11, 1747–1756 (1985)

Xu, P., Atkinson, R., Jones, D. N. & Smith, D. P. Drosophila OBP LUSH is required for activity of pheromone-sensitive neurons. Neuron 45, 193–200 (2005)

Ejima, A. et al. Generalization of courtship learning in Drosophila is mediated by cis-vaccenyl acetate. Curr. Biol. 17, 599–605 (2007)

Kurtovic, A., Widmer, A. & Dickson, B. J. A single class of olfactory neurons mediates behavioural responses to a Drosophila sex pheromone. Nature 446, 542–546 (2007)

Grosse-Wilde, E., Gohl, T., Bouche, E., Breer, H. & Krieger, J. Candidate pheromone receptors provide the basis for the response of distinct antennal neurons to pheromonal compounds. Eur. J. Neurosci. 25, 2364–2373 (2007)

Bonen, A. et al. Regulation of fatty acid transport by fatty acid translocase/CD36. Proc. Nutr. Soc. 63, 245–249 (2004)

Benton, R., Sachse, S., Michnick, S. W. & Vosshall, L. B. Atypical membrane topology and heteromeric function of Drosophila odorant receptors in vivo . PLoS Biol. 4, e20 (2006)

Wistrand, M., Kall, L. & Sonnhammer, E. L. A general model of G protein-coupled receptor sequences and its application to detect remote homologs. Protein Sci. 15, 509–521 (2006)

Larsson, M. C. et al. Or83b encodes a broadly expressed odorant receptor essential for Drosophila olfaction. Neuron 43, 703–714 (2004)

Nakagawa, T., Sakurai, T., Nishioka, T. & Touhara, K. Insect sex-pheromone signals mediated by specific combinations of olfactory receptors. Science 307, 1638–1642 (2005)

Neuhaus, E. M. et al. Odorant receptor heterodimerization in the olfactory system of Drosophila melanogaster . Nature Neurosci. 8, 15–17 (2005)

Li, L., Stoeckert, C. J. & Roos, D. S. OrthoMCL: identification of ortholog groups for eukaryotic genomes. Genome Res. 13, 2178–2189 (2003)

Rogers, M. E., Sun, M., Lerner, M. R. & Vogt, R. G. Snmp-1, a novel membrane protein of olfactory neurons of the silk moth Antheraea polyphemus with homology to the CD36 family of membrane proteins. J. Biol. Chem. 272, 14792–14799 (1997)

Couto, A., Alenius, M. & Dickson, B. J. Molecular, anatomical, and functional organization of the Drosophila olfactory system. Curr. Biol. 15, 1535–1547 (2005)

Fishilevich, E. & Vosshall, L. B. Genetic and functional subdivision of the Drosophila antennal lobe. Curr. Biol. 15, 1548–1553 (2005)

Kaissling, K. E. Peripheral mechanisms of pheromone reception in moths. Chem. Senses 21, 257–268 (1996)

van der Goes van Naters, W. & Carlson, J. R. Receptors and neurons for fly odors in Drosophila . Curr. Biol. 17, 606–612 (2007)

Gong, W. J. & Golic, K. G. Ends-out, or replacement, gene targeting in Drosophila . Proc. Natl Acad. Sci. USA 100, 2556–2561 (2003)

Ha, T. S. & Smith, D. P. A pheromone receptor mediates 11-cis-vaccenyl acetate-induced responses in Drosophila . J. Neurosci. 26, 8727–8733 (2006)

Dobritsa, A. A., van der Goes van Naters, W., Warr, C. G., Steinbrecht, R. A. & Carlson, J. R. Integrating the molecular and cellular basis of odor coding in the Drosophila antenna. Neuron 37, 827–841 (2003)

Hallem, E. A. & Carlson, J. R. Coding of odors by a receptor repertoire. Cell 125, 143–160 (2006)

Ishida, Y. & Leal, W. S. Rapid inactivation of a moth pheromone. Proc. Natl Acad. Sci. USA 102, 14075–14079 (2005)

Laugerette, F. et al. CD36 involvement in orosensory detection of dietary lipids, spontaneous fat preference, and digestive secretions. J. Clin. Invest. 115, 3177–3184 (2005)

Zdobnov, E. M. et al. Comparative genome and proteome analysis of Anopheles gambiae and Drosophila melanogaster . Science 298, 149–159 (2002)

Rozen, S. & Skaletsky, H. Primer3 on the WWW for general users and for biologist programmers. Methods Mol. Biol. 132, 365–386 (2000)

Vosshall, L. B., Wong, A. M. & Axel, R. An olfactory sensory map in the fly brain. Cell 102, 147–159 (2000)

Brand, A. H. & Perrimon, N. Targeted gene expression as a means of altering cell fates and generating dominant phenotypes. Development 118, 401–415 (1993)

Rebeiz, M. & Posakony, J. W. GenePalette: a universal software tool for genome sequence visualization and analysis. Dev. Biol. 271, 431–438 (2004)

Kim, M. S., Repp, A. & Smith, D. P. LUSH odorant-binding protein mediates chemosensory responses to alcohols in Drosophila melanogaster . Genetics 150, 711–721 (1998)

Wang, J. W., Wong, A. M., Flores, J., Vosshall, L. B. & Axel, R. Two-photon calcium imaging reveals an odor-evoked map of activity in the fly brain. Cell 112, 271–282 (2003)

Lee, T. & Luo, L. Mosaic analysis with a repressible cell marker for studies of gene function in neuronal morphogenesis. Neuron 22, 451–461 (1999)

Kiefer, C., Sumser, E., Wernet, M. F. & Von Lintig, J. A class B scavenger receptor mediates the cellular uptake of carotenoids in Drosophila . Proc. Natl Acad. Sci. USA 99, 10581–10586 (2002)

Rong, Y. S. et al. Targeted mutagenesis by homologous recombination in D. melanogaster . Genes Dev. 16, 1568–1581 (2002)

Jones, W. D., Cayirlioglu, P., Kadow, I. G. & Vosshall, L. B. Two chemosensory receptors together mediate carbon dioxide detection in Drosophila . Nature 445, 86–90 (2007)

de Bruyne, M., Clyne, P. J. & Carlson, J. R. Odor coding in a model olfactory organ: the Drosophila maxillary palp. J. Neurosci. 19, 4520–4532 (1999)
Acknowledgements
We thank R. Fenster and S. Katz for expert technical assistance; W. Jones for training in electrophysiology; M. Ditzen for providing spike analysis software; P. Morozov of the Columbia Genome Centre and AMDeC Bioinformatics Core Facility for programing to permit batch retrieval of insect-specific orthologues and expressed sequence tags; E. Zdobnov for providing a D. melanogaster/A. gambiae orthologue data set; P. Howell and M. Q. Benedict of the CDC and MR4 for mosquitoes; D. Smith for reagents; B. Dickson for sharing unpublished fly reagents; S. Piccinotti for graphic design; R. Vogt for discussions; and M. Heiman, K. Lee, S. Martin, K. Scott and members of the Vosshall laboratory for comments on the manuscript. R.B. was supported by an EMBO Long-Term Fellowship and the Helen Hay Whitney Foundation. This work was supported by grants to L.B.V. from the NIH and the McKnight Endowment Fund for Neuroscience.
Author Contributions R.B. and K.S.V. performed the screen for olfactory genes. R.B. carried out all other experiments and analysed the data. R.B. and L.B.V. together designed the experiments, interpreted the results, produced the figures and wrote the paper.
Ethics declarations
Competing interests
The authors declare no competing financial interests.
Supplementary information
The file contains Supplementary Figures S1-S2 with Legends and Supplementary Table S1 which lists genes identified in the comparative genomics screen. (PDF 16268 kb)
About this article
Cite this article
Benton, R., Vannice, K. & Vosshall, L. An essential role for a CD36-related receptor in pheromone detection in Drosophila. Nature 450, 289–293 (2007). https://doi.org/10.1038/nature06328
Received:

Accepted:

Published:

Issue Date:

DOI: https://doi.org/10.1038/nature06328
Comments
By submitting a comment you agree to abide by our Terms and Community Guidelines. If you find something abusive or that does not comply with our terms or guidelines please flag it as inappropriate.