Abstract
The capacity to evaluate other people is essential for navigating the social world. Humans must be able to assess the actions and intentions of the people around them, and make accurate decisions about who is friend and who is foe, who is an appropriate social partner and who is not. Indeed, all social animals benefit from the capacity to identify individual conspecifics that may help them, and to distinguish these individuals from others that may harm them. Human adults evaluate people rapidly and automatically on the basis of both behaviour and physical features1,2,3,4,5,6, but the ontogenetic origins and development of this capacity are not well understood. Here we show that 6- and 10-month-old infants take into account an individual's actions towards others in evaluating that individual as appealing or aversive: infants prefer an individual who helps another to one who hinders another, prefer a helping individual to a neutral individual, and prefer a neutral individual to a hindering individual. These findings constitute evidence that preverbal infants assess individuals on the basis of their behaviour towards others. This capacity may serve as the foundation for moral thought and action, and its early developmental emergence supports the view that social evaluation is a biological adaptation.
Relevant articles
Open Access articles citing this article.
Francesco Nava

,

Francesco Margoni

…

Elena Nava

Scientific Reports Open Access 17 March 2023
Access options
Subscribe to this journal
Receive 51 print issues and online access
$199.00 per year
only $3.90 per issue
Rent or buy this article
Prices vary by article type
from$1.95
to$39.95
Prices may be subject to local taxes which are calculated during checkout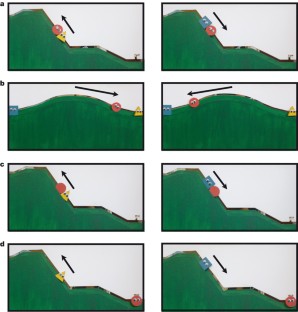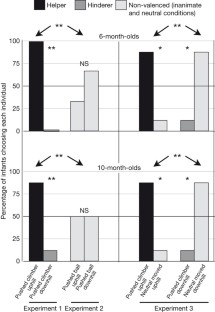 References
Langlois, J. H. Physical Appearance, Stigma, and Social Behavior: The Ontario Symposium Vol. 3 (eds Herman, C. P., Zanna, M. P. & Higgins, E. T.) (Erlbaum, Hillsdale, New Jersey, 1986)

Shepherd, J. Perceiving and Remembering Faces (eds Davies, G., Ellis, H. & Shepherd, J.) (Academic Press, San Diego, California, 1981)

Winter, L. & Uleman, J. When are social judgments made? Evidence for the spontaneousness of trait inferences. J. Pers. Soc. Psychol. 47, 237–252 (1984)

Ambady, N. & Rosenthal, R. Thin slices of expressive behavior as predictors of interpersonal consequences: A meta-analysis. Psychol. Bull. 111, 256–274 (1992)

Cunningham, W. A. et al. Separable neural components in the processing of black and white faces. Psychol. Sci. 15, 806–813 (2004)

Todorov, A., Mandisodza, A., Goren, A. & Hall, C. Inferences of competence from faces predict election outcomes. Science 308, 1623–1626 (2005)

Piaget, J. The Construction of Reality in the Child (Routledge, New York, 1954)

Repacholi, B. M. & Gopnik, A. Early reasoning about desires: Evidence from 14–18-month olds. Dev. Psychol. 33, 12–21 (1997)

Feigenson, L., Carey, S. & Spelke, E. S. Infants' discrimination of number vs continuous extent. Cognit. Psychol. 44, 33–66 (2002)

Hamlin, J. K., Hallinan, E. V. & Woodward, A. L. Do as I do: 7-month-old infants selectively reproduce others' goals. Dev. Sci. (in the press)

Cheries, E., Mitroff, S. R., Wynn, K. & Scholl, B. J. Cohesion as a principle of object persistence in infancy. Dev. Sci. (in the press)

Woodward, A. L. Infants selectively encode the goal object of an actor's reach. Cognition 69, 1–34 (1998)

Premack, D. & Premack, A. J. Infants attribute value ± to the goal-directed actions of self-propelled objects. J. Cogn. Neurosci. 9, 848–856 (1997)

Gergely, G., Nadasdy, Z., Csibra, G. & Biro, S. Taking the intentional stance at 12 months of age. Cognition 56, 165–193 (1995)

Kuhlmeier, V., Wynn, K. & Bloom, P. Attribution of dispositional states by 12-month-olds. Psychol. Sci. 14, 402–408 (2003)

Kuhlmeier, V., Wynn, K. & Bloom, P. Reasoning about present dispositions based on past interactions (International Conference on Infant Studies, Chicago, Illinois, 5 May 2004)

Kelley, D. et al. 3-month-olds, but not newborns, prefer own-race faces. Dev. Sci. 8, F31–F36 (2005)

Slater, A. et al. Newborn infants prefer attractive faces. Infant Behav. Dev. 21, 345–354 (1998)

Warneken, F. & Tomasello, M. Altruistic helping in human infants and young chimpanzees. Science 311, 1301–1303 (2006)

Trivers, R. L. The evolution of reciprocal altruism. Q. Rev. Biol. 46, 35–57 (1971)

Axelrod, R. The Evolution of Cooperation (Basic Books, New York, 1984)

Haidt, J. & Joseph, C. Intuitive ethics: How innately prepared intuitions generate culturally variable virtues. Daedalus 133, 55–66 (2004)

Pinker, S. The Blank Slate (Norton, New York, 2002)

Hauser, M. Moral Minds (Ecco, New York, 2006)
Acknowledgements
We thank A. Norman, J. Stitelman, E. Madva, K. McCrink, G. Newman and E. Cheries for their assistance and input. This work was supported in part by a National Science Foundation grant to K.W.
Supplementary information
About this article
Cite this article
Hamlin, J., Wynn, K. & Bloom, P. Social evaluation by preverbal infants. Nature 450, 557–559 (2007). https://doi.org/10.1038/nature06288
Received:

Accepted:

Issue Date:

DOI: https://doi.org/10.1038/nature06288
Comments
By submitting a comment you agree to abide by our Terms and Community Guidelines. If you find something abusive or that does not comply with our terms or guidelines please flag it as inappropriate.