Abstract
Lymph nodes prevent the systemic dissemination of pathogens such as viruses that infect peripheral tissues after penetrating the body's surface barriers. They are also the staging ground of adaptive immune responses to pathogen-derived antigens1,2. It is unclear how virus particles are cleared from afferent lymph and presented to cognate B cells to induce antibody responses. Here we identify a population of CD11b+CD169+MHCII+ macrophages on the floor of the subcapsular sinus (SCS) and in the medulla of lymph nodes that capture viral particles within minutes after subcutaneous injection. Macrophages in the SCS translocated surface-bound viral particles across the SCS floor and presented them to migrating B cells in the underlying follicles. Selective depletion of these macrophages compromised local viral retention, exacerbated viraemia of the host, and impaired local B-cell activation. These findings indicate that CD169+ macrophages have a dual physiological function. They act as innate 'flypaper' by preventing the systemic spread of lymph-borne pathogens and as critical gatekeepers at the lymph–tissue interface that facilitate the recognition of particulate antigens by B cells and initiate humoral immune responses.
Relevant articles
Open Access articles citing this article.
Victor Naumenko

,

Jahanara Rajwani

…

Craig N. Jenne

Communications Biology Open Access 19 December 2022

Héctor Rincón-Arévalo

,

Catalina Burbano

…

Diana Castaño

Arthritis Research & Therapy Open Access 16 July 2022

Yang Zhang

,

Laura Garcia-Ibanez

…

Kai-Michael Toellner

Nature Communications Open Access 05 May 2022
Access options
Subscribe to this journal
Receive 51 print issues and online access
$199.00 per year
only $3.90 per issue
Rent or buy this article
Prices vary by article type
from$1.95
to$39.95
Prices may be subject to local taxes which are calculated during checkout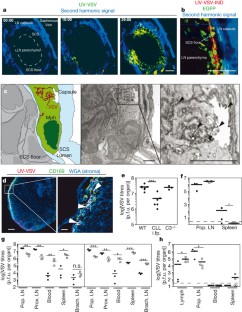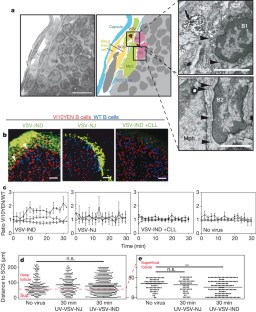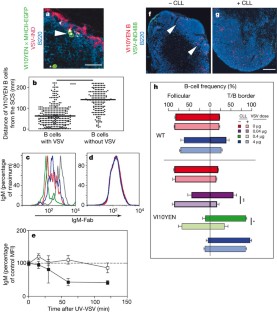 References
von Andrian, U. H. & Mempel, T. R. Homing and cellular traffic in lymph nodes. Nature Rev. Immunol. 3, 867–878 (2003)

Karrer, U. et al. On the key role of secondary lymphoid organs in antiviral immune responses studied in alymphoplastic (aly/aly) and spleenless (Hox11-/-) mutant mice. J. Exp. Med. 185, 2157–2170 (1997)

Mead, D. G., Ramberg, F. B. & Mare, C. J. Laboratory vector competence of black flies (Diptera: Simuliidae) for the Indiana serotype of vesicular stomatitis virus. Ann. NY Acad. Sci. 916, 437–443 (2000)

Bachmann, M. F., Hengartner, H. & Zinkernagel, R. M. T helper cell-independent neutralizing B cell response against vesicular stomatitis virus: role of antigen patterns in B cell induction? Eur. J. Immunol. 25, 3445–3451 (1995)

Mempel, T. R., Henrickson, S. E. & von Andrian, U. H. T-cell priming by dendritic cells in lymph nodes occurs in three distinct phases. Nature 427, 154–159 (2004)

Clark, S. L. The reticulum of lymph nodes in mice studied with the electron microscope. Am. J. Anat. 110, 217–258 (1962)

Farr, A. G., Cho, Y. & De Bruyn, P. P. The structure of the sinus wall of the lymph node relative to its endocytic properties and transmural cell passage. Am. J. Anat. 157, 265–284 (1980)

Ochsenbein, A. F. et al. Protective T cell-independent antiviral antibody responses are dependent on complement. J. Exp. Med. 190, 1165–1174 (1999)

Ochsenbein, A. F. et al. Control of early viral and bacterial distribution and disease by natural antibodies. Science 286, 2156–2159 (1999)

Taylor, P. R. et al. Macrophage receptors and immune recognition. Annu. Rev. Immunol. 23, 901–944 (2005)

Delemarre, F. G., Kors, N., Kraal, G. & van Rooijen, N. Repopulation of macrophages in popliteal lymph nodes of mice after liposome-mediated depletion. J. Leukoc. Biol. 47, 251–257 (1990)

Ludewig, B. et al. Induction of optimal anti-viral neutralizing B cell responses by dendritic cells requires transport and release of virus particles in secondary lymphoid organs. Eur. J. Immunol. 30, 185–196 (2000)

Qi, H., Egen, J. G., Huang, A. Y. & Germain, R. N. Extrafollicular activation of lymph node B cells by antigen-bearing dendritic cells. Science 312, 1672–1676 (2006)

Roost, H. P., Haag, A., Burkhart, C., Zinkernagel, R. M. & Hengartner, H. Mapping of the dominant neutralizing antigenic site of a virus using infected cells. J. Immunol. Methods 189, 233–242 (1996)

Hangartner, L. et al. Antiviral immune responses in gene-targeted mice expressing the immunoglobulin heavy chain of virus-neutralizing antibodies. Proc. Natl Acad. Sci. USA 100, 12883–12888 (2003)

Rossbacher, J. & Shlomchik, M. J. The B cell receptor itself can activate complement to provide the complement receptor 1/2 ligand required to enhance B cell immune responses in vivo . J. Exp. Med. 198, 591–602 (2003)

Okada, T. et al. Antigen-engaged B cells undergo chemotaxis toward the T zone and form motile conjugates with helper T cells. PLoS Biol. 3, e150 (2005)

Dang, L. H. & Rock, K. L. Stimulation of B lymphocytes through surface Ig receptors induces LFA-1 and ICAM-1-dependent adhesion. J. Immunol. 146, 3273–3279 (1991)

Vascotto, F. et al. Antigen presentation by B lymphocytes: how receptor signaling directs membrane trafficking. Curr. Opin. Immunol. 19, 93–98 (2007)

Pape, K. A., Catron, D. M., Itano, A. A. & Jenkins, M. K. The humoral immune response is initiated in lymph nodes by B cells that acquire soluble antigen directly in the follicles. Immunity 26, 491–502 (2007)

Barchet, W. et al. Virus-induced interferon α production by a dendritic cell subset in the absence of feedback signaling in vivo . J. Exp. Med. 195, 507–516 (2002)

Shiow, L. R. et al. CD69 acts downstream of interferon-α/β to inhibit S1P1 and lymphocyte egress from lymphoid organs. Nature 440, 540–544 (2006)

Reif, K. et al. Balanced responsiveness to chemoattractants from adjacent zones determines B-cell position. Nature 416, 94–99 (2002)

Wessels, M. R. et al. Studies of group B streptococcal infection in mice deficient in complement component C3 or C4 demonstrate an essential role for complement in both innate and acquired immunity. Proc. Natl Acad. Sci. USA 92, 11490–11494 (1995)

Boes, M. et al. T-cell engagement of dendritic cells rapidly rearranges MHC class II transport. Nature 418, 983–988 (2002)

Wright, D. E. et al. Cyclophosphamide/granulocyte colony-stimulating factor causes selective mobilization of bone marrow hematopoietic stem cells into the blood after M phase of the cell cycle. Blood 97, 2278–2285 (2001)

Casola, S. et al. B cell receptor signal strength determines B cell fate. Nature Immunol. 5, 317–327 (2004)

Whelan, S. P., Ball, L. A., Barr, J. N. & Wertz, G. T. Efficient recovery of infectious vesicular stomatitis virus entirely from cDNA clones. Proc. Natl Acad. Sci. USA 92, 8388–8392 (1995)

Leopold, P. L. et al. Fluorescent virions: dynamic tracking of the pathway of adenoviral gene transfer vectors in living cells. Hum. Gene Ther. 9, 367–378 (1998)
Acknowledgements
We thank G. Cheng, M. Flynn and D. Baumjohann for technical support; R. M. Zinkernagel and H. Hengartner for providing VI10YEN mice; A. Wagers for providing Act(EGFP) mice; M. Ericsson and E. Benecchi for expert support in electron microscopy studies; S. Behnke for immunohistochemistry; and D. Cureton for help and advice with VSV preparations. This work was supported by grants from the NIH-NIAID (to U.H.v.A.), a Pilot and Feasibility Grant from the Harvard Skin Disease Research Center (to T.J. and U.H.v.A.), a stipend from the Swiss National Science Foundation (to T.J.) and a NIH T32 Training Grant in Hematology (to E.A.M.).
Author Contributions T.J. and U.H.v.A. designed the study; T.J., E.A.M., M.I., S.M. and P.A.L. performed experiments; T.J., E.A.M., M.I. and S.M. collected and analysed data; M.B., K.F., N.C.D.P., D.M.S., N.v.R. and S.P.W. provided reagents and mice; T.J., E.A.M., M.I. and U.H.v.A. wrote the manuscript; S.M., K.F., S.E.H., T.M. and S.P.W. gave technical support and conceptual advice.
Ethics declarations
Competing interests
The authors declare no competing financial interests.
Supplementary information
About this article
Cite this article
Junt, T., Moseman, E., Iannacone, M. et al. Subcapsular sinus macrophages in lymph nodes clear lymph-borne viruses and present them to antiviral B cells. Nature 450, 110–114 (2007). https://doi.org/10.1038/nature06287
Received:

Accepted:

Published:

Issue Date:

DOI: https://doi.org/10.1038/nature06287
Comments
By submitting a comment you agree to abide by our Terms and Community Guidelines. If you find something abusive or that does not comply with our terms or guidelines please flag it as inappropriate.