Abstract
Recent studies indicate that, similar to other covalent modifications, histone lysine methylation is subject to enzyme-catalysed reversion1,2. So far, LSD1 (also known as AOF2) and the jumonji C (JmjC)-domain-containing proteins have been shown to possess histone demethylase activity. LSD1 catalyses removal of H3K4me2/H3K4me1 through a flavin-adenine-dinucleotide-dependent oxidation reaction3. In contrast, JmjC-domain-containing proteins remove methyl groups from histones through a hydroxylation reaction that requires α-ketoglutarate and Fe(ii) as cofactors4. Although an increasing number of histone demethylases have been identified and biochemically characterized1,2, their biological functions, particularly in the context of an animal model, are poorly characterized. Here we use a loss-of-function approach to demonstrate that the mouse H3K9me2/1-specific demethylase JHDM2A (JmjC-domain-containing histone demethylase 2A, also known as JMJD1A) is essential for spermatogenesis. We show that Jhdm2a-deficient mice exhibit post-meiotic chromatin condensation defects, and that JHDM2A directly binds to and controls the expression of transition nuclear protein 1 (Tnp1) and protamine 1 (Prm1) genes, the products of which are required for packaging and condensation of sperm chromatin. Thus, our work uncovers a role for JHDM2A in spermatogenesis and reveals transition nuclear protein and protamine genes as direct targets of JHDM2A.
Access options
Subscribe to Journal
Get full journal access for 1 year
$199.00
only $3.90 per issue
All prices are NET prices.
VAT will be added later in the checkout.
Tax calculation will be finalised during checkout.
Rent or Buy article
Get time limited or full article access on ReadCube.
from$8.99
All prices are NET prices.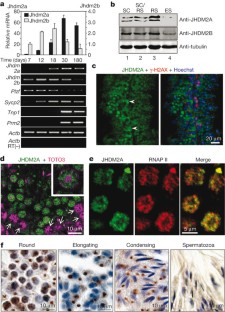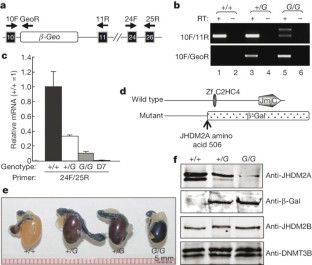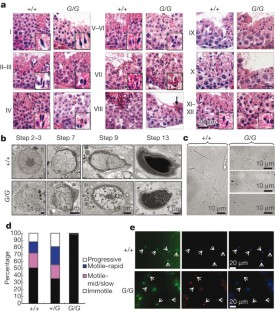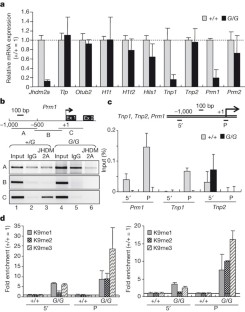 References
1

Klose, R. J. & Zhang, Y. Regulation of histone methylation by demethylimination and demethylation. Nature Rev. Mol. Cell Biol. 8, 307–318 (2007)

2

Shi, Y. & Whetstine, J. R. Dynamic regulation of histone lysine methylation by demethylases. Mol. Cell 25, 1–14 (2007)

3

Shi, Y. et al. Histone demethylation mediated by the nuclear amine oxidase homolog LSD1. Cell 119, 941–953 (2004)

4

Tsukada, Y. et al. Histone demethylation by a family of JmjC domain-containing proteins. Nature 439, 811–816 (2006)

5

Yamane, K. et al. JHDM2A, a JmjC-containing H3K9 demethylase, facilitates transcription activation by androgen receptor. Cell 125, 483–495 (2006)

6

Hoog, C., Schalling, M., Grunder-Brundell, E. & Daneholt, B. Analysis of a murine male germ cell-specific transcript that encodes a putative zinc finger protein. Mol. Reprod. Dev. 30, 173–181 (1991)

7

La Salle, S. & Trasler, J. M. Dynamic expression of DNMT3a and DNMT3b isoforms during male germ cell development in the mouse. Dev. Biol. 296, 71–82 (2006)

8

Kosower, N. S., Katayose, H. & Yanagimachi, R. Thiol-disulfide status and acridine orange fluorescence of mammalian sperm nuclei. J. Androl. 13, 342–348 (1992)

9

Traina, M. E. et al. Long-lasting effects of lindane on mouse spermatogenesis induced by in utero exposure. Reprod. Toxicol. 17, 25–35 (2003)

10

Peters, A. H. et al. Loss of the Suv39h histone methyltransferases impairs mammalian heterochromatin and genome stability. Cell 107, 323–337 (2001)

11

Payne, C. & Braun, R. E. Histone lysine trimethylation exhibits a distinct perinuclear distribution in Plzf-expressing spermatogonia. Dev. Biol. 293, 461–472 (2006)

12

Meistrich, M. L., Trostle-Weige, P. K., Lin, R., Bhatnagar, Y. M. & Allis, C. D. Highly acetylated H4 is associated with histone displacement in rat spermatids. Mol. Reprod. Dev. 31, 170–181 (1992)

13

Loukinov, D. I. et al. BORIS, a novel male germ-line-specific protein associated with epigenetic reprogramming events, shares the same 11-zinc-finger domain with CTCF, the insulator protein involved in reading imprinting marks in the soma. Proc. Natl Acad. Sci. USA 99, 6806–6811 (2002)

14

Seki, Y. et al. Extensive and orderly reprogramming of genome-wide chromatin modifications associated with specification and early development of germ cells in mice. Dev. Biol. 278, 440–458 (2005)

15

Sassone-Corsi, P. Unique chromatin remodeling and transcriptional regulation in spermatogenesis. Science 296, 2176–2178 (2002)

16

de Rooij, D. G. & de Boer, P. Specific arrests of spermatogenesis in genetically modified and mutant mice. Cytogenet. Genome Res. 103, 267–276 (2003)

17

Cho, C. et al. Haploinsufficiency of protamine-1 or -2 causes infertility in mice. Nature Genet. 28, 82–86 (2001)

18

Martianov, I. et al. Polar nuclear localization of H1T2, a histone H1 variant, required for spermatid elongation and DNA condensation during spermiogenesis. Proc. Natl Acad. Sci. USA 102, 2808–2813 (2005)

19

Martianov, I. et al. Late arrest of spermiogenesis and germ cell apoptosis in mice lacking the TBP-like TLF/TRF2 gene. Mol. Cell 7, 509–515 (2001)

20

Zhao, M. et al. Transition nuclear proteins are required for normal chromatin condensation and functional sperm development. Genesis 38, 200–213 (2004)

21

Matzuk, M. M. & Lamb, D. J. Genetic dissection of mammalian fertility pathways. Nature Cell Biol. 4 (Suppl). s41–s49 (2002)

22

Pivot-Pajot, C. et al. Acetylation-dependent chromatin reorganization by BRDT, a testis-specific bromodomain-containing protein. Mol. Cell. Biol. 23, 5354–5365 (2003)

23

Okada, Y. et al. Leukaemic transformation by CALM-AF10 involves upregulation of Hoxa5 by hDOT1L. Nature Cell Biol. 8, 1017–1024 (2006)
Acknowledgements
We thank T. Ward, V. Madden, R. Bagnell Jr and K. Moore for technical assistance, and K. Yamane for anti-JHDM2B antibody. We are grateful to R. Klose, E. Kallin and K. Gardner for reading of the manuscript. This work was supported by the NIH (Y.Z.), and in part by the Intramural Research Program of the NIH, NIEHS (Y.M.). Y.Z. is an Investigator of the Howard Hughes Medical Institute.
Author Contributions Y.O. and Y.Z. designed the experiments and prepared the manuscript. Y.O. performed the experiments. G.S., M.K.R. and Y.M. generated the chimaera mice from the BayGenomics ES clone.
Ethics declarations
Competing interests
The authors declare no competing financial interests.
Supplementary information
The file contains Supplementary Tables S1-S2 and Supplementary Figures S1-S8 with Legends. (PDF 3073 kb)
About this article
Cite this article
Okada, Y., Scott, G., Ray, M. et al. Histone demethylase JHDM2A is critical for Tnp1 and Prm1 transcription and spermatogenesis. Nature 450, 119–123 (2007). https://doi.org/10.1038/nature06236
Received:

Accepted:

Published:

Issue Date:
Comments
By submitting a comment you agree to abide by our Terms and Community Guidelines. If you find something abusive or that does not comply with our terms or guidelines please flag it as inappropriate.