Abstract
Sex-determination genes are among the most fluid features of the genome in many groups of animals1,2. In some taxa the master sex-determining gene moves frequently between chromosomes, whereas in other taxa different genes have been recruited to determine the sex of the zygotes. There is a well developed theory for the origin of stable and highly dimorphic sex chromosomes seen in groups such as the eutherian mammals3. In contrast, the evolutionary lability of genetic sex determination in other groups remains largely unexplained1. In this theoretical study, we show that an autosomal gene under sexually antagonistic selection can cause the spread of a new sex-determining gene linked to it. The mechanism can account for the origin of new sex-determining loci, the transposition of an ancestral sex-determining gene to an autosome, and the maintenance of multiple sex-determining factors in species that lack heteromorphic sex chromosomes.
Your institute does not have access to this article
Relevant articles
Open Access articles citing this article.
Michelle M. Jonika

,

James M. Alfieri

…

Heath Blackmon

Heredity Open Access 17 May 2022

Patrik F. Viana

,

Eliana Feldberg

…

Tariq Ezaz

Scientific Reports Open Access 23 April 2022

Anna F. Feller

,

Vera Ogi

…

Joana I. Meier

Hydrobiologia Open Access 13 March 2021
Access options
Subscribe to Journal
Get full journal access for 1 year
$199.00
only $3.90 per issue
All prices are NET prices.
VAT will be added later in the checkout.
Tax calculation will be finalised during checkout.
Buy article
Get time limited or full article access on ReadCube.
$32.00
All prices are NET prices.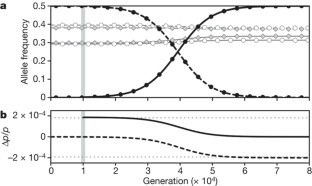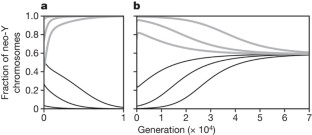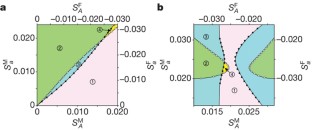 References
Bull, J. J. Evolution of Sex Determining Mechanisms (Benjamin/Cummings, Reading, Massachusetts, 1983)

Ezaz, T., Stiglec, R. & Veyrunes, F. &. Marshall Graves, J. A. Relationships between vertebrate ZW and XY sex chromosome systems. Curr. Biol. 16, R736–R743 (2006)

Charlesworth, B. The evolution of sex chromosomes. Science 251, 1030–1033 (1991)

Mank, J. E., Promislow, D. E. L. & Avise, J. C. Evolution of alternative sex-determining mechanisms in teleost fishes. Biol. J. Linn. Soc. 87, 83–93 (2006)

Woram, R. A. et al. Comparative genome analysis of the primary sex-determining locus in salmonid fishes. Genome Res. 13, 272–280 (2003)

Matsuda, M. Sex determination in the teleost medaka, Oryzias latipes . Annu. Rev. Genet. 39, 293–307 (2005)

Kallman, K. D. in Evolutionary Genetics of Fishes (ed. Turner, B. J.) 95–171 (Plenum, New York, 1984)

Vuilleumier, S., Lande, R., Van Alphen, J. J. M. & Seehausen, O. Invasion and fixation of sex-reversal genes. J. Evol. Biol. 20, 913–920 (2007)

Seehausen, O., Van Alphen, J. J. M. & Lande, R. Color polymorphism and sex ratio distortion in a cichlid fish as an incipient stage in sympatric speciation by sexual selection. Ecol. Lett. 2, 367–378 (1999)

Pomiankowski, A., Nothiger, R. & Wilkins, A. The evolution of the Drosophila sex-determination pathway. Genetics 166, 1761–1773 (2004)

Kocher, T. D. Adaptive evolution and explosive speciation: the cichlid fish model. Nature Rev. Genet. 5, 288–298 (2004)

Kozielska, M., Pen, I., Beukeboom, L. W. & Weissing, F. J. Sex ratio selection and multi-factorial sex determination in the housefly: a dynamic model. J. Evol. Biol. 19, 879–888 (2006)

Werren, J. H. & Beukeboom, L. W. Sex determination, sex ratios, and genetic conflict. Annu. Rev. Ecol. Syst. 29, 233–261 (1998)

Rice, W. R. The accumulation of sexually antagonistic genes as a selective agent promoting the evolution of reduced recombination between primitive sex chromosomes. Evolution 41, 911–914 (1987)

Arnqvist, G. & Rowe, L. Sexual Conflict (Princeton Univ. Press, Princeton, 2005)

Rice, W. R. Sex chromosomes and the evolution of sexual dimorphism. Evolution 38, 735–742 (1984)

Rice, W. R. On the instability of polygenic sex determination: the effect of sex-specific selection. Evolution 40, 633–639 (1986)

Marín, I. & Baker, B. S. The evolutionary dynamics of sex determination. Science 281, 1990–1994 (1998)

Oliver, B. & Parisi, M. Battle of the Xs. Bioessays 26, 543–548 (2004)

Gnad, F. & Parsch, J. Sebida: a database for the functional and evolutionary analysis of genes with sex-biased expression. Bioinformatics 22, 2577–2579 (2006)

Yang, X. et al. Tissue-specific expression and regulation of sexually dimorphic genes in mice. Genome Res. 16, 995–1004 (2006)

Traut, W. Sex determination in the fly Megaselia scalaris, a model system for primary steps of sex chromosome evolution. Genetics 136, 1097–1104 (1994)

Carvalho, A. B. & Clark, A. G. Y chromosome of D. pseudoobscura is not homologous to the ancestral Drosophila Y. Science 307, 108–110 (2005)

Lande, R., Seehausen, O. & Van Alphen, J. J. M. Mechanisms of rapid sympatric speciation by sex reversal and sexual selection in cichlid fish. Genetica 112–113, 435–443 (2001)

Peichel, C. L. et al. The master sex-determination locus in threespine sticklebacks is on a nascent Y chromosome. Curr. Biol. 14, 1416–1424 (2004)
Acknowledgements
We thank J. J. Bull, J. Mank and J. Ranz for discussions. G.S.vD. was supported by a Rubicon grant from the Netherlands Organisation for Scientific Research (NWO).
Ethics declarations
Competing interests
The authors declare no competing financial interests.
Supplementary information
The file contains Supplementary Notes and Supplementary Figures 1-4 with Legends. The supplementary material contains a derivation of the Equation (1) in the main text, an assessment of the validity of the analytical results for strong linkage, and simulation results for a number of alternative genetic scenarios (partial dominance, incomplete penetrance or recessiveness of the sex-determination modifier). (PDF 3360 kb)
About this article
Cite this article
van Doorn, G., Kirkpatrick, M. Turnover of sex chromosomes induced by sexual conflict. Nature 449, 909–912 (2007). https://doi.org/10.1038/nature06178
Received:

Accepted:

Issue Date:

DOI: https://doi.org/10.1038/nature06178
Comments
By submitting a comment you agree to abide by our Terms and Community Guidelines. If you find something abusive or that does not comply with our terms or guidelines please flag it as inappropriate.