Abstract
Extensive studies have shown that p53 is important in tumour prevention1. However, little is known about its normal physiological function. Here we show that p53 is important in reproduction, in a gender-specific manner. Significant decreases in embryonic implantation, pregnancy rate and litter size were observed in matings with p53-/- female mice but not with p53-/- male mice. The gene encoding leukaemia inhibitory factor (LIF), a cytokine critical for implantation2, was identified as a p53-regulated gene that functions as the downstream mediator of this effect. p53 can regulate both basal and inducible transcription of LIF. Loss of p53 decreased both the level and function of LIF in uteri. Lower LIF levels were observed in the uteri of p53-/- mice than in those of p53+/+ mice, particularly at day 4 of pregnancy, when transiently induced high levels of LIF were crucial for embryonic implantation. This observation probably accounts for the impaired implantation of embryos in p53-/- female mice. Administration of LIF to pregnant p53-/- mice restored maternal reproduction by improving implantation. These results demonstrate a function for p53 in maternal reproduction through the regulation of LIF. Evidence is accumulating that p53 may have a similar function in humans.
Relevant articles
Open Access articles citing this article.
Xuetian Yue

,

Jianming Wang

…

Wenwei Hu

Cell Death & Disease Open Access 19 April 2022

Timothy J. Humpton

,

Holly Hall

…

Karen H. Vousden

Cell Death & Differentiation Open Access 09 October 2021

Arturo R. Palomares

,

Adrián Alberto Castillo-Domínguez

…

Armando Reyes-Engel

Journal of Assisted Reproduction and Genetics Open Access 07 October 2021
Access options
Subscribe to Journal
Get full journal access for 1 year
$199.00
only $3.90 per issue
All prices are NET prices.
VAT will be added later in the checkout.
Tax calculation will be finalised during checkout.
Buy article
Get time limited or full article access on ReadCube.
$32.00
All prices are NET prices.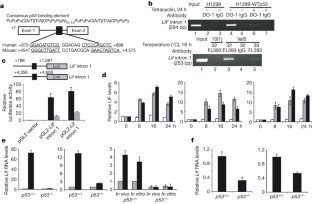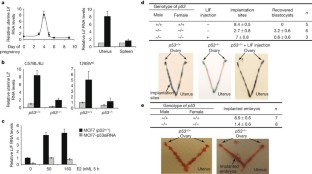 References
Vogelstein, B., Lane, D. & Levine, A. J. Surfing the p53 network. Nature 408, 307–310 (2000)

Stewart, C. L. et al. Blastocyst implantation depends on maternal expression of leukaemia inhibitory factor. Nature 359, 76–79 (1992)

Atwal, G. S. et al. Haplotype structure and selection of the MDM2 oncogene in humans. Proc. Natl Acad. Sci. USA 104, 4524–4529 (2007)

Murphy, M. E. Polymorphic variants in the p53 pathway. Cell Death Differ. 13, 916–920 (2006)

el-Deiry, W. S., Kern, S. E., Pietenpol, J. A., Kinzler, K. W. & Vogelstein, B. Definition of a consensus binding site for p53. Nature Genet. 1, 45–49 (1992)

Hoh, J. et al. The p53MH algorithm and its application in detecting p53-responsive genes. Proc. Natl Acad. Sci. USA 99, 8467–8472 (2002)

Chen, J. R. et al. Leukemia inhibitory factor can substitute for nidatory estrogen and is essential to inducing a receptive uterus for implantation but is not essential for subsequent embryogenesis. Endocrinology 141, 4365–4372 (2000)

Song, H., Lim, H., Das, S. K., Paria, B. C. & Dey, S. K. Dysregulation of EGF family of growth factors and COX-2 in the uterus during the preattachment and attachment reactions of the blastocyst with the luminal epithelium correlates with implantation failure in LIF-deficient mice. Mol. Endocrinol. 14, 1147–1161 (2000)

Cullinan, E. B. et al. Leukemia inhibitory factor (LIF) and LIF receptor expression in human endometrium suggests a potential autocrine/paracrine function in regulating embryo implantation. Proc. Natl Acad. Sci. USA 93, 3115–3120 (1996)

Armstrong, J. F., Kaufman, M. H., Harrison, D. J. & Clarke, A. R. High-frequency developmental abnormalities in p53-deficient mice. Curr. Biol. 5, 931–936 (1995)

Kay, C., Jeyendran, R. S. & Coulam, C. B. p53 tumour suppressor gene polymorphism is associated with recurrent implantation failure. Reprod. Biomed. Online 13, 492–496 (2006)

Hambartsoumian, E. Endometrial leukemia inhibitory factor (LIF) as a possible cause of unexplained infertility and multiple failures of implantation. Am. J. Reprod. Immunol. 39, 137–143 (1998)

Bond, G. L. et al. A single nucleotide polymorphism in the MDM2 promoter attenuates the p53 tumor suppressor pathway and accelerates tumor formation in humans. Cell 119, 591–602 (2004)

Harvey, D. & Levine, A. J. p53 alteration is a common event in the spontaneous immortalization of primary BALB/c murine embryo fibroblasts. Genes Dev. 5, 2375–2385 (1991)

Pochampally, R., Fodera, B., Chen, L., Lu, W. & Chen, J. Activation of an MDM2-specific caspase by p53 in the absence of apoptosis. J. Biol. Chem. 274, 15271–15277 (1999)

Wu, X. & Levine, A. J. p53 and E2F-1 cooperate to mediate apoptosis. Proc. Natl Acad. Sci. USA 91, 3602–3606 (1994)

Radhakrishnan, S. K., Gierut, J. & Gartel, A. L. Multiple alternate p21 transcripts are regulated by p53 in human cells. Oncogene 25, 1812–1815 (2006)

Chen, X., Ko, L. J., Jayaraman, L. & Prives, C. p53 levels, functional domains, and DNA damage determine the extent of the apoptotic response of tumor cells. Genes Dev. 10, 2438–2451 (1996)

Nagy, A., Gertsenstein, M., Vintersten, K. & Behringer, R. Manipulating the Mouse Embryo, a Laboratory Manual 3rd edn (Cold Spring Harbor Press, New York, 2003)
Acknowledgements
We thank S. Christen for critical review of the manuscript, and I. Snyder and the staff of the University of Medicine and Dentistry of New Jersey animal facility for providing animal care. This research was supported by grants from the Breast Cancer Research Foundation and the National Cancer Institute.
Author Contributions W.H., Z.F. and A.J.L. designed the research. W.H., Z.F. and A.K.T. performed the research. W.H., Z.F. and A.J.L. analysed data and wrote the paper.
Supplementary information
About this article
Cite this article
Hu, W., Feng, Z., Teresky, A. et al. p53 regulates maternal reproduction through LIF. Nature 450, 721–724 (2007). https://doi.org/10.1038/nature05993
Received:

Accepted:

Published:

Issue Date:

DOI: https://doi.org/10.1038/nature05993
Comments
By submitting a comment you agree to abide by our Terms and Community Guidelines. If you find something abusive or that does not comply with our terms or guidelines please flag it as inappropriate.