Abstract
Shallow marine benthic communities around Antarctica show high levels of endemism, gigantism, slow growth, longevity and late maturity, as well as adaptive radiations that have generated considerable biodiversity in some taxa1. The deeper parts of the Southern Ocean exhibit some unique environmental features, including a very deep continental shelf2 and a weakly stratified water column, and are the source for much of the deep water in the world ocean. These features suggest that deep-sea faunas around the Antarctic may be related both to adjacent shelf communities and to those in other oceans. Unlike shallow-water Antarctic benthic communities, however, little is known about life in this vast deep-sea region2,3. Here, we report new data from recent sampling expeditions in the deep Weddell Sea and adjacent areas (748–6,348 m water depth) that reveal high levels of new biodiversity; for example, 674 isopods species, of which 585 were new to science. Bathymetric and biogeographic trends varied between taxa. In groups such as the isopods and polychaetes, slope assemblages included species that have invaded from the shelf. In other taxa, the shelf and slope assemblages were more distinct. Abyssal faunas tended to have stronger links to other oceans, particularly the Atlantic, but mainly in taxa with good dispersal capabilities, such as the Foraminifera. The isopods, ostracods and nematodes, which are poor dispersers, include many species currently known only from the Southern Ocean. Our findings challenge suggestions that deep-sea diversity is depressed in the Southern Ocean and provide a basis for exploring the evolutionary significance of the varied biogeographic patterns observed in this remote environment.
Access options
Subscribe to Journal
Get full journal access for 1 year
$199.00
only $3.90 per issue
All prices are NET prices.
VAT will be added later in the checkout.
Tax calculation will be finalised during checkout.
Rent or Buy article
Get time limited or full article access on ReadCube.
from$8.99
All prices are NET prices.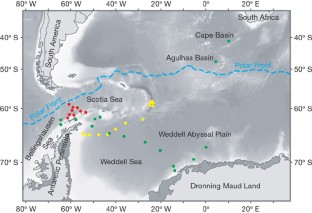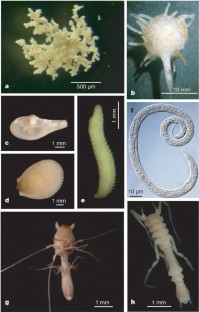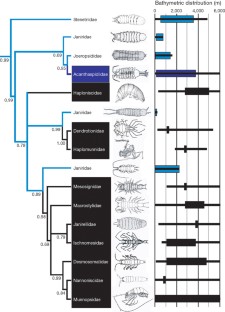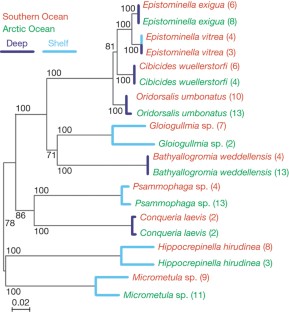 References
1

Clarke, A. & Johnston, N. M. Antarctic marine benthic diversity. Oceanogr. Mar. Biol. 41, 47–114 (2003)

2

Clarke, A. in Ecosystems of the World. Ecosystems of the Deep Oceans, Vol. 28 (ed. Tyler, P. A.) 239–260 (Amsterdam, Elsevier, 2003)

3

Gage, J. D. Diversity in deep-sea benthic Macrofauna: the importance of local ecology, the larger scale, history and the Antarctic. Deep-sea Res. II 51, 1689–1708 (2004)

4

Brandt, A. et al. The biodiversity of the deep Southern Ocean benthos. Phil. Trans. Roy. Soc. B 362, 39–66 (2007)

5

Rex, M. A., Crame, A., Stuart, C. T. & Clarke, A. Large-scale biogeographic patterns in marine mollusks: a confluence of history and productivity. Ecology 86, 2288–2297 (2005)

6

Sanders, H. L. & Hessler, R. R. Ecology of the deep-sea benthos. Science 163, 1419–1424 (1969)

7

McCann, K. S. The diversity–stability debate. Nature 405, 228–233 (2000)

8

Snelgrove, P. V. R. & Smith, C. R. A riot of species in an environmental calm: the paradox of the species-rich deep sea floor. Oceanogr. Mar. Biol. 40, 311–342 (2002)

9

Levin, L. A. et al. Environmental influences on regional deep-sea species diversity. Annu. Rev. Ecol. Syst. 32, 51–93 (2001)

10

Brandt, A. On the origin and evolution of Antarctic Peracarida (Crustacea, Malacostraca). Sci. Mar. 63, 261–274 (1999)

11

Hilbig, B. & Blake, J. A. Deep-sea polychaete communities in the northeast Pacific Ocean off the Gulf of the Farallones, California. Bull. Mar. Sci. 78, 243–269 (2006)

12

Brey, T. et al. Do Antarctic benthic invertebrates show an extended level of eurybathy? Antarct. Sci. 8, 3–6 (1996)

13

Tyler, P. A., Young, C. M. & Clarke, A. Temperature and pressure tolerances of embryos and larvae of the Antarctic sea urchin Sterechinus neumayeri (Echinodermata: Echinoidea): potential for deep-sea invasion from high latitudes. Mar. Ecol. Prog. Ser. 192, 173–180 (2000)

14

Pawlowski, J. et al. A note on the genetic similarity between shallow- and deep-water specimens of the Antarctic foraminifer Epistominella vitrea. Deep-sea Res. II (submitted).

15

Cornelius, N. & Gooday, A. J. 'Live' (stained) deep-sea benthic foraminiferans in the western Weddell Sea: trends in abundance, diversity and taxonomic composition along a depth transect. Deep-sea Res. II 51, 1571–1603 (2004)

16

Murray, J. W. & Pudsey, C. J. Living (stained) and dead foraminifera from the newly ice-free Larsen Ice Shelf, Weddell Sea, Antarctica: ecology and taphonomy. Mar. Micropaleontol. 53, 67–81 (2004)

17

De Mesel, I., Lee, H. J., Vanhove, S., Vincx, M. & Vanreusel, A. Species diversity and distribution within the deep-sea nematode genus Acantholaimus on the continental shelf and slope in Antarctica. Polar Biol. 29, 860–871 (2006)

18

Hessler, R. R. & Thistle, D. On the place of origin of deep-sea isopods. Mar. Biol. 32, 155–165 (1975)

19

Kussakin, G. O. Peculiarities of the geographical and vertical distribution of marine isopods and the problem of deep sea fauna origin. Mar. Biol. 23, 19–34 (1973)

20

Raupach, M. J., Held, C. & Wägele, J.-W. Multiple colonization of the deep-sea by the Asellota (Crustacea: Peracarida: Asellota). Deep-sea Res. II 51, 1787–1795 (2004)

21

Vinogradova, N. G. Zoogeography of the abyssal and hadal zones. Adv. Mar. Biol. 32, 325–387 (1997)

22

Pawlowski, J. et al. Bipolar gene flow in deep-sea benthic foraminifera. Molecular Ecol. (submitted).

23

Raupach, M. J., Malyutina, M., Brandt, A. & Wägele, J. W. Molecular data reveal a highly diverse species flock within the munnopsoid deep-sea isopod Betamorpha fusiformis (Barnard, 1920) (Crustacea: Isopoda: Asellota) in the Southern Ocean. Deep-sea Res. II (submitted).

24

Alve, E. & Goldstein, S. T. Propagule transport as a key method of dispersal in benthic foraminifera (Protista). Limnol. Oceanogr. 48, 2163–2170 (2003)

25

Poore, G. C. B. & Wilson, G. D. F. Marine species richness. Nature 361, 597–598 (1993)

26

Rex, M. A. Stuart, C. T., Hessler, R. R., Allen, J. A., Sanders, H. L., & Wilson, G.D.F. Global-scale latitudinal patterns of species diversity in the deep-sea benthos. Nature 365, 636–639 (1993)

27

Brey, T. et al. Antarctic benthic diversity. Nature 368, 297 (1994)

28

Hessler, R. R. & Wilson, G. D. F. in Evolution, Time and Space: The Emergence of the Biosphere. (eds Sims, R.W., Price, J.H. & Whalley, P.E.S.) 227–254 (Academic Press, London, 1983)

29

Brandt, A. Zur Besiedlungsgeschichte des antarktischen Schelfes am Beispiel der Isopoda (Crustacea, Malacostraca). Ber. Polarforsch. 98, 1–240 (1991)
Acknowledgements
Financial support for the ANDEEP I–III expeditions was provided by the German Science Foundation. We are also grateful for support from the Swiss National Science Foundation and UK Natural Environment Research Council. S.N.B. received financial support from the DAAD, CAPES, Scar and Synthesys. We thank L. Excoffier, J. Fahrni, J. Guiard, D. Longet and B. Lecroq for help in obtaining the foraminiferal sequence data. We are grateful to D. Fütterer, chief scientist on Polarstern cruise ANT XIX/3-4, and E. Fahrbach, chief scientist on Polarstern cruise ANT XXII/3, and to the captain and crew of RV Polarstern, for help on board. The DZMB is thanked for financial support of sorting animals from samples and for a research grant for F. Kavanagh, who kindly identified the ANDEEP III Ischnomesidae (Isopoda) and compared these with those species from ANDEEP I and II. We are grateful to many colleagues for constant help on board, helpful and stimulating discussions, and comments, which improved the manuscript. This is ANDEEP publication no. 85 and CAML publication no. 6. This publication also contributes to the CoML field project CeDAMar.
Author Contributions A.B. and A.J.G. assembled and wrote most of the text and were responsible for the theory. J.H. contributed to sedimentology and B. Diaz to sediment analysis, bioturbation and megafauna visible in underwater images. B. Danis and D.C.G. worked on archaebacteria. Foraminiferal data are from N.C., T.C., A.J.G. and J.P.; J.P. was responsible for the molecular work on the Foraminifera. I.D.M. and A.V. delivered the data for Nematoda. A.B., S.B., W.B., M.C., S.K. and M.M. were responsible for the isopod analysis, M.R. was mainly responsible for the molecular isopod data. S.N.B. was responsible for the Ostracoda, B.E. for the Polychaetes, K.L. for the Mollusca and D.J. for the Porifera analysis.
Ethics declarations
Competing interests
Reprints and permissions information is available at www.nature.com/reprints. The authors declare no competing financial interests.
Supplementary information
This file contains Supplementary Methods, Supplementary Discussion, Supplementary Tables 1-5, Supplementary Figures 1-5 with Legends and additional references. (PDF 4387 kb)
About this article
Cite this article
Brandt, A., Gooday, A., Brandão, S. et al. First insights into the biodiversity and biogeography of the Southern Ocean deep sea. Nature 447, 307–311 (2007). https://doi.org/10.1038/nature05827
Received:

Accepted:

Issue Date:
Comments
By submitting a comment you agree to abide by our Terms and Community Guidelines. If you find something abusive or that does not comply with our terms or guidelines please flag it as inappropriate.