Abstract
The mammalian hair follicle is a complex 'mini-organ' thought to form only during development1; loss of an adult follicle is considered permanent. However, the possibility that hair follicles develop de novo following wounding was raised in studies on rabbits2,3, mice4 and even humans fifty years ago5. Subsequently, these observations were generally discounted because definitive evidence for follicular neogenesis was not presented6. Here we show that, after wounding, hair follicles form de novo in genetically normal adult mice. The regenerated hair follicles establish a stem cell population, express known molecular markers of follicle differentiation, produce a hair shaft and progress through all stages of the hair follicle cycle. Lineage analysis demonstrated that the nascent follicles arise from epithelial cells outside of the hair follicle stem cell niche, suggesting that epidermal cells in the wound assume a hair follicle stem cell phenotype. Inhibition of Wnt signalling after re-epithelialization completely abrogates this wounding-induced folliculogenesis, whereas overexpression of Wnt ligand in the epidermis increases the number of regenerated hair follicles. These remarkable regenerative capabilities of the adult support the notion that wounding induces an embryonic phenotype in skin, and that this provides a window for manipulation of hair follicle neogenesis by Wnt proteins. These findings suggest treatments for wounds, hair loss and other degenerative skin disorders.
Relevant articles
Open Access articles citing this article.
Paloma Solá

,

Elisabetta Mereu

…

Salvador Aznar Benitah

Nature Aging Open Access 08 June 2023

Yongcui Mao

,

Pinyan Liu

…

Jia Yao

Stem Cell Reviews and Reports Open Access 05 June 2023

Kuljira Mongkolpobsin

,

Chanin Sillapachaiyaporn

…

Seung Joon Baek

Scientific Reports Open Access 22 February 2023
Access options
Subscribe to this journal
Receive 51 print issues and online access
$199.00 per year
only $3.90 per issue
Rent or buy this article
Prices vary by article type
from$1.95
to$39.95
Prices may be subject to local taxes which are calculated during checkout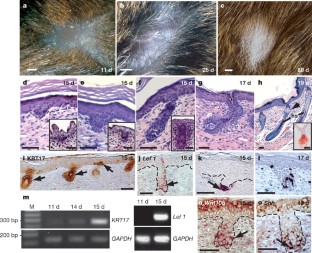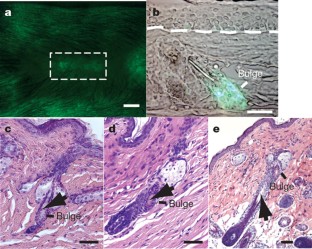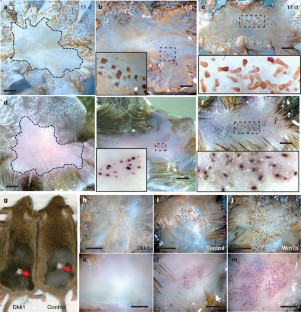 References
Schmidt-Ullrich, R. & Paus, R. Molecular principles of hair follicle induction and morphogenesis. Bioessays 27, 247– 261 (2005)

Billingham, R. E. & Russell, P. S. Incomplete wound contracture and the phenomenon of hair neogenesis in rabbit's skin. Nature 177, 791– 792 (1956)

Breedis, C. Regeneration of hair follicles and sebaceous glands from epithelium of scars in the rabbit. Cancer Res. 14, 575– 579 (1954)

Lacassagne, A. & Latarjet, R. Action of methylcholanthrene on certain scars of the skin in mice. Cancer Res. 6, 183– 188 (1946)

Kligman, A. M. & Strauss, J. S. The formation of vellus hair follicles from human adult epidermis. J. Invest. Dermatol. 27, 19– 23 (1956)

Straile, W. E. in Advances in Biology of Skin Vol. 9 (eds Montagna, W. & Dobson, R.) 369– 391 (Pergamon Press, New York, 1967)

Cotsarelis, G. Epithelial stem cells: a folliculocentric view. J. Invest. Dermatol. 126, 1459– 1468 (2006)

McGowan, K. M. & Coulombe, P. A. Onset of keratin 17 expression coincides with the definition of major epithelial lineages during skin development. J. Cell Biol. 143, 469– 486 (1998)

Paus, R. et al. A comprehensive guide for the recognition and classification of distinct stages of hair follicle morphogenesis. J. Invest. Dermatol. 113, 523– 532 (1999)

Millar, S. E. An ideal society? Neighbors of diverse origins interact to create and maintain complex mini-organs in the skin. PLoS Biol. 3, e372 (2005)

Huelsken, J., Vogel, R., Erdmann, B., Cotsarelis, G. & Birchmeier, W. β-Catenin controls hair follicle morphogenesis and stem cell differentiation in the skin. Cell 105, 533– 545 (2001)

Cotsarelis, G., Sun, T. T. & Lavker, R. M. Label-retaining cells reside in the bulge area of pilosebaceous unit: implications for follicular stem cells, hair cycle, and skin carcinogenesis. Cell 61, 1329– 1337 (1990)

Morris, R. J. et al. Capturing and profiling adult hair follicle stem cells. Nature Biotechnol. 22, 411– 417 (2004)

Ito, M. et al. Stem cells in the hair follicle bulge contribute to wound repair but not to homeostasis of the epidermis. Nature Med. 11, 1351– 1354 (2005)

Levy, V., Lindon, C., Harfe, B. D. & Morgan, B. A. Distinct stem cell populations regenerate the follicle and interfollicular epidermis. Dev. Cell 9, 855– 861 (2005)

Liu, Y., Lyle, S., Yang, Z. & Cotsarelis, G. Keratin 15 promoter targets putative epithelial stem cells in the hair follicle bulge. J. Invest. Dermatol. 121, 963– 968 (2003)

Wunderlich, F. T., Wildner, H., Rajewsky, K. & Edenhofer, F. New variants of inducible Cre recombinase: a novel mutant of Cre–PR fusion protein exhibits enhanced sensitivity and an expanded range of inducibility. Nucleic Acids Res. 29, E47 (2001)

Claudinot, S., Nicolas, M., Oshima, H., Rochat, A. & Barrandon, Y. Long-term renewal of hair follicles from clonogenic multipotent stem cells. Proc. Natl Acad. Sci. USA 102, 14677– 14682 (2005)

Levy, V., Lindon, C., Zheng, Y., Harfe, B. D. & Morgan, B. A. Epidermal stem cells arise from the hair follicle after wounding. FASEB J. advance online publication, doi:10.1096/fj.06–6926com (25 January 2007)

Taylor, G., Lehrer, M. S., Jensen, P. J., Sun, T. T. & Lavker, R. M. Involvement of follicular stem cells in forming not only the follicle but also the epidermis. Cell 102, 451– 461 (2000)

Fernandes, K. J. et al. A dermal niche for multipotent adult skin-derived precursor cells. Nature Cell Biol. 6, 1082– 1093 (2004)

Nishimura, E. K. et al. Dominant role of the niche in melanocyte stem-cell fate determination. Nature 416, 854– 860 (2002)

Andl, T., Reddy, S. T., Gaddapara, T. & Millar, S. E. WNT signals are required for the initiation of hair follicle development. Dev. Cell 2, 643– 653 (2002)

Van Mater, D., Kolligs, F. T., Dlugosz, A. A. & Fearon, E. R. Transient activation of β-catenin signaling in cutaneous keratinocytes is sufficient to trigger the active growth phase of the hair cycle in mice. Genes Dev. 17, 1219– 1224 (2003)

Kishimoto, J., Burgeson, R. E. & Morgan, B. A. Wnt signaling maintains the hair-inducing activity of the dermal papilla. Genes Dev. 14, 1181– 1185 (2000)

Gat, U., DasGupta, R., Degenstein, L. & Fuchs, E. De Novo hair follicle morphogenesis and hair tumors in mice expressing a truncated β-catenin in skin. Cell 95, 605– 614 (1998)

Lo Celso, C., Prowse, D. M. & Watt, F. M. Transient activation of β-catenin signalling in adult mouse epidermis is sufficient to induce new hair follicles but continuous activation is required to maintain hair follicle tumours. Development 131, 1787– 1799 (2004)

Fathke, C. et al. Wnt signaling induces epithelial differentiation during cutaneous wound healing. BMC Cell Biol. 7, 4 (2006)

Atala, A. Tissue engineering, stem cells and cloning: current concepts and changing trends. Expert Opin. Biol. Ther. 5, 879– 892 (2005)

Liu, F. et al. Wnt–β-catenin signaling initiates taste papilla development. Nature Genet. 39, 106– 112 (2006)

Handjiski, B. K., Eichmuller, S., Hofmann, U., Czarnetzki, B. M. & Paus, R. Alkaline phosphatase activity and localization during the murine hair cycle. Br. J. Dermatol. 131, 303– 310 (1994)

Ito, M., Kizawa, K., Hamada, K. & Cotsarelis, G. Hair follicle stem cells in the lower bulge form the secondary germ, a biochemically distinct but functionally equivalent progenitor cell population, at the termination of catagen. Differentiation 72, 548– 557 (2004)

Chu, E. Y. et al. Canonical WNT signaling promotes mammary placode development and is essential for initiation of mammary gland morphogenesis. Development 131, 4819– 4829 (2004)

Millar, S. E. et al. WNT signaling in the control of hair growth and structure. Dev. Biol. 207, 133– 149 (1999)
Acknowledgements
This work was supported by US National Institutes of Health and, in part, by a grant from the Pennsylvania Department of Health to G.C. We thank P. Sterling for his comments on the manuscript and L. Ash for preparation of histological sections.
Ethics declarations
Competing interests
M.I. and G.C. are listed as inventors on a patent application related to wounding-induced hair follicle neogenesis and owned by the University of Pennsylvania. G.C. serves on the scientific advisory board and has equity in Follica, a start up company that has licensed the patent from the University of Pennsylvania
Supplementary information
This file contains Supplementary Tables 1-3 and Supplementary Figures 1-8 with Legends. (PDF 6710 kb)
About this article
Cite this article
Ito, M., Yang, Z., Andl, T. et al. Wnt-dependent de novo hair follicle regeneration in adult mouse skin after wounding. Nature 447, 316–320 (2007). https://doi.org/10.1038/nature05766
Received:

Accepted:

Issue Date:

DOI: https://doi.org/10.1038/nature05766
Comments
By submitting a comment you agree to abide by our Terms and Community Guidelines. If you find something abusive or that does not comply with our terms or guidelines please flag it as inappropriate.