Abstract
Chlorine in the Earth is highly depleted relative to carbonaceous chondrites and solar abundances1. Knowledge of the Cl concentrations and distribution on Earth is essential for understanding the origin of these depletions. Large differences in the stable chlorine isotope ratios of meteoritic, mantle and crustal materials have been used as evidence for distinct reservoirs in the solar nebula2 and to calculate the relative proportions of Cl in the mantle and crust3. Here we report that large isotopic differences do not exist, and that carbonaceous chondrites, mantle and crust all have the same 37Cl/35Cl ratios. We have further analysed crustal sediments from the early Archaean era to the Recent epoch and find no systematic isotopic variations with age, demonstrating that the mantle and crust have always had the same δ37Cl value. The similarity of mantle, crust and carbonaceous chondrites establishes that there were no nebular reservoirs with distinct isotopic compositions, no isotopic fractionation during differentiation of the Earth and no late (post-core formation) Cl-bearing volatile additions to the crustal veneer with a unique isotopic composition.
Access options
Subscribe to this journal
Receive 51 print issues and online access
$199.00 per year
only $3.90 per issue
Rent or buy this article
Prices vary by article type
from$1.95
to$39.95
Prices may be subject to local taxes which are calculated during checkout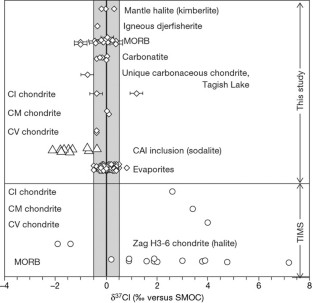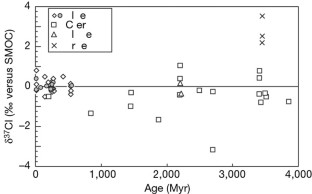 Similar content being viewed by others
References
Wänke, H. & Dreibus, G. Chemical compilation and accretion history of terrestrial planets. Phil. Trans. R. Soc. Lond. A 325, 545–557 (1988)

Bridges, J. C., Banks, D. A., Smith, M. & Grady, M. M. Halite and stable chlorine isotopes in the Zag H3-6 breccia. Meteorit. Planet. Sci. 39, 657–666 (2004)

Magenheim, A. J., Spivack, A. J., Michael, P. J. & Gieskes, J. M. Chlorine stable-isotope composition of the oceanic-crust: Implications for Earth's distribution of chlorine. Earth Planet. Sci. Lett. 131, 427–432 (1995)

Kargel, J. S. Earth's volatility trend and the case of the missing halogens.. Geol. Soc. Am. Prog. Abstr. 29, 190 (1997)

Kaufmann, R., Long, A., Bentley, H. & Davis, S. Natural chlorine isotope variations. Nature 309, 338–340 (1984)

Barnes, J. D. Tectonic and Metamorphic Implications of High Chlorine Contents in Serpentinites. 1–161, PhD thesis, Univ. New Mexico. (2006)

Magenheim, A. J., Spivack, A. J., Volpe, C. & Ransom, B. Precise determination of stable chlorine isotopic ratios in low-concentration natural samples. Geochim. Cosmochim. Acta 58, 3117–3121 (1994)

Brearley, A. J. & Jones, R. H. in Planetary Materials (ed. Papike, J. J.) 3, 1–398 (Mineral. Soc. Am., Washington DC, 1998)

Hsu, W., Guan, Y., Leshin, L. A., Ushikubo, T. & Wasserburg, G. J. A late episode of irradiation in the early Solar System: Evidence from extinct 36Cl and 26Al in meteorites. Astrophys. J. 640, 525–529 (2006)

Kamenetsky, M. B., Sharygin, V. V., Faure, K. & Golovin, A. V. Chloride and carbonate immiscible liquids at the closure of the kimberlite magma evolution (Udachnaya-East kimberlite, Siberia). Chemical Geol. 237, 384–400 (2007)

Gounelle, M. & Zolensky, M. E. A terrestrial origin for sulfate veins in CI1 chondrites. Meteorit. Planet. Sci. 36, 1321–1329 (2001)

Eggenkamp, H. G. M., Kreulen, R. & Koster van Groos, A. F. Chloride stable isotope fractionation in evaporites. Geochim. Cosmochim. Acta 59, 5169–5175 (1995)

Sharp, Z. D. & Barnes, J. D. Water-soluble chlorides in massive seafloor serpentinites: a source of chloride in subduction zones. Earth Planet. Sci. Lett. 226, 243–254 (2004)

Rubey, W. W. Geologic history of sea water: an attempt to state the problem. Bull. Geol. Soc. Am. 62, 1111–1148 (1951)

McDonough, W. F. in Treatise on Geochemistry (eds Holland, H. D. & Turrekian, K. K.) 547–568 (Elsevier, Amsterdam, 2004)

Mittlefehldt, D. W. Geochemistry of the ungrouped carbonaceous chondrite Tagish Lake, the anomalous CM chondrite Bells, and comparison with CI and CM chondrites. Meteorit. Planet. Sci. 37, 703–712 (2002)

Layne, G. D., Godon, A., Webster, J. D. & Bach, W. Secondary ion mass spectrometry for the determination of δ37Cl: Part I. Ion microprobe analysis of glasses and fluids. Chem. Geol. 207, 277–289 (2004)

Eastoe, C. J. & Peryt, T. Stable chlorine isotope evidence for non-marine chloride in Badenian evaporites, Carpathian mountain region. Terra Nova 11, 118–123 (1999)

Renne, P. R., Sharp, W. D., Montañez, I. P., Becker, T. A. & Zierenberg, R. A. 40Ar/39Ar dating of Late Permian evaporites, southeastern New Mexico, USA. Earth Planet. Sci. Lett. 193, 539–547 (2001)

Amthor, J. A. et al. Extinction of Cloudina and Namacalathus at the Precambrian-Cambrian boundary in Oman. Geology 31, 431–434 (2003)

Lowe, D. R. & Knauth, L. P. Sedimentology of the Onverwacht Group (3.4 billion years),Transvaal, South Africa, and its bearing on the characteristics and evolution of the Early Earth. J. Geol. 85, 695–723 (1977)

Perry, E. C., Hickman, A. H. & Barnes, I. L. Archean sedimentary barite, Pilbara goldfield, western Australia. Geol. Soc. Am. Prog. Abstr. 7, 1226 (1975)

Okakangas, R. W., Morey, G. B. & Southwick, D. L. Paleoproterozoic basin development and sedimentation in the Lake Superior region, North America. Sedim. Geol. 141, 319–341 (2001)

Sharp, Z. D., Durakiewicz, T., Migaszewski, Z. M. & Atudorei, V. N. Antiphase hydrogen and oxygen isotope periodicity in chert nodules. Geochim. Cosmochim. Acta 66, 2865–2873 (2002)

Nutman, A. P., McGregor, V. R., Friend, C. R. L., Bennett, V. C. & Kinny, P. D. The Itsaq Gneiss Complex of southern West Greenland; the world's most extensive record of early crustal evolution (3900–3600 Ma). Precambr. Res. 78, 1–39 (1996)

Moore, T. B. & Schopf, J. W. in The Proterozoic Biosphere: A Multidisciplinary Study (eds Schopf, J. W. & Klein, C.) 603–693 (Cambridge Univ. Press, Cambridge, 1992)

Burnard, P., Marty, B., Fischer, T. & Hilton, D. Noble gases in carbonatite magmatism: Oldonyo Lengai. Eos (Fall Meet. Suppl.), 87 (52), abstr. V23C–0645 (2006)

Eggenkamp, H. G. M. & Koster van Groos, A. F. Chlorine stable isotopes in carbonatites: evidence for isotopic heterogeneity in the mantle. Chem. Geol. 140, 137–143 (1997)

Eastoe, C. J., Peryt, T. M., Petrychenko, O. Y. & Geisler-Cussey, D. Stable chlorine isotopes in Phanerozoic evaporites. Appl. Geochem. 22, 575–588 (2007)
Acknowledgements
We thank E. Hauri, J. Grotzinger, P. Knauth, F. Longstaffe, C. Manning, E. Perry, B. Schopf, M. Perfit, C. Langmuir, D. Hilton, J. Bender, P. Castillo, P. Plechov and V. Sharygin for contributing invaluable samples for this study. Financial support was provided by the National Science Foundation to Z.D.S. and NASA to A.J.B.
Ethics declarations
Competing interests
Reprints and permissions information is available at www.nature.com/reprints. The authors declare no competing financial interests.
Supplementary information
This file contains Supplementary Methods, Supplementary Table 1-2 and additional references. (PDF 287 kb)
About this article
Cite this article
Sharp, Z., Barnes, J., Brearley, A. et al. Chlorine isotope homogeneity of the mantle, crust and carbonaceous chondrites. Nature 446, 1062–1065 (2007). https://doi.org/10.1038/nature05748
Received:

Accepted:

Issue Date:

DOI: https://doi.org/10.1038/nature05748
This article is cited by
Ying Wang
Weibiao Hsu
Yunbin Guan

Scientific Reports (2019)

Ji-Long Han
Syed-Asim Hussain
Feng-Qing Han

Journal of Earth System Science (2019)
Comments
By submitting a comment you agree to abide by our Terms and Community Guidelines. If you find something abusive or that does not comply with our terms or guidelines please flag it as inappropriate.