Abstract
Retinoic-acid-inducible gene-I (RIG-I; also called DDX58) is a cytosolic viral RNA receptor that interacts with MAVS (also called VISA, IPS-1 or Cardif) to induce type I interferon-mediated host protective innate immunity against viral infection1,2,3,4,5,6. Furthermore, members of the tripartite motif (TRIM) protein family, which contain a cluster of a RING-finger domain, a B box/coiled-coil domain and a SPRY domain, are involved in various cellular processes, including cell proliferation and antiviral activity7. Here we report that the amino-terminal caspase recruitment domains (CARDs) of RIG-I undergo robust ubiquitination induced by TRIM25 in mammalian cells. The carboxy-terminal SPRY domain of TRIM25 interacts with the N-terminal CARDs of RIG-I; this interaction effectively delivers the Lys 63-linked ubiquitin moiety to the N-terminal CARDs of RIG-I, resulting in a marked increase in RIG-I downstream signalling activity. The Lys 172 residue of RIG-I is critical for efficient TRIM25-mediated ubiquitination and for MAVS binding, as well as the ability of RIG-I to induce antiviral signal transduction. Furthermore, gene targeting demonstrates that TRIM25 is essential not only for RIG-I ubiquitination but also for RIG-I-mediated interferon-β production and antiviral activity in response to RNA virus infection. Thus, we demonstrate that TRIM25 E3 ubiquitin ligase induces the Lys 63-linked ubiquitination of RIG-I, which is crucial for the cytosolic RIG-I signalling pathway to elicit host antiviral innate immunity.
Relevant articles
Open Access articles citing this article.
Gang Xu

,

Yezi Wu

…

Zheng Zhang

Signal Transduction and Targeted Therapy Open Access 07 September 2022

Chunmei Cai

,

Yan-Dong Tang

…

Chunfu Zheng

Signal Transduction and Targeted Therapy Open Access 30 August 2022

Mingli Fang

,

Ao Zhang

…

Zhiqiang Zhang

Journal of Biomedical Science Open Access 31 July 2022
Access options
Subscribe to Journal
Get full journal access for 1 year
$199.00
only $3.90 per issue
All prices are NET prices.
VAT will be added later in the checkout.
Tax calculation will be finalised during checkout.
Buy article
Get time limited or full article access on ReadCube.
$32.00
All prices are NET prices.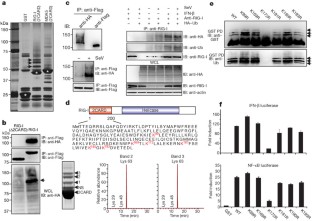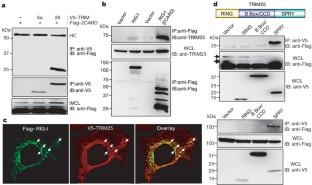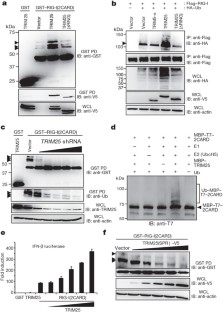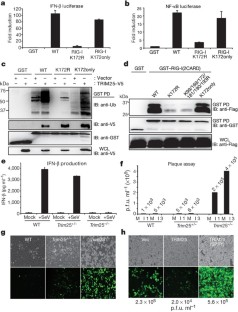 References
Honda, K., Takaoka, A. & Taniguchi, T. Type I interferon gene induction by the interferon regulatory factor family of transcription factors. Immunity 25, 349–360 (2006); erratum 25, 849 (2006).

Hornung, V. et al. 5′-Triphosphate RNA is the ligand for RIG-I. Science 314, 994–997 (2006)

Meylan, E. & Tschopp, J. Toll-like receptors and RNA helicases: two parallel ways to trigger antiviral responses. Mol. Cell 22, 561–569 (2006)

Pichlmair, A. et al. RIG-I-mediated antiviral responses to single-stranded RNA bearing 5′-phosphates. Science 314, 997–1001 (2006)

Stetson, D. B. & Medzhitov, R. Antiviral defense: interferons and beyond. J. Exp. Med. 203, 1837–1841 (2006)

Yoneyama, M. et al. The RNA helicase RIG-I has an essential function in double-stranded RNA-induced innate antiviral responses. Nature Immunol. 5, 730–737 (2004)

Nisole, S., Stoye, J. P. & Saib, A. TRIM family proteins: retroviral restriction and antiviral defence. Nature Rev. Microbiol. 3, 799–808 (2005)

Johnson, C. L. & Gale, M. CARD games between virus and host get a new player. Trends Immunol. 27, 1–4 (2006)

Meylan, E., Tschopp, J. & Karin, M. Intracellular pattern recognition receptors in the host response. Nature 442, 39–44 (2006)

Kato, H. et al. Cell type-specific involvement of RIG-I in antiviral response. Immunity 23, 19–28 (2005)

Orimo, A., Inoue, S., Ikeda, K., Noji, S. & Muramatsu, M. Molecular cloning, structure, and expression of mouse estrogen-responsive finger protein Efp. Co-localization with estrogen receptor mRNA in target organs. J. Biol. Chem. 270, 24406–24413 (1995)

Urano, T. et al. Efp targets 14-3-3σ for proteolysis and promotes breast tumour growth. Nature 417, 871–875 (2002)

Zou, W. & Zhang, D. E. The interferon-inducible ubiquitin-protein isopeptide ligase (E3) EFP also functions as an ISG15 E3 ligase. J. Biol. Chem. 281, 3989–3994 (2006)

Meylan, E. et al. Cardif is an adaptor protein in the RIG-I antiviral pathway and is targeted by hepatitis C virus. Nature 437, 1167–1172 (2005)

Seth, R. B., Sun, L., Ea, C. K. & Chen, Z. J. Identification and characterization of MAVS, a mitochondrial antiviral signaling protein that activates NF-κB and IRF 3. Cell 122, 669–682 (2005)

Xu, L. G. et al. VISA is an adapter protein required for virus-triggered IFN-β signaling. Mol. Cell 19, 727–740 (2005)

Kawai, T. et al. IPS-1, an adaptor triggering RIG-I- and Mda5-mediated type I interferon induction. Nature Immunol. 6, 981–988 (2005)

Orimo, A. et al. Underdeveloped uterus and reduced estrogen responsiveness in mice with disruption of the estrogen-responsive finger protein gene, which is a direct target of estrogen receptor α. Proc. Natl Acad. Sci. USA 96, 12027–12032 (1999)

Haglund, K. & Dikic, I. Ubiquitylation and cell signaling. EMBO J. 24, 3353–3359 (2005)

Ea, C. K., Deng, L., Xia, Z. P., Pineda, G. & Chen, Z. J. Activation of IKK by TNFα requires site-specific ubiquitination of RIP1 and polyubiquitin binding by NEMO. Mol. Cell 22, 245–257 (2006)

Kirkpatrick, D. S., Denison, C. & Gygi, S. P. Weighing in on ubiquitin: the expanding role of mass-spectrometry-based proteomics. Nature Cell Biol. 7, 750–757 (2005)
Acknowledgements
This work was supported by US Public Health Service grants (J.U.J.), the exchange programme between Harvard Medical School and the graduate training programme 1071 at the Friedrich-Alexander University Erlangen-Nuremberg, Germany (M.U.G.), and a Korea Research Foundation Grant (C.-H.J.). We thank A. Garcia-Sastre, D.-E. Zhang and S. Whelan for providing reagents, and R. Tomaino and J. Nagel for mass spectrometry. We also thank all members of the Tumor Virology Division, New England Primate Research Center, for discussions.
Author Contributions M.U.G. performed all aspects of this study. Y.C.S., C.-H.J. and C.L. assisted in experimental design and in collecting the data. T.U. and S.I. performed the in vitro ubiquitination assay and generated Trim25-/- MEFs. L.S. and Z.C. generated the MAVS construct and RIG-I antibody. T.O. and S.A. generated the RIG-I construct and RIG-I-/- MEFs. M.U.G. and J.U.J. organized this study and wrote the paper. All authors discussed the results and commented on the manuscript.
Ethics declarations
Competing interests
Reprints and permissions information is available at www.nature.com/reprints. The authors declare no competing financial interests.
Supplementary information
This file contains Supplementary Figures 1-10 with Legends. The Supplementary Figures provide additional information on the Lys63-linked ubiquitination of RIG-I and the role of RIG-I ubiquitination in its signaling activity. They also show more data to support the essential role of TRIM25-mediated ubiquitination in RIG-I signal transduction and host anti-viral activity. (PDF 3300 kb)
About this article
Cite this article
Gack, M., Shin, Y., Joo, CH. et al. TRIM25 RING-finger E3 ubiquitin ligase is essential for RIG-I-mediated antiviral activity. Nature 446, 916–920 (2007). https://doi.org/10.1038/nature05732
Received:

Accepted:

Published:

Issue Date:

DOI: https://doi.org/10.1038/nature05732
Comments
By submitting a comment you agree to abide by our Terms and Community Guidelines. If you find something abusive or that does not comply with our terms or guidelines please flag it as inappropriate.