Abstract
Phosphatized microfossils in the Ediacaran (635–542 Myr ago) Doushantuo Formation, south China, have been interpreted as the embryos of early animals1,2,3,4. Despite experimental demonstration that embryos can be preserved5, microstructural evidence that the Doushantuo remains are embryonic6 and an unambiguous record of fossil embryos in Lower Cambrian rocks7, questions about the phylogenetic relationships of these fossils remain. Most recently, some researchers have proposed8 that Doushantuo microfossils may be giant sulphur-oxidizing bacteria comparable to extant Thiomargarita sp. Here we report new observations that provide a test of the bacterial hypothesis. The discovery of embryo-like Doushantuo fossils inside large, highly ornamented organic vesicles (acritarchs) indicates that these organisms were eukaryotic, and most probably early cleavage stage embryos preserved within diapause egg cysts. Large acanthomorphic microfossils of the type observed to contain fossil embryos first appear in rocks just above a 632.5 ± 0.5-Myr-old ash bed9, suggesting that at least stem-group animals6 inhabited shallow seas in the immediate aftermath of global Neoproterozoic glaciation.
Relevant articles
Open Access articles citing this article.
Zhouqiao Zhao

,

Bing Shen

…

Haoran Ma

Nature Communications Open Access 11 February 2021

Sebastian Willman

,

John S. Peel

…

Robert Frei

Communications Biology Open Access 06 November 2020
Access options
Subscribe to Journal
Get full journal access for 1 year
$199.00
only $3.90 per issue
All prices are NET prices.
VAT will be added later in the checkout.
Tax calculation will be finalised during checkout.
Buy article
Get time limited or full article access on ReadCube.
$32.00
All prices are NET prices.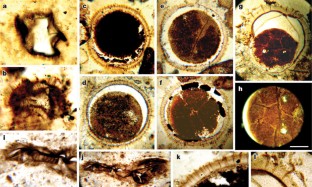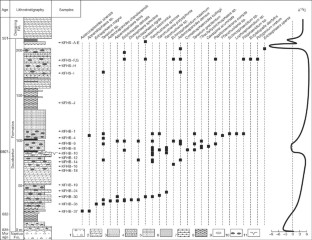 References
Xiao, S., Zhang, Y. & Knoll, A. H. Three-dimensional preservation of algae and animal embryos in a Neoproterozoic phosphorite. Nature 391, 553–558 (1998)

Xiao, S. & Knoll, A. H. Phosphatized animal embryos from the Neoproterozoic Doushantuo Formation at Weng'an, Guizhou, South China. J. Paleontol. 74, 767–788 (2000)

Chen, J. et al. Small bilaterian fossils from 40 to 55 million years before the Cambrian. Science 305, 218–222 (2006)

Dornbos, S. Q. et al. Environmental controls on the taphonomy of phosphatized animals and animal embryos from the Neoproterozoic Doushantuo Formation, southwest China. Palaios 21, 3–14 (2006)

Raff, E. C., Villinski, J. T., Turner, F. R., Donoghue, P. C. J. & Raff, R. A. Experimental taphonomy shows the feasibility of fossil embryos. Proc. Natl Acad. Sci. USA 103, 5846–5851 (2006)

Hagadorn, J. W. et al. Cellular and subcellular structure of Neoproterozoic animal embryos. Science 314, 291–294 (2006)

Donoghue, P. C. J. et al. Fossilized embryos are widespread but the record is temporally and taxonomically biased. Evol. Dev. 8, 232–238 (2006)

Bailey, J. V., Joye, S. B., Kalanetra, K. M., Flood, B. E. & Corsetti, F. A. Evidence of giant sulfur bacteria in Neoproterozoic phosphorites. Nature 445, 198–201 (2007)

Condon, D. et al. U-Pb ages from the Neoproterozoic Doushantuo Formation, China. Science 308, 95–98 (2005)

Donoghue, P. C. J. Embryonic identity crisis. Nature 445, 155–156 (2007)

Xiao, S., Hagadorn, J. W., Zhou, C. & Yuan, X. Rare helical spheroidal fossils from the Doushantuo Lagerstätte: Ediacaran animal embryos come of age? Geology 35, 115–118 (2007)

Knoll, A. H., Javaux, E. J., Hewitt, D. & Cohen, P. Eukaryotic organisms in Proterozoic oceans. Phil. Trans. Roy. Soc. B 361, 1023–1038 (2006)

Zhang, Y., Yin, L., Xiao, S. & Knoll, A. H. Permineralized fossils from the terminal Proterozoic Doushantuo Formation, south China. J. Paleontol. 72 (Suppl. to no. 4) 1–52 (1998)

Yuan, X. & Hofmann, H. J. New micropaleontological data from Neoproterozoic Sinica Doushantuo phosphorite rocks, Weng'an, Guizhou Province, southwestern China. Alcheringa 22, 189–222 (1998)

Van Waveren, I. & Marcus, N. H. Morphology of recent copepod egg envelopes from Turkey Point, Gulf of Mexico, and their implications for acritarch affinity. Spec. Pap. Paleontol. 48, 111–124 (1993)

Buckland-Nicks, J. Hull cupules of chiton eggs: parachute structures and sperm focusing devices? Biol. Bull. 184, 269–276 (1993)

Yin, C., Bengtson, S. & Yue, Z. Silicified and phosphatized Tianzhushania, spheroidal microfossils of possible animal origin from the Neoproterozoic of South China. Acta Palaeontol. Pol. 49, 1–12 (2004)

Grey, K. Ediacaran palynology of Australia. Mem. Assoc. Australas. Palaeontologists 31, 1–439 (2005)

Marcus, N. H. & Boero, F. Minireview: The importance of benthic–pelagic coupling and the forgotten role of life cycles in coastal aquatic systems. Limnol. Oceanogr. 43, 763–768 (1998)

Zhu, M., Zhang, J. & Yang, A. Integrated Ediacaran (Sinian) chronostratigraphy of South China. Palaeogeogr. Palaeoclimatol. Palaeoecol. (in the press).

Barfod, G. H. et al. New Lu-Hf and Pb-Pb age constraints on the earliest animal fossils. Earth Planet. Sci. Lett. 201, 203–212 (2002)

Chen, D., Dong, W. Q., Qi, L., Chen, G. Q. & Chen, X. P. Pb-Pb ages of Neproterozoic Doushantuo phosphorites in South China: constraints on early metazoan evolution and glaciation events. Precambr. Res. 132, 123–222 (2004)

Zhou, C., Xie, G., Mcfadden, K., Xiao, S. & Yuan, X. The diversification and extinction of Doushantuo–Pertatataka acritarchs in South China: causes and biostratigraphic significance. Geol. J. 41, 1–34 (2006)

Hoffman, P. F., Kaufman, A. J., Halverson, G. P. & Schrag, D. P. A Neoproterozoic snowball earth. Science 281, 1342–1346 (1998)

Voreb'eva, N. G., Sergeev, V. N. & Knoll, A. H. Diverse Ediacaran acritarchs from the margin of the East European Platform. Geology (submitted).

Canfield, D. E., Poulton, S. W. & Narbonne, G. M. Late Neoproterozoic deep-ocean oxygenation and the rise of animal life. Science 10.1126/science.1135013. (2006)

Fike, D. A., Grotzinger, J. P., Pratt, L. M. & Summons, R. E. Oxidation of the Ediacaran ocean. Nature 444, 744–747 (2006)
Acknowledgements
This work was supported by the Chinese Academy of Sciences, the National Natural Science Foundation of China, the Major Basic Research Projects of MST of China, and an NSF Grant. We thank S. Xiao and P. Cohen for discussions.
Ethics declarations
Competing interests
Reprints and permissions information is available at npg.nature.com/reprintsandpermissions. The authors declare no competing financial interests.
About this article
Cite this article
Yin, L., Zhu, M., Knoll, A. et al. Doushantuo embryos preserved inside diapause egg cysts. Nature 446, 661–663 (2007). https://doi.org/10.1038/nature05682
Received:

Accepted:

Issue Date:

DOI: https://doi.org/10.1038/nature05682
Comments
By submitting a comment you agree to abide by our Terms and Community Guidelines. If you find something abusive or that does not comply with our terms or guidelines please flag it as inappropriate.