Abstract
Although the nuclear properties of the late actinides (plutonium, americium and curium) are fully understood and widely applied to energy generation, their solid-state properties do not fit within standard models and are the subject of active research1. Plutonium displays phases with enormous volume differences, and both its Pauli-like magnetic susceptibility and resistivity are an order of magnitude larger than those of simple metals2. Curium is also highly resistive, but its susceptibility is Curie-like at high temperatures and orders antiferromagnetically3 at low temperatures. The anomalous properties of the late actinides stem from the competition between itinerancy and localization of their f-shell electrons, which makes these elements strongly correlated materials. A central problem in this field is to understand the mechanism by which these conflicting tendencies are resolved in such materials. Here we identify the electronic mechanisms responsible for the anomalous behaviour of late actinides, revisiting the concept of valence using a theoretical approach that treats magnetism, Kondo screening, atomic multiplet effects and crystal field splitting on the same footing. We find that the ground state in plutonium is a quantum superposition of two distinct atomic valences, whereas curium settles into a magnetically ordered single valence state at low temperatures. The f7 configuration of curium is contrasted with the multiple valences of the plutonium ground state, which we characterize by a valence histogram. The balance between the Kondo screening and magnetism is controlled by the competition between spin–orbit coupling, the strength of atomic multiplets and the degree of itinerancy. Our approach highlights the electronic origin of the bonding anomalies in plutonium, and can be applied to predict generalized valences and the presence or absence of magnetism in other compounds starting from first principles.
Relevant articles
Open Access articles citing this article.
Xie-Gang Zhu

,

Yu Liu

…

Xin-Chun Lai

npj Quantum Materials Open Access 10 July 2020

Per Söderlind

&

Lin H. Yang

Scientific Reports Open Access 10 December 2019

Subhasish Mandal

,

Kristjan Haule

…

David Vanderbilt

npj Computational Materials Open Access 29 November 2019
Access options
Subscribe to Journal
Get full journal access for 1 year
$199.00
only $3.90 per issue
All prices are NET prices.
VAT will be added later in the checkout.
Tax calculation will be finalised during checkout.
Buy article
Get time limited or full article access on ReadCube.
$32.00
All prices are NET prices.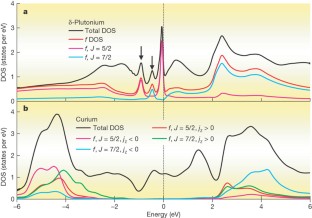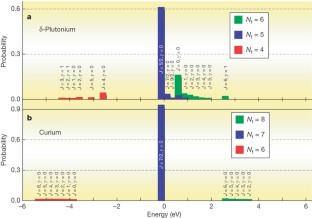 References
Lander, G. Sensing electrons on the edge. Science 301, 1057–1059 (2003)

Lashley, J. C., Lawson, A., McQueeney, R. J. & Lander, G. H. Absence of magnetic moments in plutonium. Phys. Rev. B 72, 054416 (2005)

Huray, P. G., Nave, S. E., Peterson, J. R. & Haire, R. G. The magnetic susceptibility of 248Cm metal. Physica B 102, 217–220 (1980)

Brodsky, M. B. Magnetic properties of the actinide elements and their metallic compounds. Rep. Prog. Phys. 41, 1547–1608 (1978)

Georges, A., Kotliar, G., Krauth, W. & Rozenberg, M. J. Dynamical mean-field theory of strongly correlated fermion systems and the limit of infinite dimensions. Rev. Mod. Phys. 68, 13–125 (1996)

Kotliar, G. et al. Electronic structure calculations with dynamical mean-field theory. Rev. Mod. Phys. 78, 865–951 (2006)

Werner, P., Comanac, A., de' Medici, L., Troyer, M. & Millis, A. J. Continuous-time solver for quantum impurity models. Phys. Rev. Lett. 97, 076405 (2006)

Haule, K. Quantum Monte Carlo impurity solver for cluster DMFT and electronic structure calculations in adjustable base. Preprint at 〈http://arxiv.org/cond-mat/0612172〉 (2006)

Savrasov, S. Y. Linear-response theory and lattice dynamics: A muffin-tin-orbital approach. Phys. Rev. B 54, 16470–16486 (1996)

Savrasov, S. Y., Kotliar, G. & Abrahams, E. Correlated electrons in δ-plutonium within a dynamical mean-field picture. Nature 410, 793–795 (2001)

Cowan, R. D. The Theory of Atomic Structure and Spectra (Univ. California Press, Berkeley, 1981)

Savrasov, S. Y., Haule, K. & Kotliar, G. Many-body electronic structure of americium metal. Phys. Rev. Lett. 96, 036404 (2006)

Lashley, J. C. et al. Experimental electronic heat capacities of α- and δ-plutonium: Heavy-fermion physics in an element. Phys. Rev. Lett. 91, 205901 (2003)

Varma, C. M. Mixed-valence compounds. Rev. Mod. Phys. 48, 219–238 (1976)

Thole, B. T. & van der Laan, G. Linear relation between x-ray absorption branching ratio and valence-band spin-orbit expectation value. Phys. Rev. A 38, 1943–1947 (1988)

van der Laan, G. et al. Applicability of the spin-orbit sum rule for the actinides 5f states. Phys. Rev. Lett. 93, 097401 (2004)

Moore, K. T., van der Laan, G., Haire, R. G., Wall, M. A. & Schwartz, A. J. Oxidation and aging in U and Pu probed by spin-orbit sum rule analysis: Indications for covalent metal-oxide bonds. Phys. Rev. B 73, 033109 (2006)

Moore, K. T. et al. Failure of Russell-Saunders coupling in the 5f states of plutonium. Phys. Rev. Lett. 90, 196404 (2003)

Solovyev, I. V., Liechtenstein, A. I., Gubanov, V. A., Antropov, V. P. & Andersen, O. K. Spin-polarized relativistic linear-muffin-tin-orbital method: Volume-dependent electronic structure and magnetic moment of plutonium. Phys. Rev. B 43, 14414–14422 (1991)

Kanellakopulos, B., Blaise, A., Fournier, J. M. & Müeller, W. The magnetic susceptibility of americium and curium metal. Solid State Commun. 17, 713–715 (1975)

Wills, J. M. et al. A novel electronic configuration of the 5f states in δ-plutonium as revealed by the photo-electron spectra. J. Electron Spectrosc. Relat. Phenom. 135, 163–166 (2004)

Svane, A., Petit, L., Szotek, Z. & Temmerman, W. M. Self-interaction corrected local spin density theory of 5f electron localization in actinides. Preprint at 〈http://arxiv.org/cond-mat/0610146〉 (2006)

Shorikov, A. O., Lukoyanov, A. V., Korotin, M. A. & Anisimov, V. I. Magnetic state and electronic structure of the δ and α phases of metallic Pu and its compounds. Phys. Rev. B 72, 024458 (2005)

Shick, A. B., Drchal, V. & Havela, L. Coulomb-U and magnetic-moment collapse in δ-Pu. Europhys. Lett. 69, 588–594 (2005)

Pourovskii, L. V. et al. Nature of non-magnetic strongly-correlated state in δ-plutonium. Europhys. Lett. 74, 479–485 (2006)

Tobin, J. G. et al. Competition between delocalization and spin-orbit splitting in the actinide 5f states. Phys. Rev. B 72, 085109 (2005)

Gounder, T., Havela, L., Wastin, F. & Rebizant, J. Evidence for the 5f localisation in thin Pu layers. Europhys. Lett. 55, 705–711 (2001)

Arko, A. J. et al. Electronic structure of α- and δ-Pu from photoelectron spectroscopy. Phys. Rev. B 62, 1773–1779 (2000)

Gouder, T., Eloirdi, R., Rebizant, J., Boulet, P. & Huber, F. Multiplet structure in Pu-based compounds: A photoemission case study of PuSix (0.5≤x≤2) films. Phys. Rev. B 71, 165101 (2005)

Tobin, J. G. et al. Resonant photoemission in f-electron systems: Pu and Gd. Phys. Rev. B 68, 155109 (2003)
Acknowledgements
This work was supported by the Basic Energy Science division of the DOE. J.H.S. acknowledges a grant from the Korean Research Foundation.
Ethics declarations
Competing interests
Reprints and permissions information is available at www.nature.com/reprints. The authors declare no competing financial interests.
Supplementary information
This file contains Supplementary Equations to explain the concept of generalized valence and how to extract valence of a solid within Dynamical Mean Field Theory. (PDF 68 kb)
About this article
Cite this article
Shim, J., Haule, K. & Kotliar, G. Fluctuating valence in a correlated solid and the anomalous properties of δ-plutonium. Nature 446, 513–516 (2007). https://doi.org/10.1038/nature05647
Received:

Accepted:

Issue Date:

DOI: https://doi.org/10.1038/nature05647
Comments
By submitting a comment you agree to abide by our Terms and Community Guidelines. If you find something abusive or that does not comply with our terms or guidelines please flag it as inappropriate.