Abstract
The psychological and neurobiological processes underlying moral judgement have been the focus of many recent empirical studies1,2,3,4,5,6,7,8,9,10,11. Of central interest is whether emotions play a causal role in moral judgement, and, in parallel, how emotion-related areas of the brain contribute to moral judgement. Here we show that six patients with focal bilateral damage to the ventromedial prefrontal cortex (VMPC), a brain region necessary for the normal generation of emotions and, in particular, social emotions12,13,14, produce an abnormally 'utilitarian' pattern of judgements on moral dilemmas that pit compelling considerations of aggregate welfare against highly emotionally aversive behaviours (for example, having to sacrifice one person's life to save a number of other lives)7,8. In contrast, the VMPC patients' judgements were normal in other classes of moral dilemmas. These findings indicate that, for a selective set of moral dilemmas, the VMPC is critical for normal judgements of right and wrong. The findings support a necessary role for emotion in the generation of those judgements.
Relevant articles
Open Access articles citing this article.
Journal of Business Ethics Open Access 04 April 2023

Kai Ueltzhöffer

,

Corinna Roth

…

Sabine C. Herpertz

European Archives of Psychiatry and Clinical Neuroscience Open Access 08 October 2022

Nicola Cellini

,

Marco Mercurio

&

Michela Sarlo

Current Psychology Open Access 06 August 2021
Access options
Subscribe to this journal
Receive 51 print issues and online access
$199.00 per year
only $3.90 per issue
Rent or buy this article
Prices vary by article type
from$1.95
to$39.95
Prices may be subject to local taxes which are calculated during checkout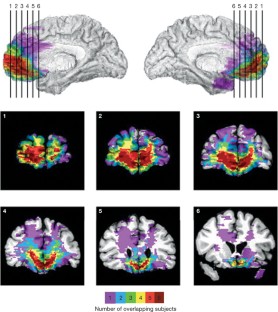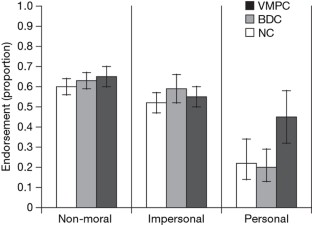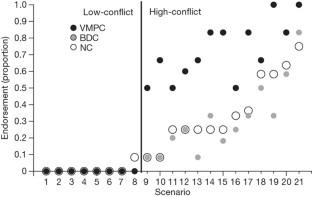 References
Eslinger, P. J., Grattan, L. M. & Damasio, A. R. Developmental consequences of childhood frontal lobe damage. Arch. Neurol. 49, 764–769 (1992)

Anderson, S. W., Bechara, A., Damasio, H., Tranel, D. & Damasio, A. R. Impairment of social and moral behavior related to early damage in human prefrontal cortex. Nature Neurosci. 2, 1032–1037 (1999)

Blair, R. J. R. A cognitive developmental approach to morality: investigating the psychopath. Cognition 57, 1–29 (1995)

Mendez, M. F., Anderson, E. & Shapira, J. S. An investigation of moral judgment in frontotemporal dementia. Cogn. Behav. Neurol. 18, 193–197 (2005)

Moll, J., de Oliveira-Souza, R., Bramati, I. E. & Grafman, J. Functional networks in emotional moral and nonmoral social judgments. Neuroimage 16, 696–703 (2002)

Heekeren, H. R., Wartenburger, I., Schmidt, H., Schwintowski, H. P. & Villringer, A. An fMRI study of simple ethical decision-making. Neuroreport 14, 1215–1219 (2003)

Greene, J. D., Sommerville, R. B., Nystrom, L. E., Darley, J. M. & Cohen, J. D. An fMRI investigation of emotional engagement in moral judgment. Science 293, 2105–2108 (2001)

Greene, J. D., Nystrom, L. E., Engell, A. D., Darley, J. M. & Cohen, J. D. The neural bases of cognitive conflict and control in moral judgment. Neuron 44, 389–400 (2004)

Luo, Q. et al. The neural basis of implicit moral attitude–An IAT study using event-related fMRI. Neuroimage 30, 1449–1457 (2006)

Wheatley, T. & Haidt, J. Hypnotic disgust makes moral judgments more severe. Psychol. Sci. 16, 780–784 (2005)

Valdesolo, P. & DeSteno, D. Manipulations of emotional context shape moral judgment. Psychol. Sci. 17, 476–477 (2006)

Damasio, A. R., Tranel, D. & Damasio, H. Individuals with sociopathic behavior caused by frontal damage fail to respond autonomically to social stimuli. Behav. Brain Res. 41, 81–94 (1990)

Damasio, A. R. Looking for Spinoza: Joy, Sorrow, and the Feeling Brain (Harcourt, New York, 2003)

Beer, J. S., Heerey, E. H., Keltner, D., Scabini, D. & Knight, R. T. The regulatory function of self-conscious emotion: Insights from patients with orbitofrontal damage. J. Pers. Soc. Psychol. 85, 594–604 (2003)

Kohlberg, L. Essays on Moral Development Vol. 1 The Philosophy of Moral Development (Harper Row, New York, 1981)

Damasio, A. R. Descartes' Error: Emotion, Reason, and the Human Brain (Penguin, New York, 1994)

Haidt, J. The emotional dog and its rational tail: A social intuitionist approach to moral judgment. Psychol. Rev. 108, 814–834 (2001)

Ongur, D. & Price, J. L. The organization of networks within the orbital and medial prefrontal cortex of rats, monkeys and humans. Cereb. Cortex 10, 206–219 (2000)

Rolls, E. The orbitofrontal cortex and reward. Cereb. Cortex 3, 284–294 (2000)

Koenigs, M. & Tranel, D. Irrational economic decision-making after ventromedial prefrontal damage: evidence from the ultimatum game. J. Neurosci. 27, 951–956 (2007)

Anderson, S. W., Barrash, J., Bechara, A. & Tranel, D. Impairments of emotion and real-world complex behavior following childhood- or adult-onset damage to ventromedial prefrontal cortex. J. Int. Neuropsychol. Soc. 12, 224–235 (2006)

Saver, J. L. & Damasio, A. R. Preserved access and processing of social knowledge in a patient with acquired sociopathy due to ventromedial frontal damage. Neuropsychologia 29, 1241–1249 (1991)

Burgess, P. W. et al. The case for the development and use of "ecologically valid" measures of executive functions in experimental and clinical neuropsychology. J. Int. Neuropsychol. Soc. 12, 194–209 (2006)

Hauser, M. D. Moral Minds: How Nature Designed our Universal Sense of Right and Wrong (Ecco/Harper Collins, New York, 2006)

Mikhail, J. Rawls' Linguistic Analogy. PhD thesis, Cornell Univ. (2000)

Cushman, F. A., Young, L. L. & Hauser, M. D. The role of conscious reasoning and intuition in moral judgments: Testing three principles of permissible harm. Psychol. Sci. 17, 1082–1089 (2006)

Hauser, M. D., Cushman, F. A., Young, L. L., Jin, K-X. & Mikhail, J. A dissociation between moral judgments and justifications. Mind Language 22, 1–21 (2006)

Frank, R. J., Damasio, H. & Grabowski, T. J. Brainvox: an interactive, multimodal visualization and analysis system for neuroanatomical imaging. Neuroimage 5, 13–30 (1997)

Barrash, J. & Anderson, S. W. The Iowa Rating Scales of Personality Change (Department of Neurology, Univ. Iowa, Iowa, 1993)
Acknowledgements
We thank H. Damasio for making available neuroanatomical analyses of lesion patients and for preparing Fig. 1. We thank all participants for their participation in the experiments and R. Saxe for comments on the manuscript. This work was supported by grants from the National Institutes of Health, the National Science Foundation, the Gordon and Betty Moore Foundation, and the Guggenheim Foundation.
Ethics declarations
Competing interests
Reprints and permissions information is available at www.nature.com/reprints. The authors declare no competing financial interests.
Supplementary information
This file contains Supplementary Notes and Supplementary Table 1. (PDF 180 kb)
About this article
Cite this article
Koenigs, M., Young, L., Adolphs, R. et al. Damage to the prefrontal cortex increases utilitarian moral judgements. Nature 446, 908–911 (2007). https://doi.org/10.1038/nature05631
Received:

Accepted:

Published:

Issue Date:

DOI: https://doi.org/10.1038/nature05631
Comments
By submitting a comment you agree to abide by our Terms and Community Guidelines. If you find something abusive or that does not comply with our terms or guidelines please flag it as inappropriate.