Abstract
BRCA1, BRCA2 and other known susceptibility genes account for less than half of the detectable hereditary predisposition to breast cancer1,2,3. Other relevant genes therefore remain to be discovered. Recently a new BRCA2-binding protein, PALB2, was identified4. The BRCA2–PALB2 interaction is crucial for certain key BRCA2 DNA damage response functions as well as its tumour suppression activity4. Here we show, by screening for PALB2 mutations in Finland that a frameshift mutation, c.1592delT, is present at significantly elevated frequency in familial breast cancer cases compared with ancestry-matched population controls. The truncated PALB2 protein caused by this mutation retained little BRCA2-binding capacity and was deficient in homologous recombination and crosslink repair. Further screening of c.1592delT in unselected breast cancer individuals revealed a roughly fourfold enrichment of this mutation in patients compared with controls. Most of the mutation-positive unselected cases had a familial pattern of disease development. In addition, one multigenerational prostate cancer family that segregated the c.1592delT truncation allele was observed. These results indicate that PALB2 is a breast cancer susceptibility gene that, in a suitably mutant form, may also contribute to familial prostate cancer development.
Relevant articles
Open Access articles citing this article.
Marek Szwiec

,

Joanna Tomiczek-Szwiec

…

Tomasz Huzarski

BMC Cancer Open Access 30 August 2021

Elżbieta Złowocka-Perłowska

,

Tadeusz Dębniak

…

Jan Lubiński

Hereditary Cancer in Clinical Practice Open Access 08 January 2021

Sherko Kuemmel

,

Hakima Harrach

…

Mattea Reinisch

npj Breast Cancer Open Access 24 July 2020
Access options
Subscribe to Journal
Get full journal access for 1 year
$199.00
only $3.90 per issue
All prices are NET prices.
VAT will be added later in the checkout.
Tax calculation will be finalised during checkout.
Buy article
Get time limited or full article access on ReadCube.
$32.00
All prices are NET prices.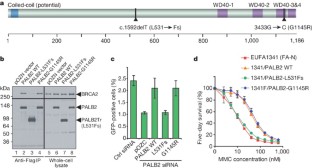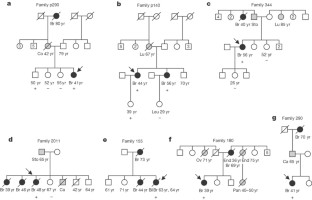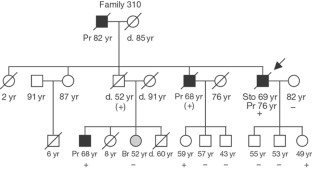 References
Wooster, R. & Weber, B. L. Breast and ovarian cancer. N. Engl. J. Med. 348, 2339–2347 (2003)

Seal, S. et al. Truncating mutations in the Fanconi anemia J gene BRIP1 are low-penetrance breast cancer susceptibility alleles. Nature Genet. 38, 1239–1241 (2006)

Renwick, A. et al. ATM mutations that cause ataxia-telangiectasia are breast cancer susceptibility alleles. Nature Genet. 38, 873–875 (2006)

Xia, B. et al. Control of BRCA2 cellular and clinical functions by a nuclear partner, PALB2. Mol. Cell 22, 719–729 (2006)

Shivji, M. K. & Venkitaraman, A. R. DNA recombination, chromosomal stability and carcinogenesis: insights into the role of BRCA2. DNA Repair (Amst.) 3, 835–843 (2004)

King, M. C., Marks, J. H. & Mandell, J. B. Breast and ovarian cancer risks due to inherited mutations in BRCA1 and BRCA2. Science 302, 643–646 (2003)

Howlett, N. G. et al. Biallelic inactivation of BRCA2 in Fanconi anemia. Science 297, 606–609 (2002)

Syrjäkoski, K. et al. Population-based study of BRCA1 and BRCA2 mutations in 1035 unselected Finnish breast cancer patients. J. Natl Cancer Inst. 92, 1529–1531 (2000)

Sarantaus, L. et al. Multiple founder effects and geographical clustering of BRCA1 and BRCA2 families in Finland. Eur. J. Hum. Genet. 8, 757–763 (2000)

Borg, Å. Molecular and pathological characterization of inherited breast cancer. Semin. Cancer Biol. 11, 375–385 (2001)

Hedenfalk, I. et al. Molecular classification of familial non-BRCA1/BRCA2 breast cancer. Proc. Natl Acad. Sci. USA 100, 2532–2537 (2003)

Xia, B. et al. Fanconi anemia is associated with a defect in the BRCA2 partner PALB2. Nature Genet. advance online publication, doi:10.1038/ng1942 (2006)

Reid, S. et al. Biallelic mutations in PALB2 cause Fanconi anemia subtype FA-N and predispose to childhood cancer. Nature Genet. advance online publication, doi:10.1038/ng1947 (2006)

Alter, B. P., Rosenberg, P. S. & Brody, L. C. Clinical and molecular features associated with biallelic mutations in FANCD1/BRCA2. J. Med. Genet. 44, 1–9 (2007)

Ganguly, A., Rock, M. J. & Prockop, D. J. Conformation-sensitive gel electrophoresis for rapid detection of single-base differences in double-stranded PCR products and DNA fragments: evidence for solvent-induced bends in DNA heteroduplexes. Proc. Natl Acad. Sci. USA 90, 10325–10329 (1993)

Körkkö, J., Annunen, S., Pihlajamaa, T., Prockop, D. J. & Ala-Kokko, L. Conformation sensitive gel electrophoresis for simple and accurate detection of mutations: comparison with denaturing gradient gel electrophoresis and nucleotide sequencing. Proc. Natl Acad. Sci. USA 95, 1681–1685 (1998)
Acknowledgements
We thank J. Ignatius, E. Nieminen, K. Mononen, H. Konola, O. Kajula, M. Vahera, K. Holli, T. Tammela, K. Rouhento, L. Enroth, R. Vaalavuo and S. Marttinen for help in sample and data collection and technical assistance. We also thank the Finnish Red Cross Blood Service for help with collection of population control blood samples, the Finnish Cancer Registry for information on cancer occurrence, and all patients and their family members for volunteering to participate in these studies. This study was supported by the Foundation for the Finnish Cancer Institute, the Academy of Finland, the Ida Montin Foundation, the Cancer Foundation of Northern Finland, the University of Oulu, Oulu University Hospital, the Reino Lahtikari Foundation, the Sigrid Juselius Foundation, Competitive Research Funding of the Pirkanmaa Hospital District, and grants to D.M.L. from the National Cancer Institute. This work was also supported by a grant from the Shapiro Family Foundation. D.M.L. is a scientific consultant to and a grant recipient of The Novartis Institute for Biomedical Research.
Ethics declarations
Competing interests
Reprints and permissions information is available at www.nature.com/reprints. The authors declare no competing financial interests.
Supplementary information
This file contains Supplementary Methods, Supplementary Tables 1-2 and additional references. (PDF 267 kb)
About this article
Cite this article
Erkko, H., Xia, B., Nikkilä, J. et al. A recurrent mutation in PALB2 in Finnish cancer families. Nature 446, 316–319 (2007). https://doi.org/10.1038/nature05609
Received:

Accepted:

Published:

Issue Date:

DOI: https://doi.org/10.1038/nature05609
Comments
By submitting a comment you agree to abide by our Terms and Community Guidelines. If you find something abusive or that does not comply with our terms or guidelines please flag it as inappropriate.