Abstract
Moisture transport from the Atlantic to the Pacific ocean across Central America leads to relatively high salinities in the North Atlantic Ocean1 and contributes to the formation of North Atlantic Deep Water2. This deep water formation varied strongly between Dansgaard/Oeschger interstadials and Heinrich events—millennial-scale abrupt warm and cold events, respectively, during the last glacial period3. Increases in the moisture transport across Central America have been proposed to coincide with northerly shifts of the Intertropical Convergence Zone and with Dansgaard/Oeschger interstadials, with opposite changes for Heinrich events4. Here we reconstruct sea surface salinities in the eastern equatorial Pacific Ocean over the past 90,000 years by comparing palaeotemperature estimates from alkenones and Mg/Ca ratios with foraminiferal oxygen isotope ratios that vary with both temperature and salinity. We detect millennial-scale fluctuations of sea surface salinities in the eastern equatorial Pacific Ocean of up to two to four practical salinity units. High salinities are associated with the southward migration of the tropical Atlantic Intertropical Convergence Zone, coinciding with Heinrich events and with Greenland stadials5. The amplitudes of these salinity variations are significantly larger on the Pacific side of the Panama isthmus, as inferred from a comparison of our data with a palaeoclimate record from the Caribbean basin6. We conclude that millennial-scale fluctuations of moisture transport constitute an important feedback mechanism for abrupt climate changes, modulating the North Atlantic freshwater budget and hence North Atlantic Deep Water formation.
Relevant articles
Open Access articles citing this article.
Shailendra Pratap

&

Yannis Markonis

Progress in Earth and Planetary Science Open Access 31 May 2022

Hai Cheng

,

Yao Xu

…

R. Lawrence Edwards

Communications Earth & Environment Open Access 08 November 2021

Katrina Nilsson-Kerr

,

Pallavi Anand

…

Melanie J. Leng

Communications Earth & Environment Open Access 19 March 2021
Access options
Subscribe to this journal
Receive 51 print issues and online access
$199.00 per year
only $3.90 per issue
Rent or buy this article
Get just this article for as long as you need it
$39.95
Prices may be subject to local taxes which are calculated during checkout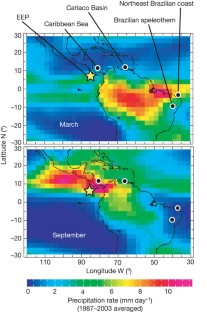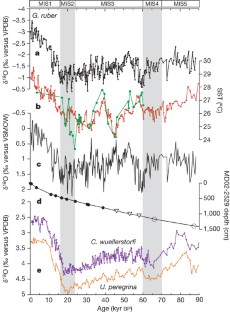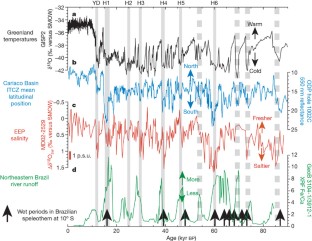 References
Zaucker, F. & Broecker, W. S. The influence of atmospheric moisture transport on the fresh water balance of the Atlantic drainage basin: General circulation model simulations and observations. J. Geophys. Res. 97, 2765–2773 (1992)

Broecker, W. S., Bond, G., Klas, M., Bonani, G. & Wolfli, W. A salt oscillator in the glacial Atlantic? 1. The concept. Paleoceanography 5, 469–477 (1990)

Bard, E. Climate shock: Abrupt changes over millennial time scales. Phys. Today 55, 32–37 (2002)

Peterson, L. C., Haug, G. H., Hughen, K. A. & Röhl, U. Rapid changes in the hydrologic cycle of the tropical Atlantic during the Last Glacial. Science 290, 1947–1951 (2000)

Stuiver, M. & Grootes, P. M. GISP2 oxygen isotope ratios. Quat. Res. 53, 277–284 (2000)

Schmidt, M. W., Spero, H. J. & Lea, D. W. Links between salinity variation in the Caribbean and North Atlantic thermohaline circulation. Nature 428, 160–163 (2004)

Bond, G. et al. Correlations between climate records from North Atlantic sediments and Greenland ice. Nature 365, 143–147 (1993)

Wang, Y. J. et al. A high-resolution absolute-dated late Pleistocene monsoon record from Hulu Cave, China. Science 294, 2345–2348 (2001)

Ivanochko, T. S. et al. Variations in tropical convection as an amplifier of global climate change at the millennial scale. Earth Planet. Sci. Lett. 235, 302–314 (2005)

Broecker, W. S. Does the trigger for abrupt climate change reside in the ocean or in the atmosphere? Science 300, 1519–1522 (2003)

Vidal, L. & Arz, H. in Past Climate Variability Through Europe And Africa (eds Battarbee, R. W. et al.) 31–44 (Springer, Dordrecht, 2004)

Liu, W. T. & Tang, W. Estimating moisture transport over oceans using space-based observations. J. Geophys. Res. 110 D10101 doi: 10.1029/2004JD005300 (2005)

Manabe, S. & Stouffer, R. J. Two stable equilibria of a coupled ocean-atmosphere model. J. Clim. 1, 841–866 (1988)

Hostetler, S. W. & Mix, A. C. Reassessment of ice-age cooling of the tropical ocean and atmosphere. Nature 399, 673–676 (1999)

Schmittner, A., Meissner, K. J., Eby, M. & Weaver, A. J. Forcing of the deep ocean circulation in simulations of the Last Glacial Maximum. Paleoceanography 17 1015 doi: 10.1029/2001PA000633 (2002)

Benway, H. M., Mix, A. C., Haley, B. A. & Klinkhammer, G. P. Eastern Pacific Warm Pool paleosalinity and climate variability: 0–30 kyr. Paleoceanography 21 PA3008 doi: 10.1029/2005PA001208 (2006)

Waelbroeck, C. et al. Sea-level and deep water temperature changes derived from benthic foraminifera isotopic records. Quat. Sci. Rev. 21, 295–305 (2002)

Benway, H. M. & Mix, A. C. Oxygen isotopes, upper-ocean salinity, and precipitation sources in the eastern tropical Pacific. Earth Planet. Sci. Lett. 224, 493–507 (2004)

Wang, X. et al. Wet periods in northeastern Brazil over the past 210 kyr linked to distant climate anomalies. Nature 432, 740–743 (2004)

Arz, H. W., Pätzold, J. & Wefer, G. Correlated millennial-scale changes in surface hydrography and terrigenous sediment yield inferred from last-glacial marine deposits off northeastern Brazil. Quat. Res. 50, 157–166 (1998)

Masson-Delmotte, V. et al. GRIP deuterium excess reveals rapid and orbital-scale changes in Greenland moisture origin. Science 309, 118–121 (2005)

Ganopolski, A. & Rahmstorf, S. Rapid changes of glacial climate simulated in a coupled climate model. Nature 409, 153–158 (2001)

Masson, S. & Delecluse, P. Influence of the Amazon river runoff on the tropical Atlantic. Phys. Chem. Earth B 26, 137–142 (2001)

Mignot, J. & Frankignoul, C. Interannual to interdecadal variability of sea surface salinity in the Atlantic and its link to the atmosphere in a coupled model. J. Geophys. Res. 109 C04005 doi: 10.1029/2003JC002005 (2004)

Schmidt, M. W., Vautravers, M. J. & Spero, H. J. Rapid subtropical North Atlantic salinity oscillations across Dansgaard-Oeschger cycles. Nature 443, 561–564 (2006)

Sonzogni, C. et al. Temperature and salinity effects on alkenone ratios measured in surface sediments from the Indian Ocean. Quat. Res. 47, 344–355 (1997)

Lea, D. W., Pak, D. K. & Spero, H. J. Climate impact of Late Quaternary equatorial Pacific sea surface temperature variations. Science 289, 1719–1724 (2000)

Schmidt, G. A. Error analysis of paleosalinity calculations. Paleoceanography 14, 422–429 (1999)
Acknowledgements
We acknowledge support from INSU and the French Polar Institute IPEV, which provided the RV Marion Dufresne and the CALYPSO coring system used during the IMAGES VIII MONA cruise. Thanks to Y. Garcin and M. Siddall for discussion and reviews. Paleoclimate work at CEREGE is supported by grants from the CNRS, the ANR and the Gary Comer Science and Education Foundation.
Ethics declarations
Competing interests
Reprints and permissions information is available at www.nature.com/reprints. The authors declare no competing financial interests.
Supplementary information
This file contains Supplementary Discussion about present-day climatotlogy and hydrology, Supplementary Methods concerning Analytical procedures and Age control, Supplementary Figures 1-5 with legendsand Supplementary Tables 1-2 containing results of core MD02-2529 and radiocarbon data used to construct the age model. This file also contains additional references. (PDF 15246 kb)
About this article
Cite this article
Leduc, G., Vidal, L., Tachikawa, K. et al. Moisture transport across Central America as a positive feedback on abrupt climatic changes. Nature 445, 908–911 (2007). https://doi.org/10.1038/nature05578
Received:

Accepted:

Issue Date:

DOI: https://doi.org/10.1038/nature05578
Comments
By submitting a comment you agree to abide by our Terms and Community Guidelines. If you find something abusive or that does not comply with our terms or guidelines please flag it as inappropriate.