Abstract
Polycyclic bio-active natural products that contain halogen atoms have been isolated from a number of different marine organisms1. The biosynthesis of these natural products appears to be initiated by an electrophilic halogenation reaction at a carbon–carbon double bond2,3,4 via a mechanism that is similar to a proton-induced olefin polycyclization5,6,7,8. Enzymes such as haloperoxidases generate an electrophilic halonium ion (or its equivalent), which reacts with the terminal carbon–carbon double bond of the polyprenoid, enantioselectively inducing a cyclization reaction that produces a halogenated polycyclic terpenoid. Use of an enantioselective halocyclization reaction is one possible way to chemically synthesize these halogenated cyclic terpenoids; although several brominated cyclic terpenoids have been synthesized via a diastereoselective halocyclization reaction that uses stoichiometric quantities of a brominating reagent9,10,11,12, the enantioselective halocyclization of isoprenoids induced by a chiral promoter has not yet been reported. Here we report the enantioselective halocyclization of simple polyprenoids using a nucleophilic promoter. Achiral nucleophilic phosphorus compounds are able to promote the diastereoselective halocyclization reaction to give a halogenated cyclic product in excellent yields. Moreover, chiral phosphoramidites promote the enantioselective halocyclization of simple polyprenoids with N-iodosuccinimide to give iodinated cyclic products in up to 99% enantiomeric excess and diastereomeric excess. To the best of our knowledge, this is the first successful example of the enantioselective halopolycyclization of polyprenoids.
Relevant articles
Open Access articles citing this article.
Min Jin

,

Congyun Tang

…

Liang-Liang Wang

Nature Communications Open Access 10 December 2021

Weijin Wang

,

Xinyao Li

…

Song Song

Nature Communications Open Access 23 June 2021
Access options
Subscribe to Journal
Get full journal access for 1 year
$199.00
only $3.90 per issue
All prices are NET prices.
VAT will be added later in the checkout.
Tax calculation will be finalised during checkout.
Buy article
Get time limited or full article access on ReadCube.
$32.00
All prices are NET prices.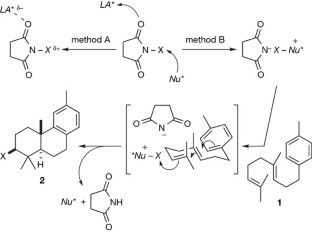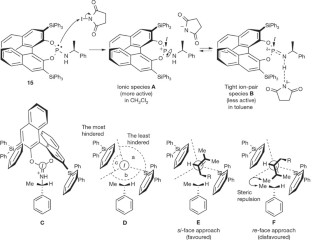 References
Blunt, J. W., Copp, B. R., Munro, M. H. G., Northcote, P. T. & Prinsep, M. R. Marine natural products. Nat. Prod. Rep. 23, 26–78 (2006)

Yarnell, A. Nature's X-factors. Chem. Eng. News 84, 12–18 (2006)

Butler, A. & Carter-Franklin, J. N. The role of vanadium bromoperoxidase in the biosynthesis of halogenated marine natural products. Nat. Prod. Rep. 21, 180–188 (2004)

Yamamura, S. & Terada, Y. Isoaplysin-20, a natural bromine-containing diterpene, from Aplysia kurodai.. Tetrahedr. Lett. 18, 2171–2172 (1977)

Ishibashi, H., Ishihara, K. & Yamamoto, H. A new artificial cyclase for polyprenoids: enantioselective total synthesis of (–)-chromazonarol, (+)-8-epi-puupehedione, and (–)-11'-deoxytaondiol methyl ether. J. Am. Chem. Soc. 126, 11122–11123 (2004)

Yoder, R. A. & Johnston, J. N. A case study in biomimetic total synthesis: polyolefin carbocyclizations to terpenes and steroids. Chem. Rev. 105, 4730–4756 (2005)

Johnson, W. S. Biomimetic polyene cyclizations: a review. Bioorg. Chem. 5, 51–98 (1976)

Huang, A. X., Xiong, Z. & Corey, E. J. An exceptionally short and simple enantioselective total synthesis of pentacyclic triterpenes of the β-amyrin family. J. Am. Chem. Soc. 121, 9999–10003 (1999)

Wolinsky, L. E. & Faulkner, D. J. A biomimetic approach to the synthesis of Laurencia metabolites. Synthesis of 10-bromo-α-chamibrene. J. Org. Chem. 41, 597–600 (1976)

González, A. G., Martin, J. D., Pérez, C. & Ramirez, M. A. Bromonium ion-induced cyclization of methyl farnesate: application to the synthesis of snyderol. Tetrahedr. Lett. 17, 137–138 (1976)

Yamaguchi, Y., Uyehara, T. & Kato, T. Biogenetic type synthesis of (±)-concinndiol and (±)-aplysin 20. Tetrahedr. Lett. 26, 343–346 (1985)

Carter-Franklin, J. N., Parrish, J. D., Tschirret-Guth, R. A., Little, R. D. & Butler, A. Vanadium haloperoxidase-catalyzed bromination and cyclization of terpenes. J. Am. Chem. Soc. 125, 3688–3689 (2003)

Kang, S. H., Lee, S. B. & Park, C. M. Catalytic enantioselective iodocyclization of γ-hydroxy-cis-alkenes. J. Am. Chem. Soc. 125, 15748–15749 (2003)

Zhang, Y., Shibatomi, K. & Yamamoto, H. Lewis-acid mediated selective chlorinations of silyl enolate. J. Am. Chem. Soc. 126, 15038–15039 (2004)

Grossman, R. B. & Trupp, R. J. The first reagent-controlled asymmetric halolactonizations. Dihydroquinidine-halogen complexes as chiral sources of positive halogen ion. Can. J. Chem. 76, 1233–1237 (1998)

Cui, X.-L. & Brown, R. S. Mechanistic evaluation of the halocyclization of 4-penten-1-ol by some bis(2-substituted pyridine) and bis(2,6-disubstituted pyridine)bromonium triflates. J. Org. Chem. 65, 5653–5658 (2000)

Haas, J., Piguel, S. & Wirth, T. Reagent-controlled stereoselective iodolactonizations. Org. Lett. 4, 297–300 (2002)

Fukuzumi, T., Shibata, N., Sugiura, M., Nakamura, S. & Toru, T. Enantioselective fluorination mediated by cinchona alkaloids/selectfluor combinations: a catalytic approach. J. Fluor. Chem. 127, 548–551 (2006)
Acknowledgements
Financial support for this project was provided by the JSPS (KAKENHI), the 21st Century COE Program "Nature-Guided Materials Processing" of MEXT, the Banyu Award in Synthetic Organic Chemistry, Japan, and the Suzuken Memorial Foundation.
Ethics declarations
Competing interests
Reprints and permissions information is available at www.nature.com/reprints. The authors declare no competing financial interests.
Supplementary information
This file contains Supplementary Notes providing the full experimental details for the synthesis of homo(polyprenyl)arenes and chiral phosphoramidites, the procedure of halocyclization and transhalogenation, and the characterization of all new compounds. (PDF 675 kb)
About this article
Cite this article
Sakakura, A., Ukai, A. & Ishihara, K. Enantioselective halocyclization of polyprenoids induced by nucleophilic phosphoramidites. Nature 445, 900–903 (2007). https://doi.org/10.1038/nature05553
Received:

Accepted:

Issue Date:

DOI: https://doi.org/10.1038/nature05553
Comments
By submitting a comment you agree to abide by our Terms and Community Guidelines. If you find something abusive or that does not comply with our terms or guidelines please flag it as inappropriate.