Abstract
Evolved mechanisms for assessing genetic relatedness have been found in many species, but their existence in humans has been a matter of controversy. Here we report three converging lines of evidence, drawn from siblings, that support the hypothesis that kin detection mechanisms exist in humans. These operate by computing, for each familiar individual, a unitary regulatory variable (the kinship index) that corresponds to a pairwise estimate of genetic relatedness between self and other. The cues that the system uses were identified by quantitatively matching individual exposure to potential cues of relatedness to variation in three outputs relevant to the system's evolved functions: sibling altruism, aversion to personally engaging in sibling incest, and moral opposition to third party sibling incest. As predicted, the kin detection system uses two distinct, ancestrally valid cues to compute relatedness: the familiar other's perinatal association with the individual's biological mother, and duration of sibling coresidence.
Relevant articles
Open Access articles citing this article.
Michal Olszanowski

,

Paulina Lewandowska

…

Natalia Frankowska

Journal of Nonverbal Behavior Open Access 12 January 2022

Denis Tatone

,

Mikołaj Hernik

&

Gergely Csibra

Scientific Reports Open Access 15 September 2021

Oliver Scott Curry

,

Mark Alfano

…

Christine Pelican

Review of Philosophy and Psychology Open Access 11 August 2021
Access options
Subscribe to this journal
Receive 51 print issues and online access
$199.00 per year
only $3.90 per issue
Rent or buy this article
Get just this article for as long as you need it
$39.95
Prices may be subject to local taxes which are calculated during checkout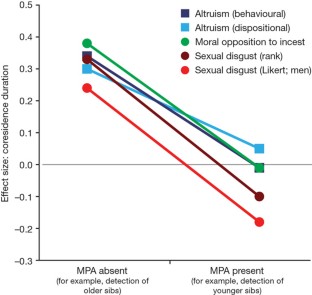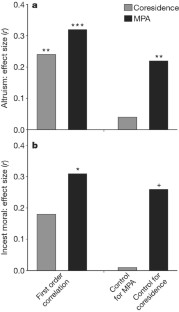 References
Hamilton, W. D. The genetical evolution of social behaviour. I, II. J. Theor. Biol. 7, 1–52 (1964)

Williams, G. C. & Williams, D. C. Natural selection of individually harmful social adaptations among sibs with special reference to social insects. Evolution 11, 32–39 (1957)

Strassmann, J. E., Zhu, Y. & Queller, D. C. Altruism and social cheating in the social amoeba Dictyostelium discoideum. Nature 408, 965–967 (2000)

Crozier, R. H. & Pamilo, P. Evolution of social insect colonies: Sex allocation and kin-selection (Oxford Univ. Press, Oxford, 1996)

Chapuisat, M. & Keller, L. Testing kin selection with sex allocation data in eusocial hymenoptera. Heredity 82, 473–478 (1999)

Passera, L., Aron, S., Vargo, E. L. & Keller, L. Queen control of sex ratio in fire ants. Science 293, 1308–1310 (2001)

Duffy, J. E. Eusociality in a coral-reef shrimp. Nature 381, 512–514 (1996)

Baglione, V., Canestrari, D., Marcos, J. & Ekman, J. Kin selection in cooperative alliances of carrion crows. Science 300, 1947–1949 (2003)

Ito, Y. The evolutionary biology of sterile soldiers in aphids. Trends Ecol. Evol. 4, 69–73 (1989)

Queller, D. C. Inclusive fitness in a nutshell. Oxford Surveys Evol. Biol. 6, 73–109 (1989)

Cosmides, L. & Tooby, J. Cytoplasmic inheritance and intragenomic conflict. J. Theor. Biol. 89, 83–129 (1981)

Sherman, P. W. Nepotism and the evolution of alarm calls. Science 197, 1246–1253 (1977)

Buchan, J. C., Alberts, S. C., Silk, J. B. & Altmann, J. True paternal care in a multi-male primate society. Nature 425, 179–181 (2003)

Chapais, B. & Berman, C. M. (eds) Kinship and Behavior in Primates (Oxford Univ. Press, New York, 2004)

Silk, J. B. Kin selection in primate groups. Int. J. Primatol. 23, 849–875 (2002)

Fletcher, D. & Michener, C. (eds) Kin Recognition in Animals (Wiley, New York, 1987)

Hepper, P. G. Kin Recognition (Cambridge Univ. Press, New York, 1991)

Holmes, W. The early history of Hamiltonian-based kin recognition research theory: past and future. Ann. Zool. Fennici 41, 691–711 (2004)

Charlesworth, B. & Charlesworth, D. The genetic basis of inbreeding depression. Genet. Res. 74, 329–340 (1999)

Crnokrak, P. & Roff, D. A. Inbreeding depression in the wild. Heredity 83, 260–270 (1999)

Bittles, A. H. & Neel, J. V. The costs of human inbreeding and their implications for variation at the DNA level. Nature Genet. 8, 117–121 (1994)

Tooby, J. Pathogens, polymorphism, and the evolution of sex. J. Theor. Biol. 97, 557–576 (1982)

Penn, D. J. & Potts, W. K. The evolution of mating preferences and major histocompatibility coupled genes. Am. Nat. 153, 145–164 (1999)

Lee, R. B. & Devore, I. Man the Hunter (Aldine, Chicago, 1968)

Howell, N. Demography of the Dobe! Kung 2nd edn (Aldine Transaction, New York, 2000)

Hill, K. & Hurtado, A. Ache Life History: The Ecology and Demography of a Foraging People (Aldine Transaction, New York, 1996)

Bevc, I. & Silverman, I. Early separation and sibling incest: A test of the revised Westermarck theory. Evol. Hum. Behav. 21, 151–161 (2000)

Lieberman, D., Tooby, J. & Cosmides, L. Does morality have a biological basis? An empirical test of the factors governing moral sentiments regarding incest. Proc. R. Soc. Lond. B 270, 819–826 (2003)

Fessler, D. M. T. & Navarrete, C. D. Third-party attitudes toward sibling incest: Evidence for Westermarck's hypotheses. Evol. Hum. Behav. 25, 277–294 (2004)

Wedekind, C. & Furi, S. Body odour preferences in men and women: do they aim for specific MHC combinations or simply heterozygosity?. Proc. R. Soc. Lond. B 264, 1471–1479 (1997)

Ober, C. et al. HLA and mate choice in humans. Am. J. Hum. Genet. 61, 497–504 (1997)

DeBruine, L. M. Trustworthy but not lust-worthy: Context-specific effects of facial resemblance. Proc. R. Soc. Lond. B 272, 919–922 (2005)

Westermarck, E. A. The History of Human Marriage 5th edn (Macmillan, London, 1891/, 1921)

Wolf, A. P. Sexual Attraction and Childhood Association: A Chinese Brief for Edward Westermarck (Stanford Univ. Press, Stanford, California, 1995)

Shepher, J. Mate selection among second generation kibbutz adolescents and adults: incest avoidance and negative imprinting. Arch. Sex. Behav. 1, 293–307 (1971)

Kaplan, H. et al. A theory of human life history evolution: Diet, intelligence, and longevity. Evol. Anthropol. 9, 156–185 (2000)

Hewlett, B. & Lamb, M. Hunter–Gatherer Childhoods (Aldine Transaction, Somerset, New Jersey, 2005)

Walters, J. R. in Kin Recognition in Animals (eds Fletcher, D. J. C. & Michener, C. D.) 359–393 (Wiley & Sons, New York, 1987)

Bernstein, I. in Kin Recognition (ed. Hepper, P. G.) 6–29 (Cambridge Univ. Press, Cambridge, 1991)

Gigerenzer, G. & Todd, P. ABC Research Group. Simple Heuristics That Make Us Smart (Oxford Univ. Press, New York, 1999)

Mielke, P. W. & Berry, K. J. Permutation Methods: A Distance Function Approach (Springer, New York, 2001)

Cade, B. S. & Richards, J. D. User Manual for BLOSSOM Statistical Software (Midcontinent Ecological Science Center, US Geological Survey, Fort Collins, Colorado, 2005)

Rice, W. R. & Gaines, S. D. Heads I win, tails you lose: Testing directional alternative hypotheses in ecological and evolutionary research. Trends Ecol. Evol. 9, 235–237 (1994)
Acknowledgements
The authors thank P. Boyer, D. Fessler, S. Gangestad, P. Pocker, H. Waldow, G. Williams, D. Williams, UCSB Academic Senate and the providers of the NSF Presidential Young Investigator Award (J.T.), and NIH Director's Pioneer Award (L.C.).
Ethics declarations
Competing interests
Reprints and permissions information is available at www.nature.com/reprints. The authors declare no competing financial interests.
Supplementary information
This file contains Supplementary Discussion, Supplementary Figures S1-S8 with Legends, Supplementary Tables S1-S8 and additional references. (PDF 740 kb)
About this article
Cite this article
Lieberman, D., Tooby, J. & Cosmides, L. The architecture of human kin detection. Nature 445, 727–731 (2007). https://doi.org/10.1038/nature05510
Received:

Accepted:

Issue Date:

DOI: https://doi.org/10.1038/nature05510
Comments
By submitting a comment you agree to abide by our Terms and Community Guidelines. If you find something abusive or that does not comply with our terms or guidelines please flag it as inappropriate.