Abstract
Foxp3+CD4+CD25+ regulatory T (Treg) cells are essential for the prevention of autoimmunity1,2. Treg cells have an attenuated cytokine response to T-cell receptor stimulation, and can suppress the proliferation and effector function of neighbouring T cells3,4. The forkhead transcription factor Foxp3 (forkhead box P3) is selectively expressed in Treg cells, is required for Treg development and function, and is sufficient to induce a Treg phenotype in conventional CD4+CD25- T cells5,6,7,8. Mutations in Foxp3 cause severe, multi-organ autoimmunity in both human and mouse9,10,11. FOXP3 can cooperate in a DNA-binding complex with NFAT (nuclear factor of activated T cells) to regulate the transcription of several known target genes12. However, the global set of genes regulated directly by Foxp3 is not known and consequently, how this transcription factor controls the gene expression programme for Treg function is not understood. Here we identify Foxp3 target genes and report that many of these are key modulators of T-cell activation and function. Remarkably, the predominant, although not exclusive, effect of Foxp3 occupancy is to suppress the activation of target genes on T-cell stimulation. Foxp3 suppression of its targets appears to be crucial for the normal function of Treg cells, because overactive variants of some target genes are known to be associated with autoimmune disease.
Relevant articles
Open Access articles citing this article.
Nadine Hövelmeyer

,

Marc Schmidt-Supprian

&

Caspar Ohnmacht

Journal of Molecular Medicine Open Access 08 June 2022

Zeinab Ghorbani

,

Pegah Rafiee

…

Mansoureh Togha

Journal of Pharmaceutical Health Care and Sciences Open Access 03 March 2021

Naganari Ohkura

&

Shimon Sakaguchi

Cell Research Open Access 04 May 2020
Access options
Subscribe to this journal
Receive 51 print issues and online access
$199.00 per year
only $3.90 per issue
Rent or buy this article
Get just this article for as long as you need it
$39.95
Prices may be subject to local taxes which are calculated during checkout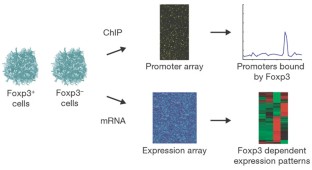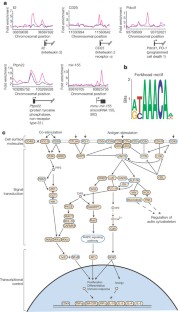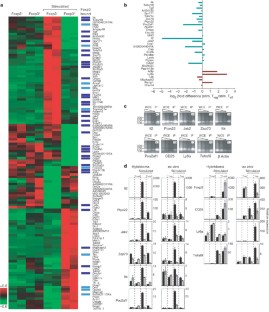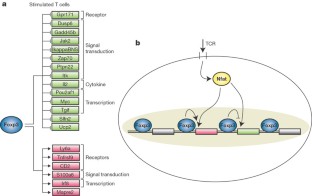 References
Sakaguchi, S., Sakaguchi, N., Asano, M., Itoh, M. & Toda, M. Immunologic self-tolerance maintained by activated T cells expressing IL-2 receptor alpha-chains (CD25). Breakdown of a single mechanism of self-tolerance causes various autoimmune diseases. J. Immunol. 155, 1151–1164 (1995)

Baecher-Allan, C. & Hafler, D. A. Human regulatory T cells and their role in autoimmune disease. Immunol. Rev. 212, 203–216 (2006)

Shevach, E. M. CD4+ CD25+ suppressor T cells: more questions than answers. Nature Rev. Immunol. 2, 389–400 (2002)

von Boehmer, H. Mechanisms of suppression by suppressor T cells. Nature Immunol. 6, 338–344 (2005)

Hori, S., Nomura, T. & Sakaguchi, S. Control of regulatory T cell development by the transcription factor Foxp3. Science 299, 1057–1061 (2003)

Fontenot, J. D., Gavin, M. A. & Rudensky, A. Y. Foxp3 programs the development and function of CD4+CD25+ regulatory T cells. Nature Immunol. 4, 330–336 (2003)

Khattri, R. et al. An essential role for Scurfin in CD4+CD25+ T regulatory cells. Nature Immunol. 4, 337–342 (2003)

Fontenot, J. D. et al. Regulatory T cell lineage specification by the forkhead transcription factor foxp3. Immunity 22, 329–341 (2005)

Brunkow, M. E. et al. Disruption of a new forkhead/winged-helix protein, scurfin, results in the fatal lymphoproliferative disorder of the scurfy mouse. Nature Genet. 27, 68–73 (2001)

Bennett, C. L. et al. The immune dysregulation, polyendocrinopathy, enteropathy, X-linked syndrome (IPEX) is caused by mutations of FOXP3. Nature Genet. 27, 20–21 (2001)

Wildin, R. S. et al. X-linked neonatal diabetes mellitus, enteropathy and endocrinopathy syndrome is the human equivalent of mouse scurfy. Nature Genet. 27, 18–20 (2001)

Wu, Y. et al. FOXP3 controls regulatory T cell function through cooperation with NFAT. Cell 126, 375–387 (2006)

Schubert, L. A., Jeffery, E., Zhang, Y., Ramsdell, F. & Ziegler, S. F. Scurfin (FOXP3) acts as a repressor of transcription and regulates T cell activation. J. Biol. Chem. 276, 37672–37679 (2001)

Boyer, L. A. et al. Polycomb complexes repress developmental regulators in murine embryonic stem cells. Nature 441, 349–353 (2006)

Chen, C., Rowell, E. A., Thomas, R. M., Hancock, W. W. & Wells, A. D. Transcriptional regulation by Foxp3 is associated with direct promoter occupancy and modulation of histone acetylation. J. Biol. Chem. 281, 36828–36834 (2006)

Kanehisa, M. & Goto, S. KEGG: kyoto encyclopedia of genes and genomes. Nucleic Acids Res. 28, 27–30 (2000)

Cobb, B. S. et al. A role for Dicer in immune regulation. J. Exp. Med. 203, 2519–2527 (2006)

McHugh, R. S. et al. CD4+CD25+ immunoregulatory T cells: gene expression analysis reveals a functional role for the glucocorticoid-induced TNF receptor. Immunity 16, 311–323 (2002)

Bruder, D. et al. Neuropilin-1: a surface marker of regulatory T cells. Eur. J. Immunol. 34, 623–630 (2004)

Iellem, A. et al. Unique chemotactic response profile and specific expression of chemokine receptors CCR4 and CCR8 by CD4+CD25+ regulatory T cells. J. Exp. Med. 194, 847–853 (2001)

Harbison, C. T. et al. Transcriptional regulatory code of a eukaryotic genome. Nature 431, 99–104 (2004)

Klein, L., Khazaie, K. & von Boehmer, H. In vivo dynamics of antigen-specific regulatory T cells not predicted from behavior in vitro. Proc. Natl Acad. Sci. USA 100, 8886–8892 (2003)

Jordan, M. S. et al. Thymic selection of CD4+CD25+ regulatory T cells induced by an agonist self-peptide. Nature Immunol. 2, 301–306 (2001)

Kretschmer, K. et al. Inducing and expanding regulatory T cell populations by foreign antigen. Nature Immunol. 6, 1219–1227 (2005)

Stanford, W. L. et al. Altered proliferative response by T lymphocytes of Ly-6A (Sca-1) null mice. J. Exp. Med. 186, 705–717 (1997)

Myers, L. M. & Vella, A. T. Interfacing T-cell effector and regulatory function through CD137 (4–1BB) co-stimulation. Trends Immunol. 26, 440–446 (2005)

Bottini, N. et al. A functional variant of lymphoid tyrosine phosphatase is associated with type I diabetes. Nature Genet. 36, 337–338 (2004)

Wu, J. et al. Identification of substrates of human protein-tyrosine phosphatase PTPN22. J. Biol. Chem. 281, 11002–11010 (2006)

Bottini, N., Vang, T., Cucca, F. & Mustelin, T. Role of PTPN22 in type 1 diabetes and other autoimmune diseases. Semin. Immunol. 18, 207–213 (2006)

Vang, T. et al. Autoimmune-associated lymphoid tyrosine phosphatase is a gain-of-function variant. Nature Genet. 37, 1317–1319 (2005)
Acknowledgements
We thank members of the Young, von Boehmer and Fraenkel laboratories, as well as R. Jaenisch and D. K. Gifford, for discussions and critical review of the manuscript, especially T. I. Lee, J. Zeitlinger and D. T. Odom. We also thank Biology and Research Computing (BaRC), especially T. Dicesare for graphic assistance, as well as E. Herbolsheimer for computational and technical support. K.K. was supported in part by a fellowship grant from the German Research Foundation. This work was supported in part by a donation from E. Radutzky, and by the Whitaker Foundation (E.F.) and the NIH (H.v.B. and R.A.Y.). All microarray data from this study are available from ArrayExpress at the EBI under the accession code E-TABM-154
Author Contributions R.A.Y. and H.v.B. contributed both as senior and corresponding authors.
Ethics declarations
Competing interests
Competing interests: R.A.Y. is a consultant to Agilent Technologies.
Supplementary information
About this article
Cite this article
Marson, A., Kretschmer, K., Frampton, G. et al. Foxp3 occupancy and regulation of key target genes during T-cell stimulation. Nature 445, 931–935 (2007). https://doi.org/10.1038/nature05478
Received:

Accepted:

Published:

Issue Date:

DOI: https://doi.org/10.1038/nature05478
Comments
By submitting a comment you agree to abide by our Terms and Community Guidelines. If you find something abusive or that does not comply with our terms or guidelines please flag it as inappropriate.