Abstract
The organizer of the vertebrate gastrula is an important signalling centre that induces and patterns dorsal axial structures. Although a topic of long-standing interest, the evolutionary origin of the organizer remains unclear. Here we show that the gastrula of the cephalochordate amphioxus expresses dorsal/ventral (D/V) patterning genes (for example, bone morphogenetic proteins (BMPs), Nodal and their antagonists) in patterns reminiscent of those of their vertebrate orthlogues, and that amphioxus embryos, like those of vertebrates, are ventralized by exogenous BMP protein. In addition, Wnt-antagonists (for example, Dkks and sFRP2-like) are expressed anteriorly, whereas Wnt genes themselves are expressed posteriorly, consistent with a role for Wnt signalling in anterior/posterior (A/P) patterning. These results suggest evolutionary conservation of the mechanisms for both D/V and A/P patterning of the early gastrula. In light of recent phylogenetic analyses placing cephalochordates basally in the chordate lineage, we propose that separate signalling centres for patterning the D/V and A/P axes may be an ancestral chordate character.
Relevant articles
Open Access articles citing this article.
Yuuri Yasuoka

,

Yukiko Tando

…

Masanori Taira

Zoological Letters Open Access 02 August 2019

Hiroki Oda

,

Sawa Iwasaki-Yokozawa

…

Yasuko Akiyama-Oda

Development Genes and Evolution Open Access 10 April 2019

Demian Koop

,

Paula Cisternas

…

Maria Byrne

BMC Developmental Biology Open Access 13 February 2017
Access options
Subscribe to Journal
Get full journal access for 1 year
$199.00
only $3.90 per issue
All prices are NET prices.
VAT will be added later in the checkout.
Tax calculation will be finalised during checkout.
Buy article
Get time limited or full article access on ReadCube.
$32.00
All prices are NET prices.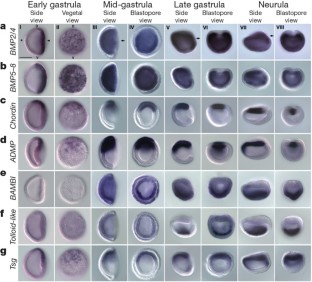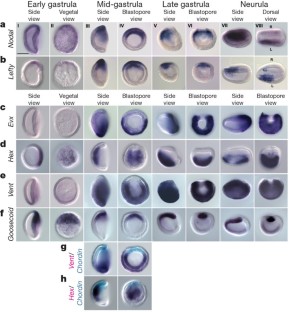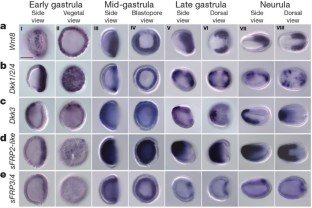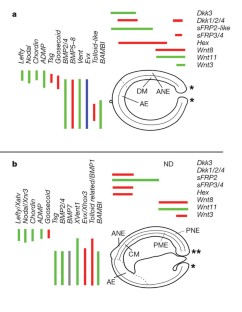 References
Gerhart, J. Evolution of the organizer and the chordate body plan. Int. J. Dev. Biol. 45, 133–153 (2001)

Kourakis, M. J. & Smith, W. C. Did the first chordates organize without the organizer? Trends Genet. 21, 506–510 (2005)

Blair, J. E. & Hedges, S. B. Molecular phylogeny and divergence times of deuterostome animals. Mol. Biol. Evol. 22, 2275–2284 (2005)

Philippe, H., Lartillot, N. & Brinkmann, H. Multigene analyses of bilaterian animals corroborate the monophyly of Ecdysozoa, Lophotrochozoa, and Protostomia. Mol. Biol. Evol. 22, 1246–1253 (2005)

Bourlat, S. J. et al. Deuterostome phylogeny reveals monophyletic chordates and the new phylum Xenoturbellida. Nature 444, 85–88 (2006)

Zhang, S.-C., Holland, N. D. & Holland, L. Z. Topographic changes in nascent and early mesoderm in amphioxus embryos studied by DiI labeling and by in situ hybridization for a Brachyury gene. Dev. Genes Evol. 206, 532–535 (1997)

Tung, T. C., Wu, S. C. & Tung, Y. Y. F. Experimental studies on the neural induction in amphioxus. Sci. Sin. 11, 805–820 (1962)

De Robertis, E. M. & Kuroda, H. Dorsal–ventral patterning and neural induction in Xenopus embryos. Annu. Rev. Cell Dev. Biol. 20, 285–308 (2004)

De Robertis, E. M., Larrain, J., Oelgeschlager, M. & Wessely, O. The establishment of Spemann's organizer and patterning of the vertebrate embryo. Nature Rev. Genet. 1, 171–181 (2000)

Niehrs, C. Regionally specific induction by the Spemann–Mangold organizer. Nature Rev. Genet. 5, 425–434 (2004)

Reversade, B. & De Robertis, E. M. Regulation of ADMP and BMP2/4/7 at opposite embryonic poles generates a self-regulating morphogenetic field. Cell 123, 1147–1160 (2005)

Chang, C. et al. Twisted gastrulation can function as a BMP antagonist. Nature 410, 483–487 (2001)

Scott, I. C. et al. Homologues of Twisted gastrulation are extracellular cofactors in antagonism of BMP signalling. Nature 410, 475–478 (2001)

Yu, J. K., Holland, L. Z. & Holland, N. D. An amphioxus nodal gene (AmphiNodal) with early symmetrical expression in the organizer and mesoderm and later asymmetrical expression associated with left-right axis formation. Evol. Dev. 4, 418–425 (2002)

Levin, M. Left–right asymmetry in embryonic development: a comprehensive review. Mech. Dev. 122, 3–25 (2005)

Joly, J. S., Joly, C., Schulte-Merker, S., Boulekbache, H. & Condamine, H. The ventral and posterior expression of the zebrafish homeobox gene eve1 is perturbed in dorsalized and mutant embryos. Development 119, 1261–1275 (1993)

Ferrier, D. E., Minguillon, C., Cebrian, C. & Garcia-Fernandez, J. Amphioxus Evx genes: implications for the evolution of the midbrain–hindbrain boundary and the chordate tailbud. Dev. Biol. 237, 270–281 (2001)

Jones, C. M., Broadbent, J., Thomas, P. Q., Smith, J. C. & Beddington, R. S. An anterior signalling centre in Xenopus revealed by the homeobox gene XHex. Curr. Biol. 9, 946–954 (1999)

Stern, C. D. Initial patterning of the central nervous system: how many organizers? Nature Rev. Neurosci. 2, 92–98 (2001)

Kozmik, Z. et al. Characterization of amphioxus amphivent, an evolutionarily conserved marker for chordate ventral mesoderm. Genesis 29, 172–179 (2001)

Neidert, A. H., Panopoulou, G. & Langeland, J. A. Amphioxus goosecoid and the evolution of the head organizer and prechordal plate. Evol. Dev. 2, 303–310 (2000)

Darras, S. & Nishida, H. The BMP/CHORDIN antagonism controls sensory pigment cell specification and differentiation in the ascidian embryo. Dev. Biol. 236, 271–288 (2001)

Lowe, C. J. et al. Dorsoventral patterning in hemichordates: insights into early chordate evolution. PLoS Biol. 4, e291 (2006)

Dale, L., Howes, G., Price, B. M. & Smith, J. C. Bone morphogenetic protein 4: a ventralizing factor in early Xenopus development. Development 115, 573–585 (1992)

Nikaido, M., Tada, M., Saji, T. & Ueno, N. Conservation of BMP signaling in zebrafish mesoderm patterning. Mech. Dev. 61, 75–88 (1997)

Schubert, M. & Holland, L. Z. in Wnt Signaling in Development (ed. Kuhl, M.) 210–239 (Eurakah, 2003)

Holland, L. Z., Panfilio, K. A., Chastain, R., Schubert, M. & Holland, N. D. Nuclear β-catenin promotes non-neural ectoderm and posterior cell fates in amphioxus embryos. Dev. Dyn. 233, 1430–1443 (2005)

Hoang, B. H. et al. Dickkopf 3 inhibits invasion and motility of Saos-2 osteosarcoma cells by modulating the Wnt-β-catenin pathway. Cancer Res. 64, 2734–2739 (2004)

Pera, E. M. & De Robertis, E. M. A direct screen for secreted proteins in Xenopus embryos identifies distinct activities for the Wnt antagonists Crescent and Frzb-1. Mech. Dev. 96, 183–195 (2000)

Langeland, J. A., Holland, L. Z., Chastain, R. A. & Holland, N. D. An amphioxus LIM-homeobox gene, AmphiLim1/5, expressed early in the invaginating organizer region and later in differentiating cells of the kidney and central nervous system. Int. J. Biol. Sci. 2, 110–116 (2006)

Imai, K. S., Levine, M., Satoh, N. & Satou, Y. Regulatory blueprint for a chordate embryo. Science 312, 1183–1187 (2006)

Passamaneck, Y. J. & Di Gregorio, A. Ciona intestinalis: chordate development made simple. Dev. Dyn. 233, 1–19 (2005)

Delsuc, F., Brinkmann, H., Chourrout, D. & Philippe, H. Tunicates and not cephalochordates are the closest living relatives of vertebrates. Nature 439, 965–968 (2006)

Matus, D. Q., Thomsen, G. H. & Martindale, M. Q. Dorso/ventral genes are asymmetrically expressed and involved in germ-layer demarcation during cnidarian gastrulation. Curr. Biol. 16, 499–505 (2006)

Matus, D. Q. et al. Molecular evidence for deep evolutionary roots of bilaterality in animal development. Proc. Natl Acad. Sci. USA 103, 11195–11200 (2006)

Broun, M., Gee, L., Reinhardt, B. & Bode, H. R. Formation of the head organizer in hydra involves the canonical Wnt pathway. Development 132, 2907–2916 (2005)

Holland, L. Z. Heads or tails? Amphioxus and the evolution of anterior–posterior patterning in deuterostomes. Dev. Biol. 241, 209–228 (2002)

Kusserow, A. et al. Unexpected complexity of the Wnt gene family in a sea anemone. Nature 433, 156–160 (2005)

Hufton, A. L., Vinayagam, A., Suhai, S. & Baker, J. C. Genomic analysis of Xenopus organizer function. BMC Dev. Biol. 6 27 doi: 10.1186/1471-213X-6-27 (2006)
Acknowledgements
We are indebted to J.M. Lawrence, University of South Florida, for providing laboratory facilities during the summer breeding season of amphioxus. This work was funded by grants from the National Science Foundation, USA (L.Z.H. and N.D.H.), the National Aeronautics and Space Administration, USA (M.B.-F. and L.Z.H.), the National Institutes of Health (M.B.-F.), MEXT, Japan (N.S. and Y.K.), and the 21st Century COE for the Biodiversity Research at Kyoto University (N.S.). J.-K.Y is currently supported by the Della Martin prize postdoctoral fellowship from the Division of Biology, California Institute of Technology, USA.
Ethics declarations
Competing interests
EST sequences were deposited in the DDBJ/EMBL/GenBank databases. (DNA Data Bank of Japan accession numbers BW692960–BW954996). Reprints and permissions information is available at www.nature.com/reprints. The authors declare no competing financial interests.
Supplementary information
This file contains Supplementary Figures 1-11 with legends, Supplementary Table 1, Supplementary Methods and Supplementary Notes. Supplementary Figures include phylogenetic trees for amphioxus proteins and Supplementary Figure 11 shows expression of amphioxus Wnt3 and Wnt11 in early embryos. Supplementary Table 1 includes a list of each of the genes obtained from the EST data, the clone numbers, best hit and the numbers of each clone found in the EST data. Supplementary Methods include methods for phylogenetic analysis used for the trees in Supplementary Table I. Supplementary Notes include references for the Supplementary Methods. (PDF 702 kb)
About this article
Cite this article
Yu, JK., Satou, Y., Holland, N. et al. Axial patterning in cephalochordates and the evolution of the organizer. Nature 445, 613–617 (2007). https://doi.org/10.1038/nature05472
Received:

Accepted:

Published:

Issue Date:

DOI: https://doi.org/10.1038/nature05472
Comments
By submitting a comment you agree to abide by our Terms and Community Guidelines. If you find something abusive or that does not comply with our terms or guidelines please flag it as inappropriate.